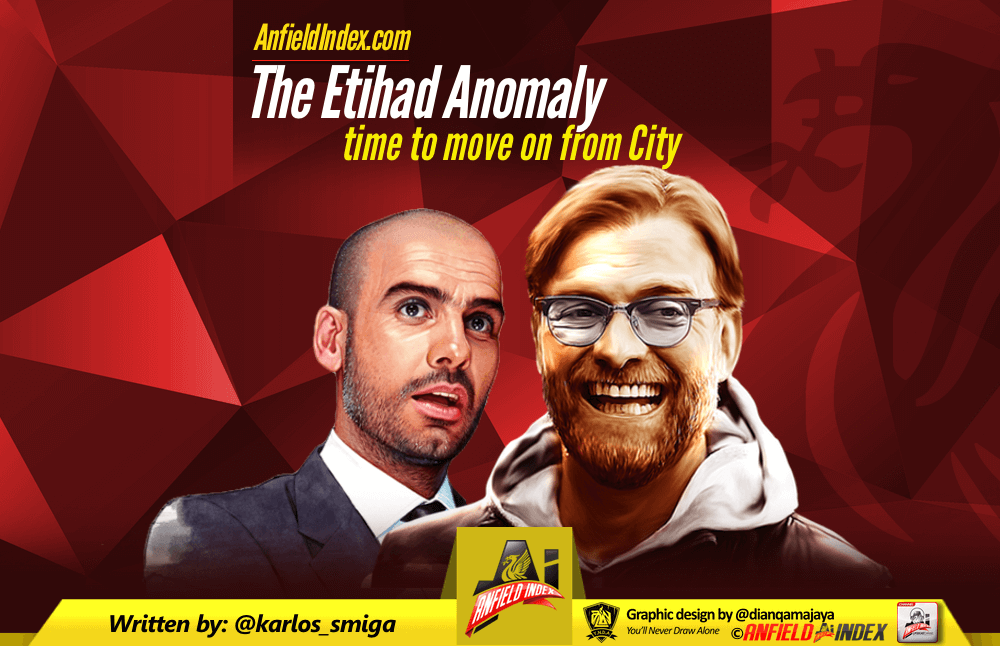 The Etihad Anomaly - time to move on from City
When Sadio Mane was given his marching orders at The Etihad on 37 minutes on Saturday, I, along with, I assume, many others, instantly felt a pang of inevitable defeat. Gary Neville agreed – the spectacle was over – the game was over – call me defeatist, but for me, I couldn't see any way back.
Upon receiving the red, perhaps wrongly, for me, it was simply a matter of damage limitation. This wasn't a Rafa/ Houllier team of defensive compactness we were watching, a team that might sneak a goal and defend for their lives, this was a Jurgen Klopp attacking machine who routinely throw caution to the wind and generally can't defend for a toffee. We'd lost our best outlet and our best player and I couldn't fathom how Klopp could adjust his tactics – which are notoriously fixed, but effective – to combat the inescapable attacking onslaught of one of the most offensive teams ever constructed. I went into the game hopeful – but on 37 minutes, hope turned to despair.
They say it is reason that separate's man from beast. This might not always ring true around the emotion of football, but for me, from the moment Mane went off, there was no way back, and I upheld a strange serenity in the fire of anger surrounding me on Social Media. Reason was applied, and must be applied moving forward as we try to put this anomaly of a game behind us.
What reason, then, could have possibly promoted such a numbingly serene reaction? This was a game, after all, that I'd looked forward to for weeks, and a game that was scheduled to be my only outstanding highlight of a slow weekend, where my only other activity of note was a 2nd Birthday Party in Spaceworld!
But acceptance, strangely and unusually for me, was easy. The Watford game had hurt me more. Looking at why, well I'd already long accepted the fact that we didn't sign a solid defender in the transfer window, and notwithstanding my opinion that such a failure amounted to gross negligence on the part of all the transfer mongers involved, I'd mentally accepted that we were in for another season of crap defending and a bipolar extremity of highs and lows. When you have Mignolet, Moreno, Klavan, Matip and TAA with a Jordan Henderson shield, ten men and no outball, against City, it's pretty easy to see you are royally screwed. Get through this and move on I thought, most don't agree with me, a defeatist attitude perhaps (please don't beat me with sticks) – but Jürgen's subs and general game management suggested he knew too.
Unfortunately, apart from the fact that we actually got to 90 minutes without actively walking off the pitch in protest, we didn't really get through it, did we? We got battered!! But……. at the end of the day, as the dust settles, the simple fact is that we were reduced to ten men and beaten by an excellent City team at the Etidad. Sh*t Happens. No red = different game.
Klopp's record against the top teams in England has been exemplary and a joy to be part of. Granted, the team capitulated Saturday, but it capitulated using the same style and approach that has seen us be so successful against the best since Klopp's inauguration. The good goes with the bad, and we've had more good than bad vs the top six using the same approach (Pre Red Card). If we can repeat our recent record against the top six in the next roster of corresponding fixtures, then I won't be complaining. This isn't a trend against the big teams like we witnessed under Rodgers. This was a blip, we have to move on.
The next logical step in my reason was to assess the games Mane would likely miss, and with Burnley at home and 2 x Leicester away, I could take some more positivity that the red card might not have any further outstanding hindrance's on our season. Coutinho could be back as a direct replacement, Mane could play in the Champions League and one of the games is League Cup, he would have probably been rested anyway.
As the game wore on, I continued to watch rather numbingly, with part of my focus already hemming in on the Sevilla game. The bright lights of Anfield on a Wednesday night Champions League game, I couldn't wait and I was daydreaming through the punishment.
But the underlying Freudian point of my daydreaming provided me objectivity in the midst of Saturday's chaos. Yes we got battered, yes we gave in, yes our defence is a shambles and warrants a much bigger article than this, but the season isn't over, it's still only beginning, and we have loads to look forward too. Let's put City behind us. I (think) I can count the games like Saturday under Klopp on one hand, and so long as we get back behind the team, there is no reason not to believe that we can't right the wrongs of Saturday by going on a roller coaster offensive of straight victories. (Why a roller coaster? Well our defence will still be crap…)
So my take on Saturday? It was a blip. It was a rare anomaly and we must forget it, forget it quickly and get behind the team for a great game on Wednesday.
Am I too positive? Maybe I am…(Please don't beat me with sticks)