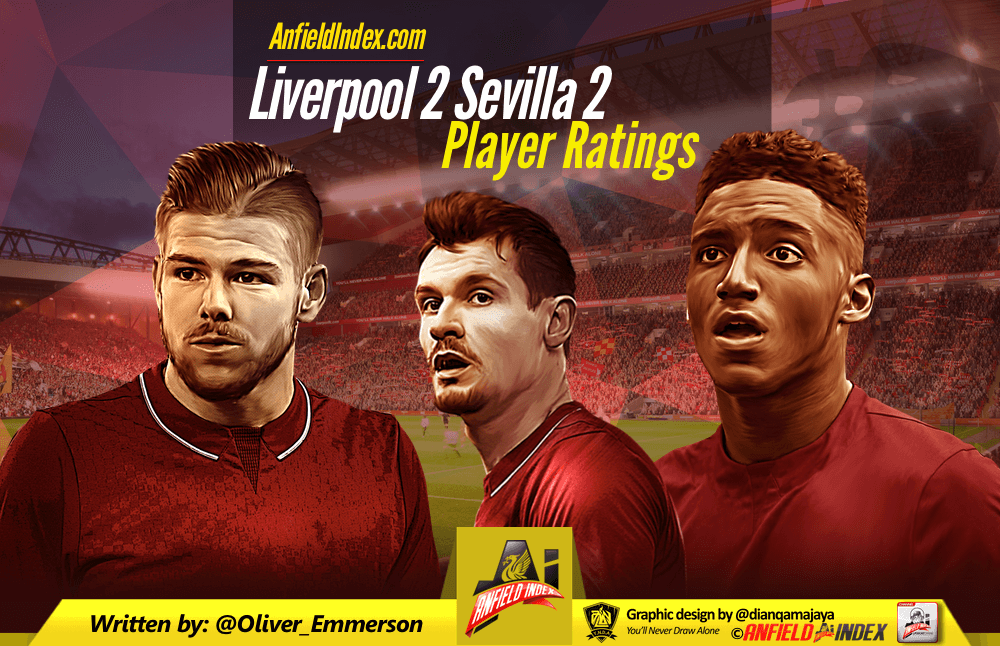 Liverpool 2 - 2 Sevilla: Player ratings from a frustrating night at Anfield
A disappointing one, that. Liverpool were better, much better, than Sevilla for large parts. The Reds' attack gave the Spaniard's defence hell, and the Reds know they should have walked off the pitch with all three points, and preferably eleven men.
So, a 2-2 draw will irk most – myself included. But, Liverpool showed enough tonight to suggest that they can top this group, and if Firmino scores his penalty then we don't spend the next three days dissecting a defence we all knew was awful at the start of the night.
Anyway, these player ratings. How did the Reds fare individually?

Loris Karius (6/10): Could do nothing, I mean nothing, for either goal. Looked more composed with his feet than against Arsenal, that's what more minutes on the pitch will do for you. Some tidy passes and a couple of commanding punches, nothing wrong for the German. The fact he's conceded two despite barely having a save to make isn't a bad reflection on him but on Liverpool's defensive lapses.
Joe Gomez (5): Was alright, Big Joe. He'll kick himself for the sending off at the end, a little naivety perhaps. Had good bits and bad bits, sloppy in attack on the odd occasion and similarly going back, but for the most part, he did a little more than you'd expect from a youngster out of position. Knocked down one for the late Red.
Dejan Lovren (4): Shocking for the first goal, simply shocking. Try and blame anyone you like, he fails to kick the ball. Some bizarre headers at times, no idea where he's going late on either as he drives up the pitch Matip-style only to turn round and lose it. Deserved to come back in after the Etihad collapse, where do the Reds go next at the back?
Joel Matip (6): Lost a couple of physical battles that you wouldn't expect him to, not where he's overpowered but where the opponent comes out with the ball somehow. A few good tackles, the better centre-back and some good moments as he got Liverpool up the pitch.
Alberto Moreno (8): One of his best performances in a red shirt, the first 45 minutes especially. Quick and sharp in the tackle, using the ball intelligently and not taking silly risks at the back, Moreno continued his revival well and should have added a goal to his assist on the stroke of half-time. Got a little rash in the second half and maybe should have been taken off before one yellow card became two, but impressive nonetheless.
Jordan Henderson (6): Thought Henderson's passing was a little sloppy at times but his defensive performance was better this evening, frustrating at times when you want him to shoot but he passes and vice-versa. Lovely one-two with Moreno for Firmino's goal.
Georginio Wijnaldum (6): A big home game? It's Gini's scene, as he was a little more 'alive' looking than he has been earlier on this season. Not a great showing but did his job diligently from my perspective, with some good ball recoveries.
Emre Can (6): Unlucky not to score as his closest effort clanged back off Firmino's ankles and another went just wide. Could do better on the first but, as I said, it's Lovren's fault. Pretty similar to the other midfielders aside from that in a game where the highlights were out wide.
Mohamed Salah (8): Great game by Salah who, in my opinion, had his first 'I was better than Mane' performance as a Liverpool player. Much of the focus in the build up was on the Senegalese winger, but the Egyptian was equally if not more impressive, having the Sevilla defence on toast for much of the night, including great work for his goal.
Roberto Firmino (7): Movement, passing, finishing all on point up until he misses that penalty which would prove crucial in the end. Still, he created chances after that for Liverpool to make the game safe, something they couldn't do.
Sadio Mane (7): Not as good as Salah for me but still an excellent performance, not sure how the right-back against him wasn't sent off and that's purely a compliment to how convincing Mane was against him. Liverpool will miss him in the next couple of league games.
Philippe Coutinho (1): Came on to a decent reception, almost found Salah with a nice pass, but needs a 1/10 so we can all get that last bit of anger out of our system.
Sturridge & Chamberlain – N/A.