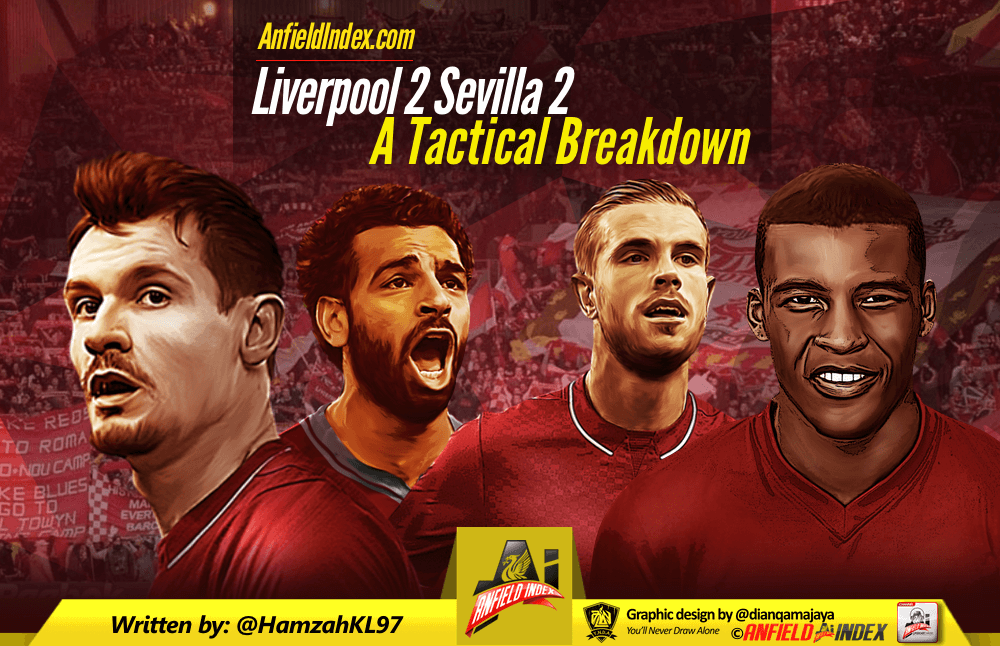 Liverpool 2-2 Sevilla: A Tactical Breakdown
A promising, but so too a very much frustrating match, Liverpool's long-awaited return to the Champions League group stage was disappointing, as from doing the hard work – having to come from a goal down – to then dominating the game, the team once again threw away what should have been three points, instead taking just the one.
Between Firmino's equaliser and the end of the first-half, Liverpool were imperious, tearing through Sevilla with some phenomenal attacking play, involving defenders, midfielders and the forwards breaking from deep and completely overwhelming the Sevilla defence. Liverpool could easily have dispatched three or four goals past Rico, and tied up the match before Sevilla had a chance to get back into the game.
However, that was not to be, hence today, as always, we'll be looking at the goals, Liverpool's offensive shape, and perhaps why in the wider picture this result is not as bad as it initially seems.

The Stats
Possession
LFC: 49.2pc
SAD: 50.8pc
Touches
LFC: 694
SAD: 717
Passes
LFC: 471 (76pc success)
SAD: 492 (78pc success)
Key Passes
LFC: 18 (Man City only made 11 key passes against LFC)
SAD: 5
Shots
LFC: 27 (7 on target)
SAD: 7 (2 on target)
xG
LFC: 1.5(+1 pen) (Caley)/2.22 (tgen)
SAD: 1.4 (Caley)/0.97 (tgen)
Chances Created
LFC: 17
SAD: 4
Dribbles
LFC: 11 (48pc success rate)
SAD: 10 (77pc success rate)
Defensive Aerials Won
LFC: 18 (most in team – Lovren: 8)
SAD: 13 (most in team – Kjaer: 4)
Tackles
LFC: 19 (66pc success rate)
SAD: 22 (67pc success rate)
Interceptions
LFC: 7
SAD: 16
The Goals
0-1, Sevilla, Ben Yedder, 5′
From the point which Gomez headed the ball clear, from the initial cross, it's clear to see that getting Liverpool's midfielders out of the box to apply ball pressure may take a little longer than usually desired.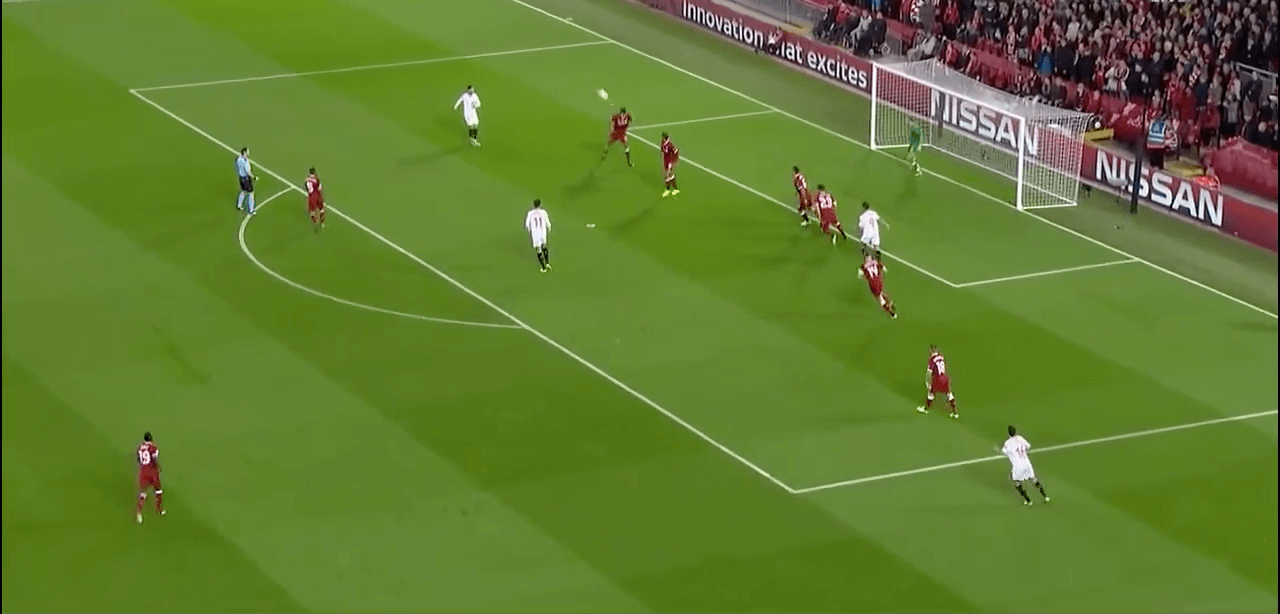 However, the midfielders in the box – Can and Henderson – were afforded a little extra time due to Wijnaldum's positioning.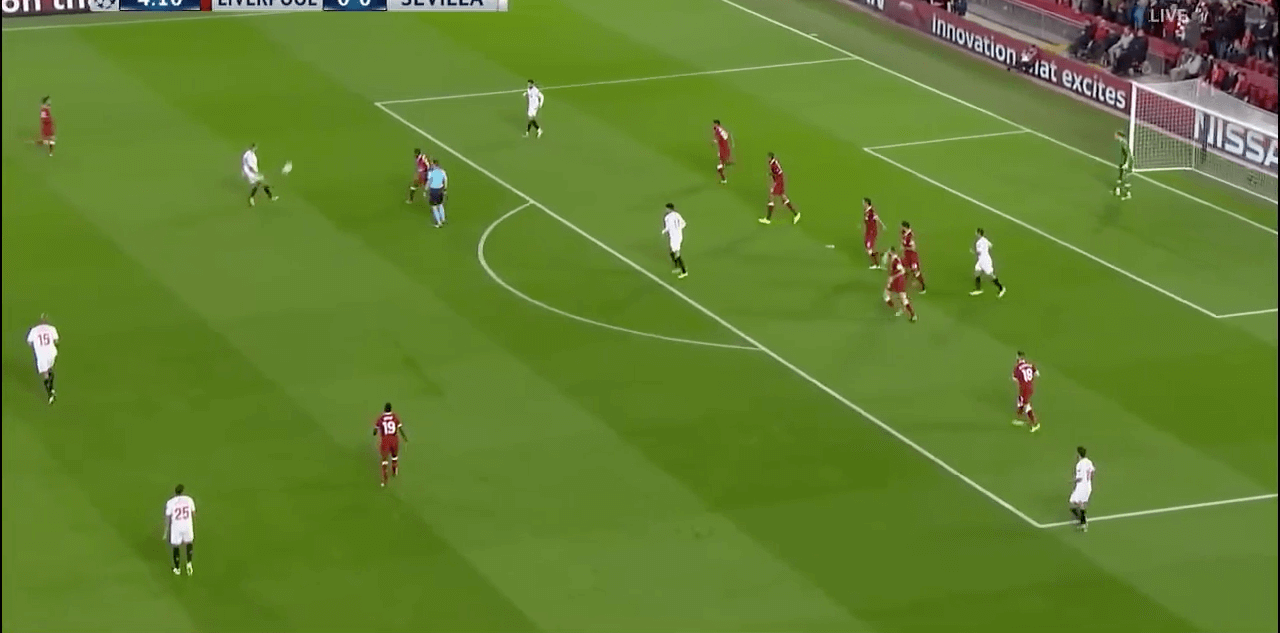 Yet, Henderson and Can don't quite take advantage of this extra time, with Can initially in a better position to go and mark Correa on the edge of the box, but instead lets Henderson do it.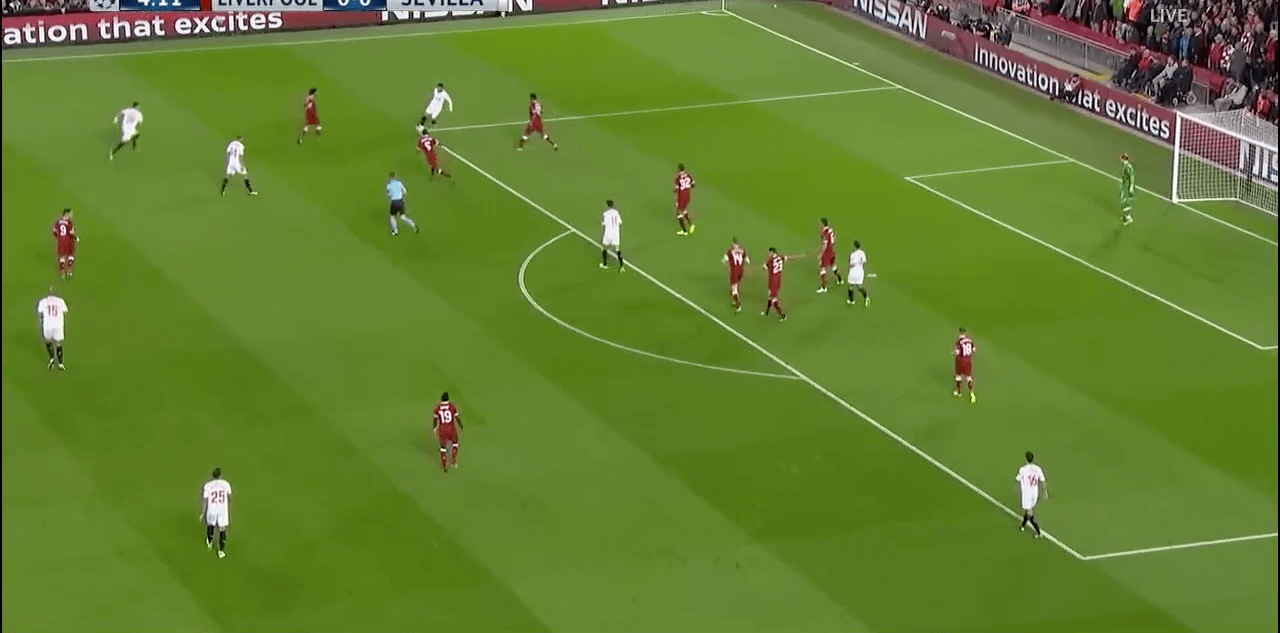 It's harsh to draw attention to this, but the few extra split-seconds Correa had allowed him to play a short pass which would draw out Matip.
Illustrated in the two frames below: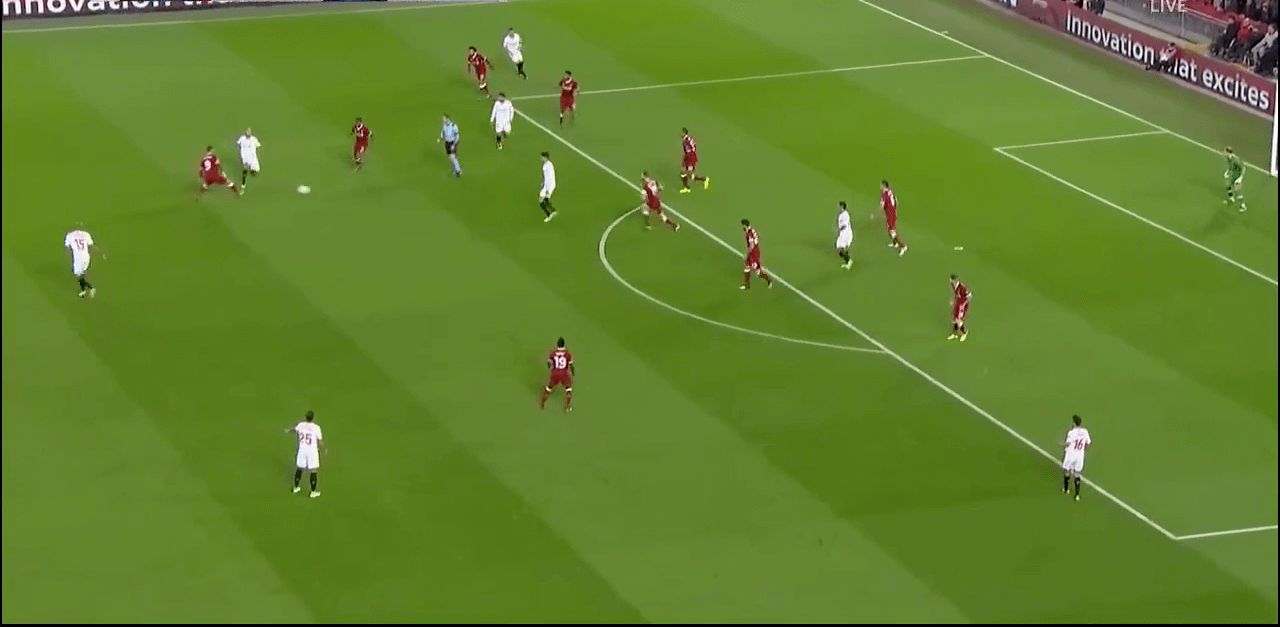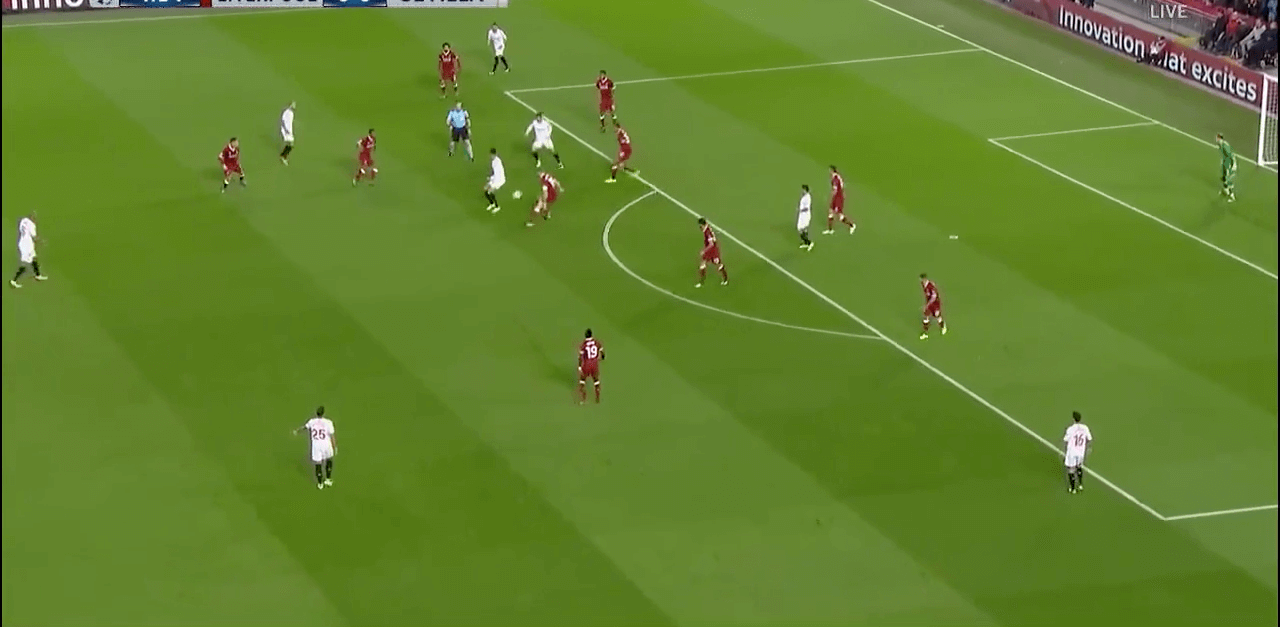 Strangely, only the forwards, as a group, were set and in their correct (or most ideal) defensive positions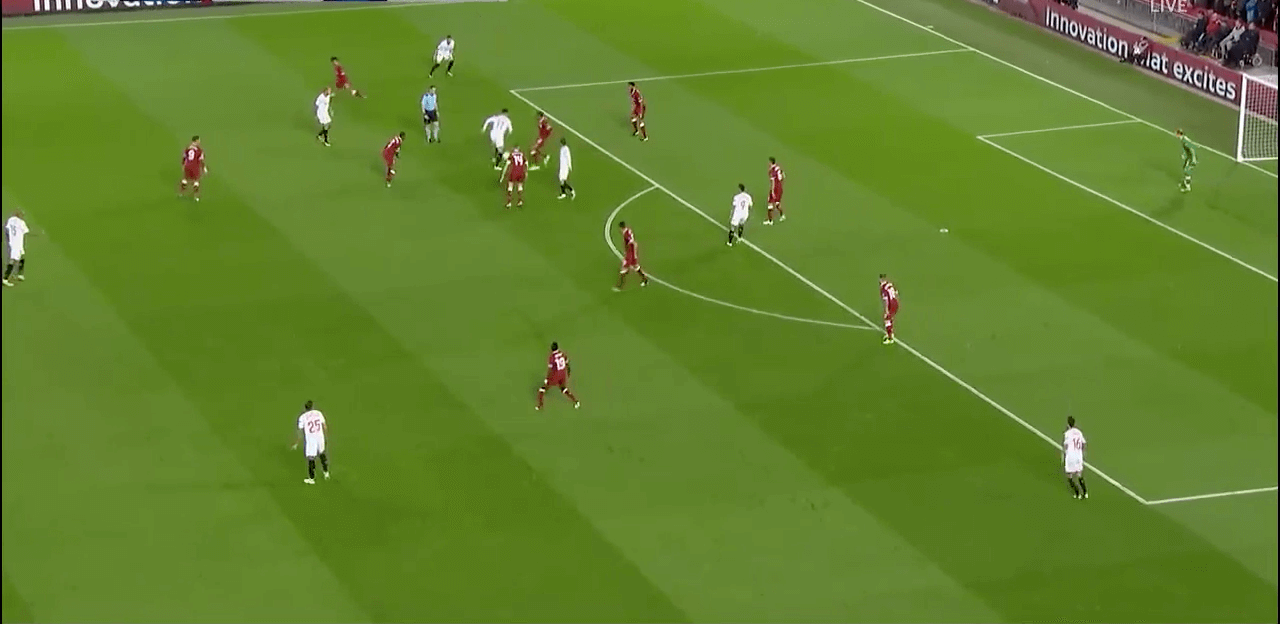 With Correa allowed to play the short pass, the ball eventually finds its way to the wing, with Matip's attempted tackle unsuccessful. Yet here, Sevilla have a free man in the box, however, both Henderson and Can do get in position.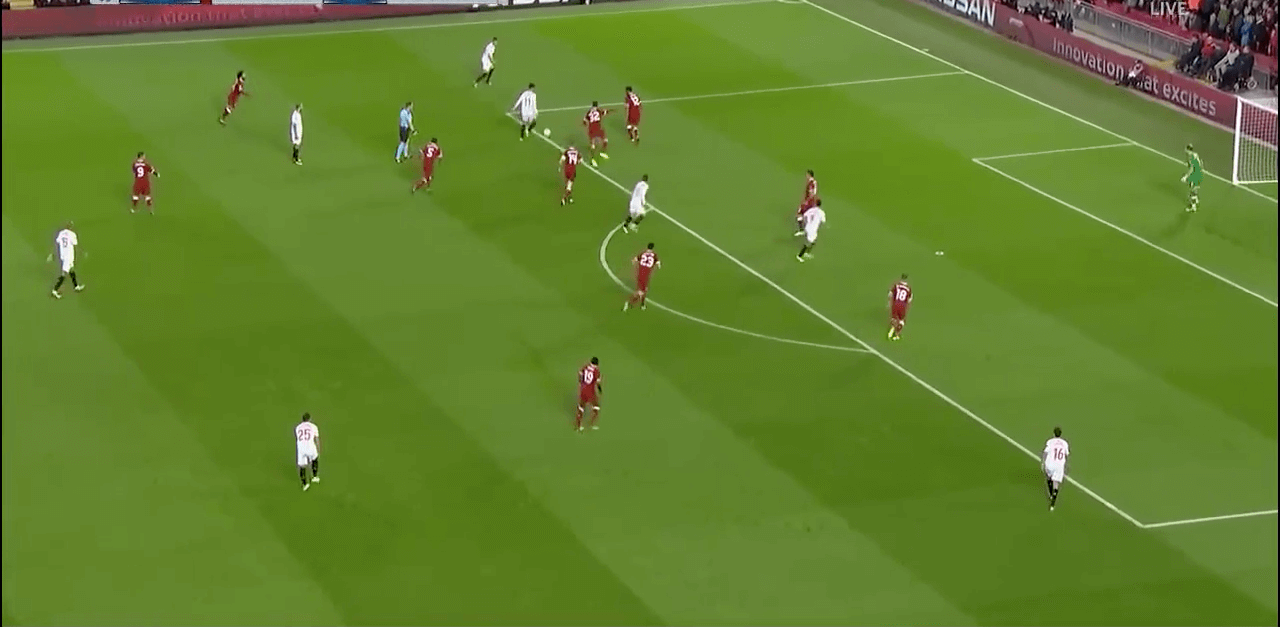 From here you'd expect Liverpool to deal with the cross. Lovren miscues the cross, and the ball goes past him. In all honesty, I cannot really point the finger at Klopp, Moreno or Can here. Moreno and Can both may have, on a different day, got in front of Ben Yedder, and whilst professional footballers should be pre-emptive, it's hard to see how anyone can expect, or accommodate for, such an error.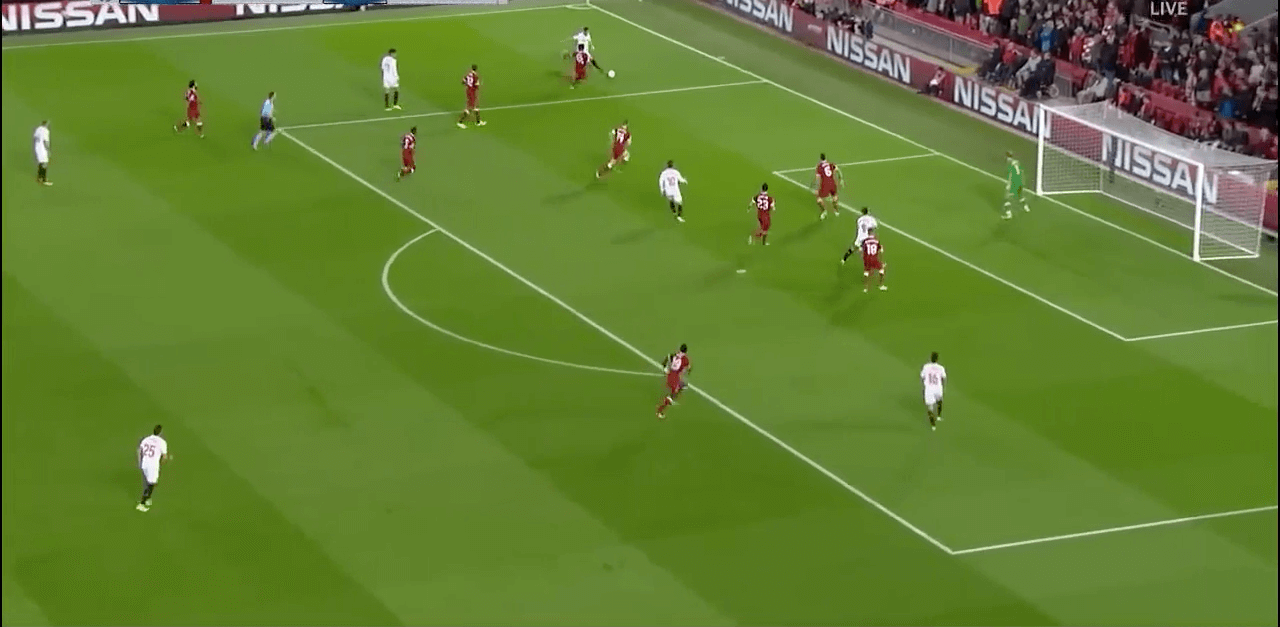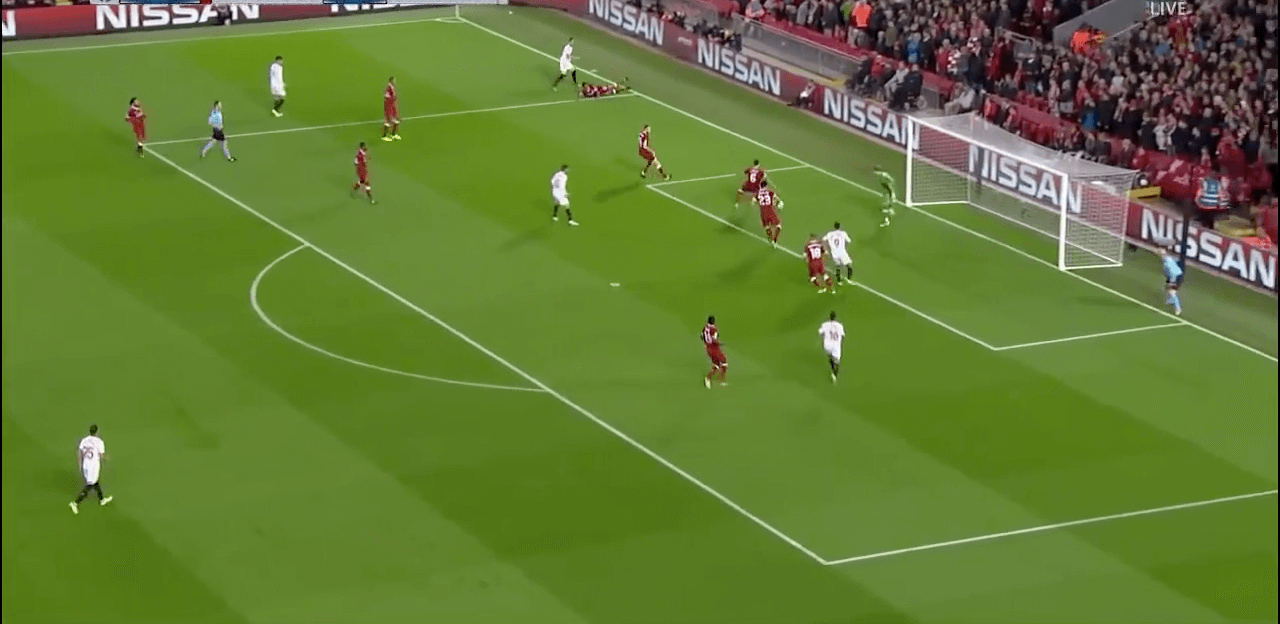 1-1, Liverpool, Firmino, 21′
This truly is a delightful goal, even though it may not appear so on first viewing. Henderson, Can, Moreno and Firmino all play their parts beautfully, as I'll explain below.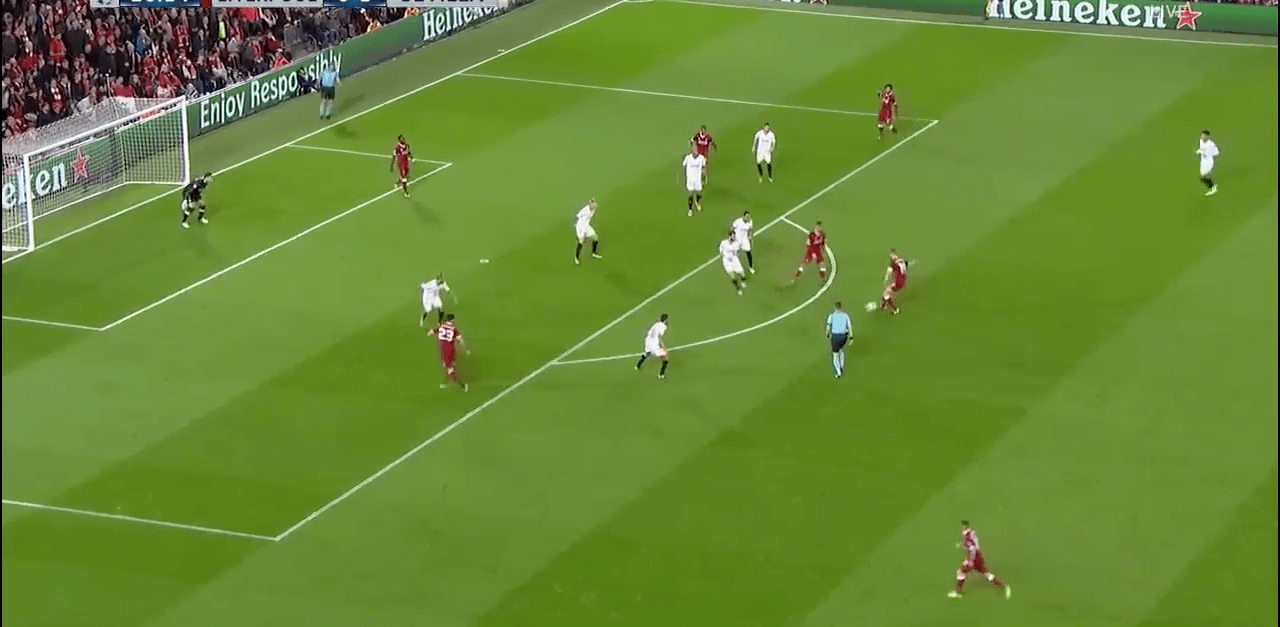 At the point at which Henderson plays the pass towards Moreno, Emre Can is in an advanced position, with the right-back focussed on marking him. Furthermore, Firmino is not yet in the box, holding his position – for now.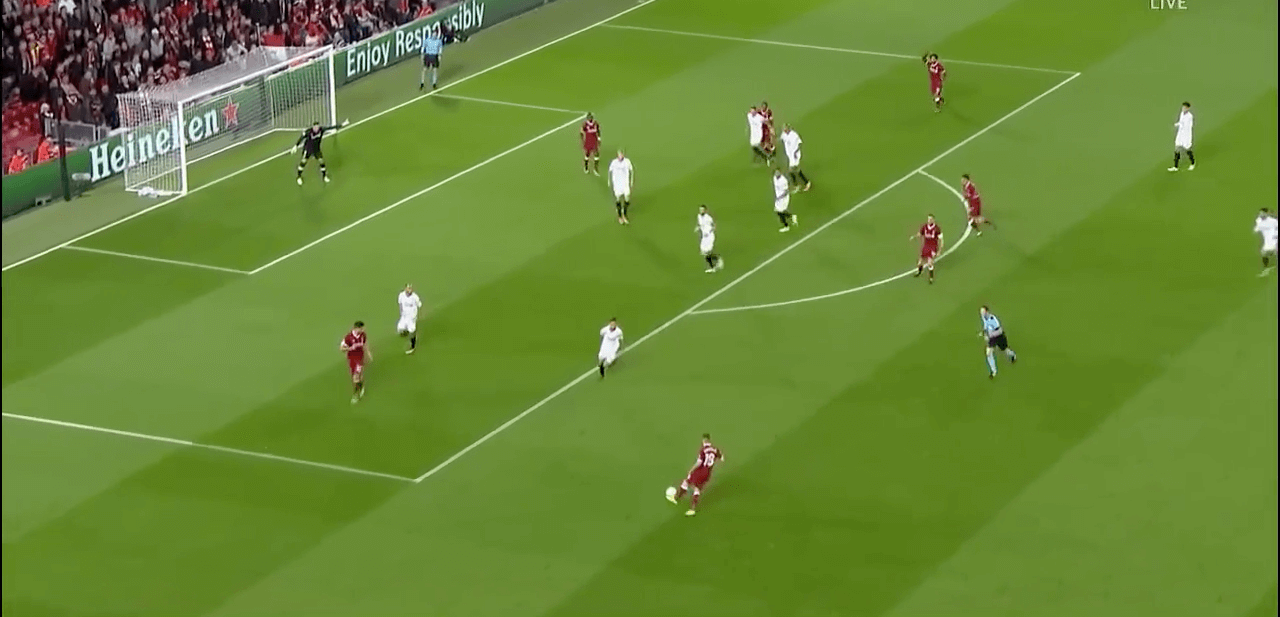 By the time Moreno has received the ball, Emre Can has already begun to pull the right-back out of position, creating a gap between the RB and CB, which Moreno will exploit.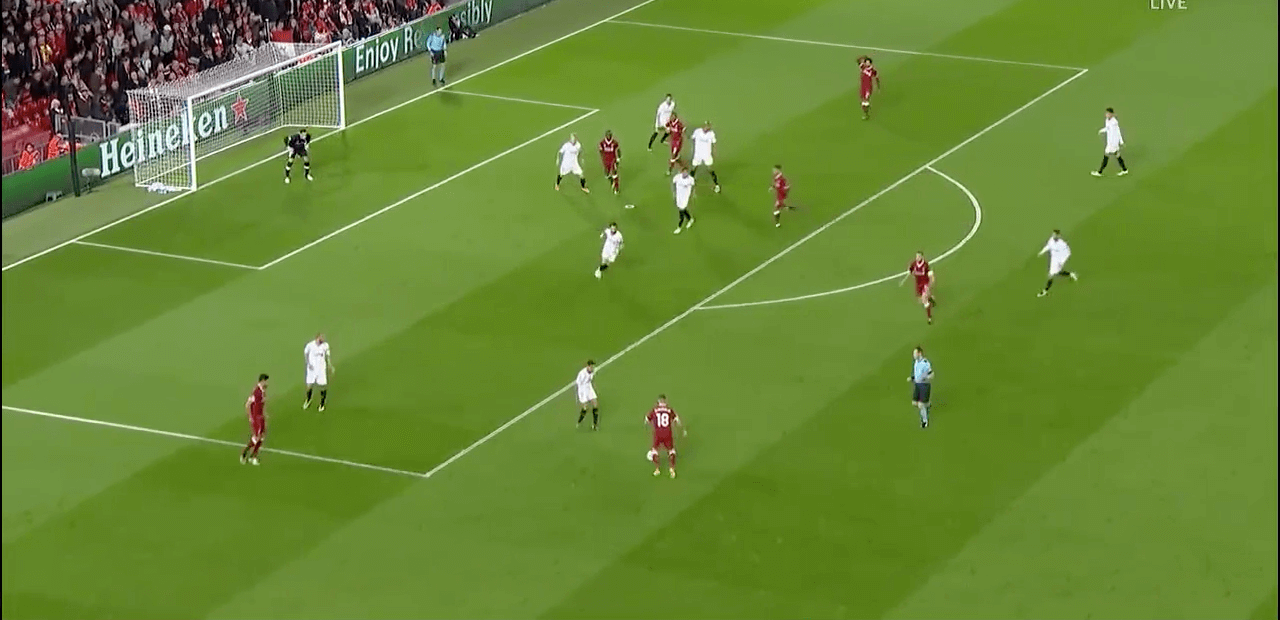 Henderson demands the return pass as Moreno moves inwards, already aware of the space. At this point, Firmino has just made his way into the box, but has not committed to a run yet, deciding to run as late as possible. Firmino does spot the space Moreno will run into, and moves towards that region.
The two images below illustrate the gap between the RB and CB – and Can's work in creating that.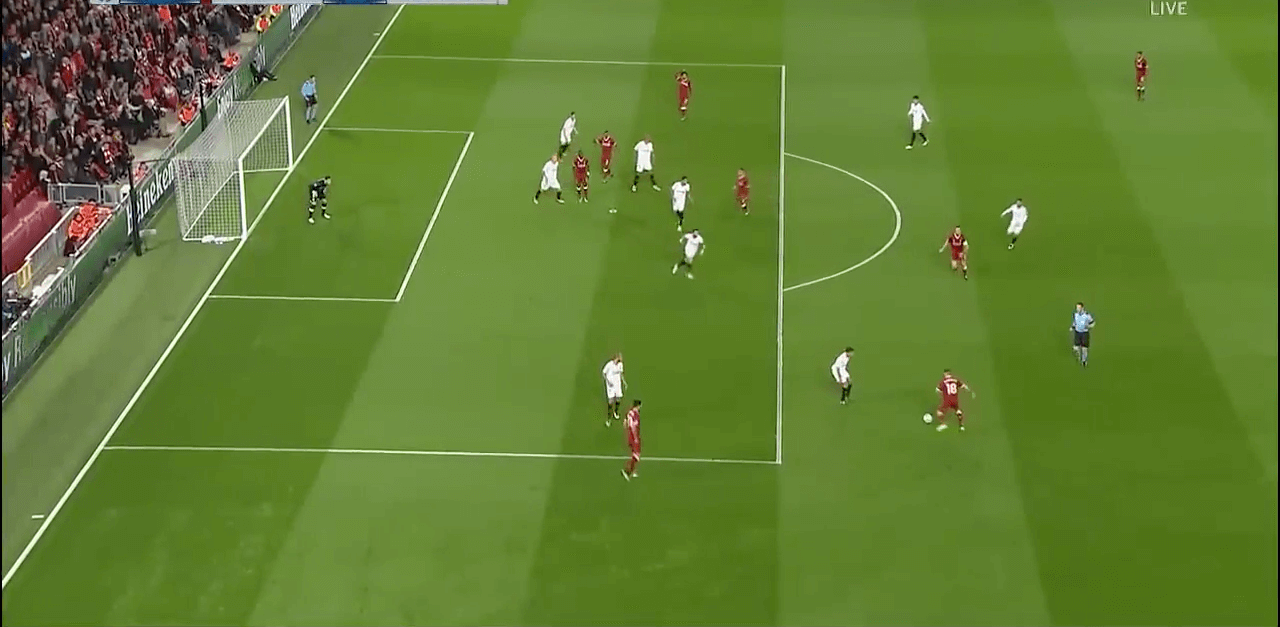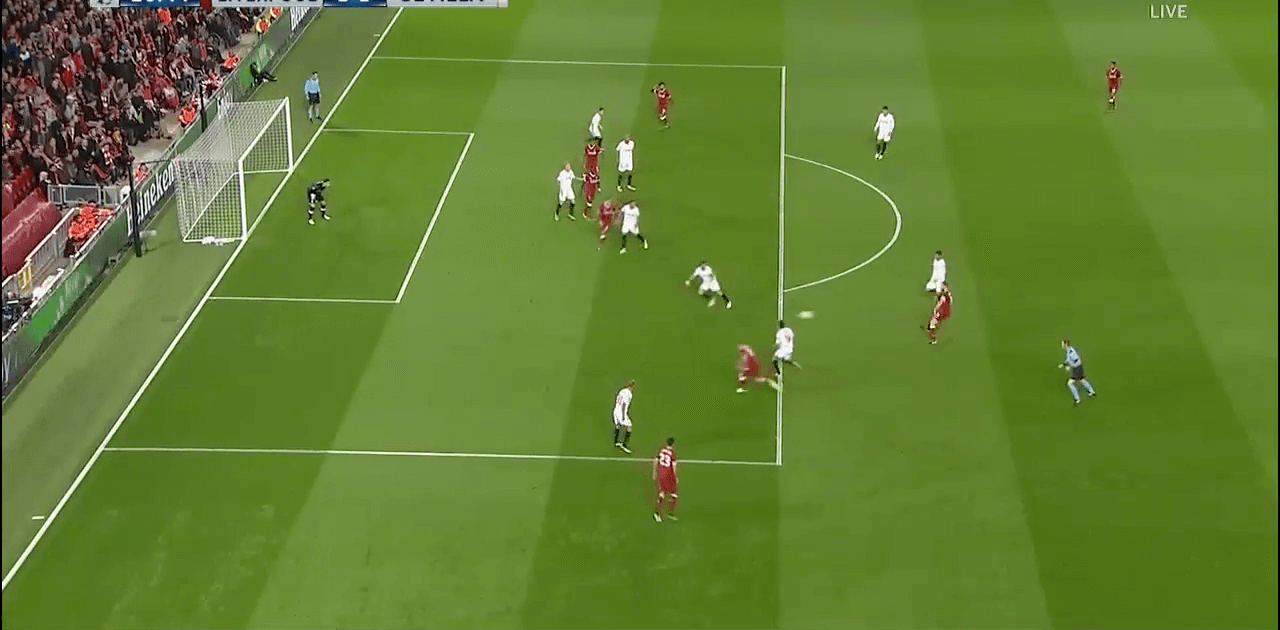 With Emre Can and Wijnaldum in such advanced positions, Henderson is allowed to actually move to the edge of the box, where he can take advantage of his forward passing ability – which he often scales back when in defensive midfield because of the higher danger and risk of such passes.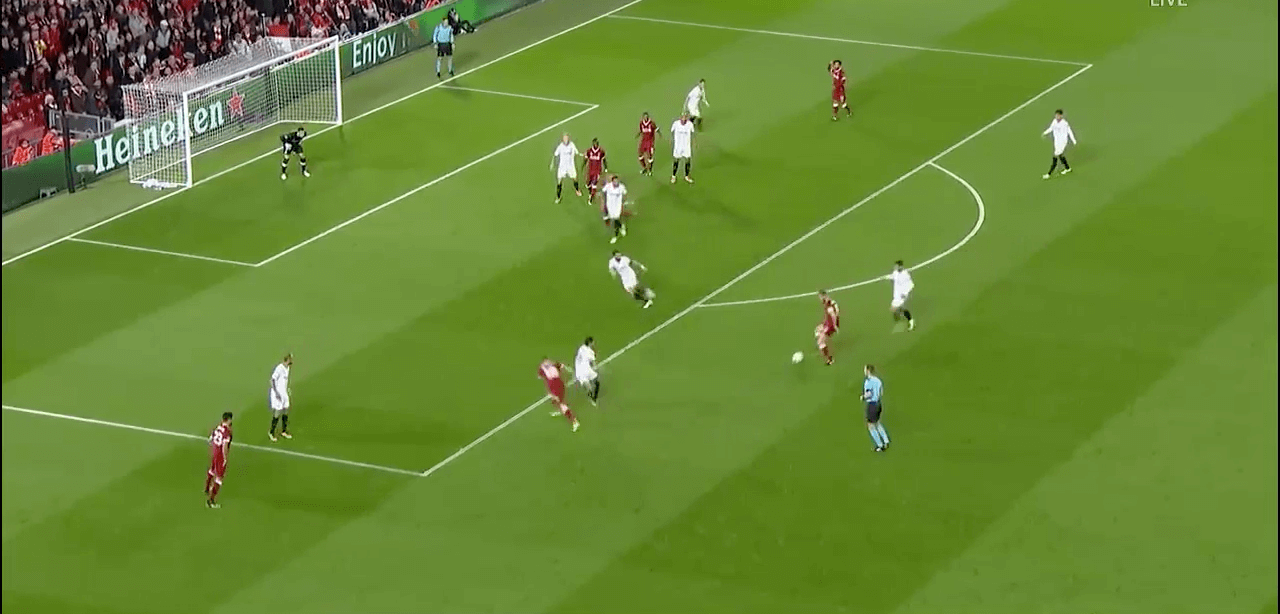 With Moreno running to meet Henderson's pass, Firmino uses it as a trigger to time his run, as he darts behind his marker, onto the edge of the six-yard box – with Moreno able to pass it beyond Firmino t0 Wijnaldum and Salah, if need-be.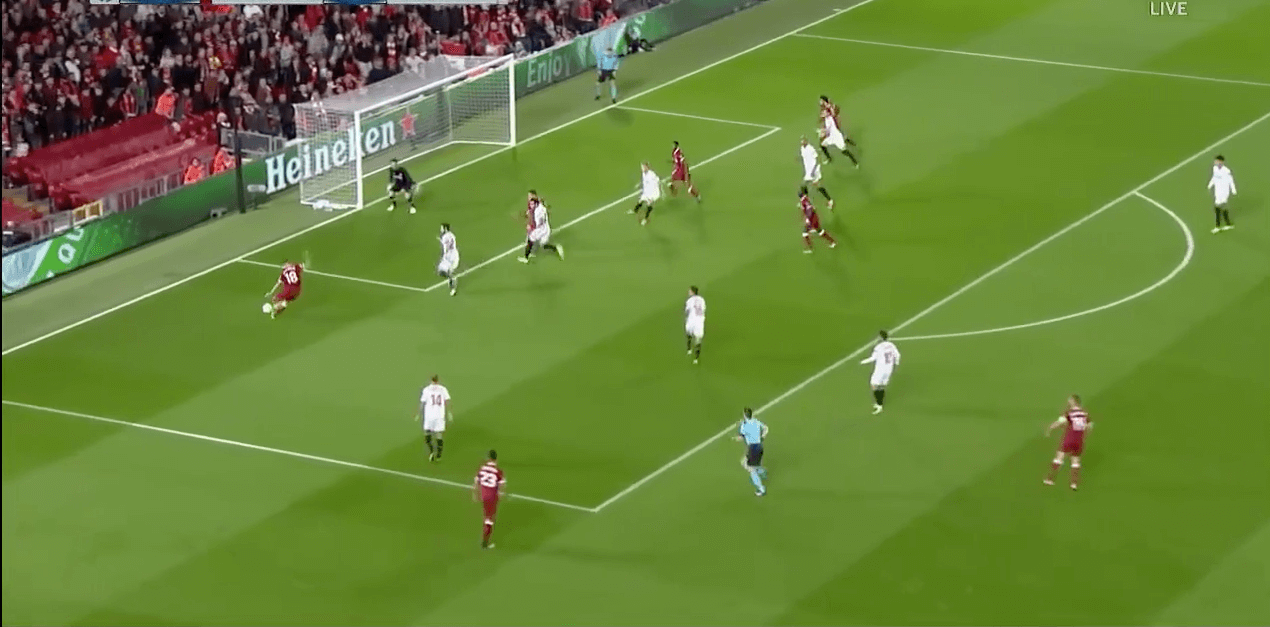 2-1, Liverpool, Salah, 37′
Liverpool at this point looked in their element, with Can having just placed his shot wide after a stunning Liverpool counter-attack. But this goal belongs to Liverpool's current top scorer, Salah.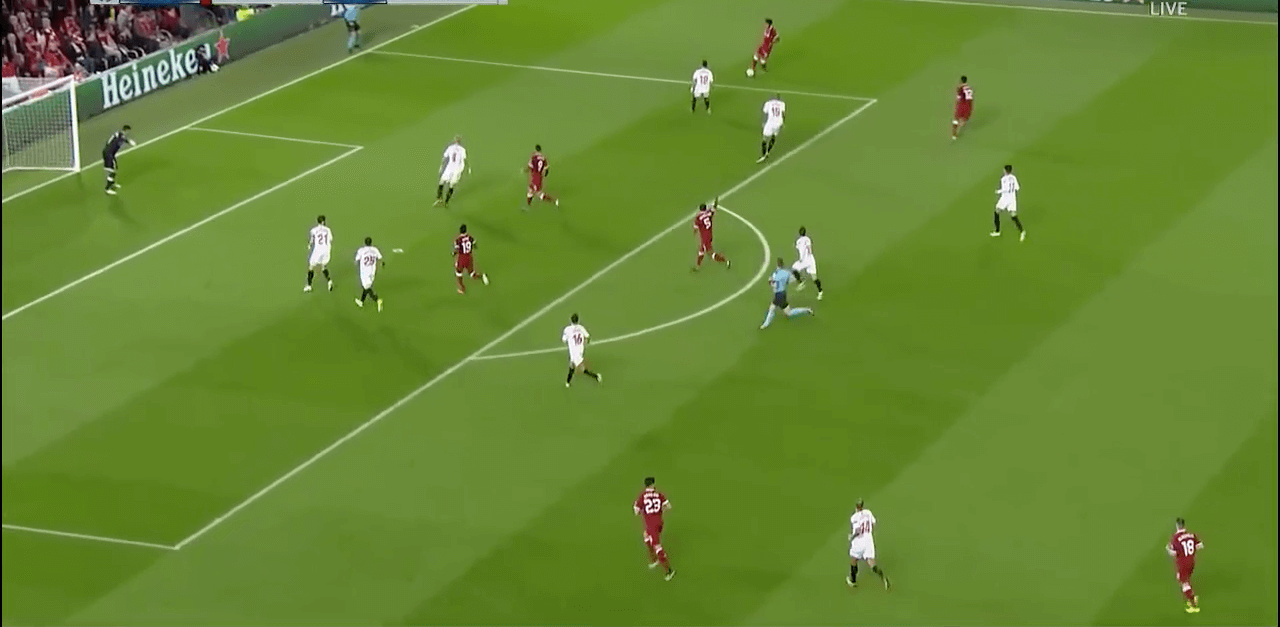 Continuing with the theme of Liverpool's midfielders being more advanced than usual, in attack, Wijanldum is positioned just outside the box, and his presence allows Salah to play a pass into him – with the Sevilla back four already occupied with Salah, Firmino and Mané.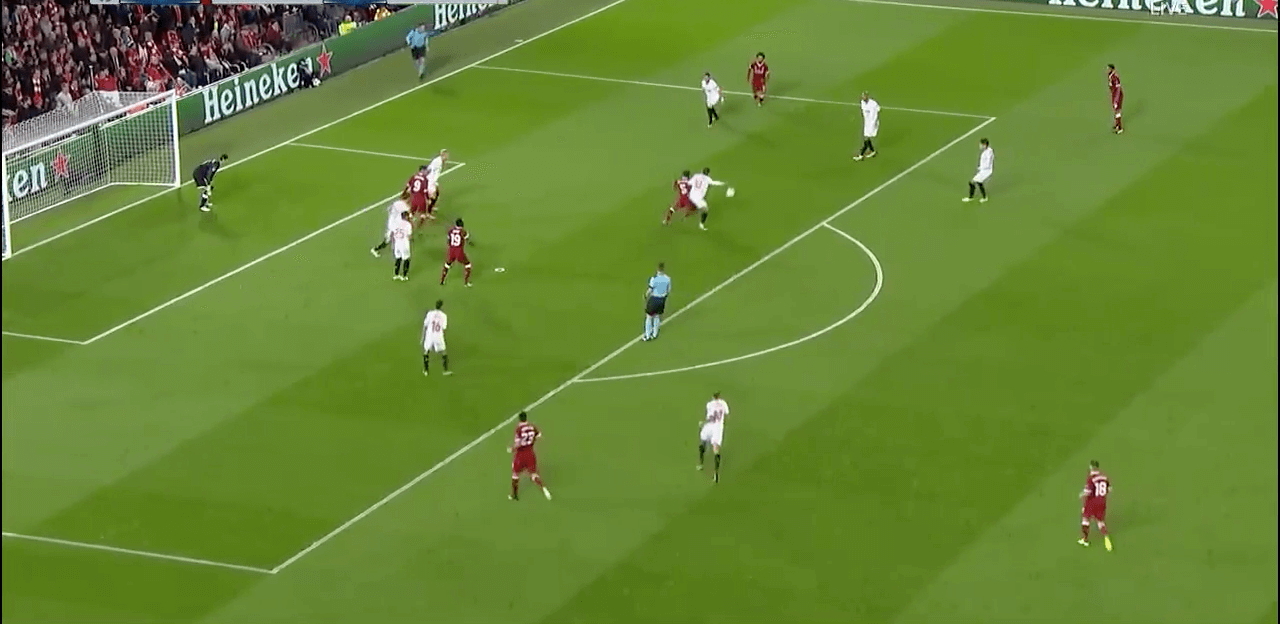 Salah's pass is behind Wijnaldum, and is cut out. However, Salah shows a blistering display of speed, and laudable determination as he sprints back to reclaim the ball – with Gomez and Moreno already heading back to set themselves for the counter.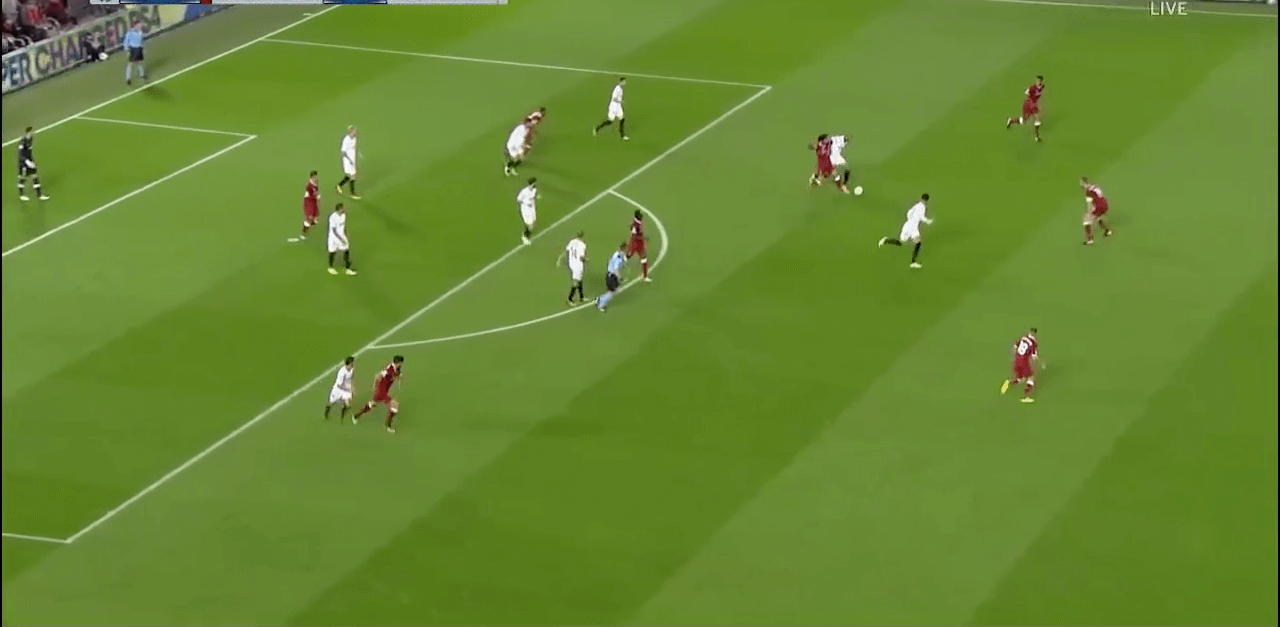 From here, Sevilla failed to press Salah, and he gets his shot away, which gets a fortunate deflection.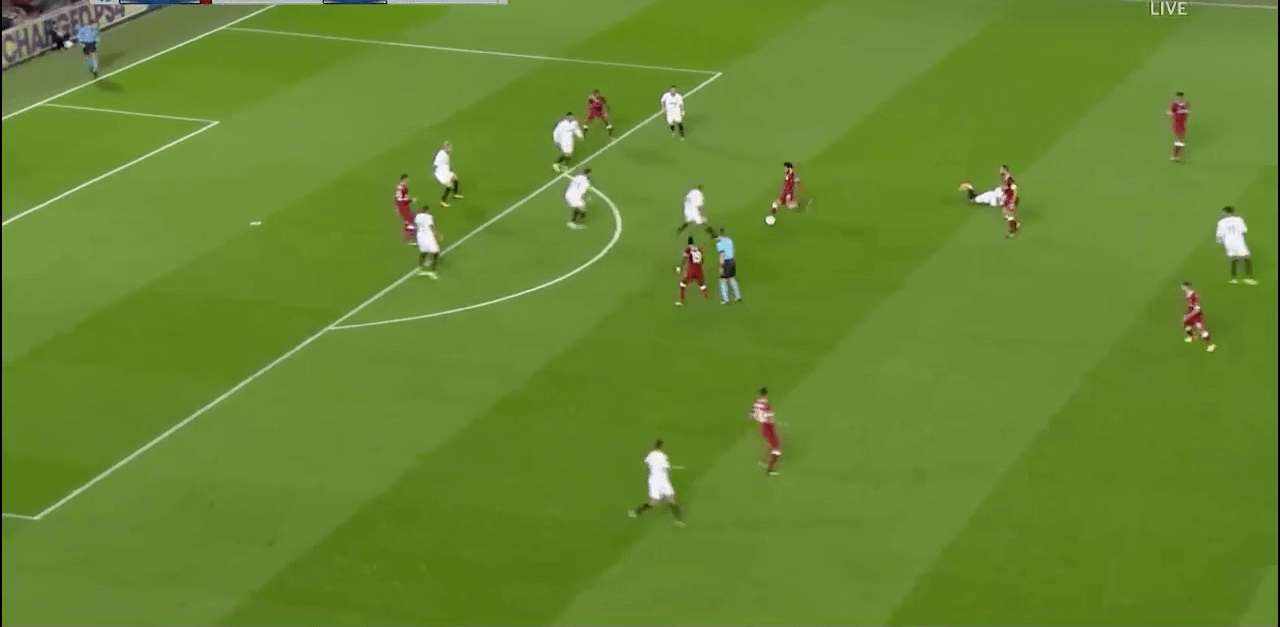 Notably, this was one of 11 shots that Liverpool had from outside of the box (46pc total shots). Bearing in mind all of Liverpool's possession in and around the box, (Sevilla third had 32pc of all action – 47pc in middle) we should ask whether they should have challenged the Sevilla 'keeper from closer range.
By the end of the first-half though, fans were merely ruing that Liverpool were only a single goal clear of parity. A stunning turn around that should have been topped off with a third goal, had Firmino converted his penalty.
Alberto Moreno's first half by numbers vs. Sevilla:

100% aerial duels won
4 crosses
3 clearances
2 interceptions
2 chances created
1 assist pic.twitter.com/PUFdujG3U5

— Squawka Football (@Squawka) September 13, 2017
2-2, Sevilla, Correa, 72′
The difficult we do immediately, fixing the defence takes a while longer. Or so the saying goes.
The problem with this one though, actually starts with the midfield.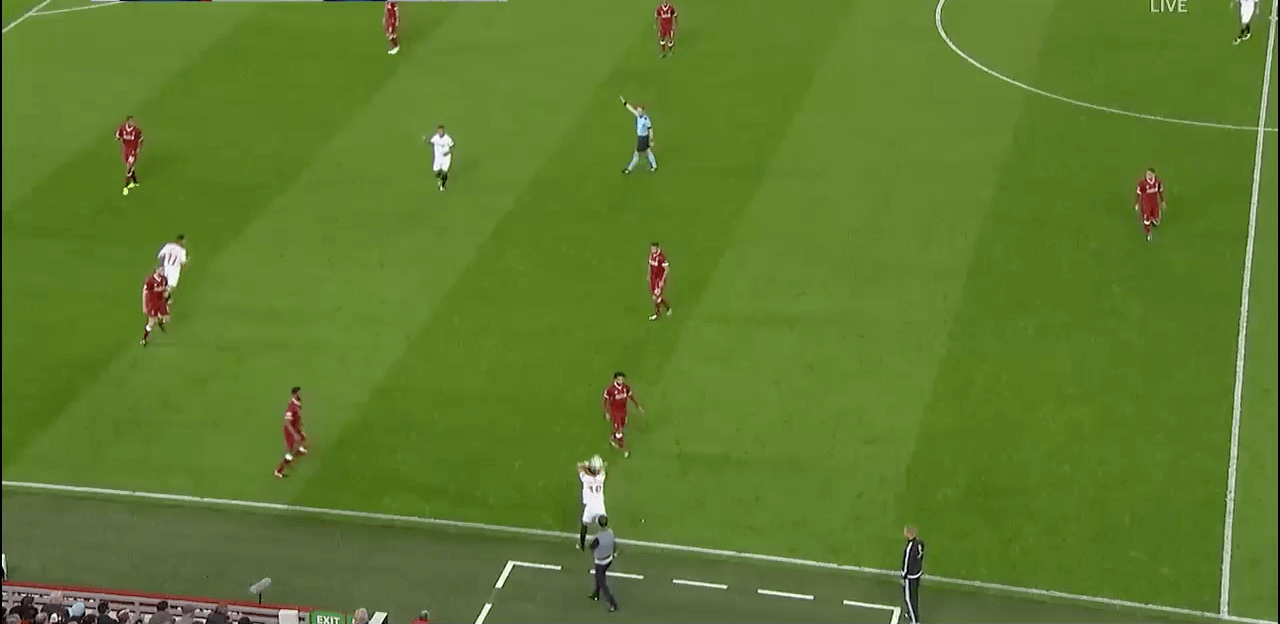 Henderson has his man, but Can does not, and without a player marking him, he is allowed to run directly at the defensive line. Arguably, Henderson should be leaving his man, for Gomez, and instead mark the Sevilla player in centre-midfield, as the deepest midfielder in the Liverpool three.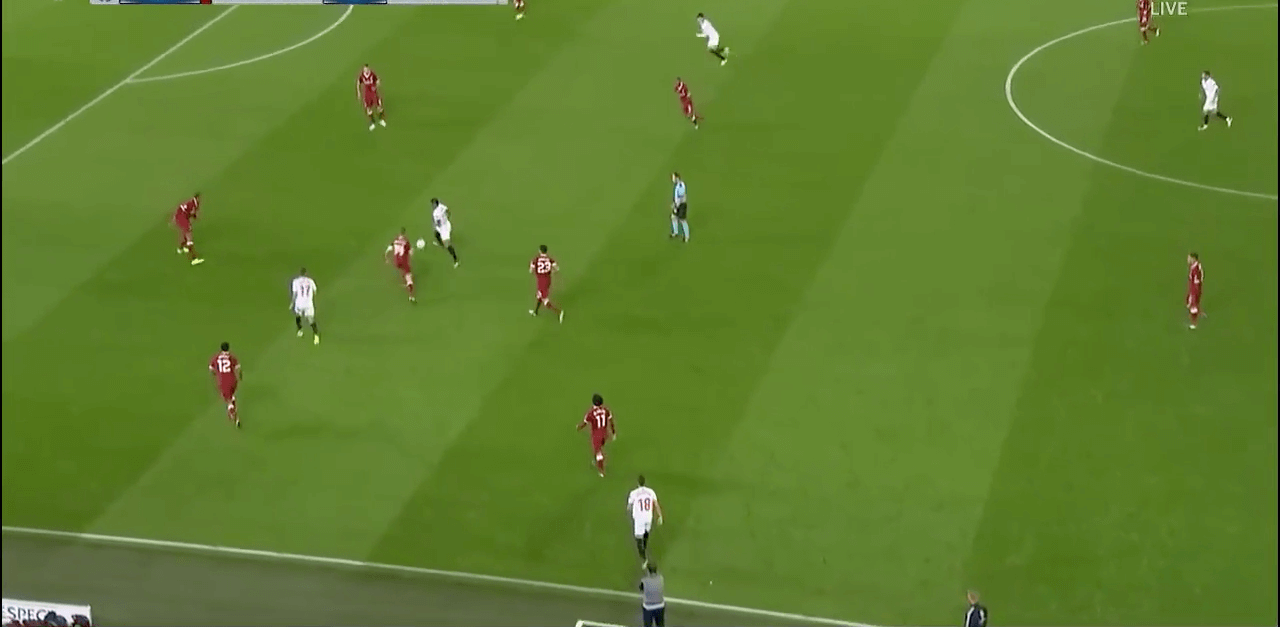 By the time Henderson and Can have set off to stop the ball carrier, it's too late, as he drives for the gap between Matip and Lovren, which is too large – with Gomez unnecessarily forward, following the throw-in.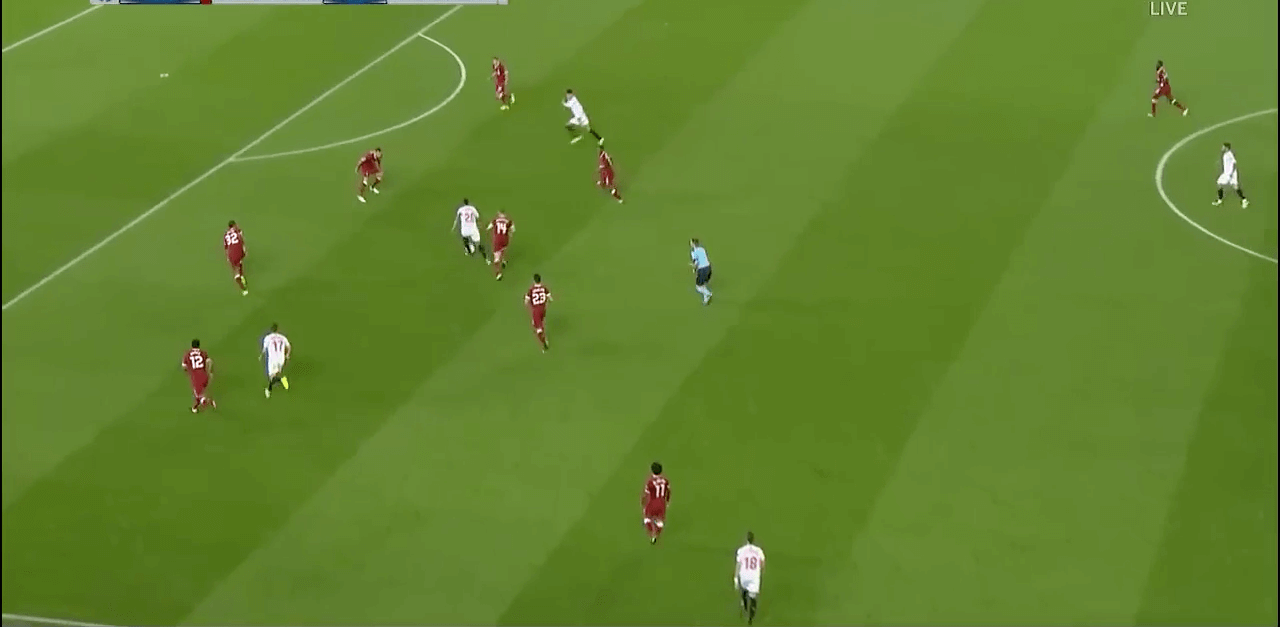 Wijnaldum tries to keep with Correa's run, but Lovren appears wary of a scissors movement by the Sevilla players and tries to hold his ground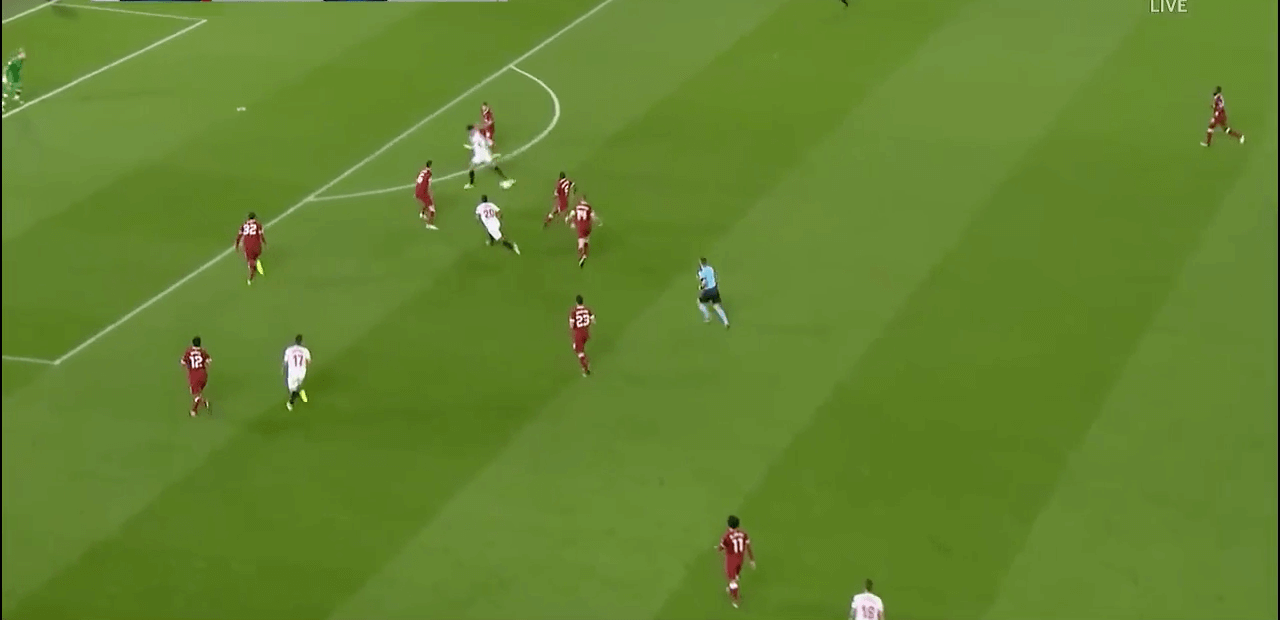 Correa's touch is stunning, with the ball behind him, he manages to take two players out of the game with a single touch, which also sets up his shot. Expecting Moreno and Lovren to stop this is unfair. Lovren does spot Correa's run, and looks towards him, but is just a tad too slow, and in fairness to him, his priority at that time was the player running at him.
Moreno expects the ball to go over to the man on the far side – his man – and he darts to the left to get there, before Correa touches it. The movement he made to his left cost him, and allowed Correa a little extra space and time.
The real problem with the goal though is not with the defence, it's with the midfielders who allowed Sevilla to run directly at the defence.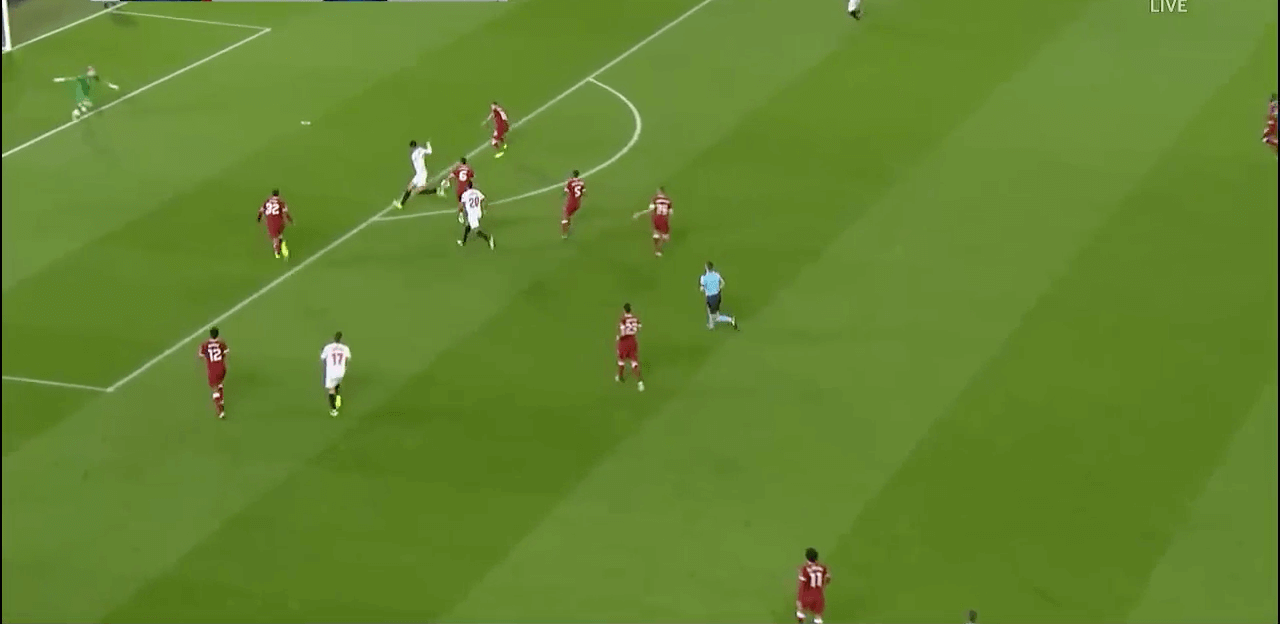 Thoughts on the game
I noted a small tactical tweak early on in the game – different to what Liverpool have tried to do in their two other big Premier League games – especially in the first half when Liverpool were dominant.
Liverpool's midfield has been passive at times, and in their defence, Can, Henderson and Wijnaldum are not particularly creative players. However, players don't need to be a master of passes to create chances, they can create them with their positioning. This is what Wijnaldum and Can aimed to do in this fixture – pushing up very high, often to, or just inside the box.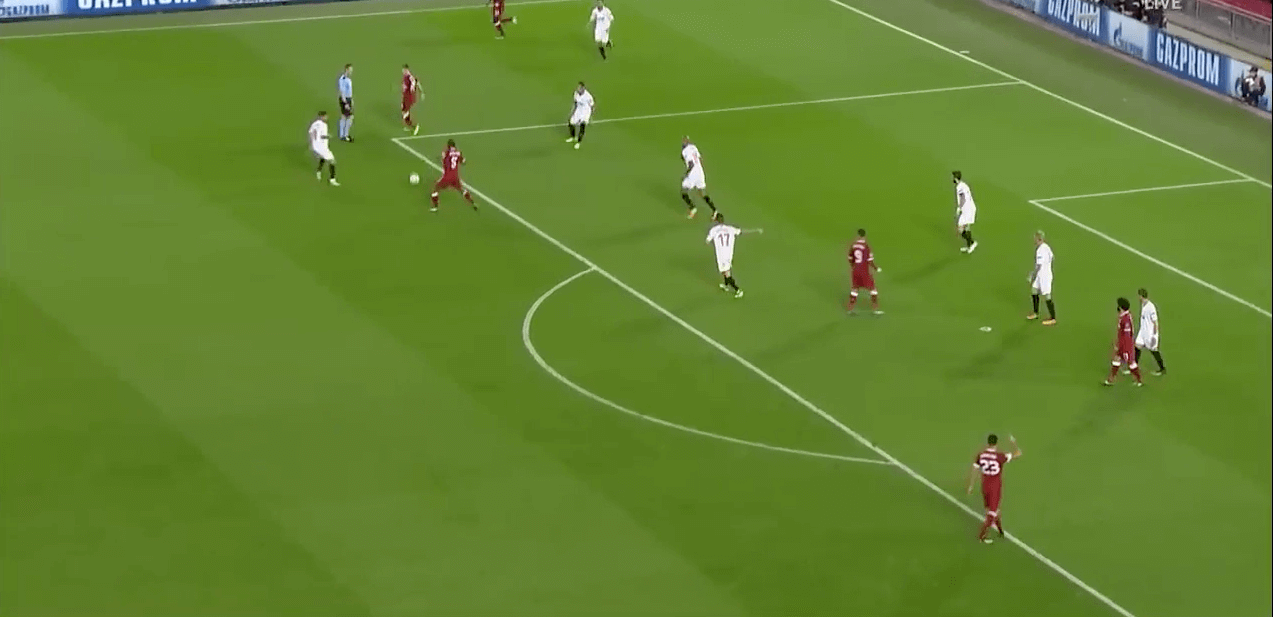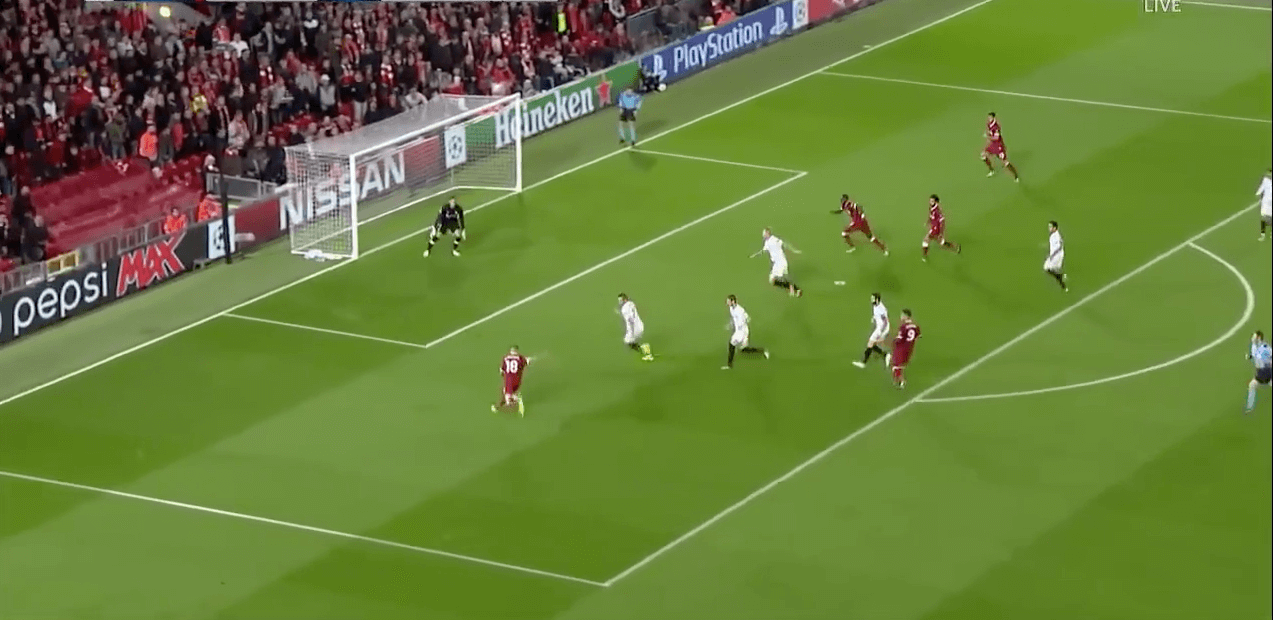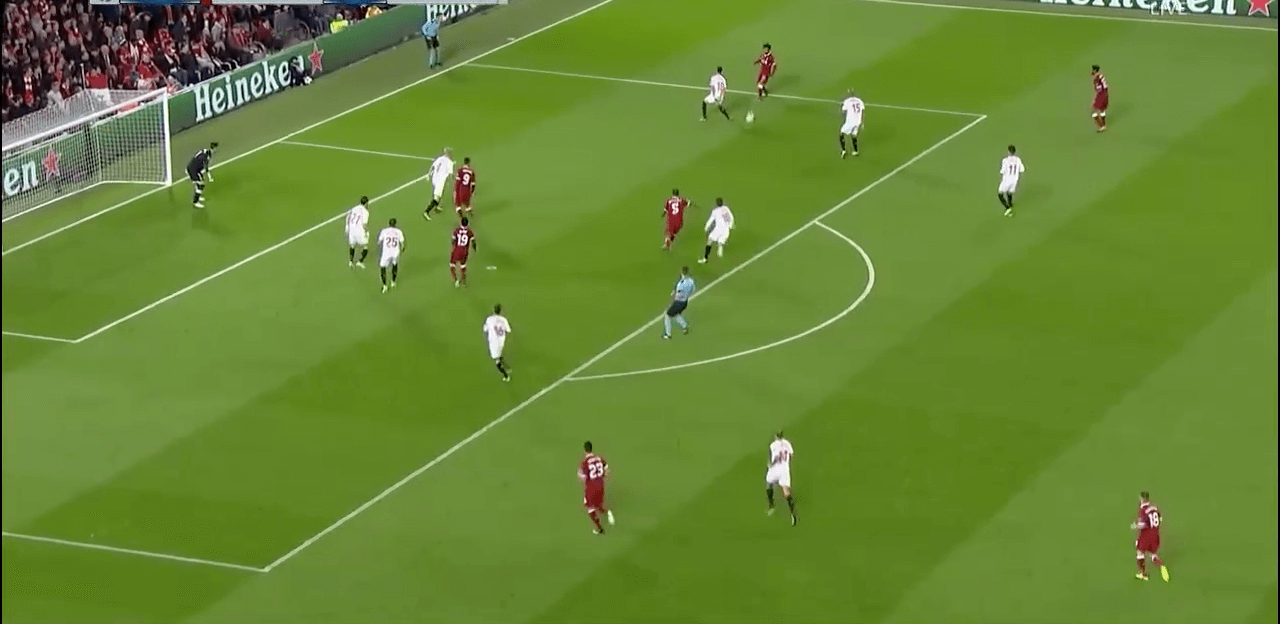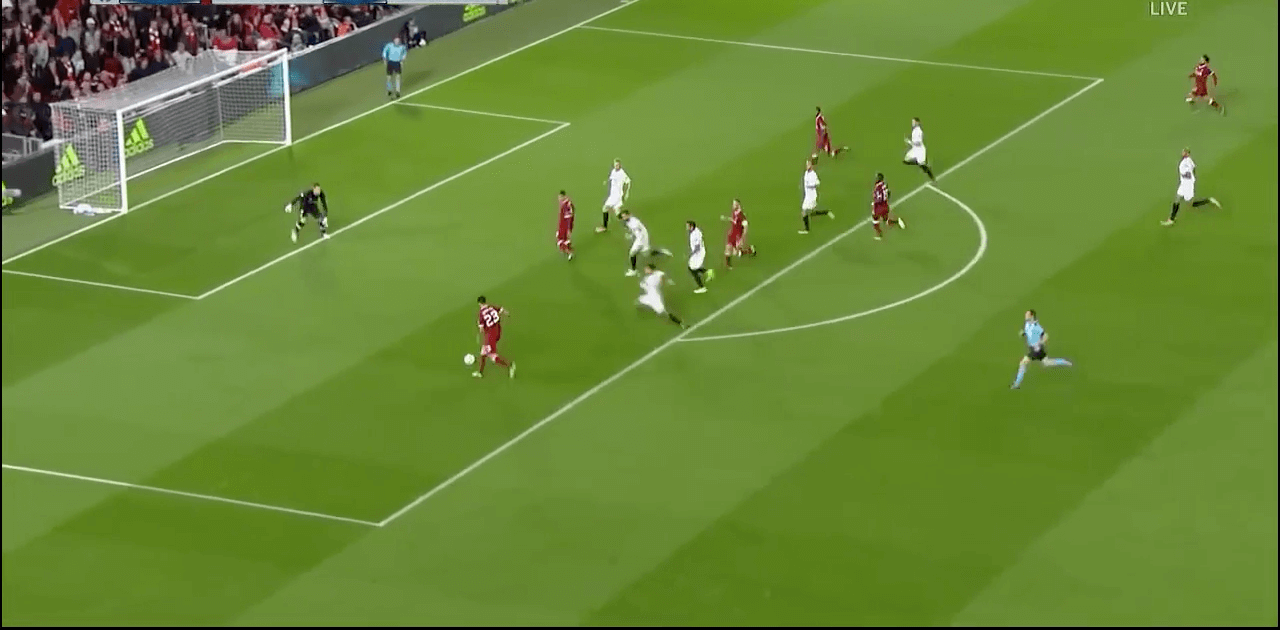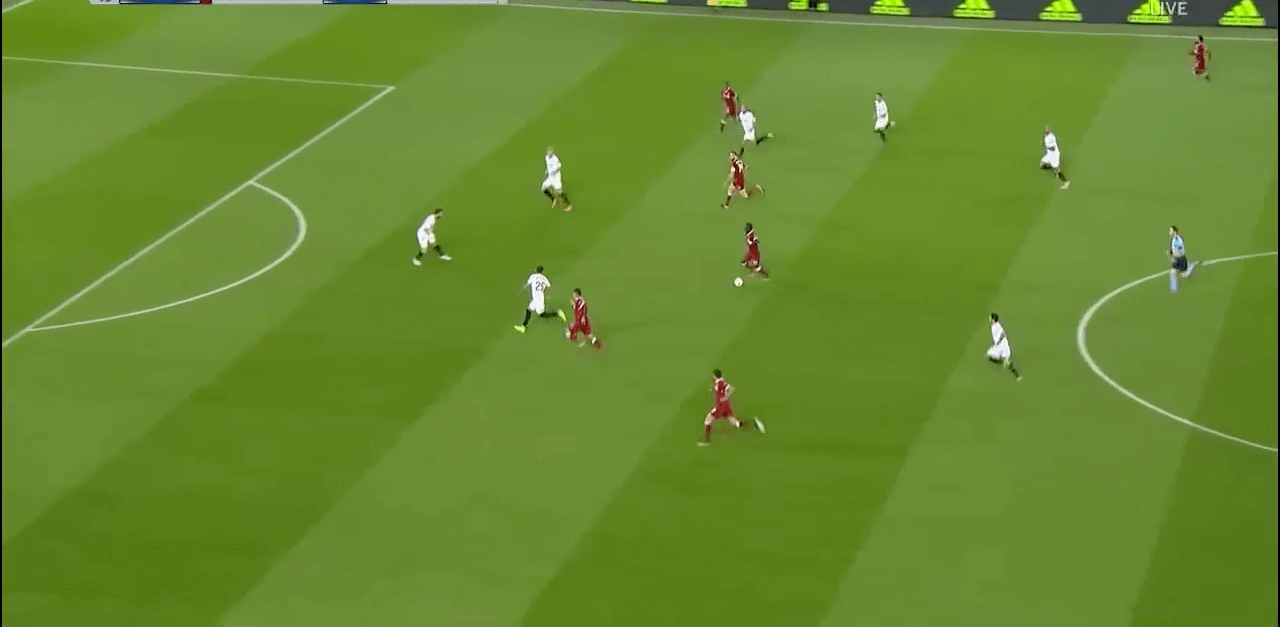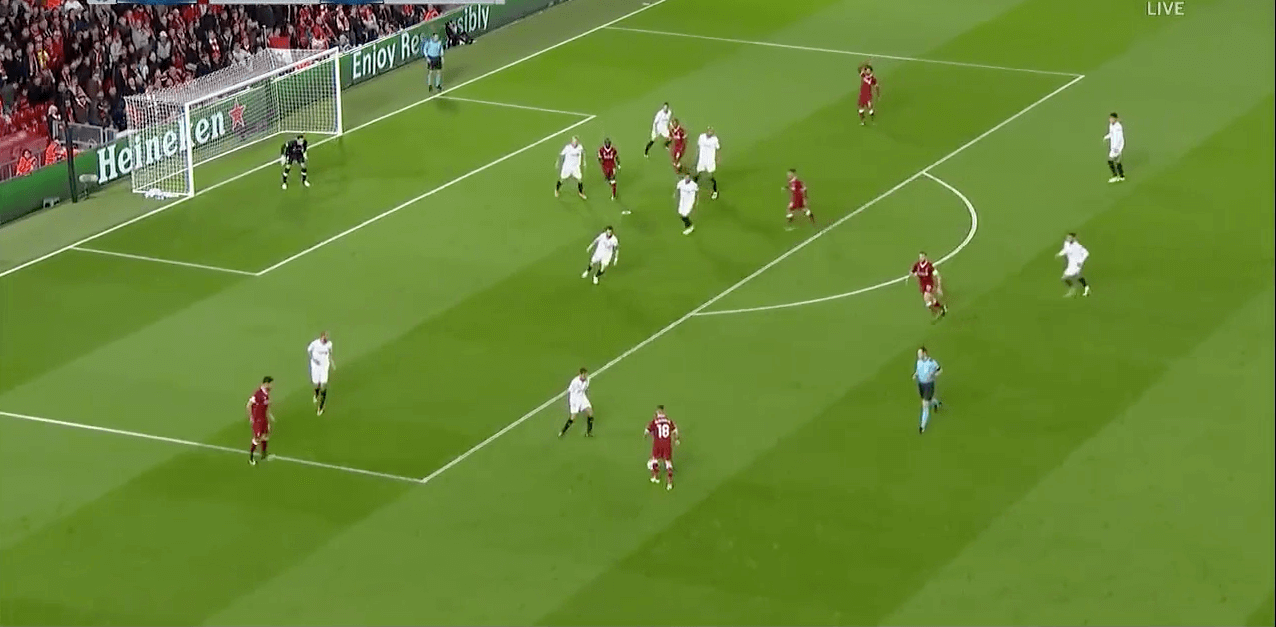 The frames above illustrate the higher position the midfielders tried to take up – especially on the edge of the box, in the half-space, as a conduit or bridge for short-passing within the attacking phase to create space. Of the three midfielders, Wijnaldum had the highest average position.
This was facilitated by Liverpool's front three though – instead of playing as wide as they usually do, Mané and Salah were positioned a bit more centrally, whilst Firmino actually had a much further up average position than usual. What is the point of this you ask? To push back the Sevilla defence – allowing the midfield and full-backs to get exceptionally high, and create overloads – as Moreno did so well.
Moreno was fantastic, he created three chances, won 75pc aerial duels, made three interceptions, two tackles and six clearances. A Champions League worthy display.
Why then, with so many good performances did Liverpool manage to drop points again, and is this cause to worry?
Personally, having seen the performance, I cannot be too disappointed with the team. Going forward, the team is doing all of the right things offensively and is so close to getting it right at the back. It's just simple lapses of concentration that keep letting the team down – and whilst it is a recurrent issue, it's not really a tactical one, so it's hard to really understand why it keeps happening.
There are areas to improve offensively, for instance, with the number of shots and possession around the box Liverpool had, the team really should have capitalised upon it, taking shots inside the box, instead of outside – where goals are unlikely to be scored.
Liverpool were also unlucky at times, one shot by Wijnaldum was stopped by some fortunate positioning by the goalkeeper, whilst Can certainly should have done better when put through on the left side of the box, and on most occasions we expect Firmino to score the penalty, and put Liverpool out of sight.
Liverpool managed to keep Sevilla's shot count to seven, and had over triple that, with twenty four. The problem with Liverpool is the quality of chances the team gives away – we need only look at Liverpool's opponents' xG – which is always rather high considering the low frequency of shots the team usually faces.
Been asked to exclude the time spent at 10v11 vs City
Goals Conceded 8
XG Conceded 7.7
Average Goals Chance per shot 14.5%

— Dan Kennett (@DanKennett) September 14, 2017
Check out the tweet thread above for a deeper look at the quality of chances Liverpool give away – bearing that in mind, perhaps it's a simple issue of personnel? Maybe Van Dijk and Keïta will fix all of Liverpool's defensive problems, but such a convenient answer seems too good to be true. We'll see if that theory holds up in the transfer windows to come…
Nonetheless, it was a disappointing result for Liverpool, but a good performance nonetheless, and a very positive response to the thrashing handed out by City.