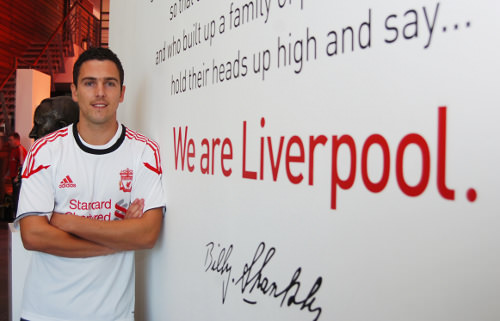 Player Profile: Stewart Downing
On Friday 15th of July 2011 it was announced that Stewart Downing had completed his long awaited move to Liverpool Football Club. It has to be said that this signing has been somewhat underwhelming for most Liverpool fans, especially with the suggested price tag of £20 million. Although Stewart Downing may not be player that will set the world alight, he still has a lot to offer Liverpool. Also being a left-footed wide player he is something Liverpool have been missing for a long, long time.
Stewart Downing started life in Middlesbrough on the 22nd of July 1984. In 2001 he moved up from the Middlesbrough Academy to the first team at the age of 17 and made his debut a year later against Ipswich Town. He went on to spend the 03/04 season on loan but was recalled after Bolo Zenden suffered an injury. He went on to make 181 appearances and scored 17 league goals during his time at Middlesbrough. In 2009 he made £10 million move to Aston Villa to become then manager Martin O'Neill's first summer signing. During his time at Villa Park, Stewart made 63 appearances and scored 9 league goals. So let's look at why he was Aston Villa's player of the season last year.
So from the table above we can see that in Downing we have a very solid reliable player who will play 38 games a season and indeed in the last 4 or 5 seasons he has played almost all of the games with the exception of 08/09 season where he was out injured until November, and he hasn't been injured since. He'll also whip some crosses in for Andy Carroll to head into the goal. Even though his cross completion rate is only 24% you can see from the 324 attempted crosses that he tries a hell of a lot, and I think the low completion rate is down to him not having had a big center forward to aim for at Aston Villa.
He also shows that he will give us some goals and a lot of assists especially when we take a look at his passing we'll see that out of 1874 attempted passes he got a total of 1292 of them on target to achieve a pass completion percentage of 69%. He also created 84 chances for Villa last season, getting 7 assists. In terms of shots Stewart attempted 98 shots, getting 62 of them on target to get a season, shooting accuracy percentage of 63% and racking up 7 league goals.All in all Stewart Downing shows some pretty promising stats from a trying season at Villa Park. He was also played as a right wing as well as his usual left wing position, with his cross from right equally as good as his cross from the left. If need be he can also play at left back. So he definitely gives us a lot of versatility in terms of playing position. Let's look at Downing's passes during the final game of the season against us at Villa Park.
From this chalkboard you can see that in this one match he operated on both the left and the right of the pitch and put a lot of passes in on either side attempting 55 passes and completing 44 of them, pass completion percentage being 80%. He also scored the only goal of the match from a very tight angle down the left hand side. He also shows very good movement on and off the ball and he went up and down the pitch very well.
I think a key part of the Stewart Downing signing is his left foot, in recent years that balance has been missing from a Liverpool side with most of our midfield being right-footed. That means that to pass the ball out to the right, Gerrard and company had to shift the ball on to the right before passing. This crucially gave opposition that half-a-second more to close a gap or to mark an open man, it also meant that crosses from the left side were few and far between. This was evident last season when you looked at Liverpool's player positioning, whoever played out on the left always moved into a more central position leaving a huge gap on the left hand side. From the chalkboard above you can see that with Stewart in the side this won't happen too often anymore.
I think the reason so many fans have been underwhelmed by this signing is because Stewart Downing isn't some exotic named Brazilian with a million tricks and skill moves, much like our own player of the season Lucas who for some isn't Brazilian enough. That said, like Lucas, Downing will do his job and he will do it very well. In the end I think Downing will prove himself worth the suggested £20 million price tag.
To anyone doubting our signing just remember to trust King Kenny, the owners and Damien Comolli. None of them will be at Liverpool Football Club if Kenny didn't think they were worth the effort and money. We are building towards the future and we are building a squad instead of just a team. The future is bright and we have a lot to look forward to.
Keep the faith and YNWA.