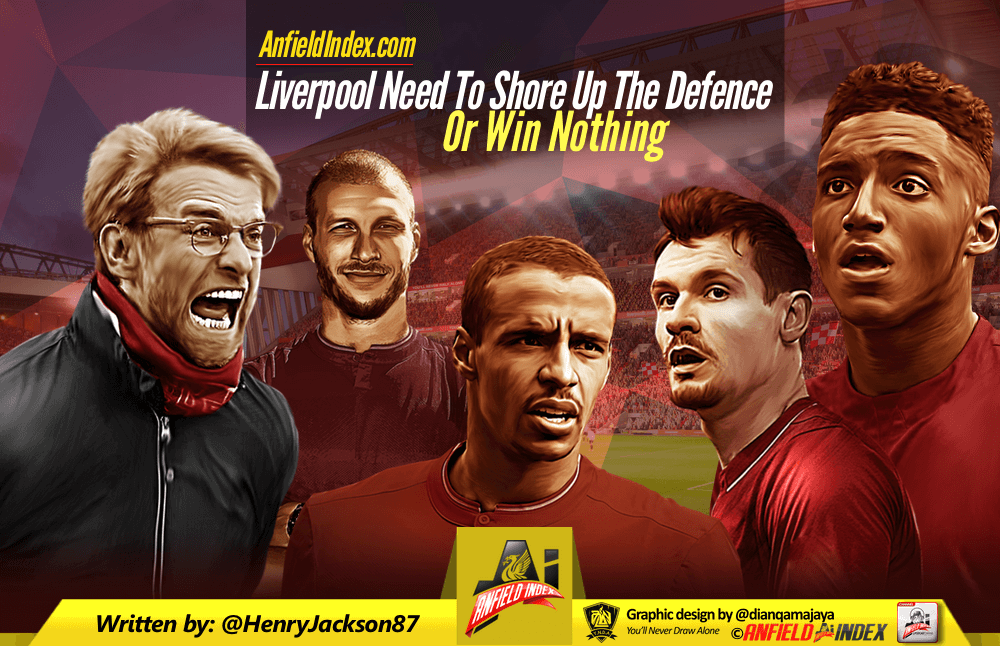 Liverpool Need To Shore Up The Defence Or Win Nothing
The dust may have settled after Liverpool's 2-2 draw with Sevilla, but the fume is still very much alive and well.
Another slick attacking display was ruined by defensive incompetence, with the La Liga outfit scoring with both shots on target at Anfield. How many times does that seem to happen these days?
Whether it be Dejan Lovren continuing to alienate himself from the fanbase, Jordan Henderson not protecting the back-line or Emre Can proving to be erratic – this is a side gifting opponents goals at an alarming rate.

In the seven matches the Reds have played so far this season, in all competitions, they have conceded 13 times.
Eight of those have come in the two away Premier League games, at Watford and Man City. To put that into context, Chelsea's title-winning side in 2004/05 let in just nine on their travels all season.
Jurgen Klopp's side made hard work of Hoffenheim in the Champions League play-off when they should have trounced them, and the Sevilla game was the definition of sloppy points dropped.
The 2017/18 season was supposedly going to see Liverpool making a genuine Premier League and Champions League push, with Klopp continuing to work his magic and the team going from strength to strength.
We can have no complaints about the majestic nature of the Reds' attacking football, but the other end of the pitch is a complete mess.
The Virgil van Dijk affair has been one of the most frustrating transfer sagas in Liverpool's history, and failure to sign him or another centre-back already feels like it will cost Klopp dearly this season.
It really is quite simple: bad defences do not generally win trophies.
When you look at Liverpool's successes down the years, they have often been built on a resolute rearguard.
Both Rafa Benitez and Gerard Houllier were famed for making the Reds hard to beat, with so many backs-to-the-wall performances in the Europe you lose count.
Of course, they had attacking class as well, but they rarely gifted chances to the opposition and it was a huge reason for their trophy triumphs.
The 2004/05 side that famously lifted the Champions League conceded just once in four ties against Juventus and Chelsea in the quarter-finals and semi-finals, respectively, both of whom were champions of their respective leagues that year.
Similarly, Houllier's 2000/01 treble-winners didn't allow Barcelona to score in the UEFA Cup semis, they kept out Porto in the quarters and secured clean-sheets in both legs against Roma in the previous round.
Some of the finals have been full of goals, bizarrely, but we'll put that down to Liverpool never quite doing anything the easy way in the biggest matches.
When you look at the Premier League, it is clear to see that defending well and being among the best in the county at the back gives you a strong chance of glory.
On nine separate occasions, the team with the least goals conceded, or joint-fewest in Man United's case in 2008/09, has gone on to lift the title.
Chelsea let in just 15 goals on their way to glory in 04/05 – a frankly staggering statistic – and on six other occasions the eventual champions' goal has been breached less than 30 times.
Liverpool have achieved that feat just four times in the last 25 years, all of which came under Benitez – 2005/06 (25), 2006/07 (27), 2007/08 (28) and 2008/09 (27) – which says all you need to know about their long wait for the holy grail.
There is an element of bad fortune there, due to United being so strong at that point. In many other seasons, the Reds would have been crowned champions.
When you look back at Liverpool's league title wins throughout history, it gives further reason for us to feel concerned about the current situation.
Of their 18 victories, they had the best defensive record on 14 occasions, and in the other four, they had the second-best. We all talk about the Reds being a naturally attack-minded club, but these successes were built on solid foundations.
We shouldn't totally give up, however, before you get too down and write off the current team's chances completely.
United have won the Premier League three times having conceded over 40 goals – 1996/97, 1999/00 and 2012/13 – and they simply out-scored their opponents with blistering attacking play and formidable squads.
This is a far more reckless, flawed approach, though, and more often than not, it will fail. Liverpool surrendered 50 goals in 2013/14, and you just wonder what might have been if they hadn't been so leaky at the back under Brendan Rodgers.
The last time Liverpool's goals conceded tally was below 40 was 2009/10, which is a desperately depressing statistic to read. It highlights an ongoing problem that has not been addressed for an unacceptably long time.
It is quite incredible that the Reds have got themselves into a situation when their four centre-backs are Joel Matip (injury-prone), Dejan Lovren (disaster area), Ragnar Klavan (not good enough) and Joe Gomez (vastly inexperienced), but that is exactly what has happened.
Bordering some sort of miracle, this team is going to keep leaking goals, and if they are to thrive in the league and in Europe, the likes of Sadio Mane, Mohamed Salah, Roberto Firmino and Philippe Coutinho will need to deliver a season of epic proportions.
We will have a lot of fun along the way, but the fact that this mess should have been sorted this summer means there will always be a tinge of anger at what we are watching.