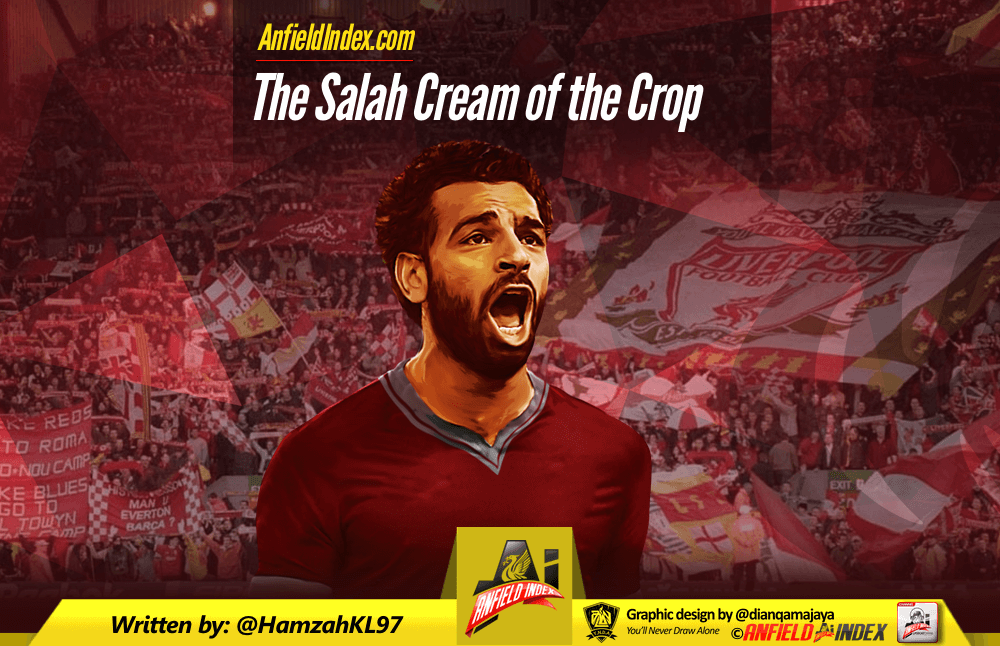 The Salah Cream of the Crop
Seven games into the season and Liverpool's new number 11, Mo Salah, is already the team's top scorer. Also, he has just earned the UEFA Champions League player of the week award. With this in mind, and his fantastic and consistent displays, just how good is Mo Salah, and how much better can he become?
Mohamed Salah's game by numbers vs. Sevilla:

100% tackles won
3 shots
2 take-ons
2 chances created
1 goal

— Squawka Football (@Squawka) September 15, 2017

Salah's figures are remarkable – once the deal was announced, Dan Kennett from AI's Under Pressure team released the image seen below. When considering what a revelation Sadio Mané – Liverpool's 2016/17 Player of the Season – was, it's no surprise at all that Salah has hit the ground running – and in true Salah fashion – very fast indeed.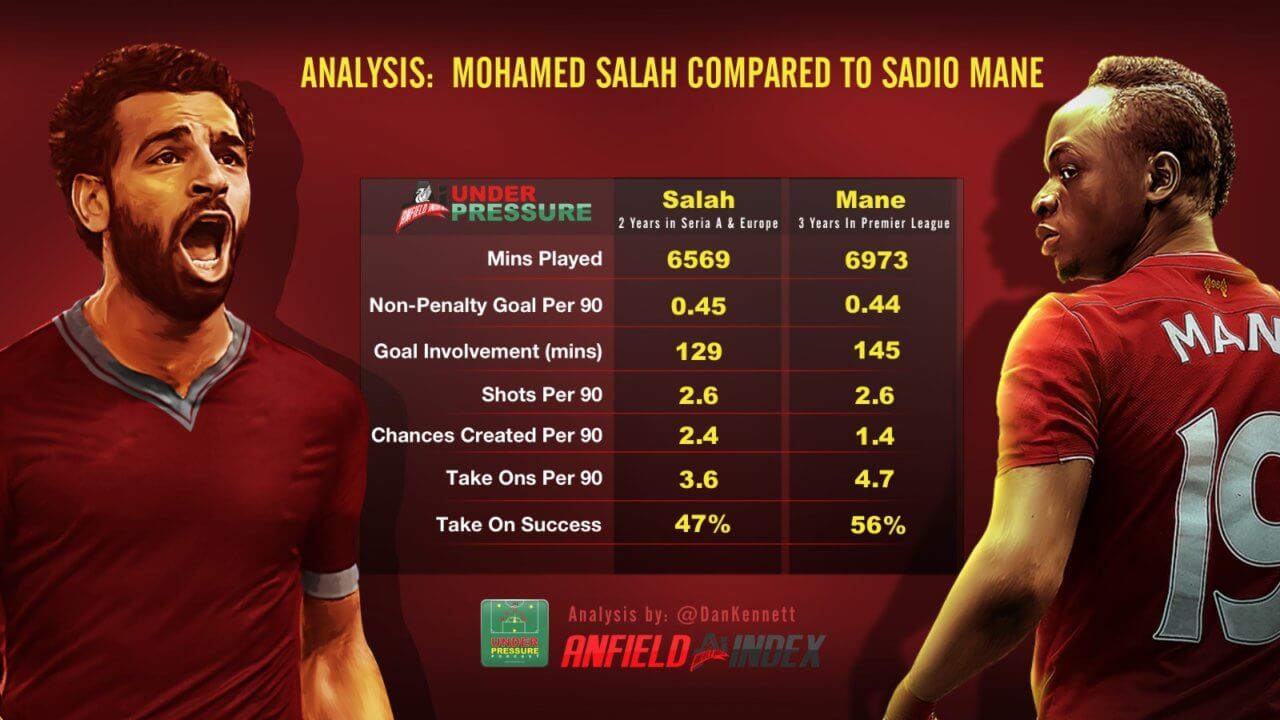 How does Salah compare to other top talents in the Premier League though? We need some context to truly quantify his value to Liverpool.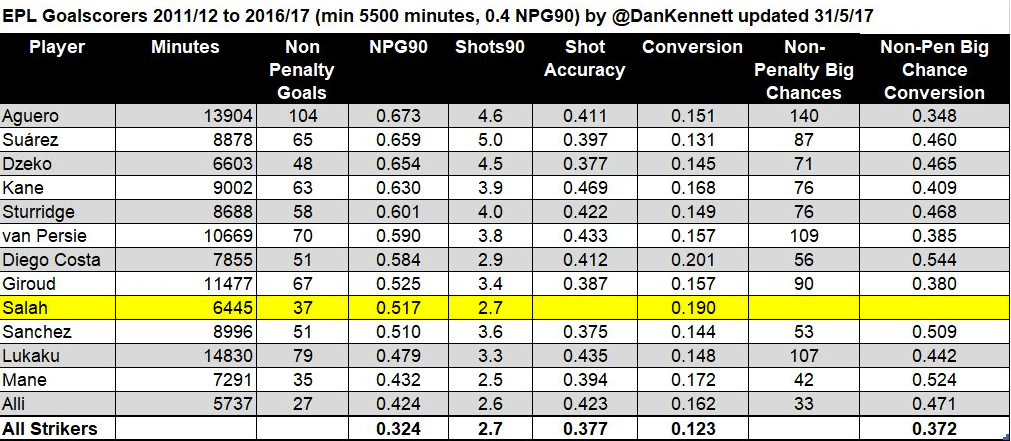 Within the Liverpool side, Salah's shots per 90 rate is second only to Daniel Sturridge – keeping in mind that Sturridge is a striker – it's rather impressive. Of other Premier League wingers, Salah has more shots per 90 than Eden Hazard (2.06 in the same period), Willian (2.24), Sterling (2.14) and De Brunye (2.02) – but the same as Manchester United's Mkhitaryan. In fact, Salah's 2.7 shots per 90 rate is the same as Gareth Bale between 09/10-11/12 i.e. before Bale's last season, in which his shot and scoring rate increased phenomenally. For Salah to average the same number of shots per 90 as all strikers in the analysis above is remarkable, and his frequency of shots is a huge asset from a wide player – and may even ease the goalscoring burden upon Firmino.
Salah Career Shot Map
Interactive version here: https://t.co/qvoERhwsgd pic.twitter.com/LeOeh2w0DZ

— AIUnderPressure (@AIUnderPressure) September 15, 2017
Salah's career shot map is useful in understanding how much of an offensive threat he is, too. He may favour his left foot disproportionately, but because Salah is shooting from a wide range of positions – with a surprisingly large number in and around the six-yard box – teams will struggle to contain him, as he has the skill and movement to pop up and shoot anywhere around the box – with a large number in prime goalscoring positions.
On a separate point, and rather astoundingly, Salah's number of take-ons per 90 (3.6) is actually the same as Gareth Bale in his previous two domestic seasons, with Real Madrid.
It's clear with regard to Salah's number of shots per 90 he's clearly in some rather talented company, but what is truly remarkable is his conversion rate. In the table above, he is second only to Diego Costa, and is higher than Agüero, Suarez, Kane, Sturridge, Sanchez and Lukaku.
Between the seasons 2013/14 and 2016/17 Salah has had an xG of 30 goals, but has outperformed that, and scored 37, extremely impressive for a player that functions on the wing – although, admittedly, he plays as an inside forward, because of how good he is in creating or scoring goals directly.
At this moment, Salah's shot conversion rate actually stands at 21.5pc, which no doubt will be averaged out – some of you may remember the small period in which Luis Suarez actually averaged a 33pc conversion rate, in his last season at Liverpool – but over the entire season, it was actually 17pc, with his previous two seasons only seeing a conversion rate of 12pc and 8.6pc respectively. But Salah's conversion rate may actually be a little lower than it should be – with Salah a little wasteful against Arsenal in particular, but also in other league games. Nonetheless, his figures, right now, represent the phenomenal start he has made to the season, and actually represent his career figures too, as Simon Brundish tweeted:
If Mo continues with his current profligacy for his typical amount of mins played over a season. He'll only end up with 38 goals + assists

— SimonBrundish (@SimonBrundish) September 15, 2017
It's both Salah and Mané though that have added a different dimension and level of depth to this Liverpool team though – as Firmino gets the best out of them in a false nine – so do they get the best out of Firmino, allowing him to roam, as they either pin back or rip past defences with their positioning and pace. It's a stunning triumvirate, with variety, and Salah's addition should now contribute to Liverpool overcoming their deficiencies against the low block, and struggling without Sadio Mané in the team – something we'll see is true or not over the upcoming three domestic fixtures.
If we choose to extrapolate Salah's figures based on this season alone though, Salah would be hitting 26 goals – a return probably 10 goals over what most would have expected when he joined.
Salah 2017/18 all comps
0.68 NPG90
3.6 Shots90
57% Shot Accuracy
3500 minutes at current levels = 26 goals

— AIUnderPressure (@AIUnderPressure) September 15, 2017
For comparison, last season, Coutinho averaged 0.5 goals per 90, and 0.3 assists per 90, whilst Firmino averaged 0.3 and 0.2, and Mané 0.5 and o.2 respectively.
As noted above, Salah this season is averaging 0.68 non-penalty goals per 90, and 0.4 assists per 90. Can he sustain this? He's unlikely to, but his mere presence and function within the team facilitates Mané, Firmino, and Coutinho's own ability to score and create chances, through stretching defences and being a threat – concerning and occupying defenders, allowing the other three attackers to wreak havoc.
Salah's improvement since joining Chelsea is marked though, if he continues at a similar rate, the question of sustainability, raised earlier, may prove redundant – and there are clearly areas that Salah can improve on, whether he does or not will define if he can become a player that can win or at least push Liverpool to win titles.
When Gabriele Marcotti discussed Salah on the Gags Tandon Show shortly after the deal was announced, his main reservation was whether Salah would be able to fit into a pressing system and the demands of it. However, from what we've seen in the opening seven games, Salah has clearly benefitted from a full preseason with Klopp, and has fitted in seamlessly to the team and the system. Not only is his pressing well targeted and intelligent, but he does not neglect his defensive duties either, working with both Gomez and Alexander-Arnold on the right-side.
Went looking for a @mixedknuts Salah radar. Here's three from different points of the season. Note different radar points on the 3rd one. pic.twitter.com/AJS9DPMIWu

— Andrew Beasley (@BassTunedToRed) June 19, 2017
Having looked at these figures, and having seen Salah's performance in the opening seven games of the season, Salah has outperformed my, and most fans' expectations already. Without even accounting for his goal contribution, it's plain to see his presence and style of play has balanced the team and made it much more effective as an offensive unit, although whether his presence has improved Liverpool's pressing is debatable, albeit the decreased number of presses per game may be a team-wide issue, rather than simply down to the new addition on the right-wing.
It's clear, should Salah stay fit, he'll become a mainstay of the team for seasons to come, and hopefully will even manage to improve on the impressive goal contributions that he churned out in Italy. It will be interesting to see how Salah may improve with Coutinho behind him, but we may have to wait a small while to see Liverpool's full strength team in full flow, nonetheless, it's plain to see Salah is a fantastic summer signing, that suits Liverpool perfectly, and is on an upward trajectory.
With respect to the first question I posed, 'how good is Salah?', it's evident that he is one of the best wingers, and players in the league. In his last season at Roma he averaged 2.6 key passes per 90, and scored 15 goals, whilst providing 11 assists – all in 2487 minutes, i.e. a goal/assist every 96 minutes.
This rate of goals/assists per 90 is higher than any other Liverpool player in 2016/17:
Coutinho: 106
Mané: 116
Sturridge: 119
Origi: 139
Firmino: 151
Lallana: 174
The answer to the second question though, 'how much better can he become?' is still not clear yet, but any improvement on his current output would be nothing short of phenomenal.
Keep your eyes and ears on Mo Salah, he's a player you're going to be seeing and hearing a great deal more of in the games to come.