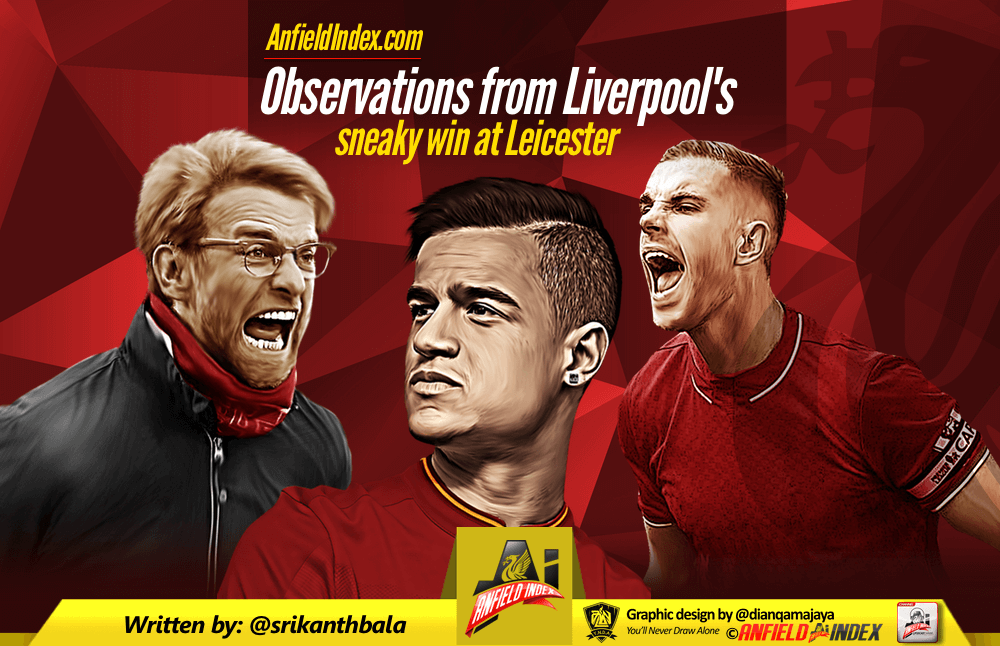 Observations from Leicester vs Liverpool as the Reds sneak a win
Liverpool attained a semblance of revenge for the mid-week loss in the cup game against Leicester as the Reds prevailed by an odd goal in five. The important takeaways from tonight.
Liverpool buck the win-less trend
Liverpool headed into this game on the back of a 4 game winless streak (if such things can be called as streaks is a worthwhile debate), with this September looking to be in stark contrast to the previous one. The other lingering question was, of course, the ability of Liverpool to produce results in the absence of Mane, who was missing as part of his three-game ban. Liverpool produced the result, and there were some eye-catching moments of attacking play.Progress made on both counts.
Is the tide turning?
Liverpool have not had the best of luck when it comes to their finishing or refereeing decisions, while most of their defensive errors have got punished. Today seemed to be a bit better for the Reds though, with Mignolet's big mistake going unpunished. Liverpool were then let off when Okazaki's perfectly legal goal was ruled out for offside. Liverpool though proved that there could only be so much luck on their side by promptly conceding a set piece goal in added time (3rd minute of the 2 minutes injury time added) in the first half.  Liverpool then conceded a penalty, but save it from a predictable Vardy. So is the tide turning? We will have to wait and see.

Coutinho-ho-ho
When the free kick was awarded to Moreno, heart and mind immediately said Phil. The position and range wwereperfect and Phil duly delivered with a peach of a free kick. This was not his first contribution though, with his incredible delivery expertly turned in by Salah for Liverpool's opener. The summer fracas is quickly being forgotten by the fans.
More of the same from Mo
Salah has taken his second stint in the Premier League like a duck to water, with chances aplenty and goals being delivered every other game. Today was not much different with Salah missing a sitter which was so difficult to miss. He then went on to convert a far more difficult chance to open the scoring for Liverpool today. The chances and (hopefully) goals are sure to continue with the dream front 4 back together for the first time this season.
Liverpool's defence is not good for the heart
Liverpool's defending is bad on most days, but on some days they can set a new low. Every set piece or a cross is a moment which is frozen in the minds of the fans. Anything can happen when it comes to Liverpool's defending; silly, comical, absurd. Sometimes it is all of the three in a single instance. We fans might not last the entire season if this continues (which it will).
Bright cameo from Sturridge
Sturridge came on in the second half for Firmino and had an instant impact as he was calm in the rapid counter-attack from Liverpool and laid the ball on the plate for Henderson to score the third goal. Every time he was involved, something looked like happening and he was a constant threat with multiple attempts on goal.
Why is the magic lamp banned away from Anfield?
I have tried to analyse, logically, Gini's away form. With no headway being made on this research, I have decided to squarely put the blame on the lamp which doesn't let Gini out away from Anfield.
There. I said it.