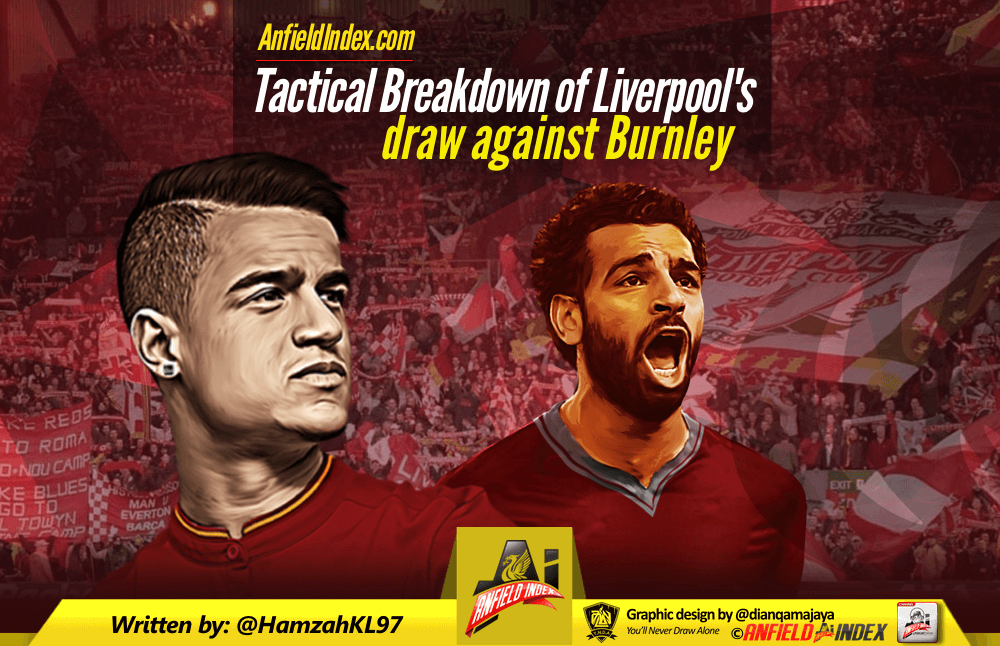 Tactical Breakdown of Liverpool's draw against Burnley
Liverpool's draw against Burnley was an intensely frustrating affair, bearing the hallmarks of Liverpool's troubles during the 2016/17 league campaign, and several preceding it.
Liverpool dominated with the ball and had 35 efforts yet only created one 'big' chance, and Burnley were actually the closest to scoring, as Liverpool, again, switched off defensively for a set-piece.
However, with seven changes from the previous game, and with both Philippe Coutinho and Daniel Sturridge starting, Liverpool played differently, and today; other than the goals, we'll be looking at that, but also, more importantly, why Liverpool struggled, and any particular tactical issues that stood out.

Game Statistics
Possession
LFC: 71.3pc (86pc success rate)
BUR: 28.7pc (66pc success rate)
Key Passes
LFC: 34 (TAA 7, Milner 6, Coutinho & Firmino 5, Sturridge 4)
BUR: 4
Shots
LFC: 35 (conversion rate 2pc)
6/46/49 (six-yard box/eighteen-yard box/outside of box)
BUR: 5 (conversion rate 20pc)
20/60/20
xG
LFC: 2.15 (BBC), 2.1 (Caley), 2.17 (tegen), 2.14 avg
BUR: 0.24 (BBC), 0.4 (Caley), 0.48 (tegen), 0.37 avg
Crosses
LFC: 35
BUR: 7
Dribbles
LFC: 14 (Coutinho 4, Salah 3, Sturridge & TAA 2)
BUR: 3
Aerials Won
LFC: 8
BUR: 15
Corners
LFC: 12
BUR: 2
Passmaps & xGplot for Liverpool against Burnley. #passmap #xGplot #autotweet pic.twitter.com/OTRRmq1OD3

— 11tegen11 (@11tegen11) September 17, 2017
The Goals
0-1, Burnley, Arfield, 27′
After dominating with the ball, and having had 6 shots in the opening 25 minutes, Liverpool backed off.
With Sturridge as the central striker, instead of Firmino, Liverpool's pressing is not as formidable, but against teams outside of the top six, that's hardly a pressing concern (no pun intended). That being said, Sturridge did press Mee, but nobody else elected to press Tarkowski, who has time and space to fire a diagonal ball towards Alexander-Arnold.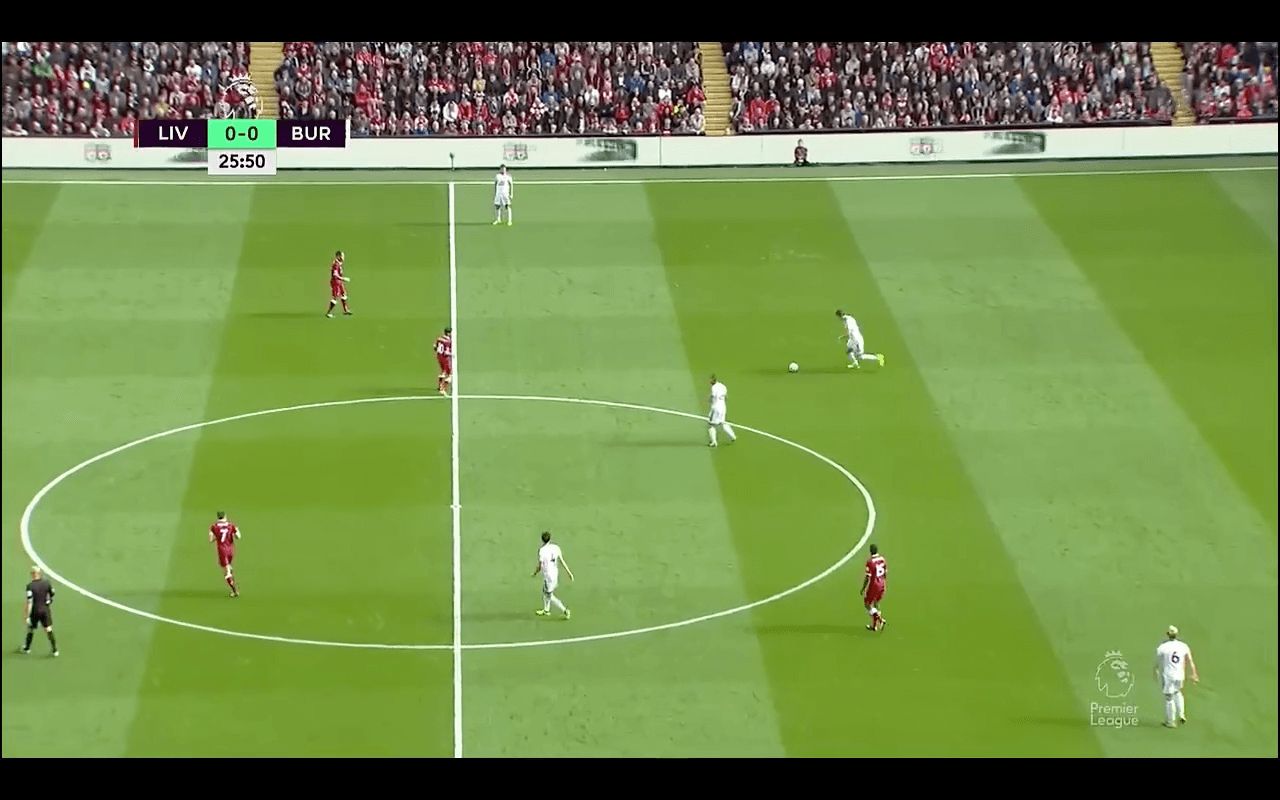 Below we can already see the issues that cause the goal already taking shape.
Firstly, Alexander-Arnold is static when attacking the ball whilst Brady has a running jump. The second issue is the amount of space between Matip and Alexander-Arnold – Matip should be further across by the point and set in position to cope with Brady, should he have ran past Alexander-Arnold.
Thirdly, if Matip was in the right position, Klavan would instead be goal-side of Wood instead of behind him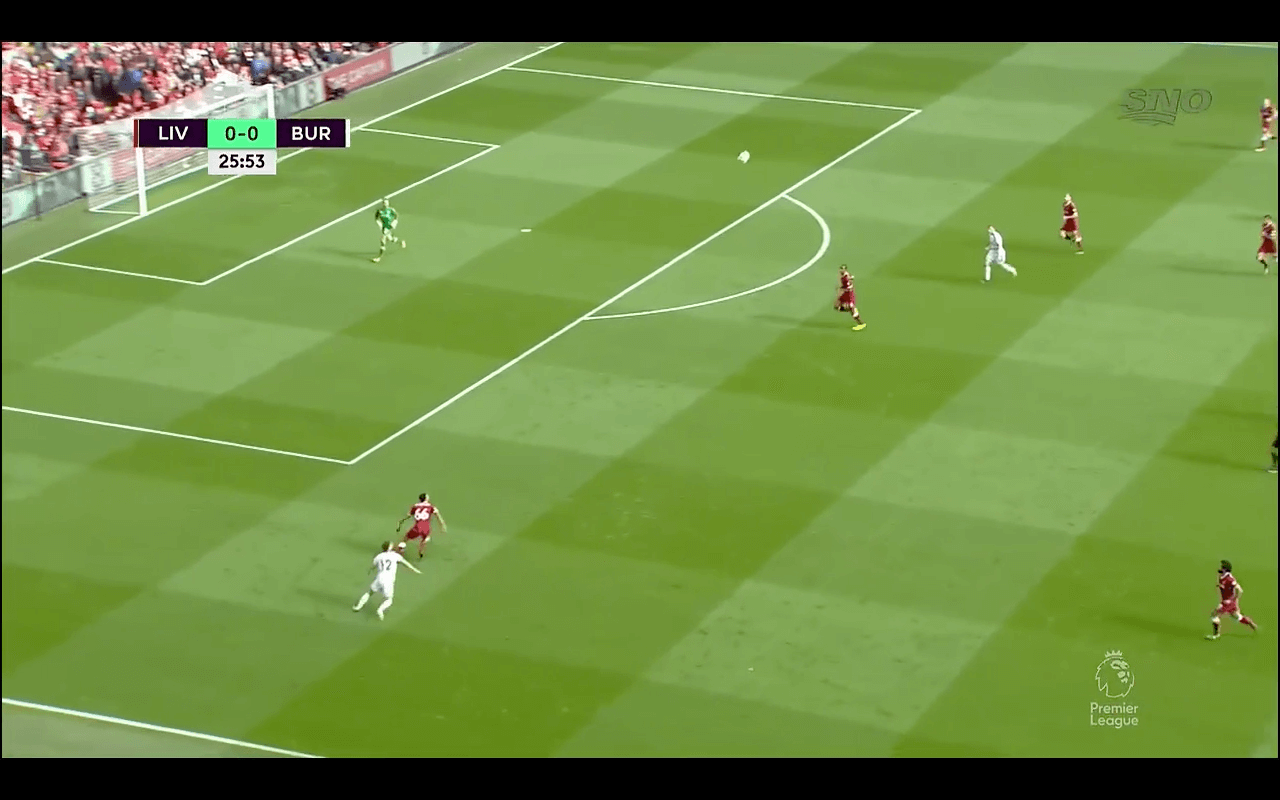 With the ball in the air, and Wood behind him, Matip, for a reason unbeknownst to me, decides against heading the ball, and Klavan – not expecting him to leave it – sees the ball bounce in front, and then past him, into Arter's path.
Oddly, leaving aerial balls is something Matip has done earlier in the season – with Watford's opener in Liverpool's first league fixture one such example, City's second goal, last week, another, and Hoffenheim's second, in their 4-2 defeat at Anfield the third. In all four instances, Matip gets in front of his man, but simply does not challenge for the ball, allowing it to pass over him.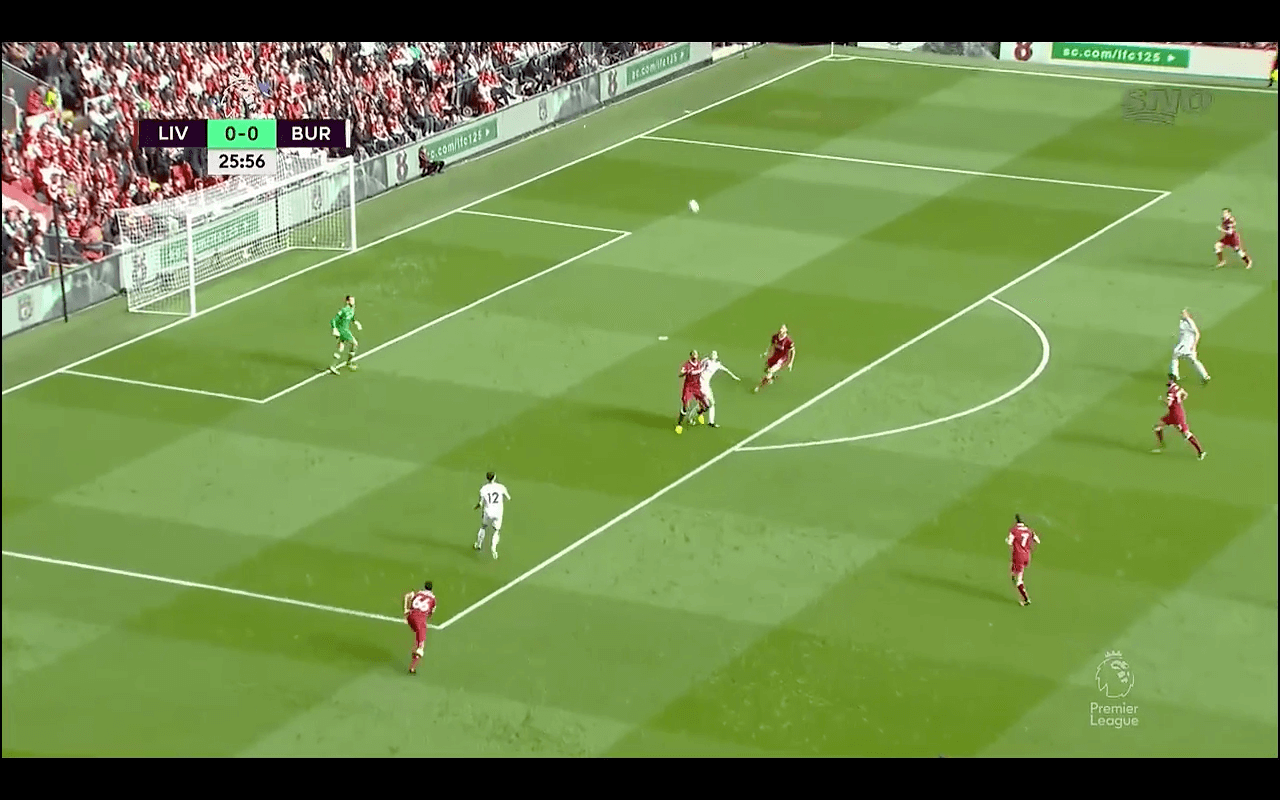 Can should watch and track Arter, as the deepest player, but as he expects the centre-backs to clear he does not, and Arter runs free to score.
You'll also notice in the frame below Mignolet is jumping as the ball is struck – we'll be having a closer look at this later on.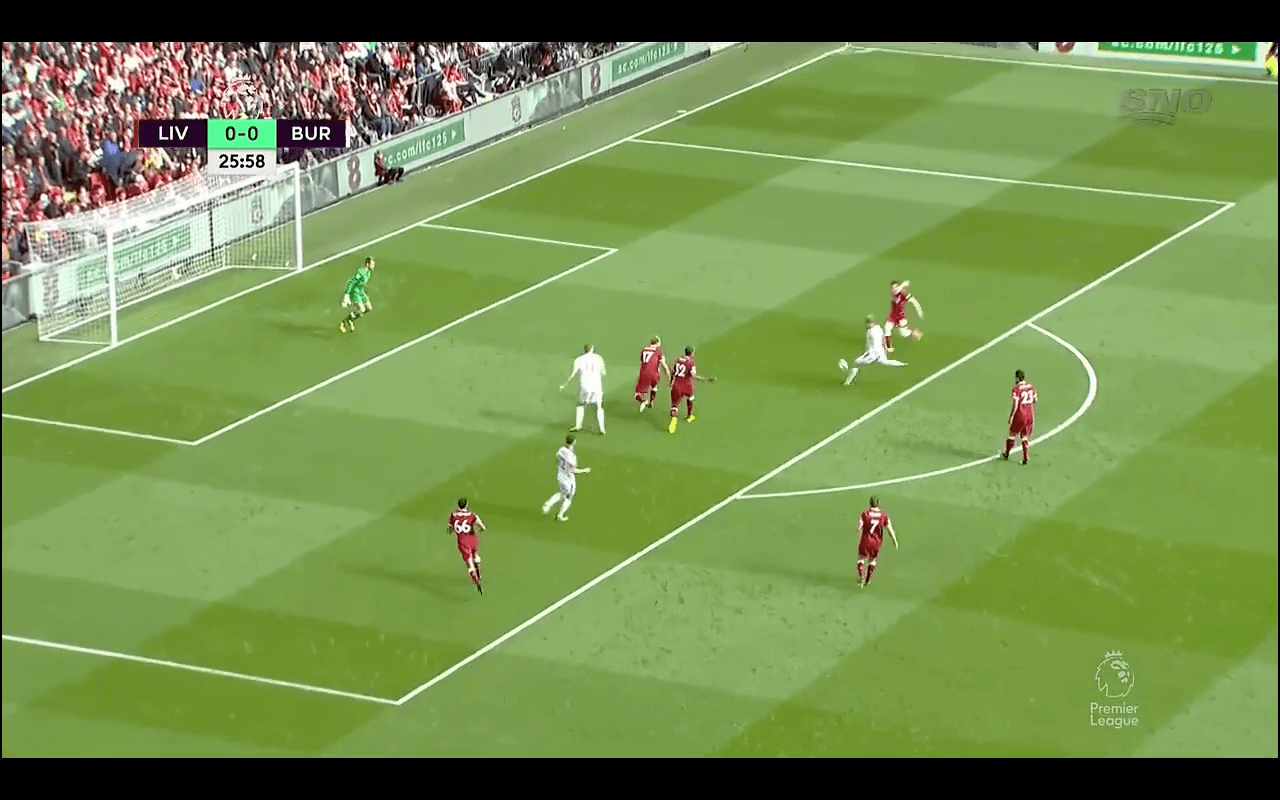 1-1, Liverpool, Salah, 30′
Liverpool's response was rapid, but rather importantly, was also distinctly different to what Liverpool had tried earlier on in the match.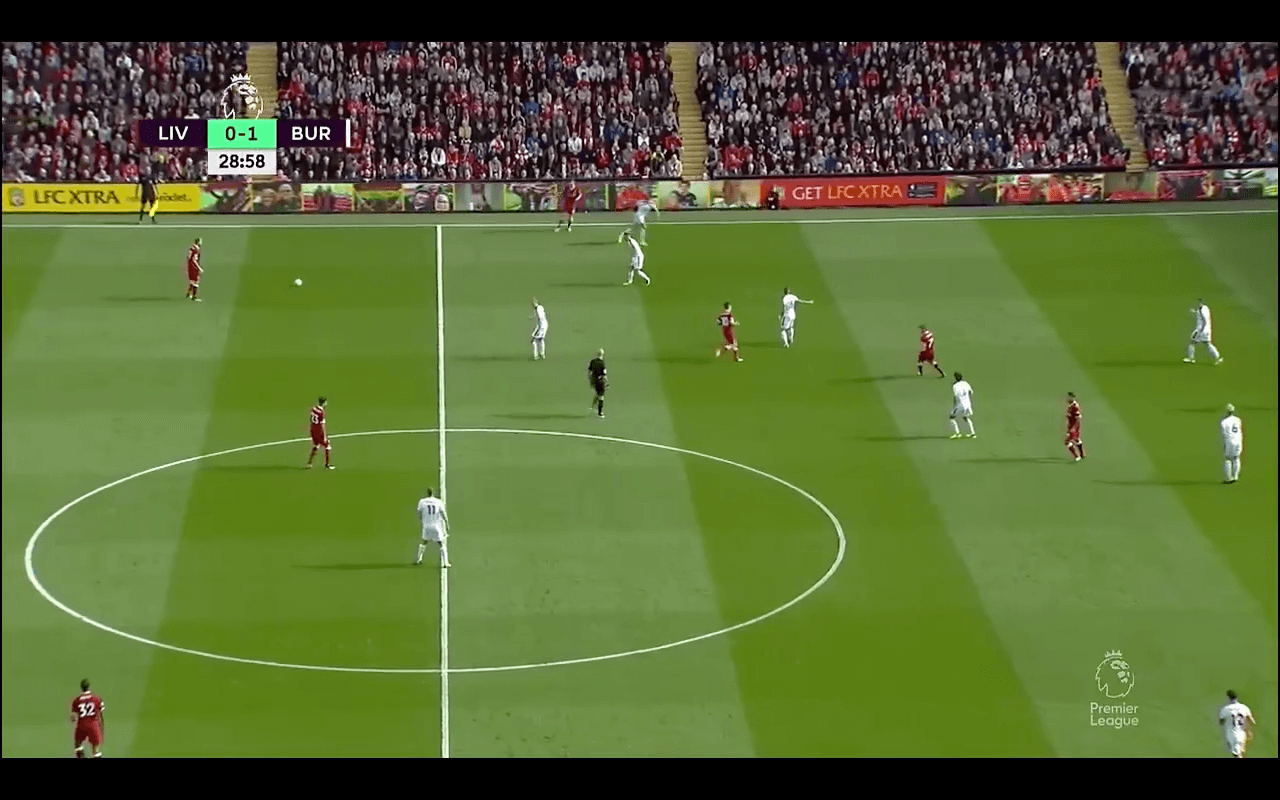 There are several players involved in, and responsible in some part for Liverpool's equaliser.
Curiously, after doing so well with a back six when defending – the back four would sit very tight, and the wingers would move into a quasi-wingback position – Burnley reverted to a classic 4-4-2, affording Liverpool – Sturridge and Salah in particular – with more space.
Immediately after conceding, both Milner and Coutinho make an effort to push up, whilst Firmino drops slightly deeper, in front of his marker – Mee.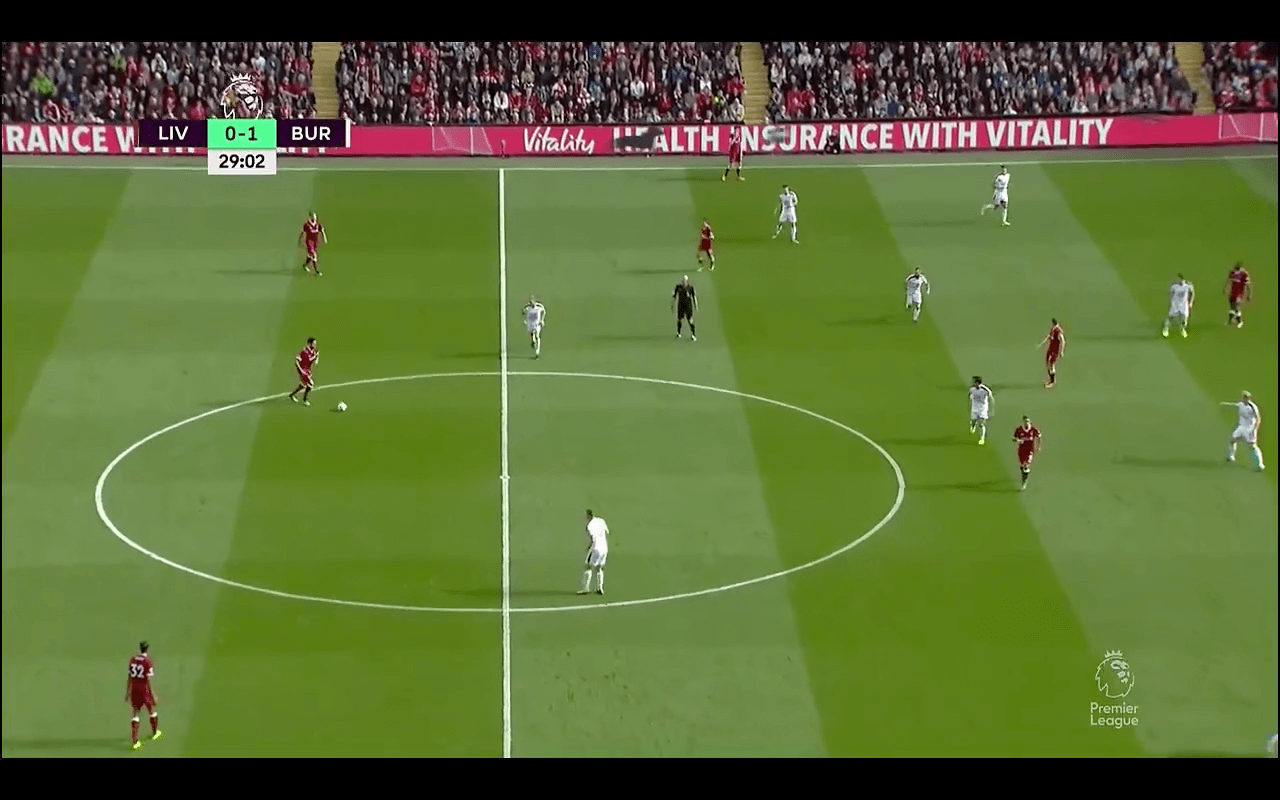 By the time Can has received the ball, Firmino has dragged Mee several steps forward, whilst Milner actively calls for the ball.
At the same point, both Daniel Sturridge and Salah are targeting the channels between the RB/RCB and the LB/LCB.
In the three frames below we can see Milner calling for the short, ground pass, and Mee rushing forward, anticipating it.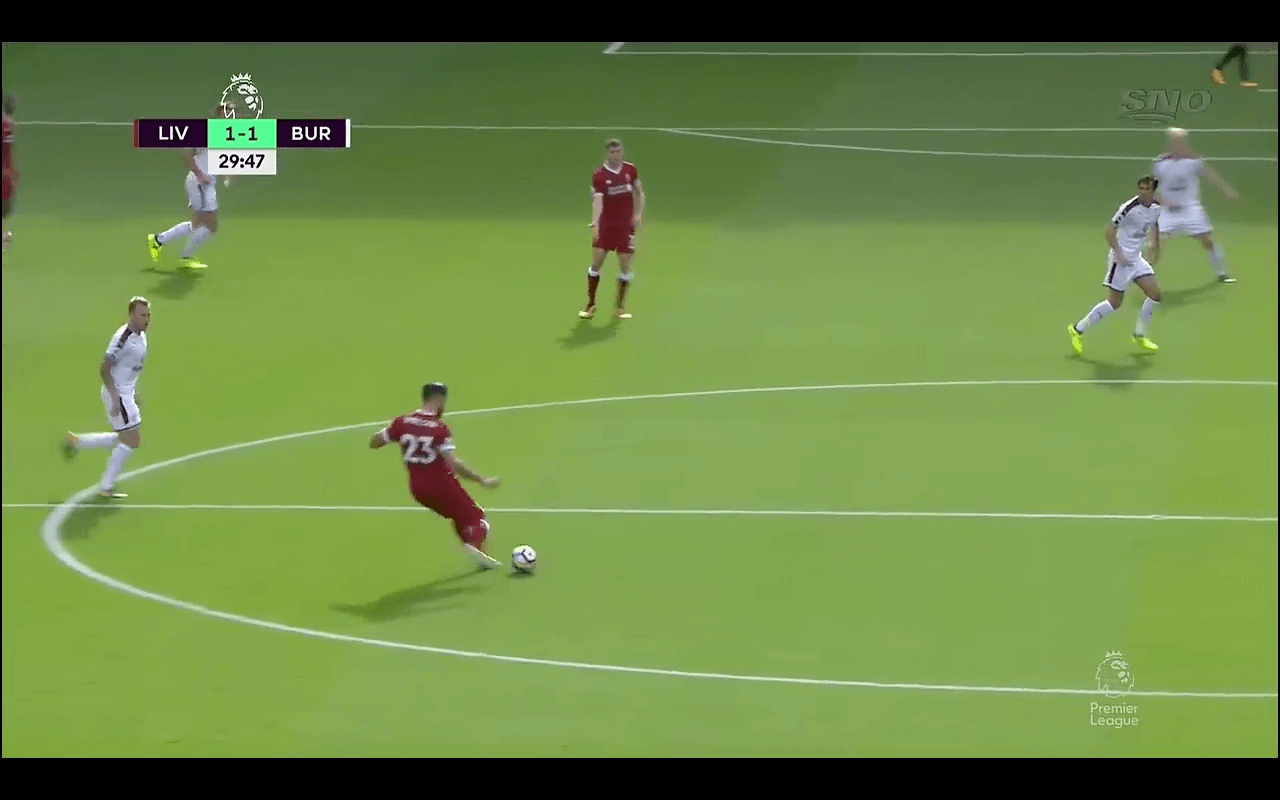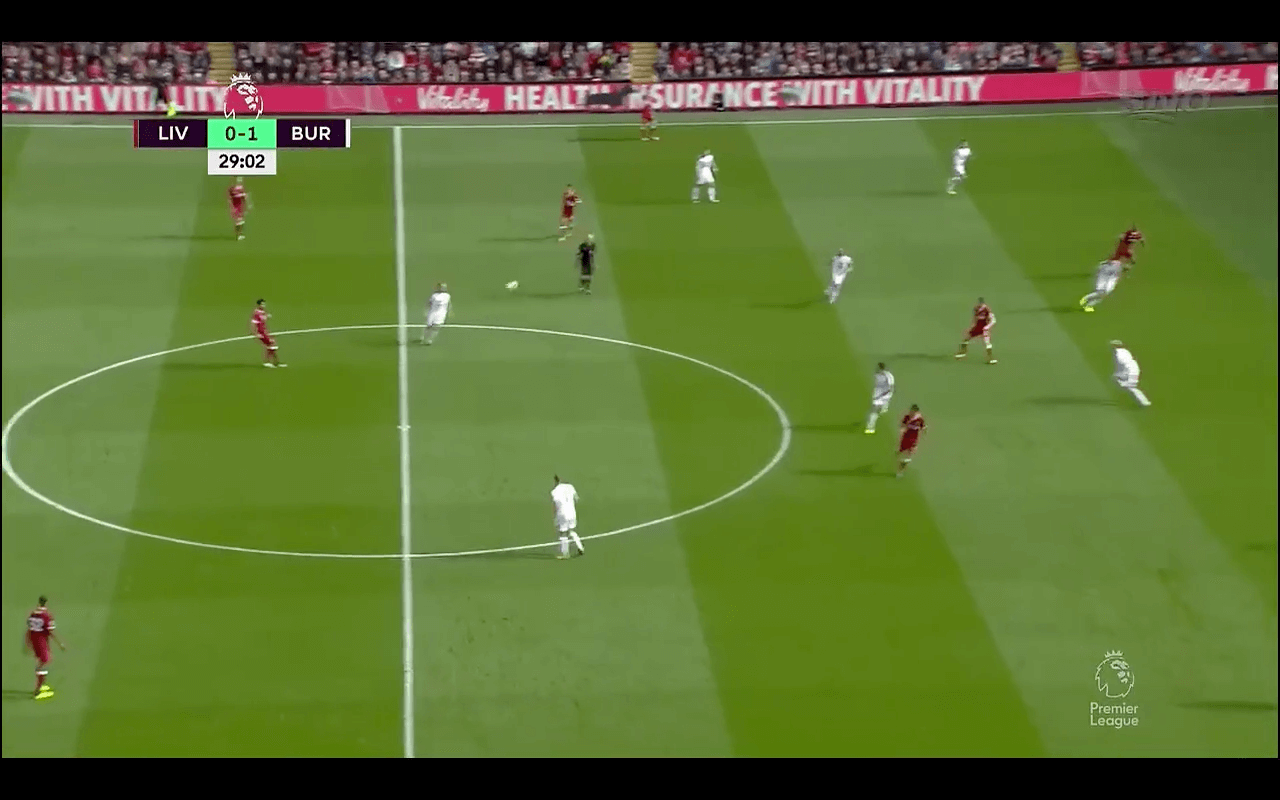 Before the goal, Burnley used a back six when really pinned back without the ball, and had they here, the full-backs would likely have been tied to Salah and Sturridge – but without the extra protection on the outside of the full-backs, the full-backs were forced into covering more space – allowing Sturridge and Salah to run through the outside centre-back/inside full-back channel. However, because Liverpool's possession was so deep – i.e. Can was inside the Liverpool half – there was no immediate reason for the wingers to drop in to support the defence – and Liverpool took advantage of that.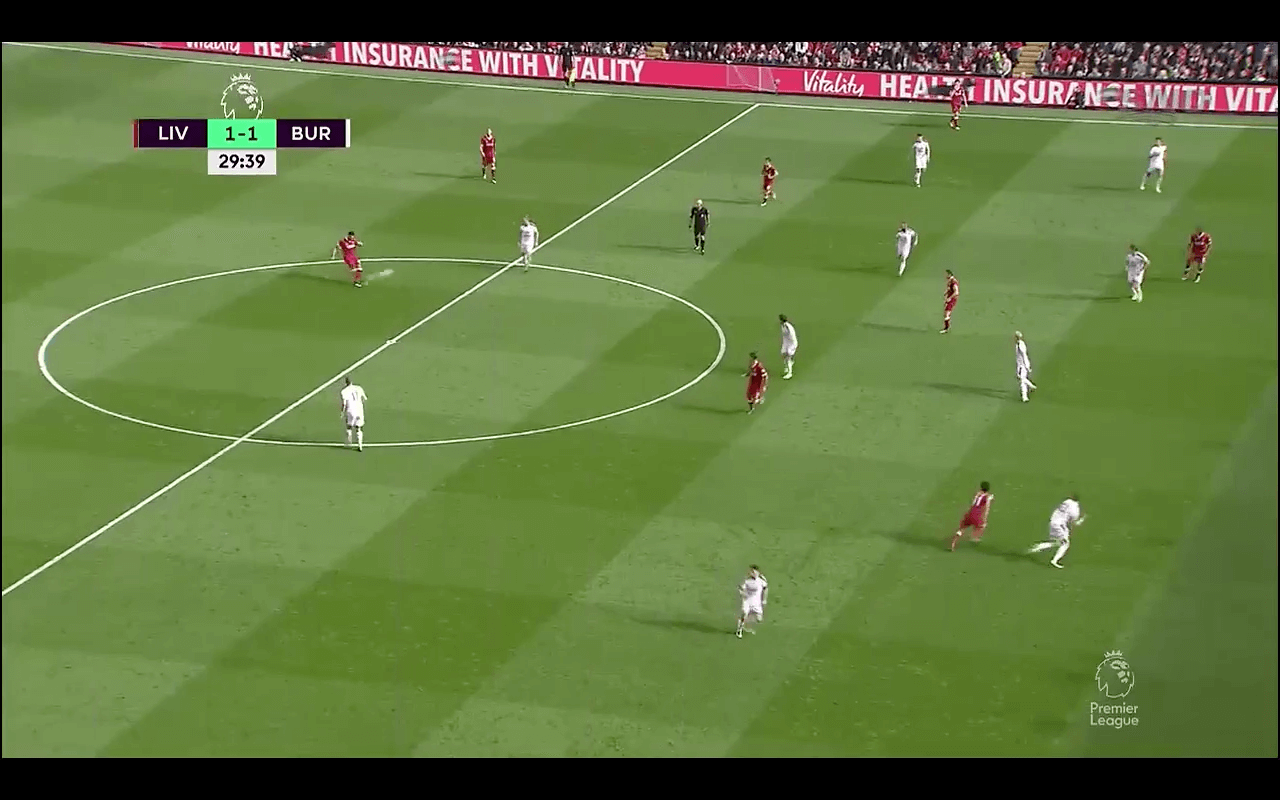 Salah's control and finish should not be understated here – his first touch is fantastic, and the shot is arrowed in past the goalkeeper.
A solid team goal, with involvement from the midfield and forwards – a real shame they did not try a similar move again in the match – instead trying to play through congested areas.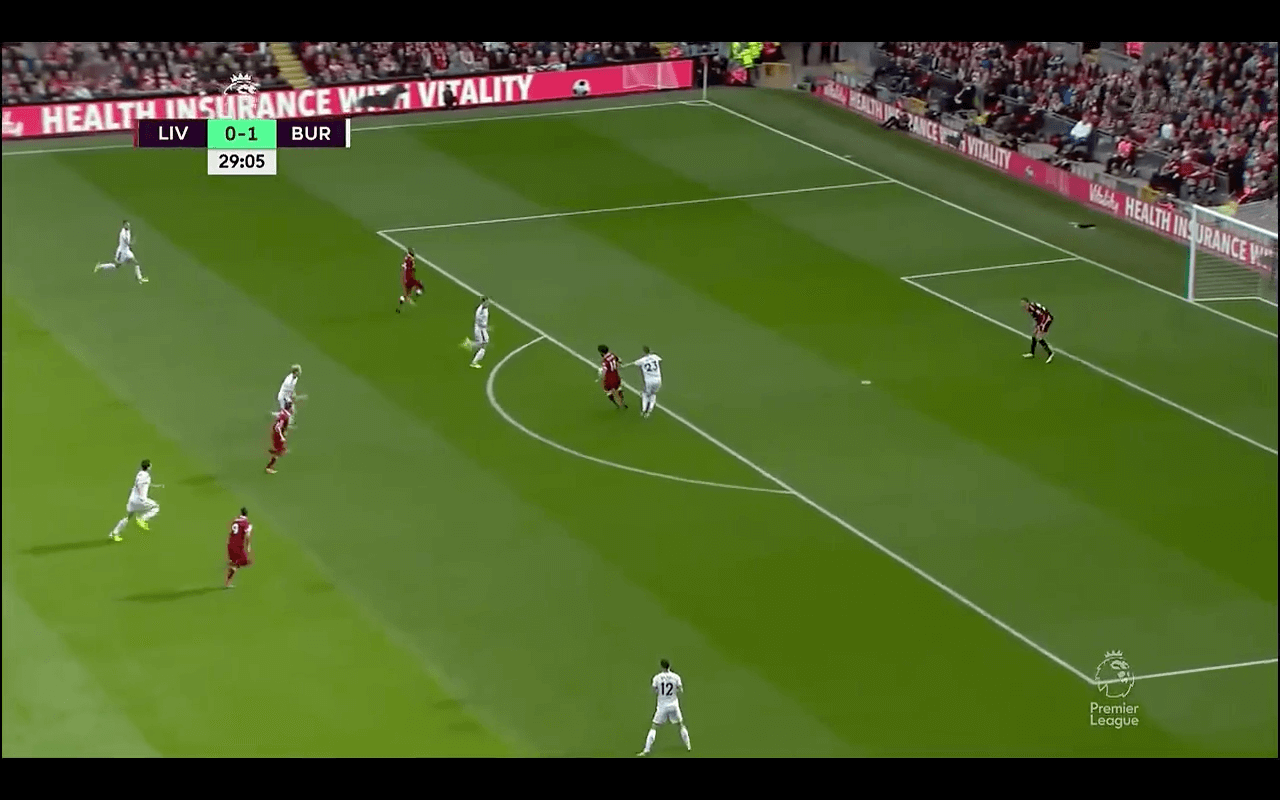 Burnley's Setup
Burnley used a six-man defence at times, making it as tough as possible for Liverpool to break them down. Indeed, both Chelsea and Spurs were frustrated by such approaches, with Chelsea losing (2-3) and Spurs drawing (1-1).
The examples (below) illustrate Burnley's compactness – even when a player momentarily finds space, as Coutinho and Salah do, below, a second player often comes in and dispossesses the Liverpool player – which is why Liverpool became so frustrated and resorted to taking pot-shots from range.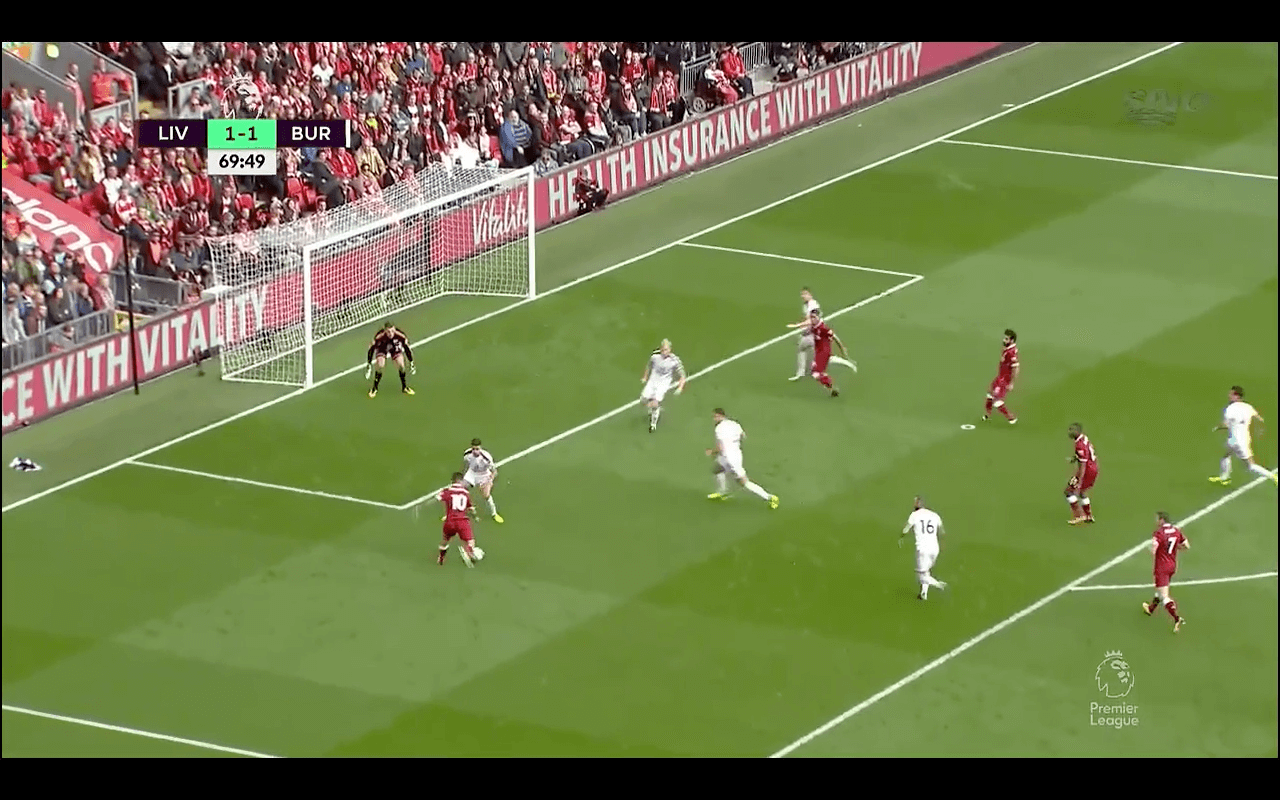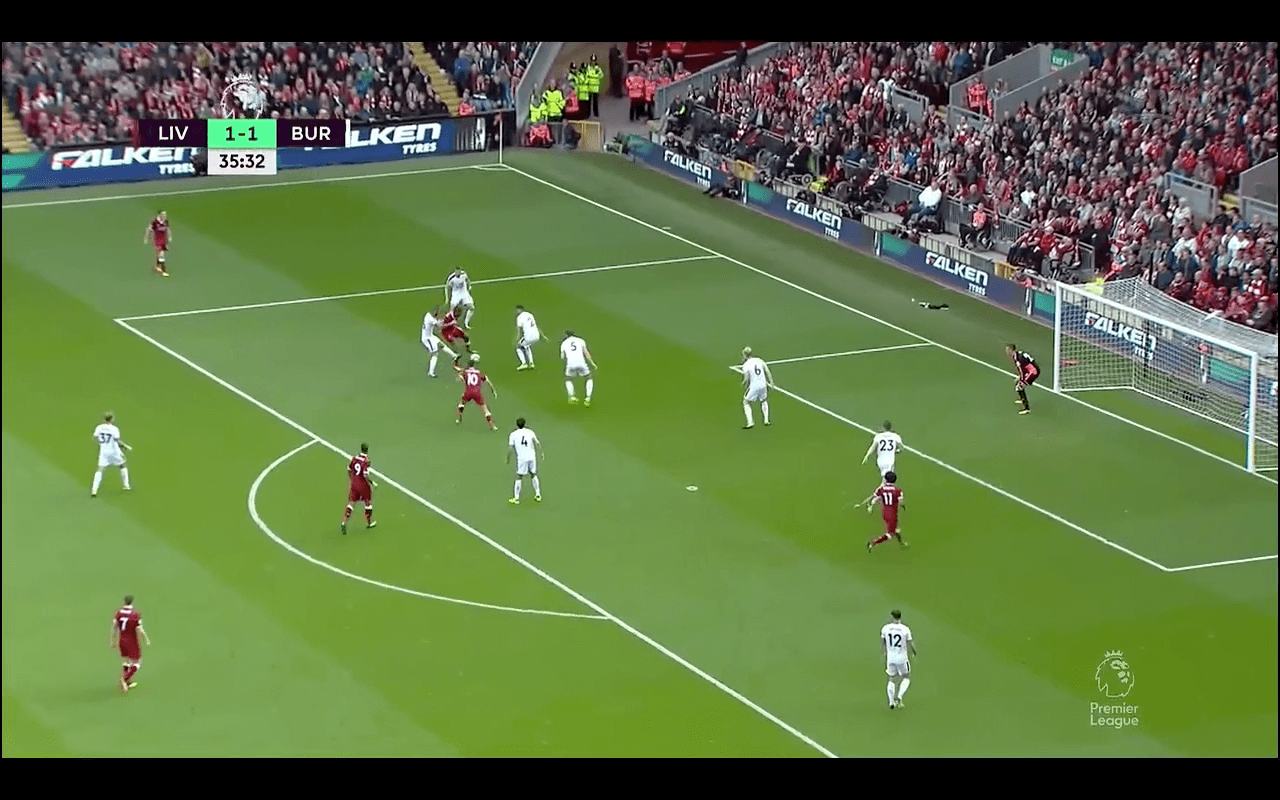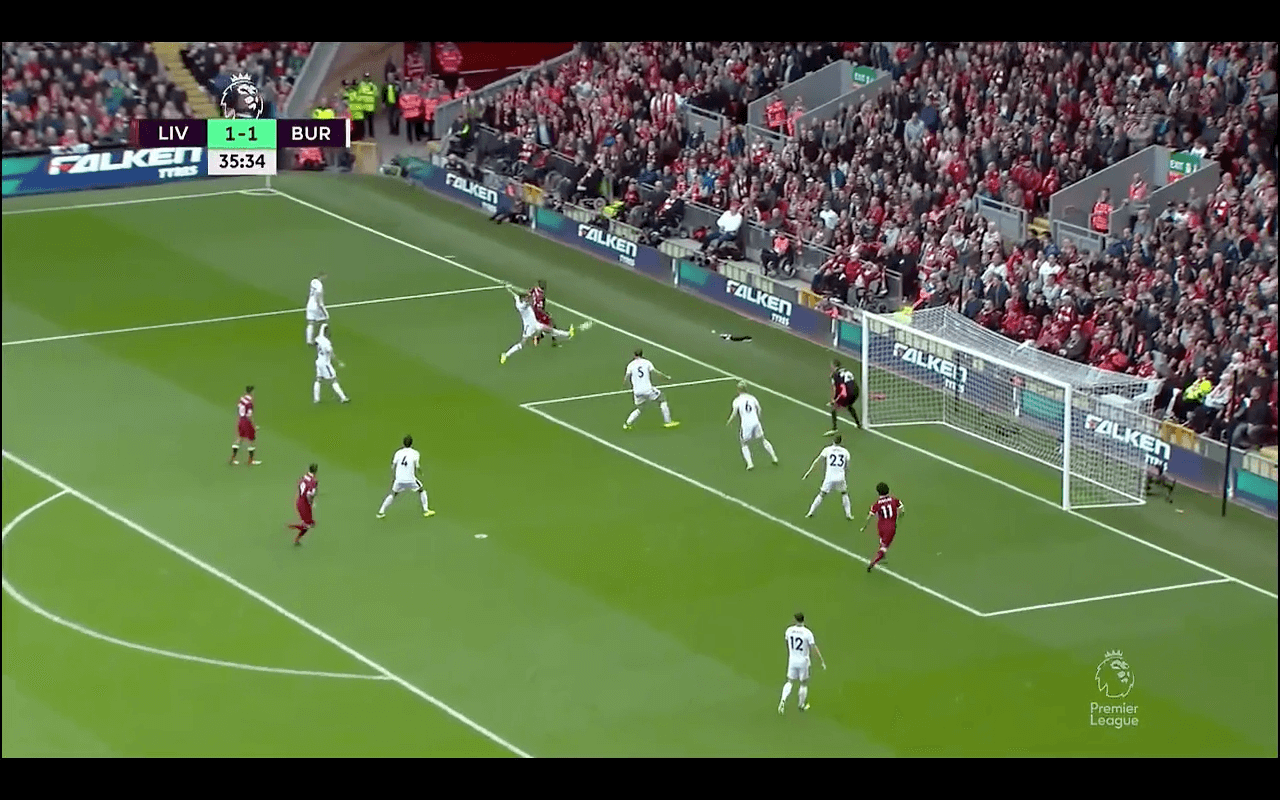 Those Burnley Corners
In Liverpool's first game of the season, against Watford, I drew a sharp breath when Liverpool gave away a corner late on – this time I simply rubbed my temples. Of course, we've given a corner away, under no pressure whatsoever.
Of course, Liverpool have given a corner away, under no pressure whatsoever.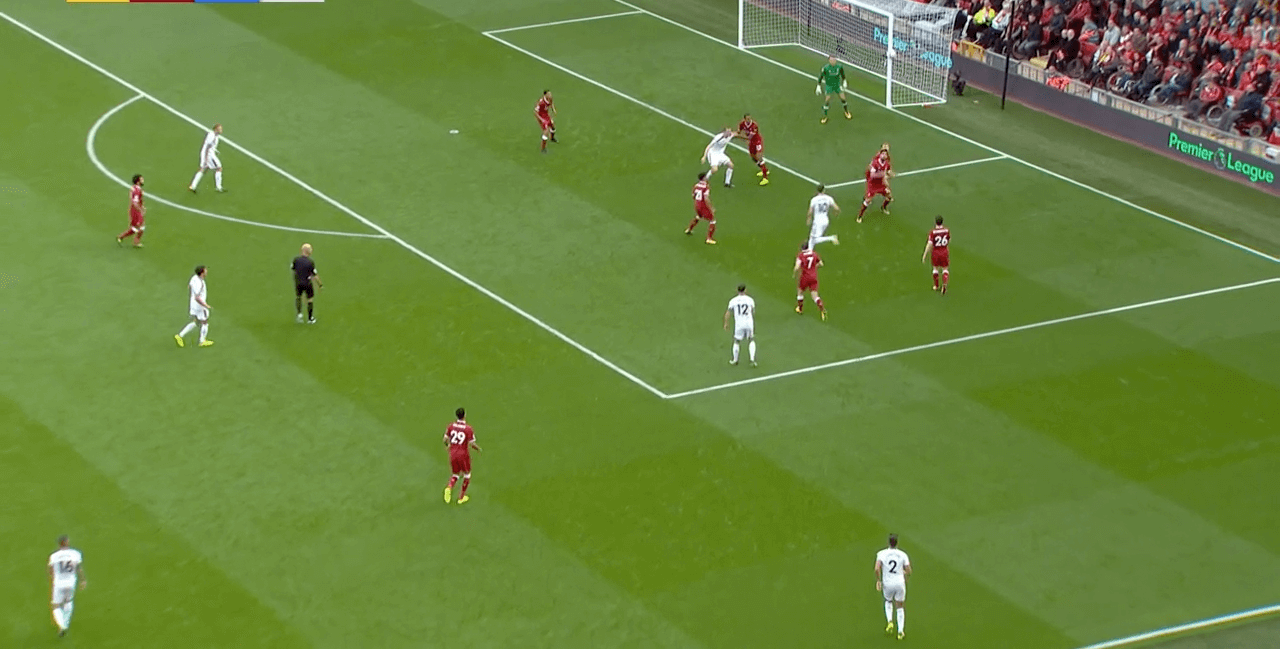 Can and Klavan, again for a reason unbeknownst to me, decided against communicating, despite being in space, with time to control the ball, and ended up heading the ball out for a corner, Burnley's first, to Liverpool's ninth.
With the ball crossed in, Liverpool had ample time to set themselves and deal with the situation.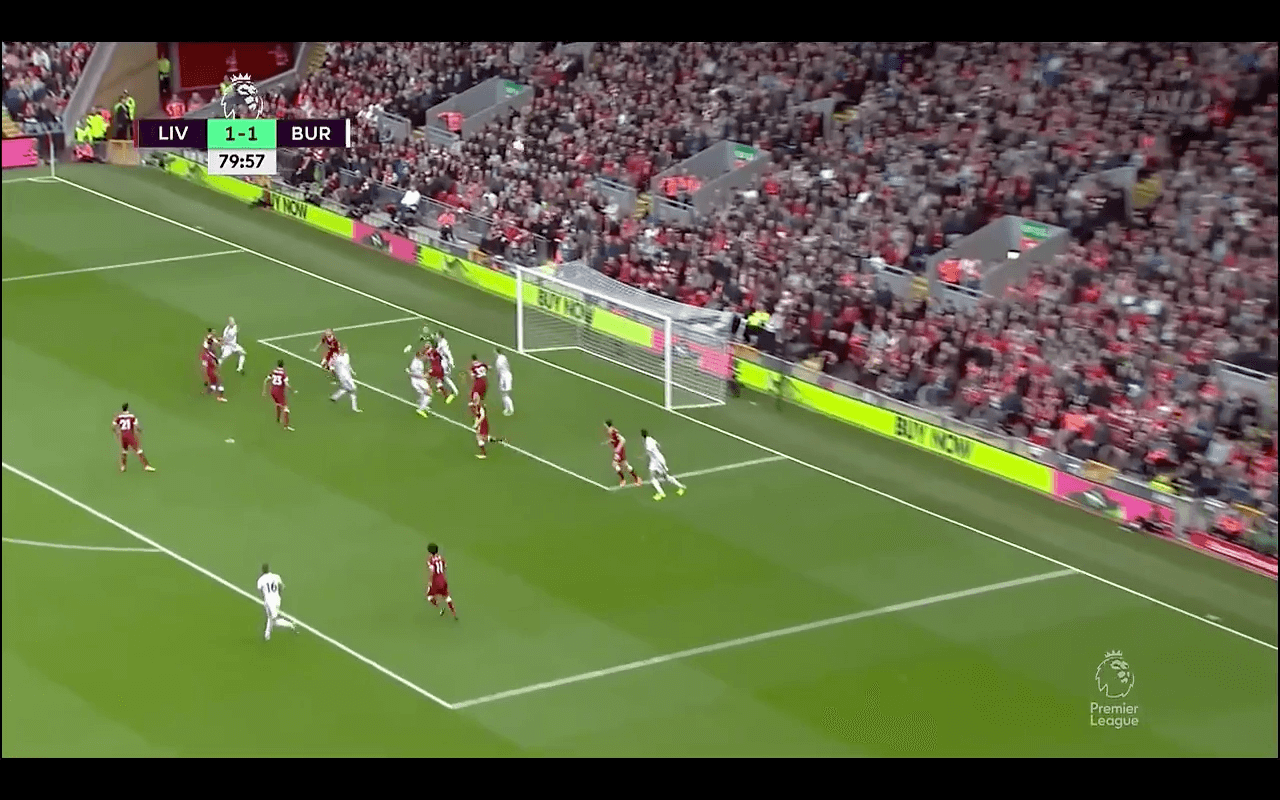 Alexander-Arnold initially tussles with Mee, who is ahead of him, and goalside.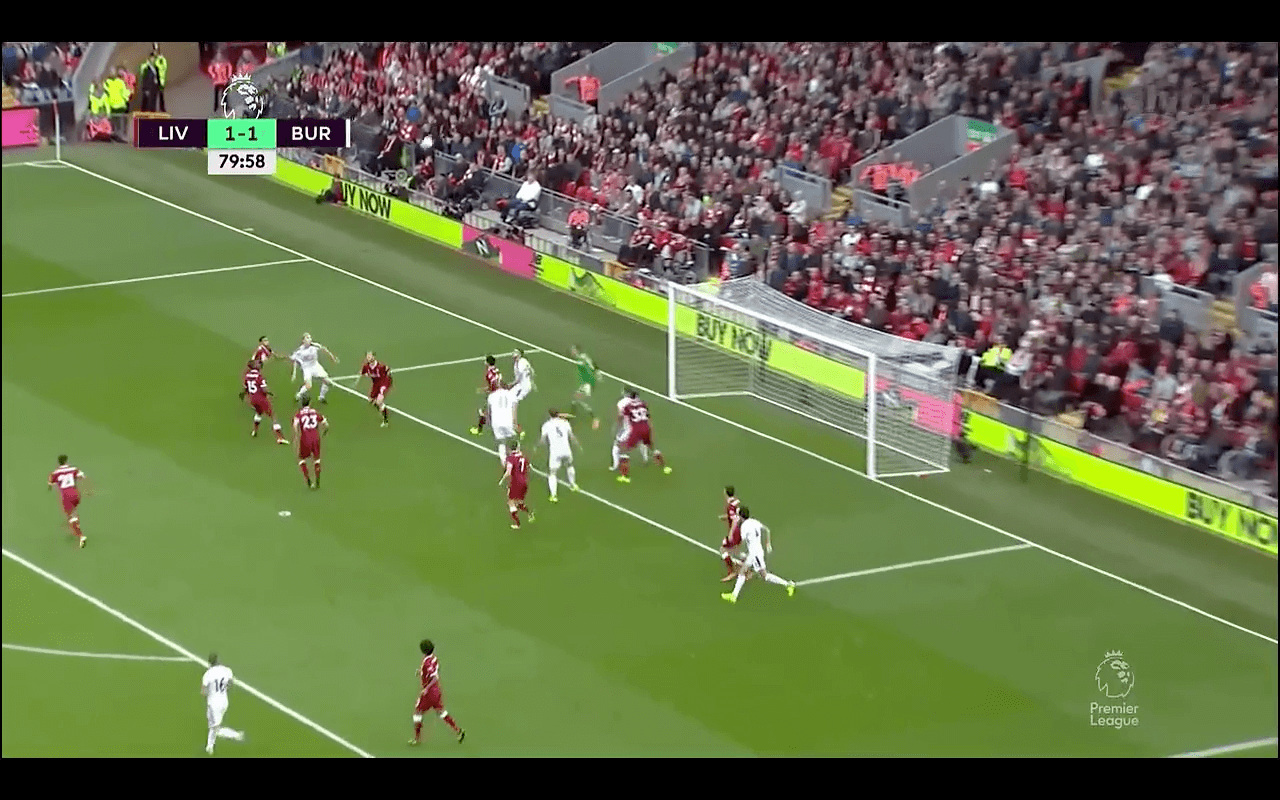 Alexander-Arnold then pulls his shirt, before letting him go, with both his hands and in a tactical sense – with Klavan not challenging – expecting Alexander-Arnold to, and vice-versa.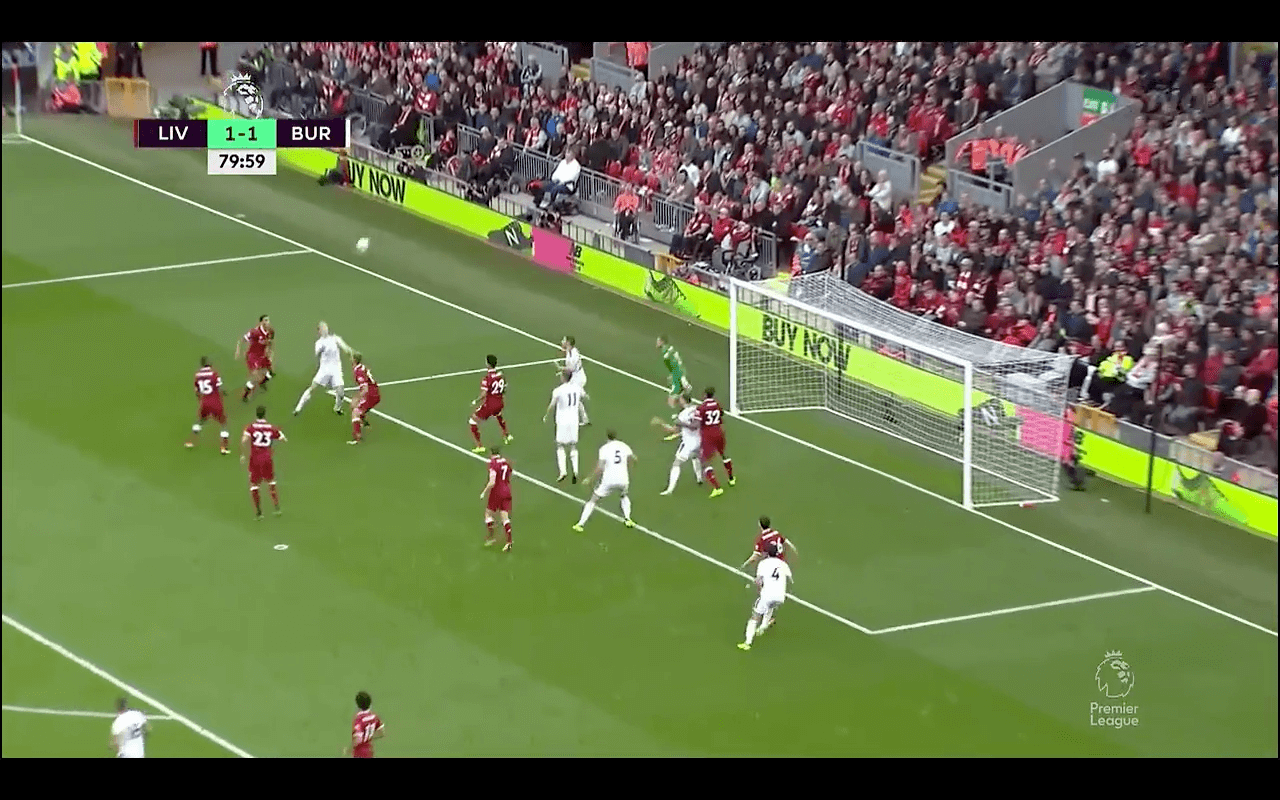 Despite four players within a metre radius of Mee, he gets his header away, only for save Liverpool.
An utterly ludicrous piece of defending, which Liverpool attempted to one up only moments later.
In this instance, Sturridge is initally with Mee, and Klavan is again positioned on the far corner of the six-yard box.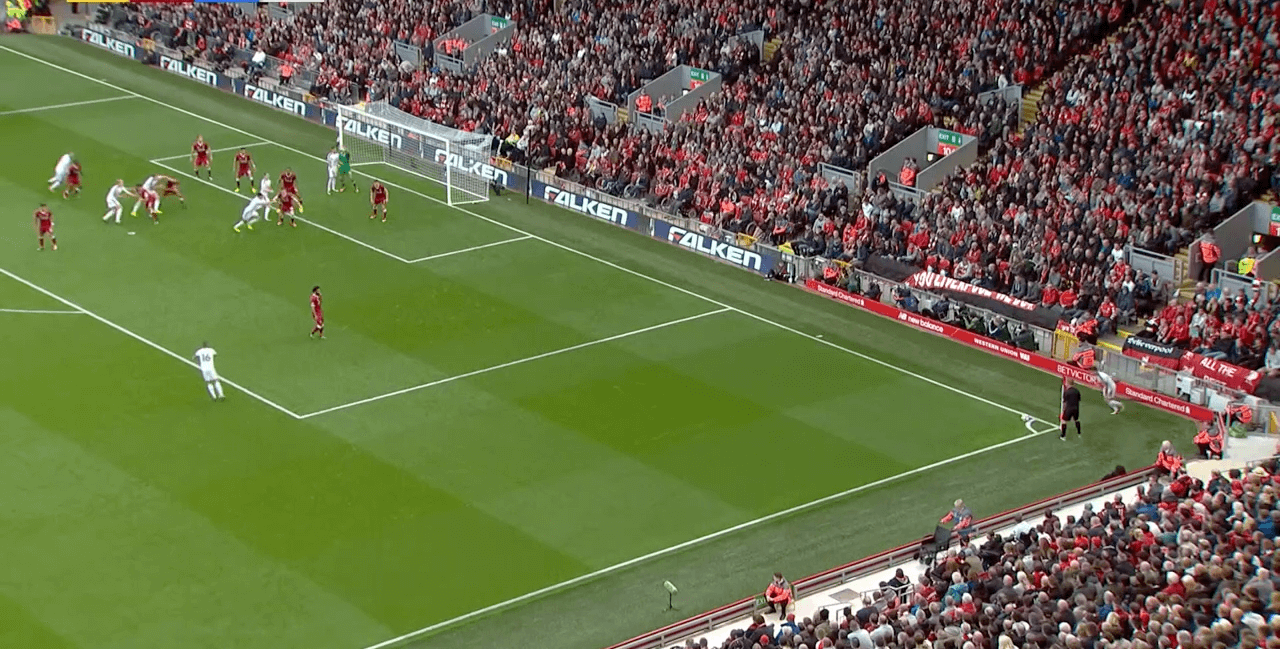 Somehow though, with the ball directly above them, Klavan switches zonal positions with Solanke, meaning Solanke then has to cope with the oncoming Ben Mee.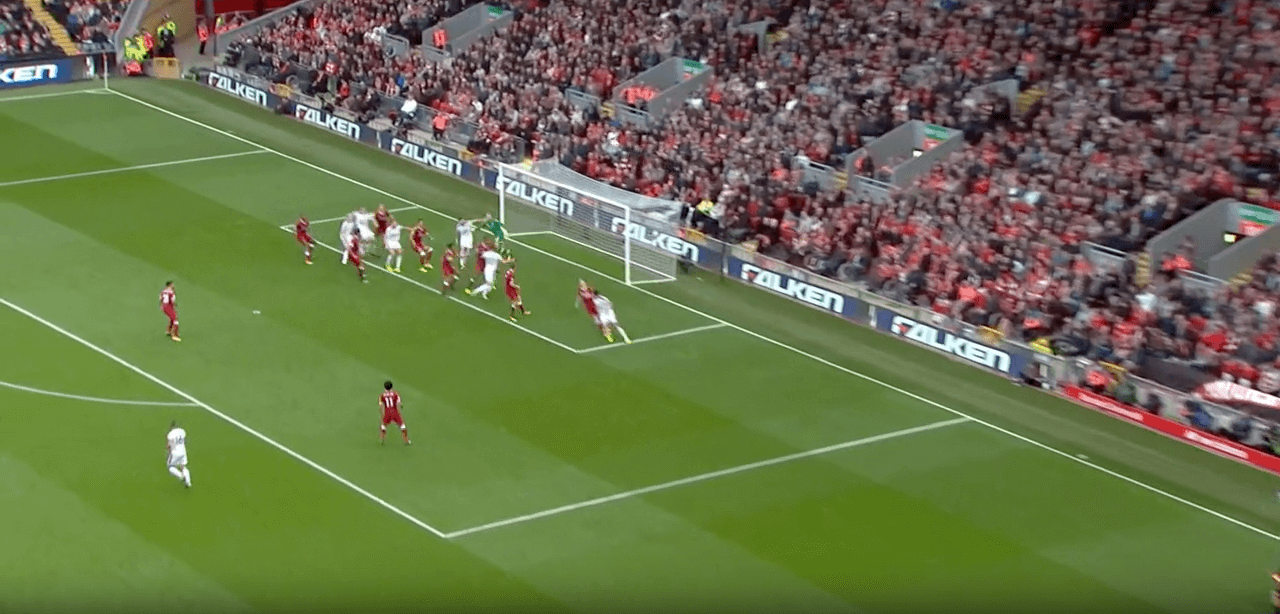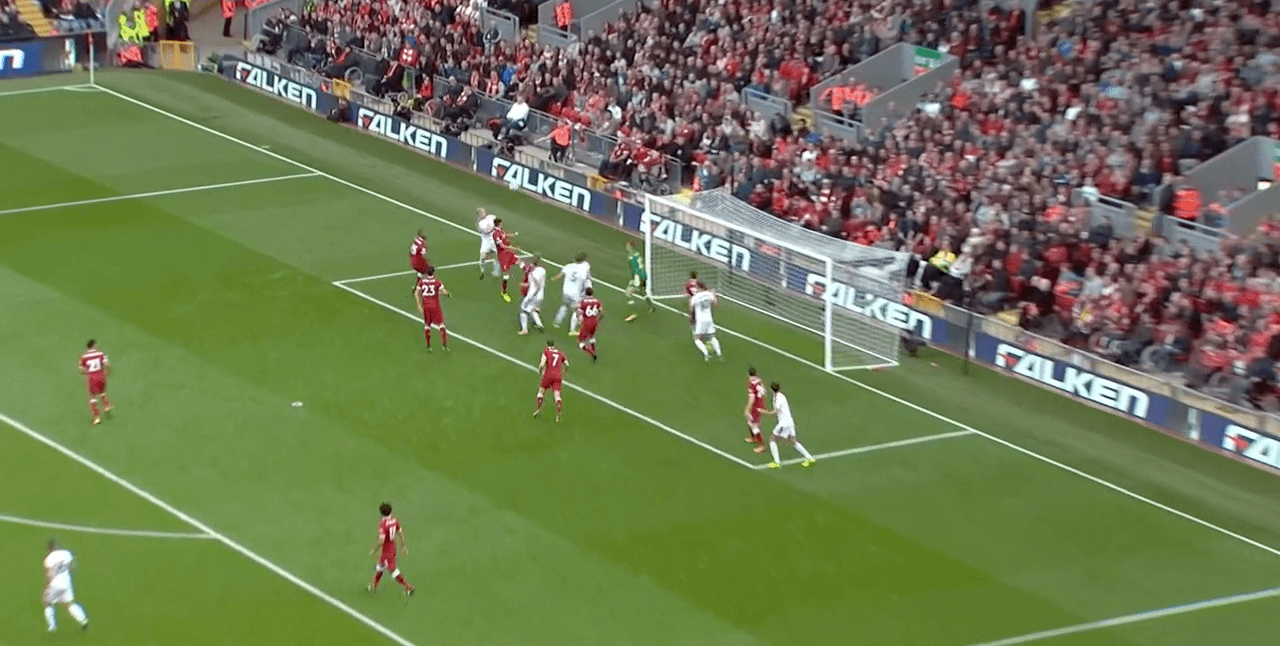 Only Mignolet's positioning on the post saves Liverpool from a humiliation, that following the first corner, would be deserved.
#LFC have had 59 shots in their last two home games and scored three goals.
The opposition have had 11 shots and also scored three.#numbers

— Ian Doyle (@IanDoyleSport) September 16, 2017
Pattern of shots conceded in the #EPL.#MCFC and #CFC in best spots, Watford doing good too.#LFC conceding few, but of very high quality. pic.twitter.com/yhI6iITkpY

— 11tegen11 (@11tegen11) September 15, 2017
Shoot on sight
Liverpool had 35 shots, but their xG only shot up from around 1.25 to over 2 after Dominic Solanke's shot, late in the game.
With near 30 shots by this point, why was Liverpool's xG so low? The simple reason was that Liverpool were shooting from outside the box far too frequently. Instead of being patient, and working intelligently, Liverpool peppered the goal from range, frustrated with the numbers of opposition players ahead of them, hence the high number of blocked shots (12). Coutinho, in particular, was guilty of this, taking seven shots – the joint highest, with Daniel Sturridge – although, unlike Sturridge, all of Coutinho's were off target.
xG map for Liverpool – Burnley. So there were a lot of very bad shots, but probably enough ok-ish chances too to win this. pic.twitter.com/TyAytze5NP

— Caley Graphics (@Caley_graphics) September 16, 2017
With over 71pc of possession, to only create on 'big' chance is absolutely criminal. Coutinho was supposed to offer control and penetration from midfield, and whilst he did link up nicely with Sturridge on occasion, his input was far too infrequent creatively – as he instead focussed on dribbling and shooting from outside of the box.
BELOW: Sturridge drops to drag out the defender, whilst Coutinho proceeds to play him in behind. A simple but effective move, and something that Liverpool will need more of from Coutinho.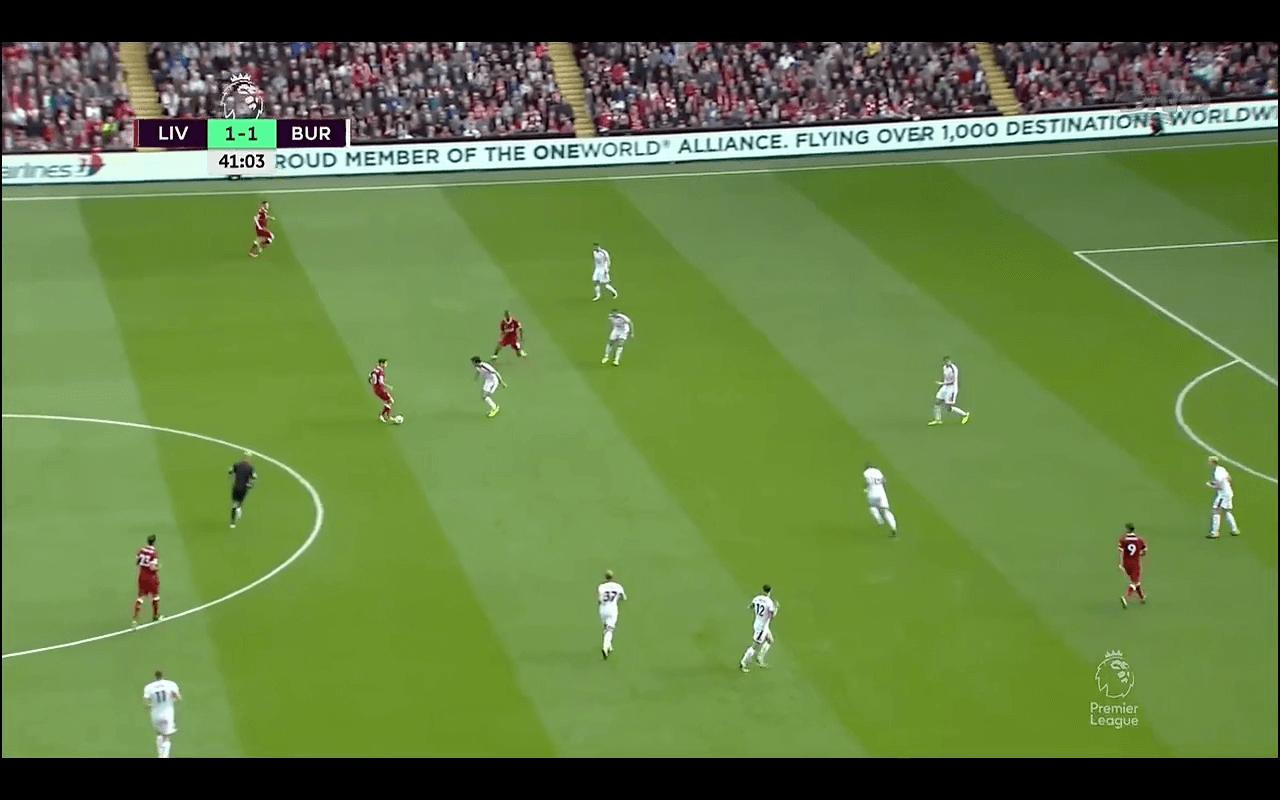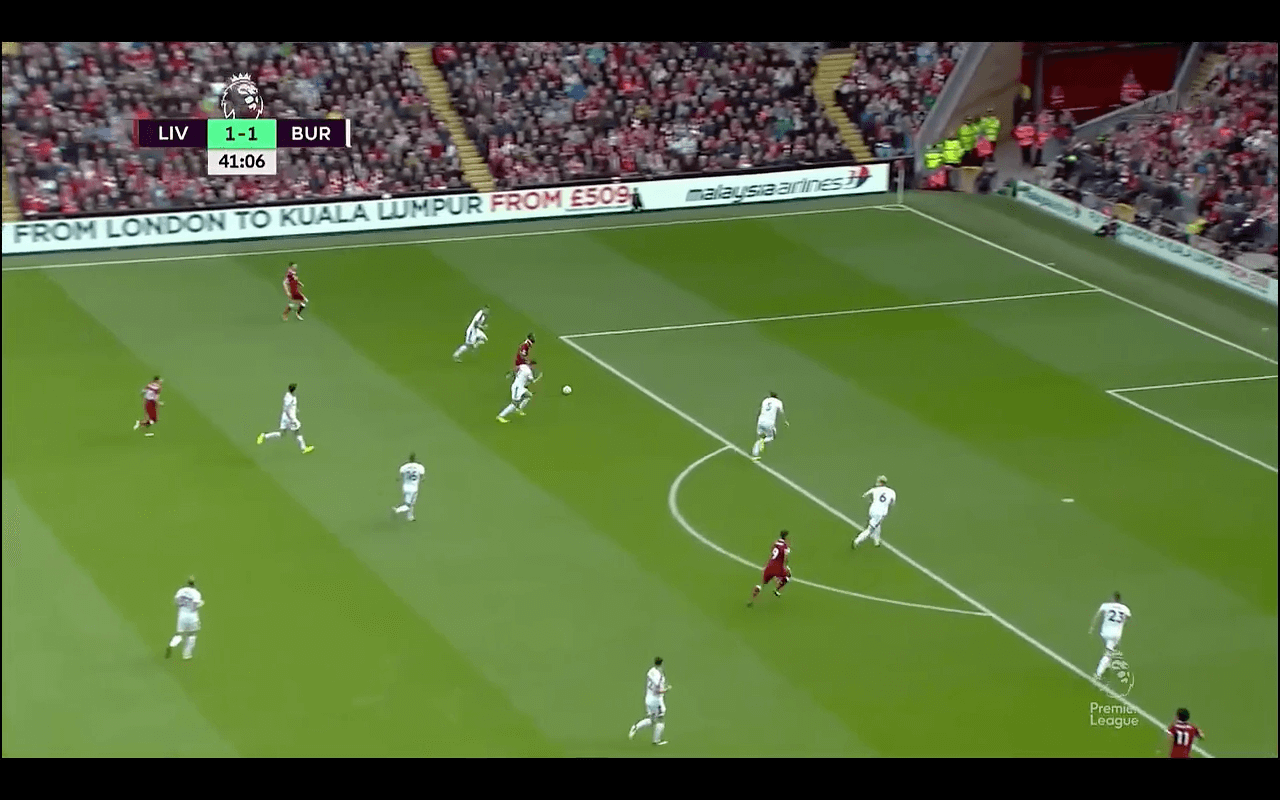 Liverpool will certainly hope he reverts to the approach that he thrived in at the back-end of last season and in pre-season, but it may take him a few weeks to get back into the swing of things.
#LFC
35 shots
18 in box
9 on target
1 big chance created

— Dan Kennett (@DanKennett) September 16, 2017
Where is the width?
With Salah, Alexander-Arnold and Robertson in the team, the very least an observer would expect would be width – yet even with these players, Liverpool's play was, generally speaking, narrow, congested and focussed down the centre.
There are instances across the game in which Liverpool's full-backs, instead of running the outside channel, and creating an overlap, in order to cross the ball, instead opt to run inside.
What's the value of running outside other than crossing the ball you may ask – and I would simply point you to Man City's dominant display against Liverpool, in which the Liverpool defence narrowed, and dropped deep – allowing the wing-backs, De Bruyne, and later Sané to exploit the wide channels, and get in behind Liverpool's defence, playing everyone behind the ball onside and asphyxiating the defence through simply overwhelming it.
Here's one such example in the two frames below: Alexander-Arnold, instead of running the overlap, and allowing Salah, Milner and Sturridge to run in and meet his cross, runs inside of Sturridge, who has already opened himself up, onto his left foot.
There's no point attempting to run the line, and try to cross with his weaker foot, and instead shoots.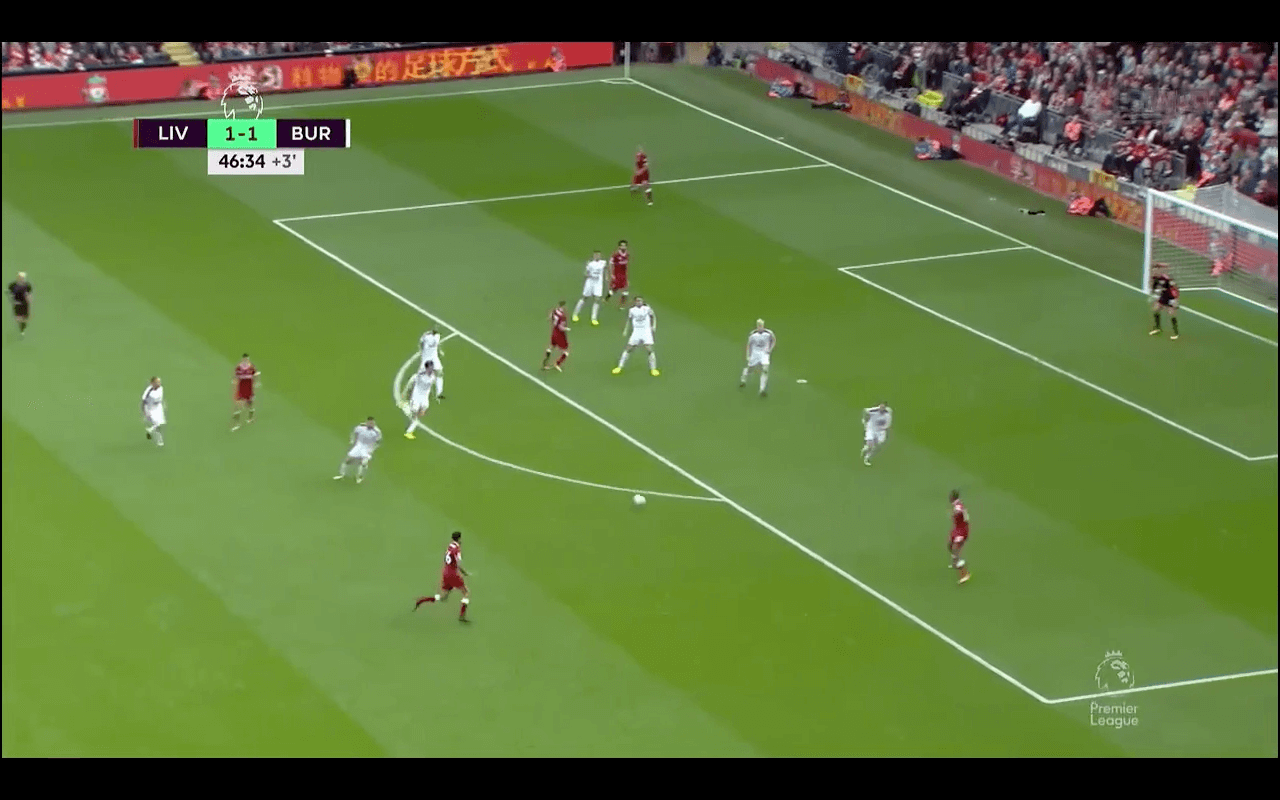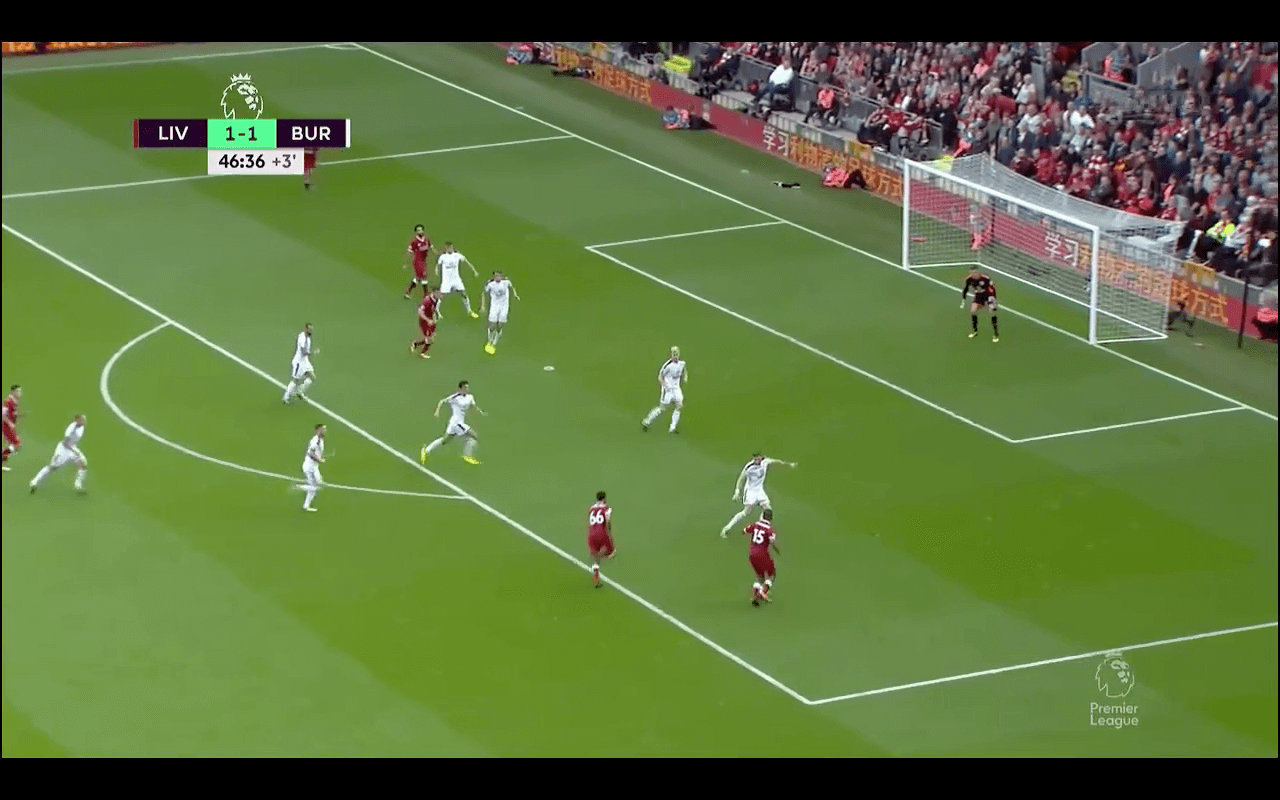 The same can be said in the frame below, with Alexander-Arnold not wide, or advanced, enough to offer Can a pass that would offer an equal or greater end result than simply shooting from where he is.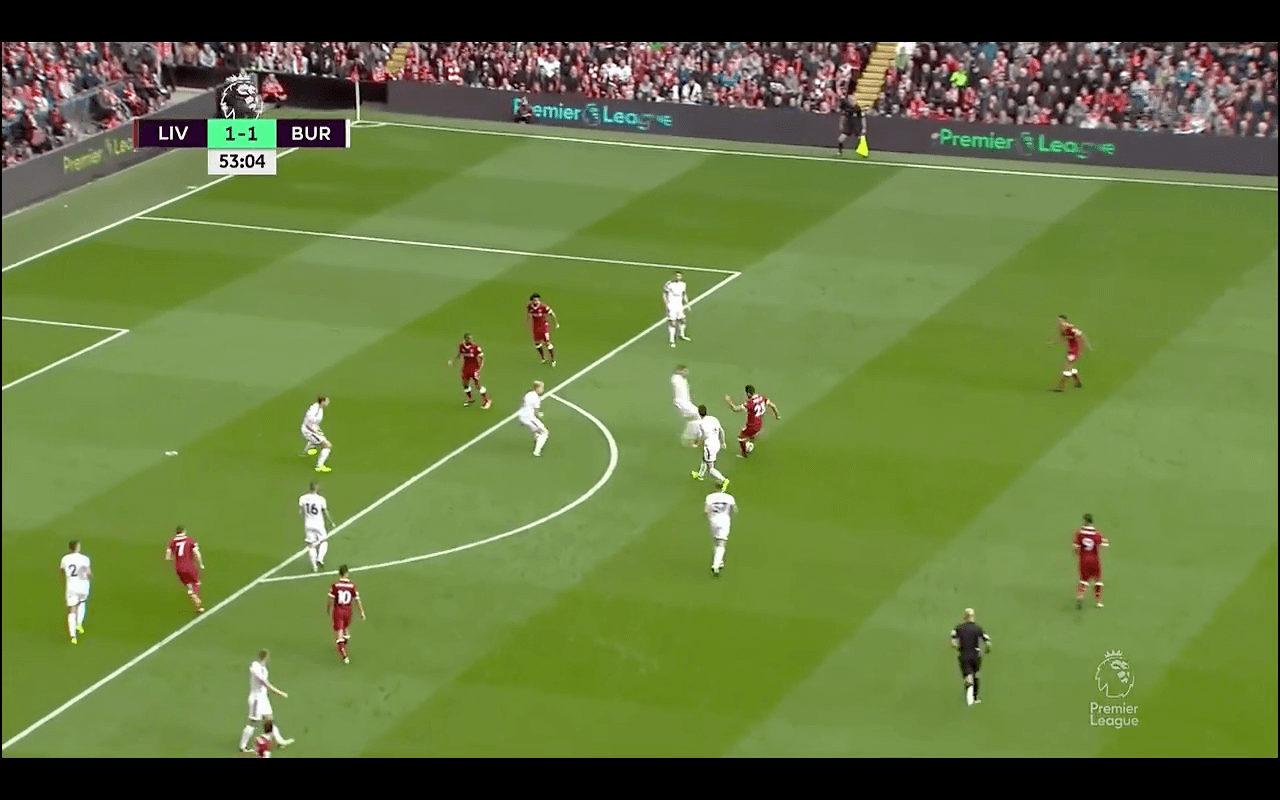 Again, in this frame, we can see Alexander-Arnold making an inside run – which is by no means a negative, but really should be used infrequently, as a surprise, and especially not when the centre of the field and final third is so congested.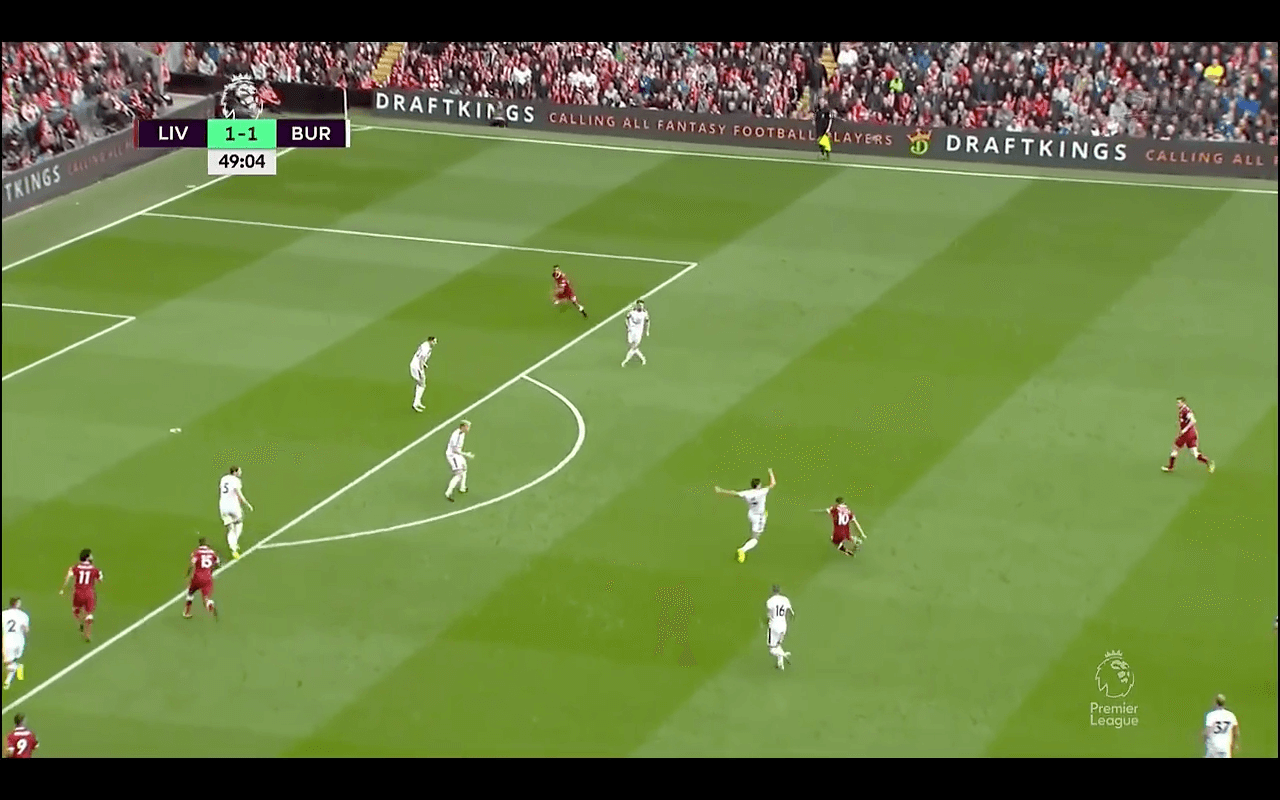 On a few occasions Robertson and Alexander-Arnold were in good, wide positions, but the team did not use them, a shame, as when Liverpool needed them out wide as an outlet, they were not there – illustrated in the second, third and fourth frames, below.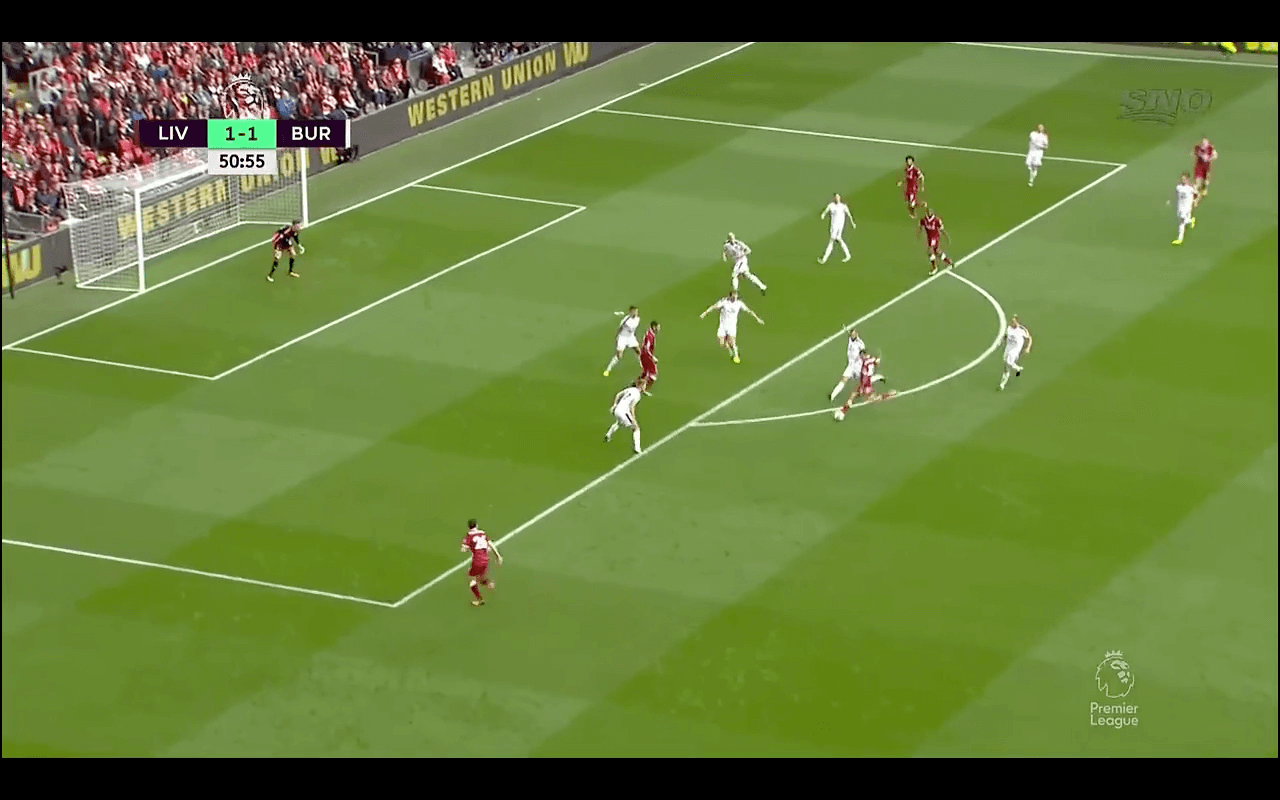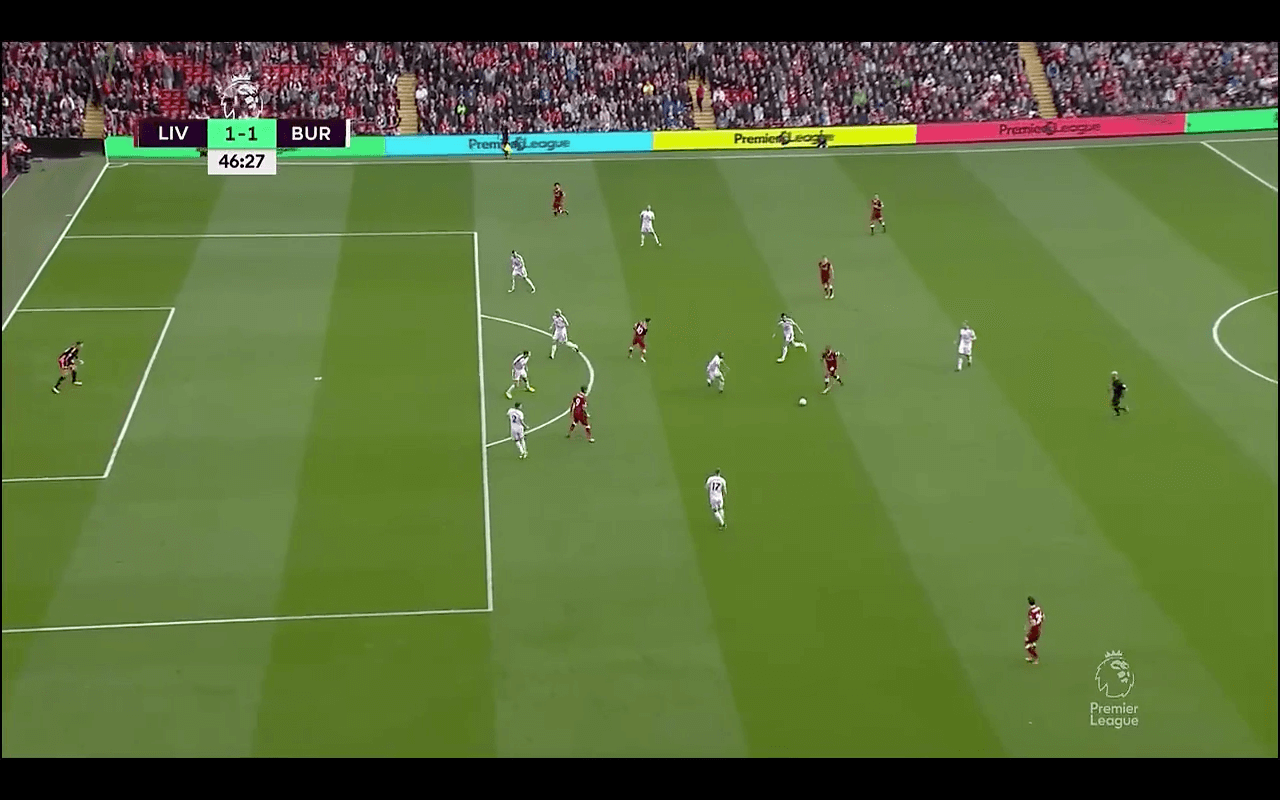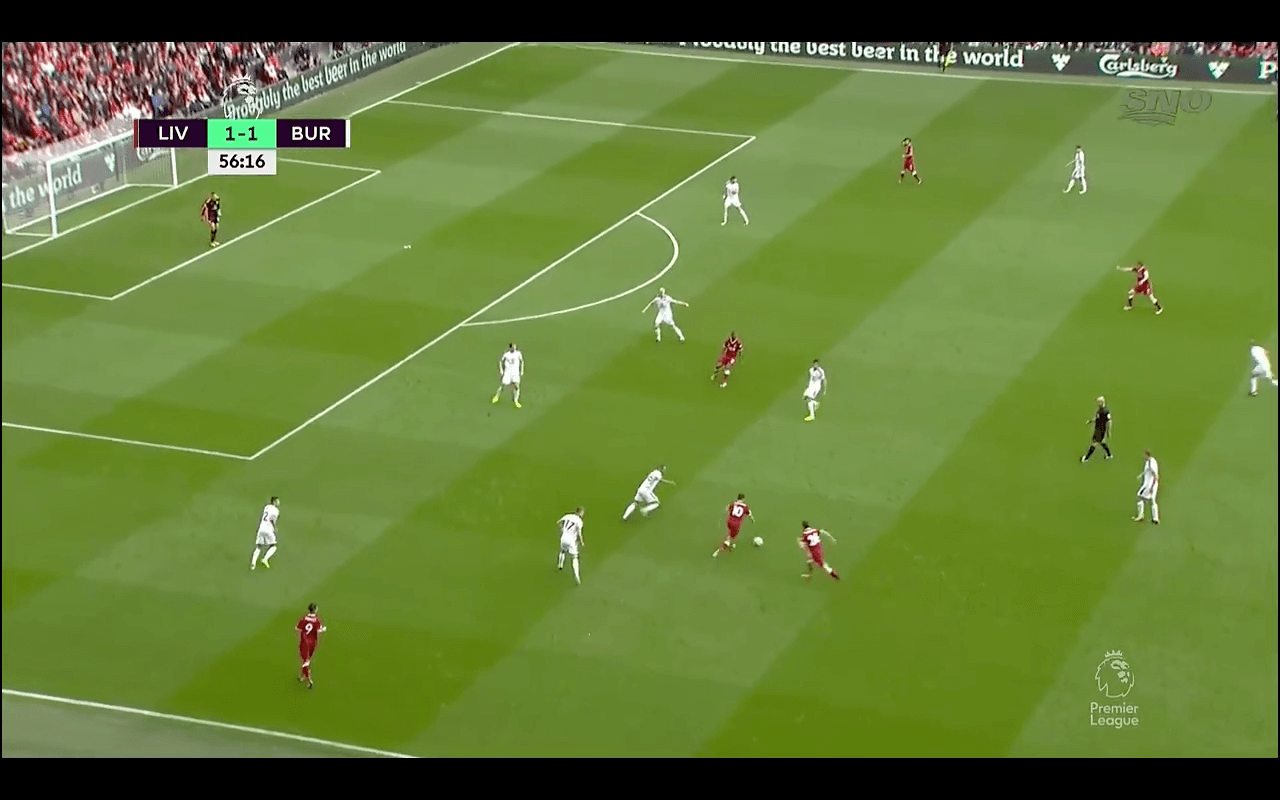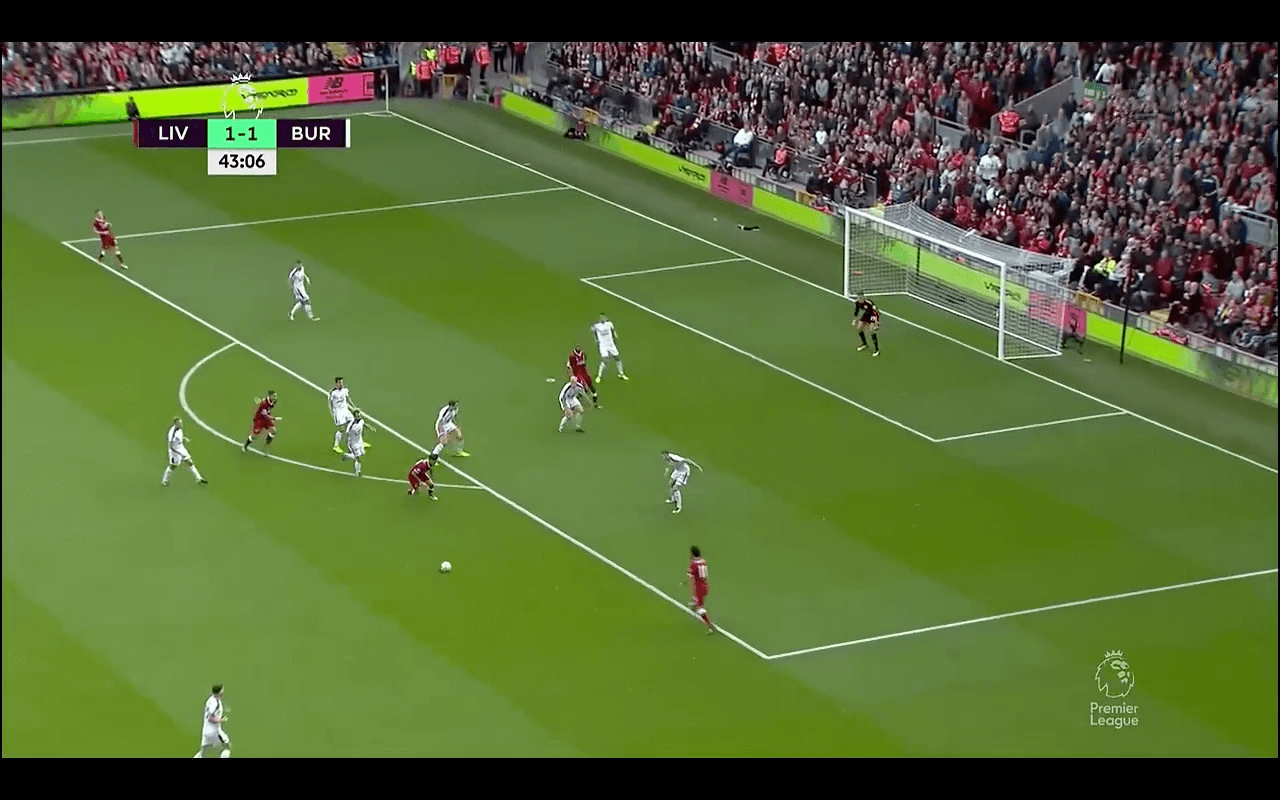 Simon Mignolet: Under the Microscope
Since March of 2017, I've become a Simon Mignolet fan. His performances from January to May completely vindicated my belief that he had turned a corner in his progression, as he fought off and battled through big games, making game-saving saves, and thriving in challenging conditions, where he was challenged aerially.
Mignolet did well in this regard during the Burnley game too, he punched very well from a chance that was ruled offside, and claimed well after Burnley's hectic second corner, below.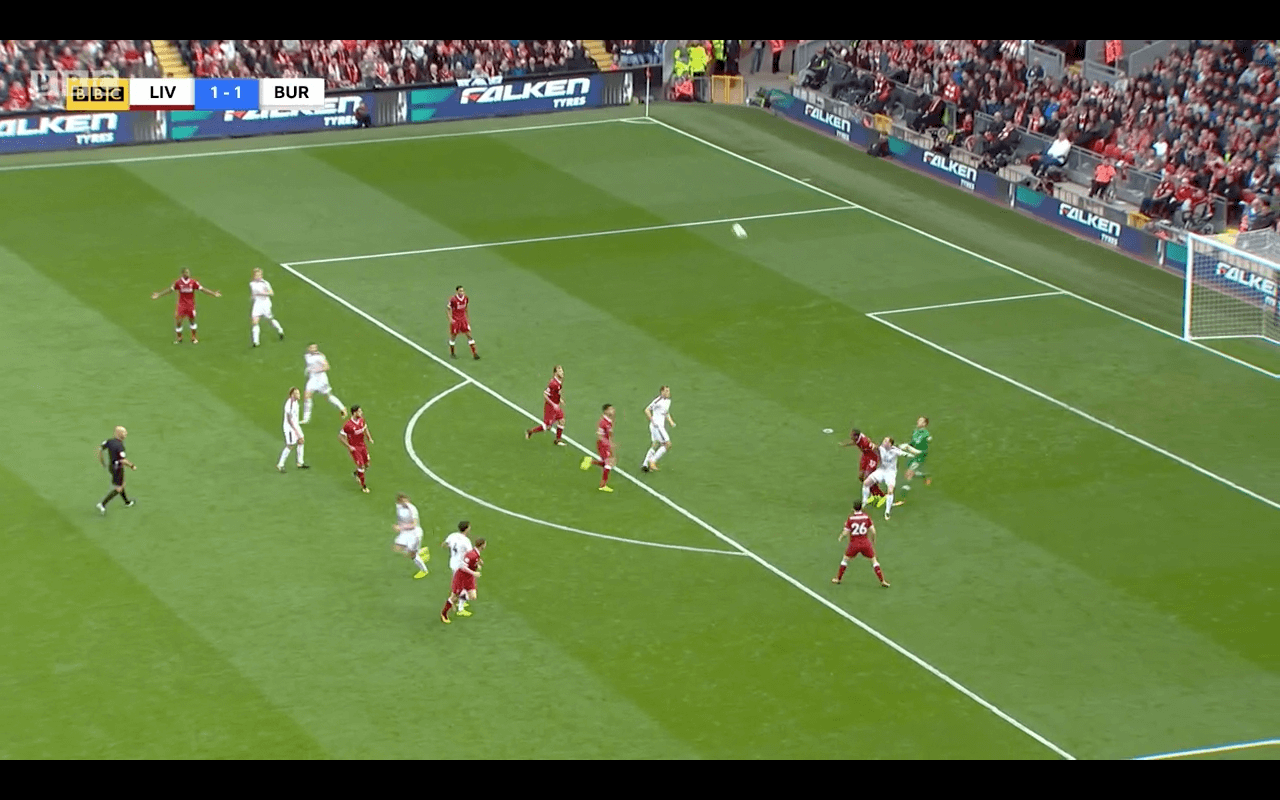 However, could Mignolet have done better when it came to stopping Arter's goal?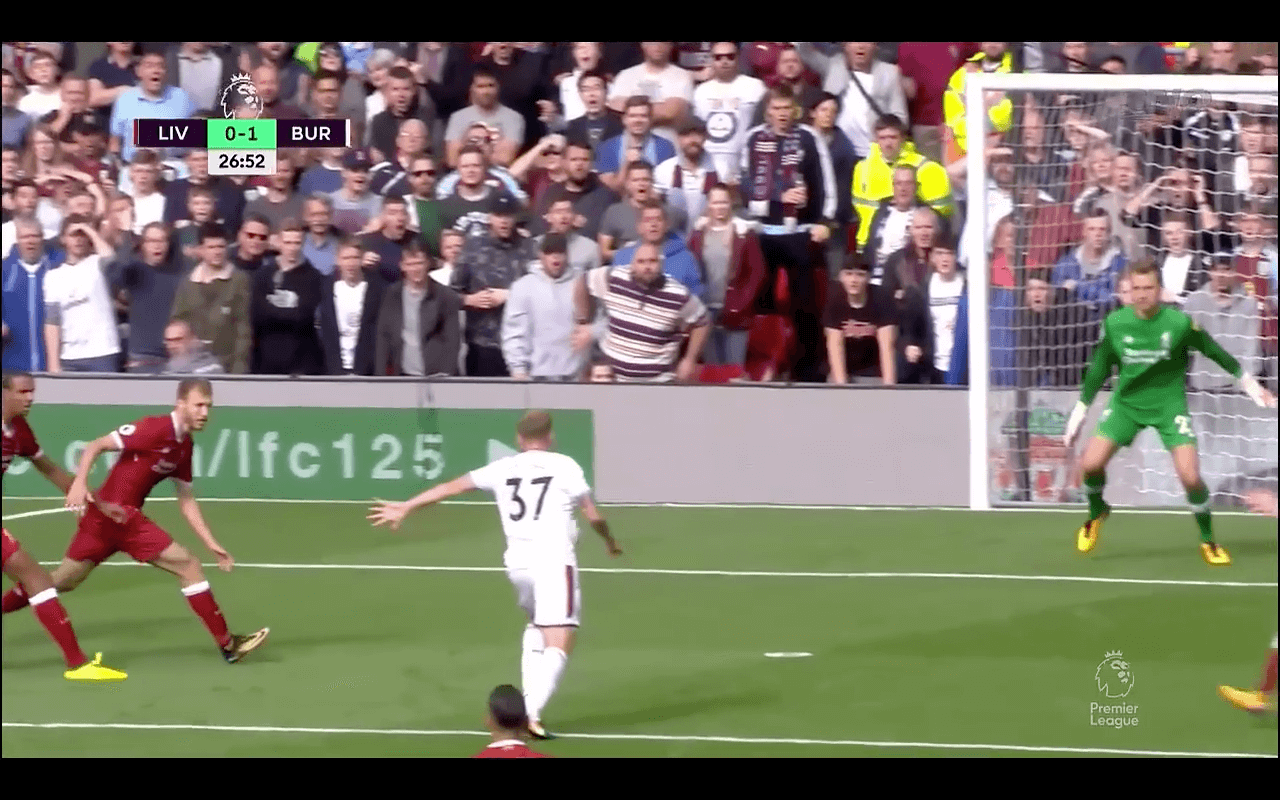 As the ball falls to Arter, Mignolet is actually moving to his left, and bounces – with his momentum carrying him leftwards until he lands.
Indeed, as you'll see in the next two frames, he's in the air as Arter strikes the ball, meaning he is unable to launch off his feet and dive until he lands.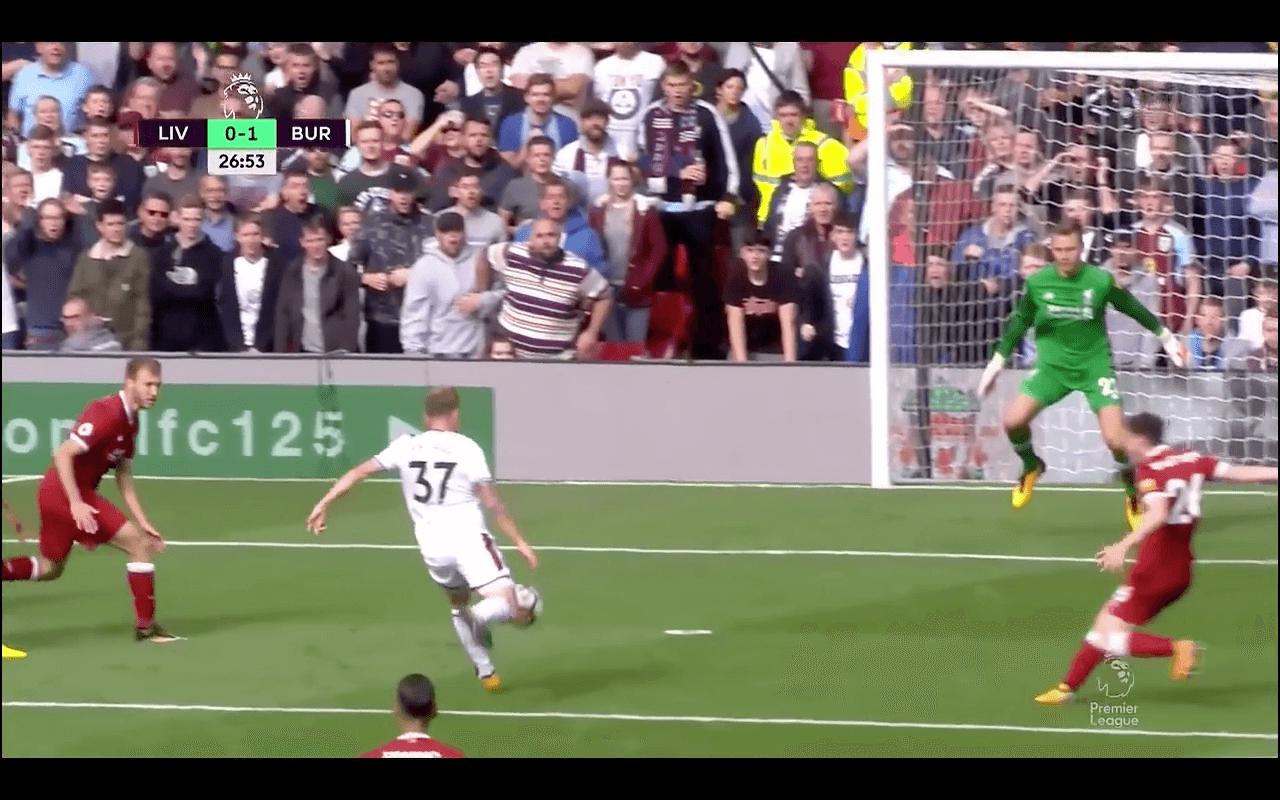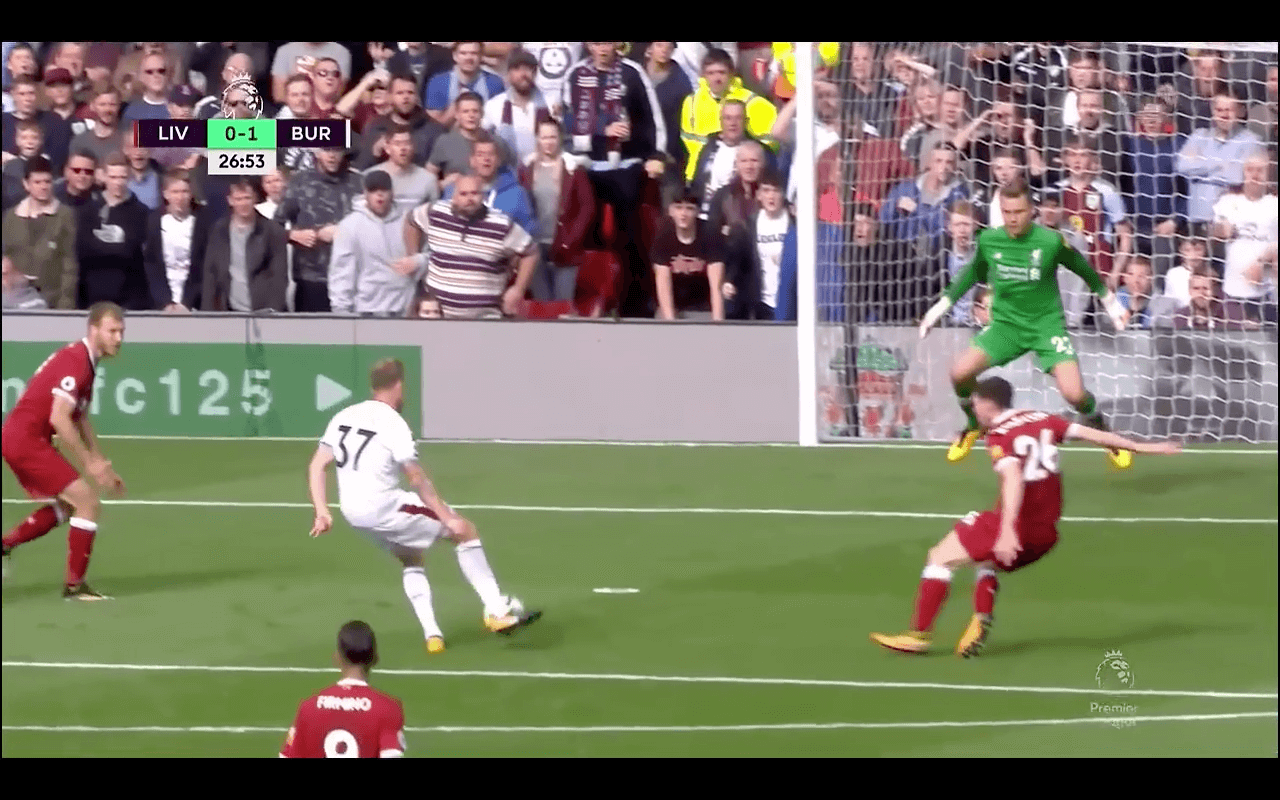 By the time Mignolet is at full stretch, the ball is past him.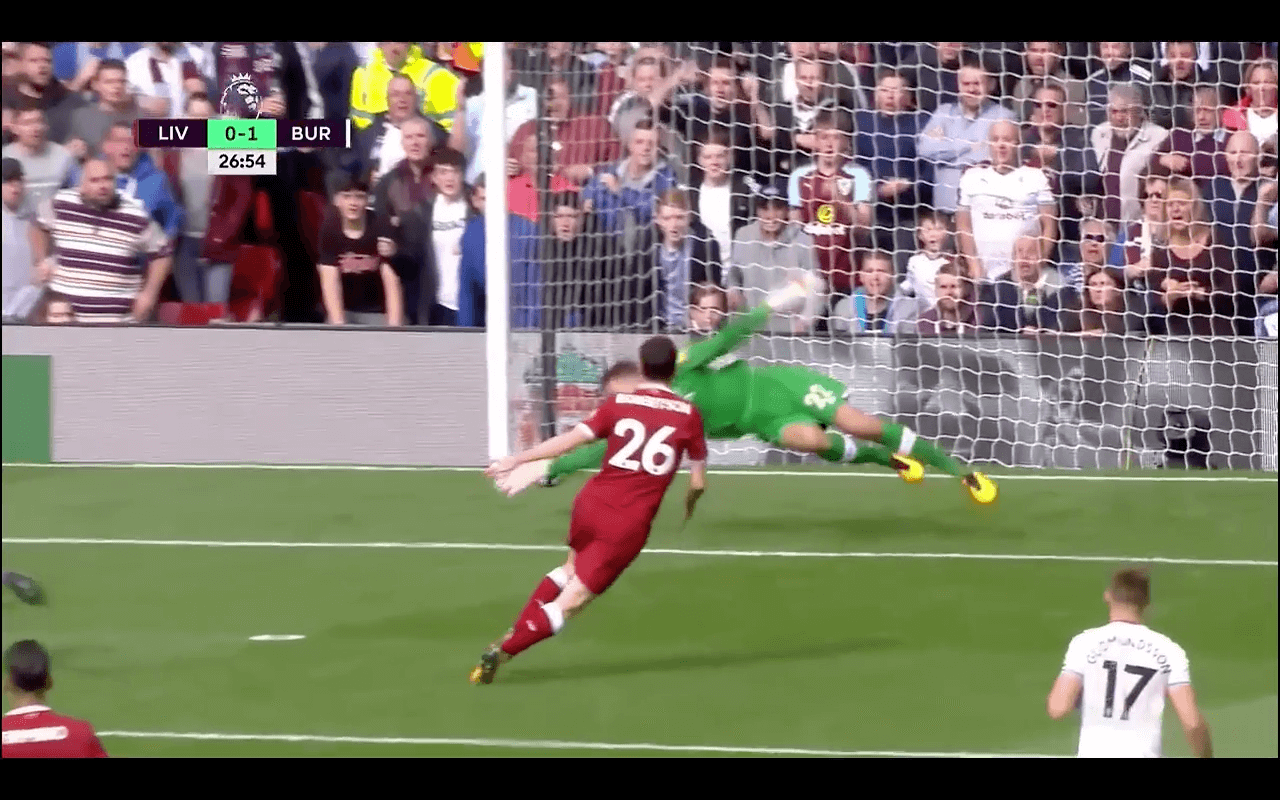 By no means is the Burnley goal Mignolet's fault, but perhaps this is a slight technical niggle he may need some work on if this proves to happen again.
That's not to say Mignolet did not play well – he made a fantastic positional save from Ben Mee's header – saving Liverpool from considerable embarrassment, and from dropping what was to be a solitary point.
Super Sturridge
Daniel Sturridge, whilst goal-less, was fantastic, the only player, other than Salah, that appeared a consistent and dangerous threat. Not only did he move defenders around to create space, as noted earlier, but he served as a creative outlet too. BELOW: Sturridge chips a pass into Milner – isolating several defenders – who runs from deep.
For a player with so many injuries, it is truly impressive to see him still playing at such a high level – it's clear he still has not lost his finishing touch, and his footballing intelligence remains razor sharp, as ever.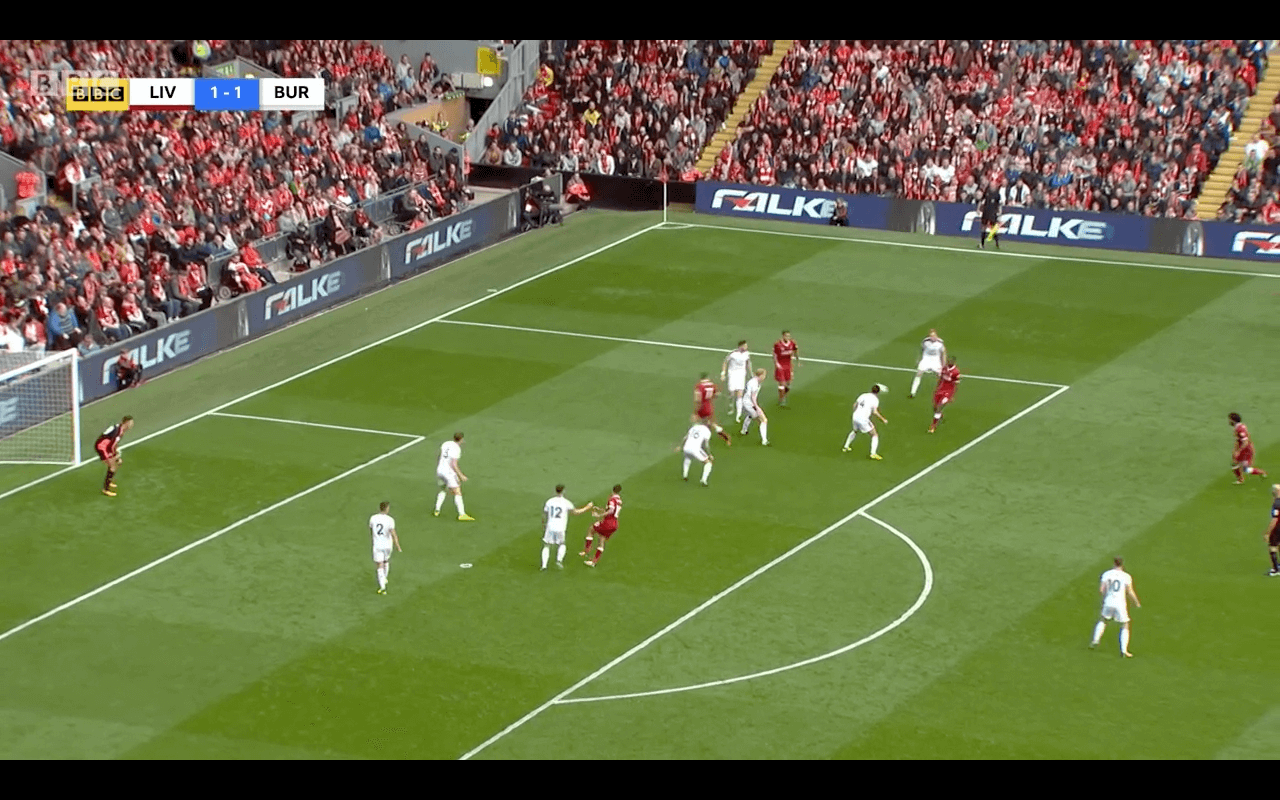 Liverpool's lack of variety
Very rarely did Liverpool 'switch it up', which is extremely strange considering the types of players on the pitch: Sturridge the poacher and clinical finisher, Firmino the space creator, Salah the direct, quick forward, Solanke the classic nine, Alexander-Arnold and Robertson the attacking – and talented crossers of the ball – full-backs, alongside Coutinho and Can. For instance, in the frames below, Alexander-Arnold plays a cross, from deep, directly into Solanke who heads wide – one of the few times in the game one of the strikers was in the box, allowed to attack the ball, and not surrounded by opposition players.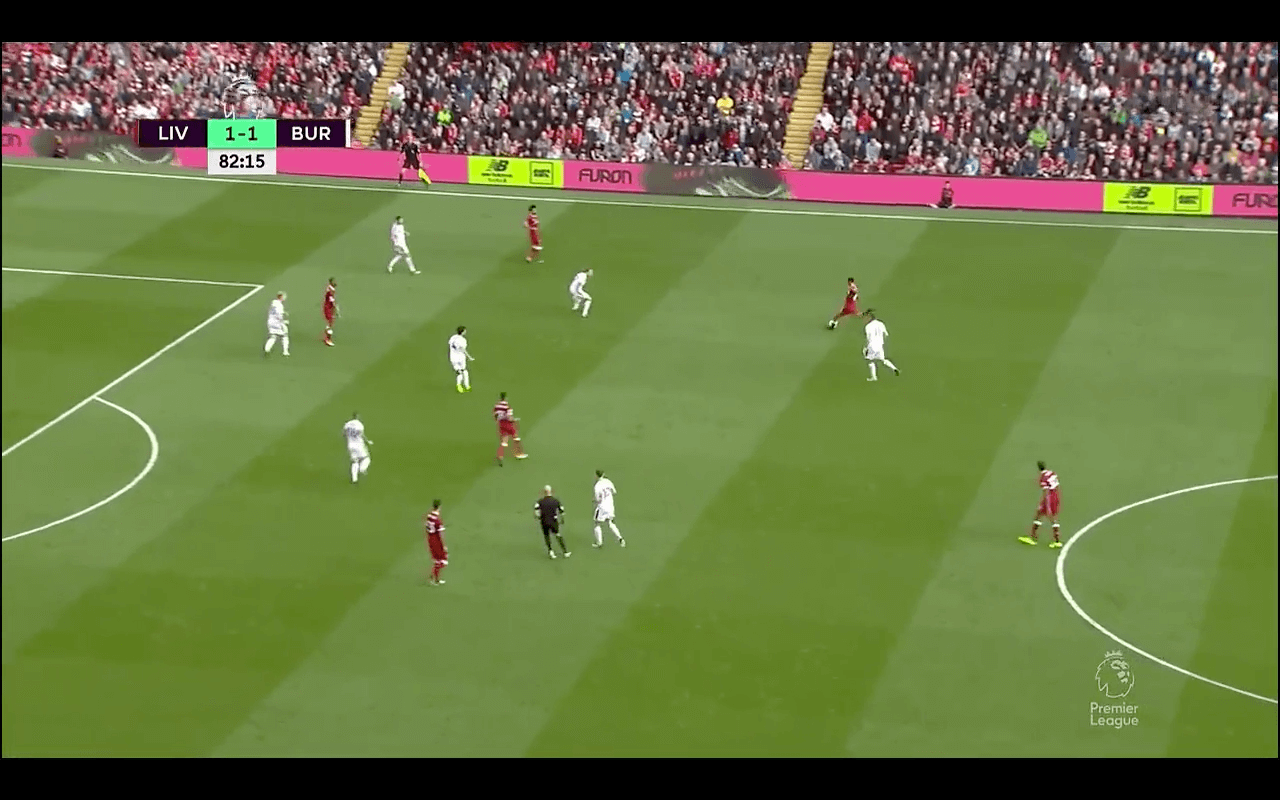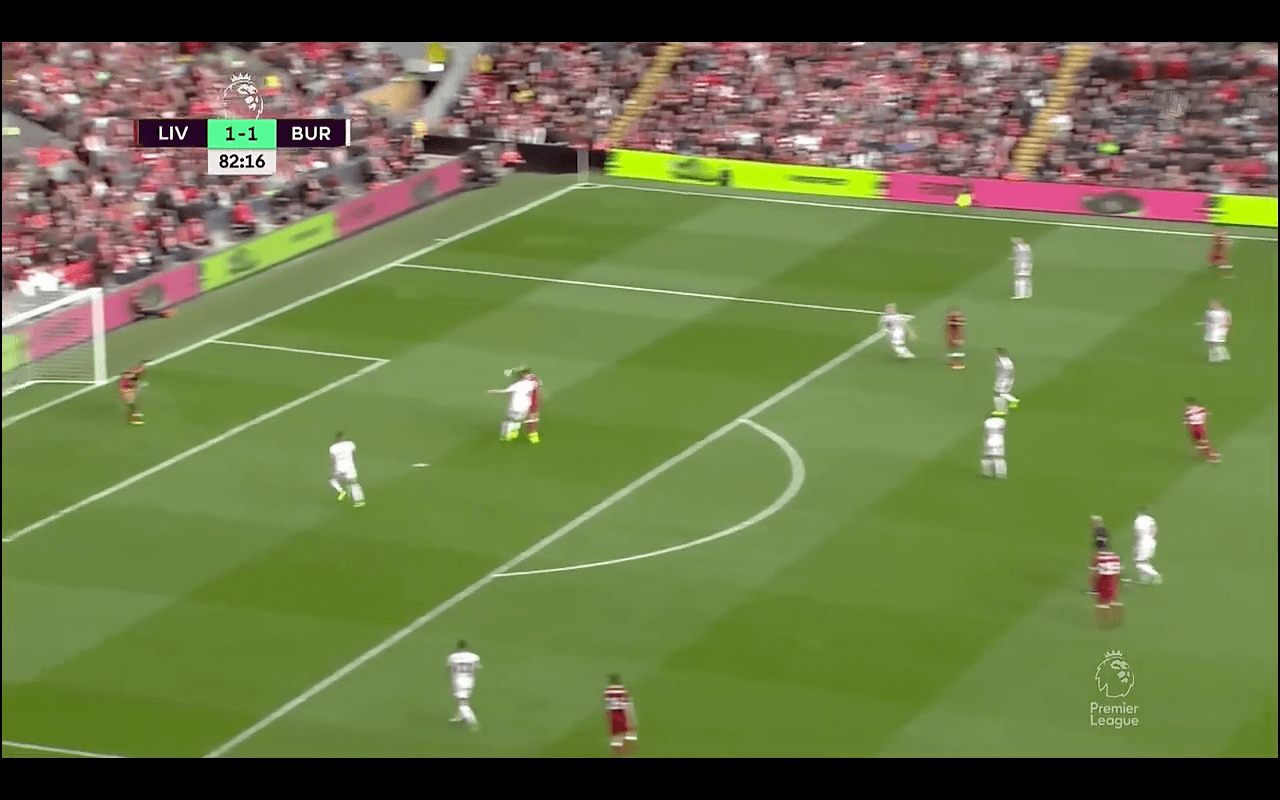 Missed Opportunities
This game could have been a very different affair had Liverpool or the players capitalised on a select few moments.
Sturridge, for instance, was unfortunate to miss out on this fantastic cross by Milner.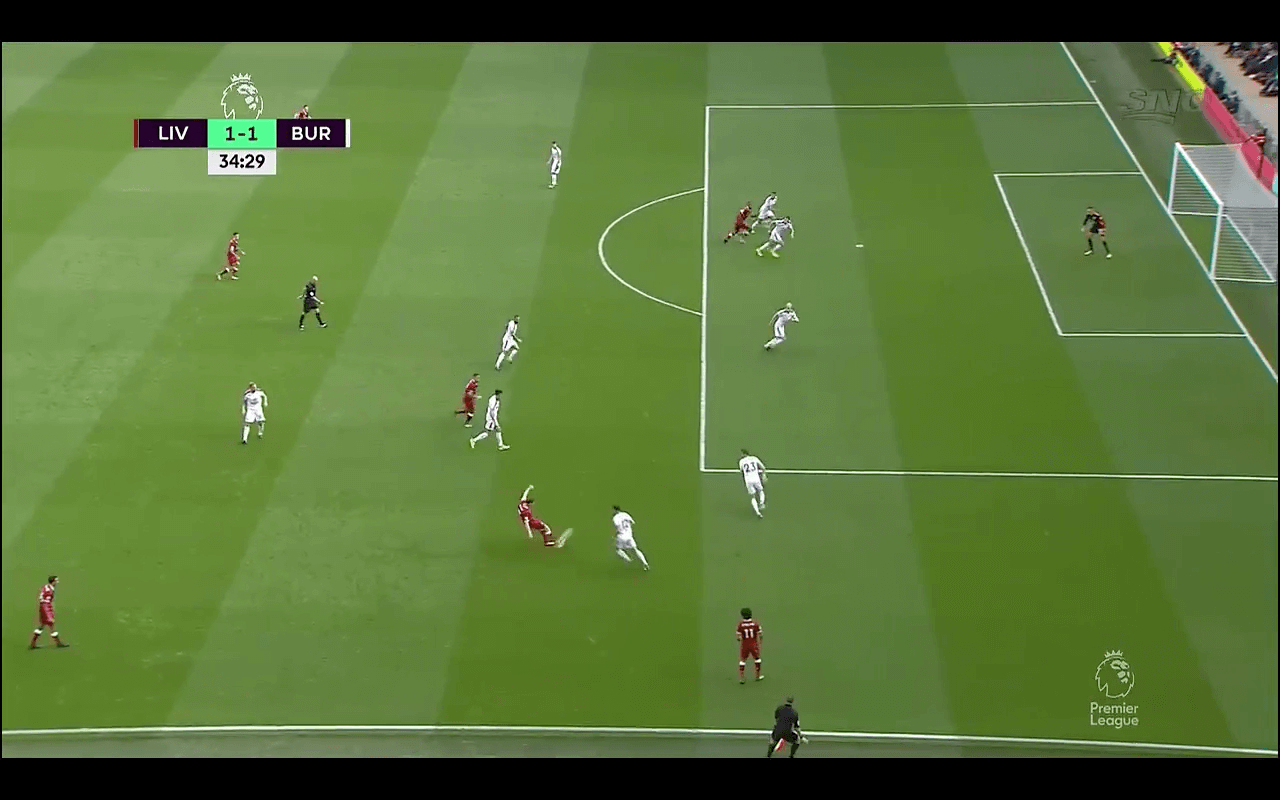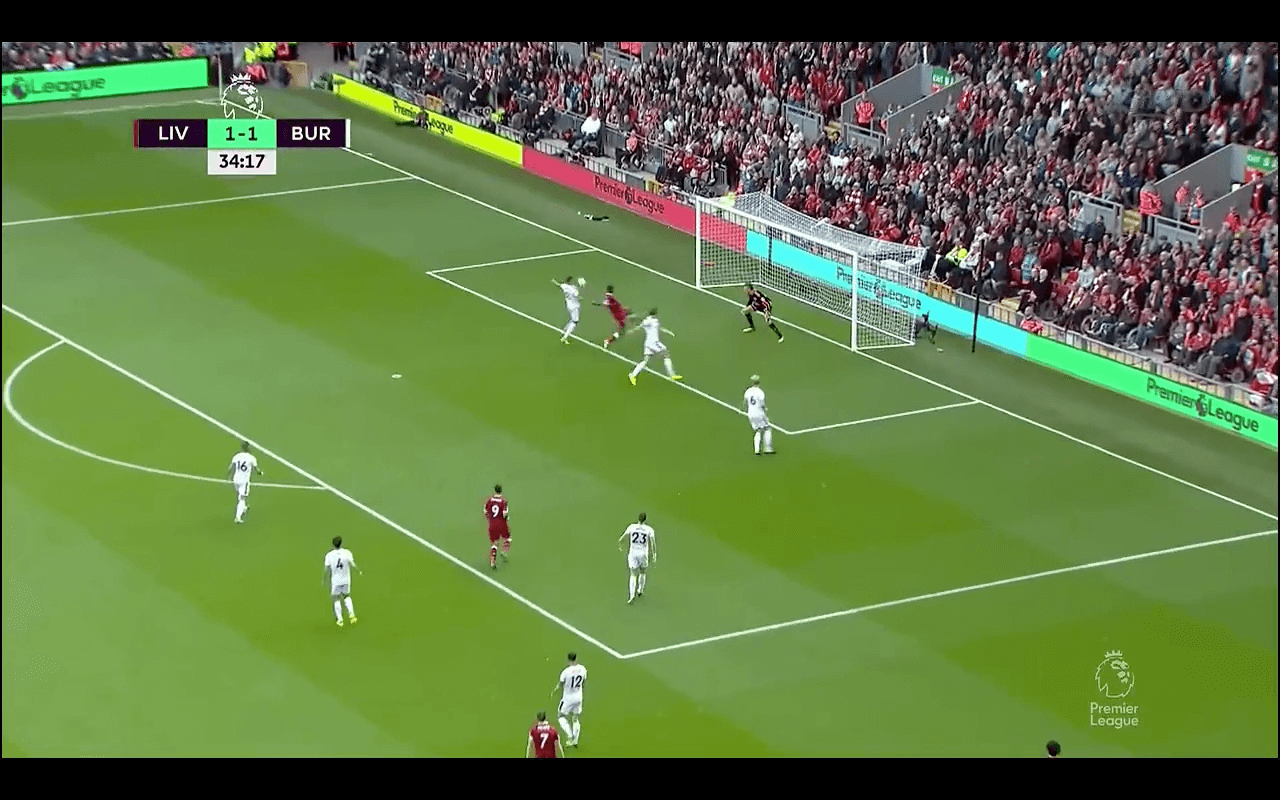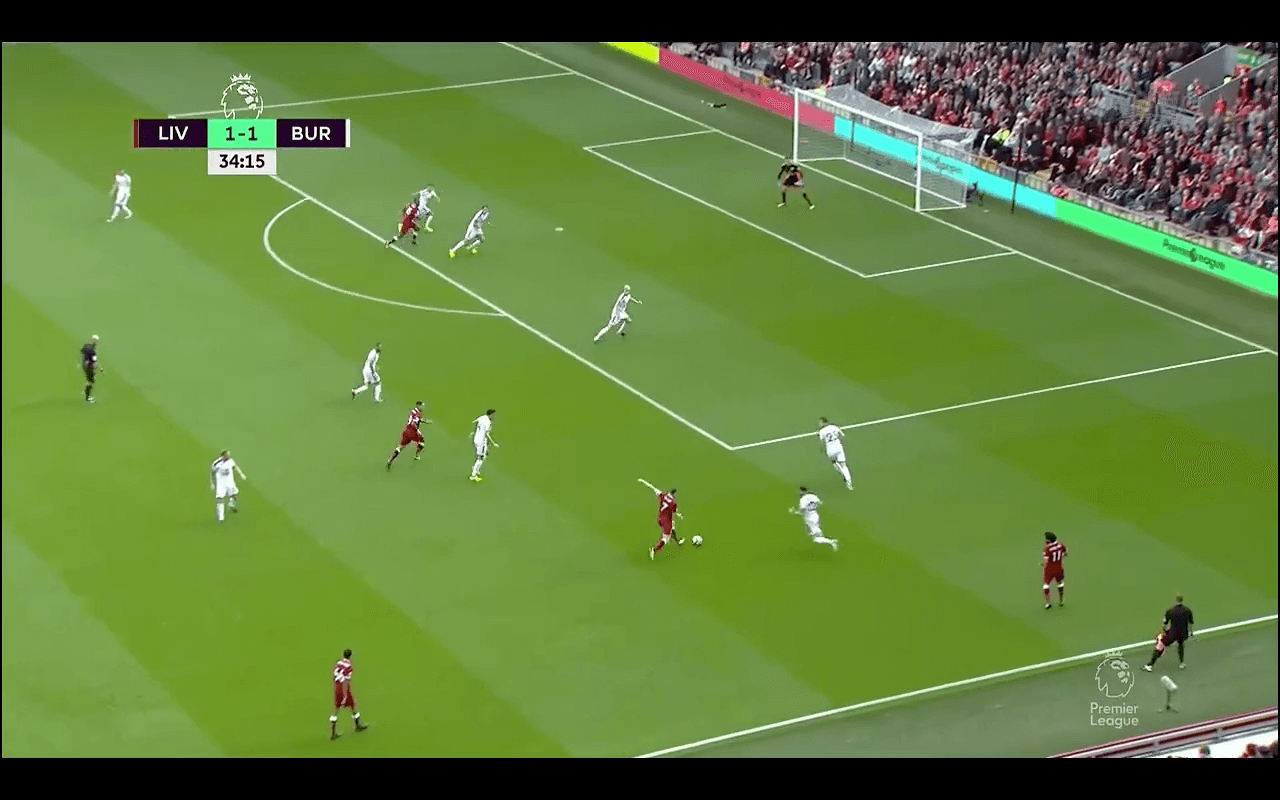 Salah on the other hand, had he headed across goal to Coutinho, after Sturridge's cross could have had Liverpool ahead before Burnley scored.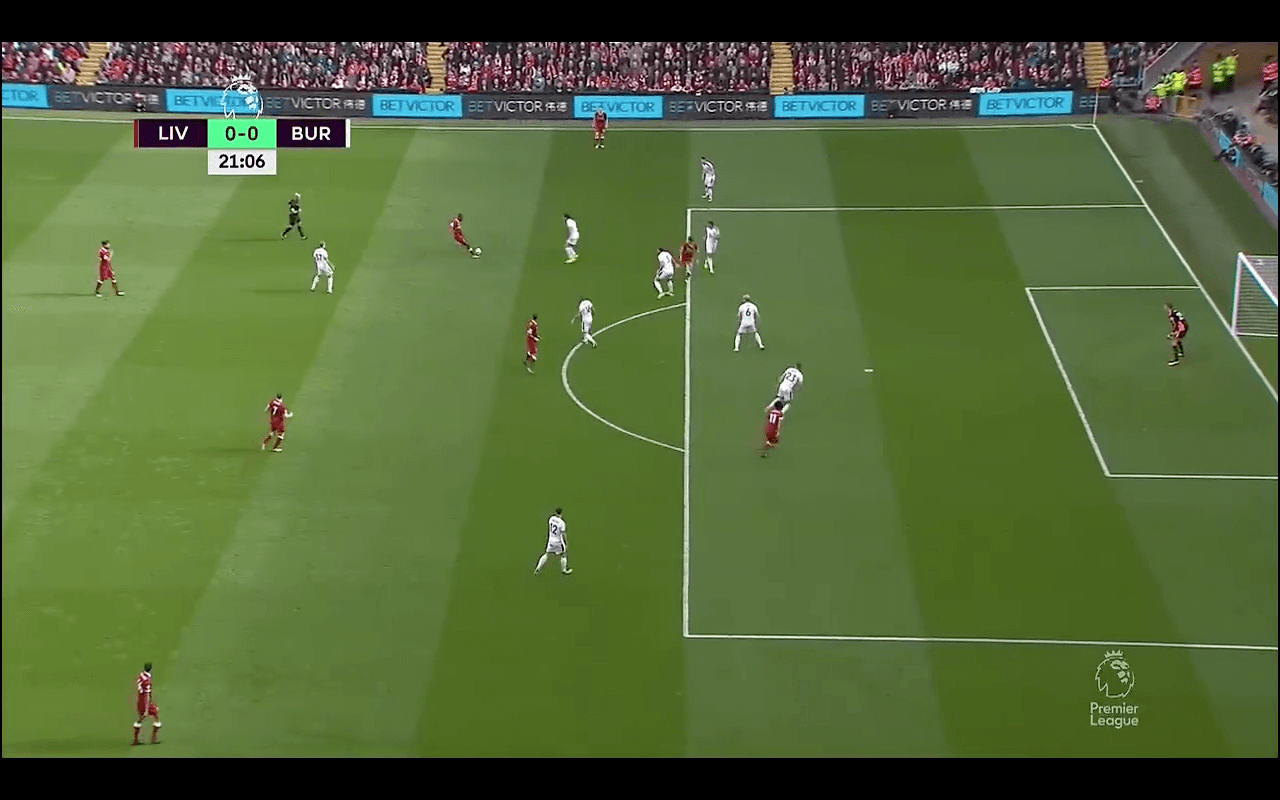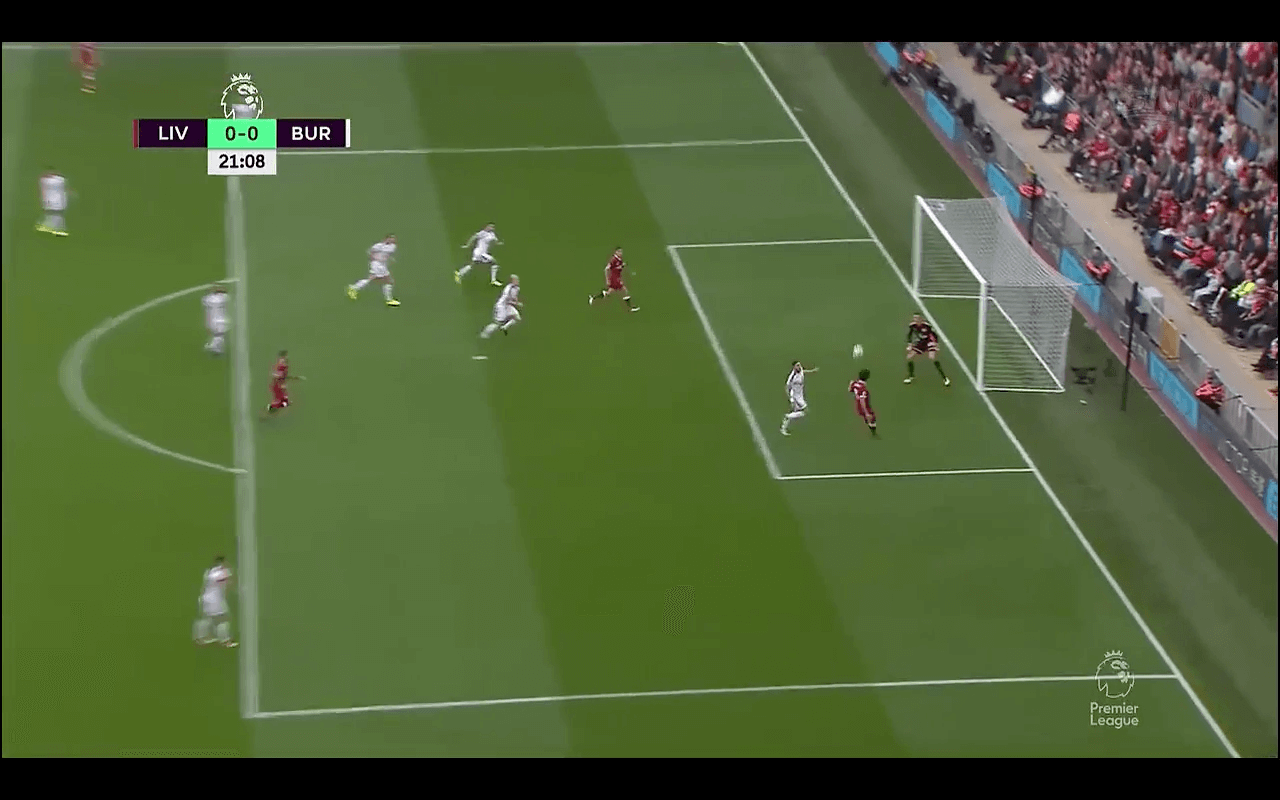 Solanke also had a chance in the last five minutes of standard time to score, however, instead of striking the ball as it was coming to him, he waited too long, making the attempt awkward, as the ball was too close to his body, and likely to tend upwards – as it did.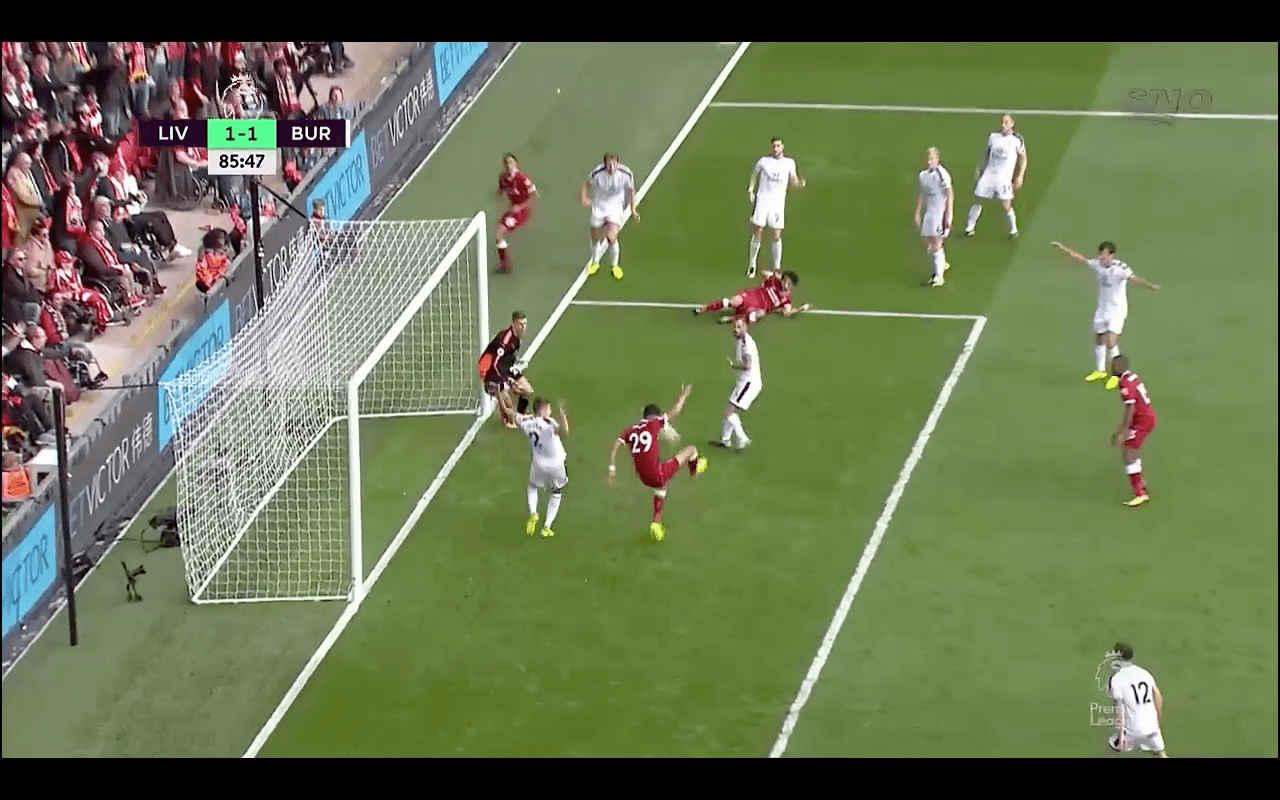 However, if the officials weren't blind, Liverpool would likely have had three points wrapped up, and Liverpool's fanbase would be nowhere as near as downbeat as it is…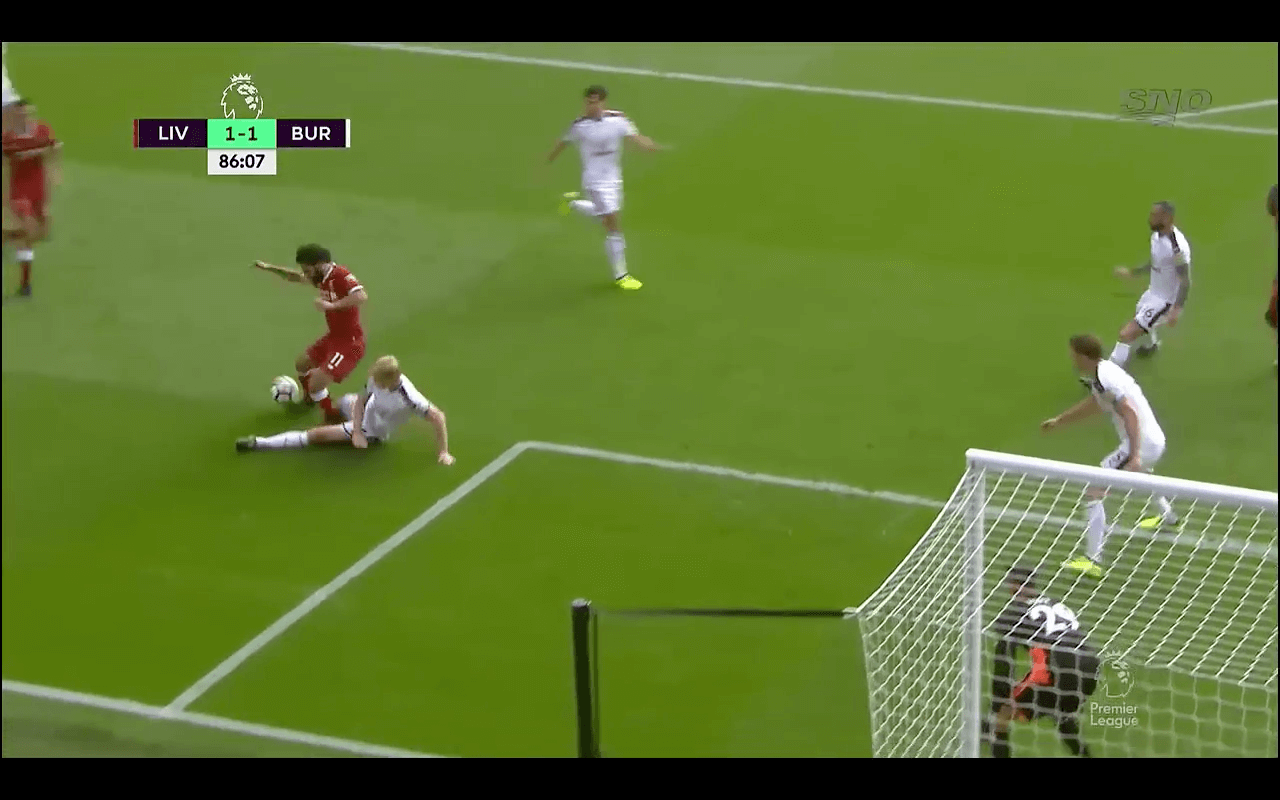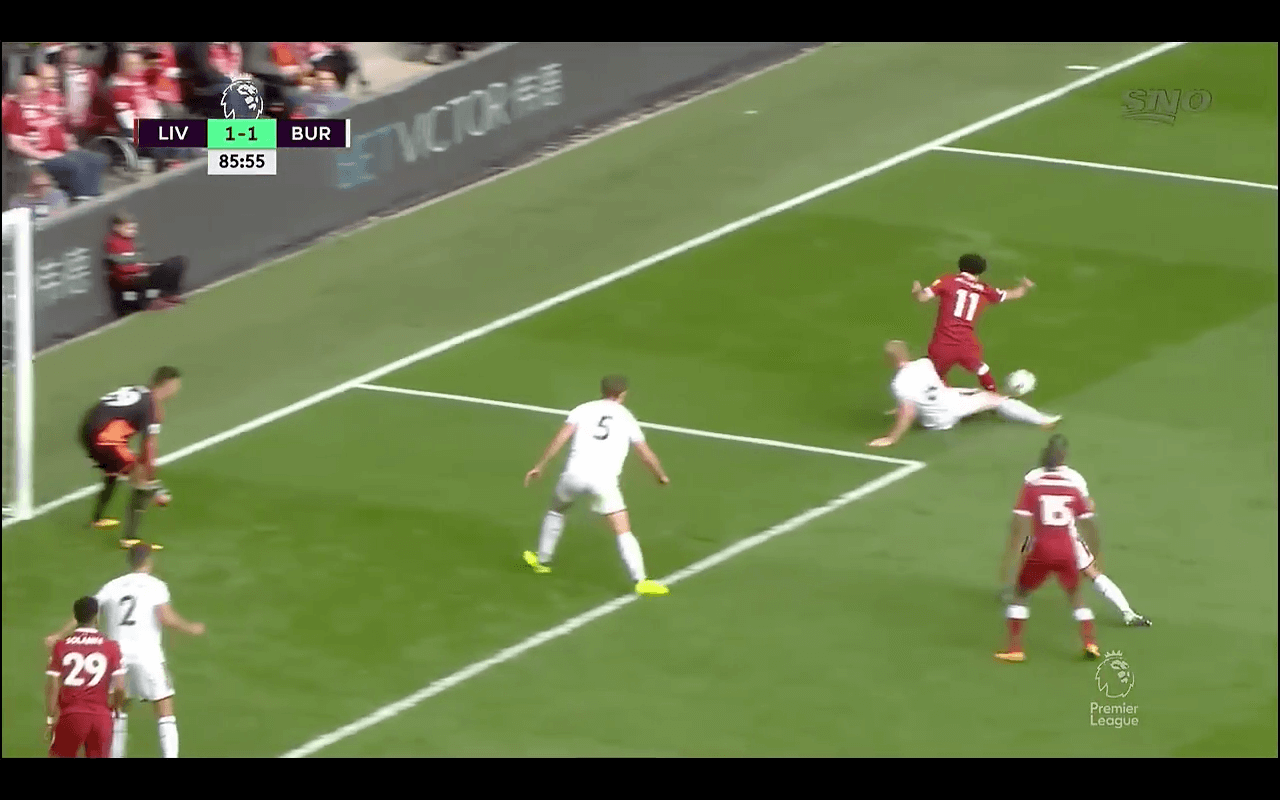 Final thoughts
Liverpool's performance in itself was not great, but was by no means poor – it simply lacked a little game management, patience and intelligence to it. After being smashed by Manchester City, and dropping points late against Sevilla, it's easy to see why Liverpool were frustrated and anxious to shoot early – whilst the team clearly missed Mané's influence. That being said, Liverpool are only one league game away from his return, and the performance itself could have yielded several goals on another day. Liverpool's defensive performance, against a team which had minimal possession and shots was simply shocking, and it's getting hard to accept such fundamental and elementary mistakes being made by defenders, irrespective of the system.
Other than the defence, the only other concern would be Firmino who seemed passive, and lost at times. Coutinho, whilst poor, showed flashes, and was likely trying too hard to get on the scoresheet. That being said, Liverpool have put in one good, and one decent performance after losing to City, and I expect an upward trajectory in terms of results and performances from here.
Another disappointing result on the face of it, but considering the huge rotation, the coherence of the team despite that, Burnley's record this season, Pope's performance and a few wasted Liverpool chances, the game, in context is not as bad as it seems.
Onwards and upwards!