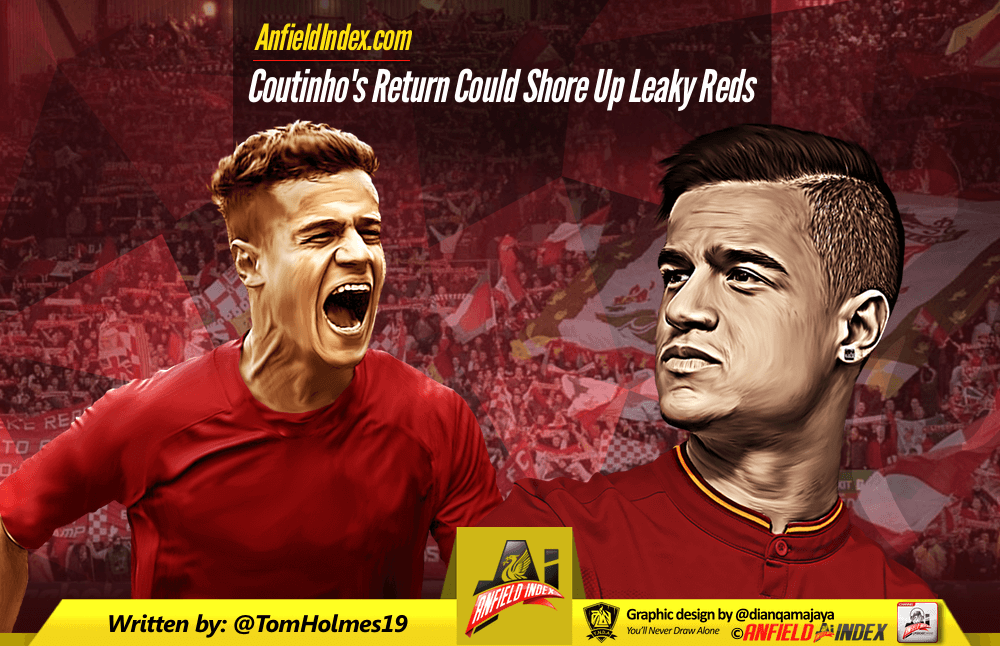 Coutinho's Return Could Shore Up Leaky Reds
A lot has been made of Phillipe Coutinho's return to the Liverpool side, following what has been a turbulent summer for our talismanic Brazilian. Coutinho eventually made his first start of the season against Burnley, as Liverpool were held to a frustrating 1-1 draw but whilst a lot of people have talked about what Coutinho brings to the table in an attacking sense, not so much has been said about how Coutinho could be a crucial element in shoring up Liverpool's messy defence.
Now that's not to say that off the ball Coutinho adds more defensively than Georginio Wijnaldum, although that's definitely true. The general point that I'm making is not necessarily about defensive work off the ball, but defensive work on the ball.
One of Liverpool's big defensive issues is a lack of control. With twenty minutes to go against Sevilla, and the Reds in control, they weren't able to kill the game. They didn't have anyone who could dictate the pace of the game, take the game and put it under their thumb. And whilst that hasn't necessarily been Coutinho's natural game when he's been playing out on the left wing, he's been more of a metronome when playing in the middle of the park, and he's more than capable of playing that role.
Against Burnley, Coutinho had 97 touches, the second most in the Liverpool team, and made 73 passes, at an 82% accuracy. Whilst these stats are not Coutinho's best and not quite where Liverpool will want him to be, coupled with 79 passes and 94 touches for Emre Can, it meant that Liverpool could dominate the midfield and control possession – resulting in the Reds having over 70% of possession.
This meant that Burnley's chances were limited – the Clarets having just five shots and an xG of comfortably below one goal. Of course there remained huge question marks over the defence, but it's also unfortunate for the Reds that Burnley took the one real chance that they were given, especially given that it wasn't a particularly easy one.
Whilst the Burnley game isn't necessarily the emblematic example of what Liverpool should be doing going forwards, it does betray a truth that the opposition can't score goals without the ball. If Liverpool have more of the ball, it's difficult for their opponents to consistently pressure a defence that looks leaky at the best of times.
But what Coutinho brings is more than just better possession of the ball. Liverpool have an inherent inability to close down games, which stems from a lack of calm and control. Coutinho is a figure who instils calm and is able to control a midfield in a way that Henderson and Can are not. He is the sort of player who can take 100 touches, make 100 passes, dictate play, keep possession ticking.
He can drop deep and offer a passing option, allowing the likes of Klavan and Matip an easy out ball under pressure, to avoid putting their team in trouble, or he can drive through a midfield to put the pressure back on the opposition. Whilst Coutinho's tackling game isn't necessarily strong, he's also a good presser of the ball and can win it back high up the field.
The underlying point is that Liverpool have been crying out for a midfield general. Someone who can marshal the play, control the tempo of the game and shut down the opposition. Whilst Coutinho isn't like Emre Can, who will disrupt the opposition tempo and consistently win the ball back, he is the kind of midfielder who can dictate the game, and keep the pressure off the defence.
Can is one player whose skillset compliments Coutinho's quite well, which we saw against Burnley. The midfield looks more balanced with the pair playing together, and although Coutinho isn't in a position to wholly relinquish Liverpool's defensive issues, as Lovren and Klavan only need one opportunity to make a huge mess, he can in general improve Liverpool's defensive play.
So we all know that bringing Coutinho into Liverpool's midfield will improve our attacking play and give us an extra option, given that Phil is one of our best players. But maybe his reintroduction will also stop the Reds conceding quite as many goals.