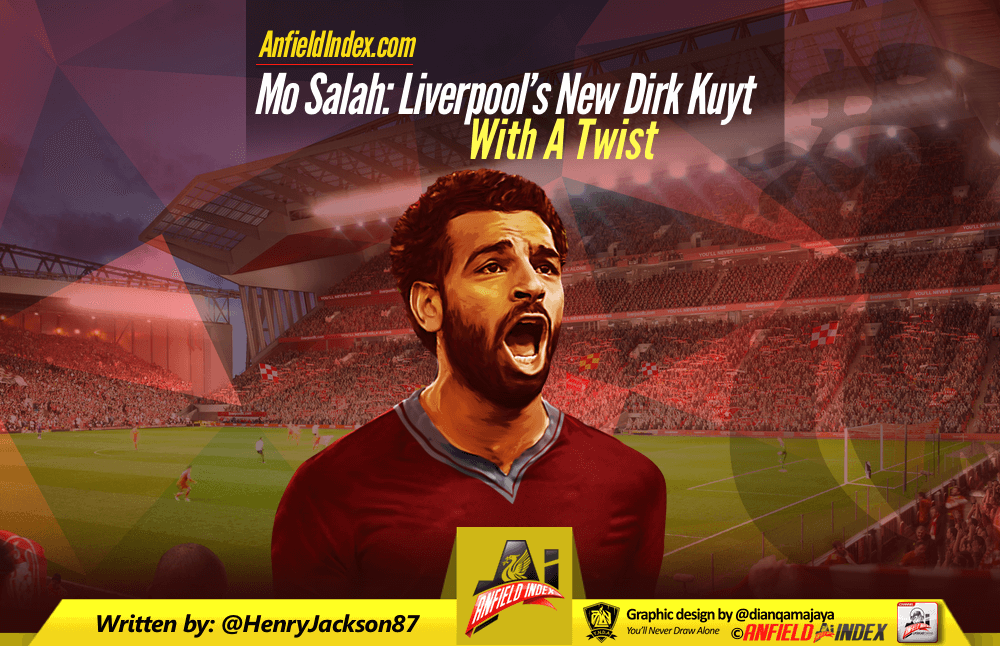 Mo Salah: Liverpool's New Dirk Kuyt, With A Twist
On the face of it, comparing Mo Salah and Dirk Kurt is the equivalent of saying Breaking Bad and Game Of Thrones are similar TV shows.
Kuyt is someone who got the very best out of his ability throughout an admirable career, occasionally resembling a pub player during an off day. Salah, meanwhile, is a player who oozes quality and natural talent, and possesses the kind of pace that most of us can only dream of. He is aesthetically-pleasing – something Kuyt most certainly was not.
The former Liverpool favourite and the current Reds darling are chalk and cheese as footballers, but there are definite comparisons to be drawn between the two.

One key attribute that stands out straight away is heart.
Liverpool are a side who have been accused of lacking it in abundance since the glory days, with too many fair-weather players in the squad and not enough prepared to dig deep when it matters. Kuyt could never be accused of that, with his work-rate and team ethic among the greatest in the Reds' history, and few players this century have been more popular. He put his body on the line every week, and while other more talented individuals went missing, he proved priceless on so many occasions, particularly under Rafa Benitez.
Salah's Liverpool career may only be in its infancy, but he is following suit. The Egyptian has immediately made himself a crowd favourite, scoring five times in just eight appearances, but his ability to fight for the cause and never shy away have been just as noticeable. Against Burnley on Saturday, he always wanted the ball and continually looked Liverpool's biggest threat, and it was no surprise to see him score get a brilliantly-taken equaliser. Without him, it is likely that the Reds would have lost the game.
Kuyt did this time and time again during a Reds career that earned him 71 goals in 285 appearances. It wouldn't always come off for him, as is also the case with Salah, but invariably he had a major say in a game. When the chips were down, the crowd was restless and others were sulking, he would barge his way through and rescue his team, or win a tackle that breathed new life into everyone involved.
The Dutchman was also the king of scoring big goals – something Salah is already showing signs of emulating. How many times did Kuyt deliver on a high-profile occasion? Certainly more times than most his illustrious teammates at the time, perhaps barring Steven Gerrard.
He scored a hat-trick against Man United, a last-gasp winner at Goodison Park, a Champions League semi-final goal against Chelsea and the winning penalty in the shootout against them a year earlier. His League Cup final strike against Cardiff City helped Liverpool lift their last piece of silverware, back in 2012, and he registered vital efforts against the likes of Arsenal, Man City and Inter Milan down the years. Kuyt simply had that knack of being in the right place at the right time – a special skill in football that is sometimes horribly mistaken for being "lucky".
Perhaps it is wrong to assume that Salah is going to be Liverpool's big-game current-day player after just eight appearances, but he just has that feel about him.
Fellow star men Philippe Coutinho and Roberto Firmino are sometimes guilty of going missing in pressurised moments – both have also delivered at key times, in fairness – but Salah immediately doesn't strike you as that type.
Granted, his end product was disappointing in the recent drubbing at the hands of Man City, but that felt more like "one of those days" than anything.
But for woeful defending, Salah would have earned Liverpool all three points at Watford on the opening weekend, and Hoffenheim, Arsenal and Sevilla have all been victims of his predatory instincts in recent weeks, all of which have to be considered "big" matches.
He may miss a lot of chances and not always perform as consistently as someone like Sadio Mane, but Salah is the one you can see scoring a winner at Old Trafford or being the difference in a huge Champions League game. Like Kuyt before him, he will etch his name into Anfield folklore with some truly memorable moments in the coming years.
Ugly goals also deserve a brief mention, with both Kuyt and Salah masters at scoring the type of strikes so many Liverpool players are incapable of.
Salah's horrible deflected effort against Sevilla summed that up to perfection – when do Mane, Coutinho and Firmino score goals like that, for all their brilliance? – and his goals against Watford and Hoffenheim were also a long, long way from being Goal of the Season contenders.
Kuyt's aforementioned treble against United was surely the ugliest hat-trick in history, and so many other goals that he scored often came off bizarre body parts or via fluky defections. Players of this ilk are so important to any trophy-hunting team, because they win you points in times of need. They are so often the best player in terrible team performances.
Salah was reportedly signed in favour of Brazilian trick machine Douglas Costa this summer, and Jurgen Klopp made exactly the right decision there. He may not be as gifted or as fashionable as the former Bayern Munich man, but in terms of hunger, consistency and influence, there is no comparison.
When it comes to playing styles, it is hard to find two more contrasting right-sided players than Kuyt and Salah, but they are kindred spirits in a lot of ways.
They have a winning edge that is so pivotal, and their ability to score at a prolific rate and at crucial times is there for all to see. They are two instantly likeable men who have a perfect blend of determination, impact and big-game mentality.
If Salah can go on to have the kind of Anfield career that Kuyt forged, he will be an undoubted success story – hopefully he eclipses him and becomes a bona fide Liverpool legend one day.
There will be frustrating times, as was the case with Kuyt, but look forward to the Egyptian coming up with many more important, ugly goals in the years to come.