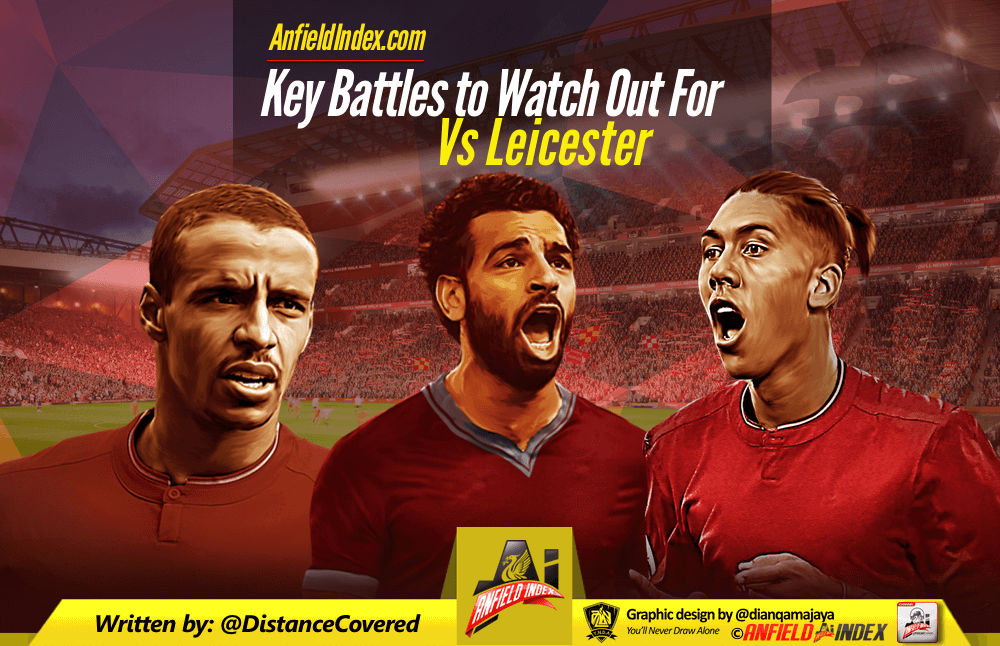 Liverpool v Leicester Preview - Key Battles
Liverpool's run of form makes for miserable reading as of late, with two losses and two draws in their last four fixtures. Jurgen Klopp will have hoped for an easy fixture to get back on track with the team's current form being so poor, but Leicester away is far from that. Having already played them once this week, albeit with a weakened side, Liverpool have to once again travel to the King Power to hopefully return with a better result than the 2-0 defeat on Tuesday in the Carabao Cup.
A positive for Liverpool is that the team is likely to be much stronger than the side that travelled midweek, with numerous key players expected to return to the squad. So, I've highlighted what I believe to be the key battles in the fixture, and if Liverpool win these then they're likely to come home with a result.
Firmino vs Morgan
Wes Morgan and Harry Maguire will have a different type of challenge on their hands come Saturday, as Roberto Firmino operates differently to the conventional striker. Firmino plays effectively as a false nine for Liverpool, and often drops deeper than a traditional striker to receive the ball in the space between the opposition's midfield and defence. With Leicester playing a 4-4-2, Firmino's withdrawn movement should be even more dangerous than usual, as Leicester's two banks of four will naturally leave horizontal space to exploit between the lines.

Now, when Firmino makes these deeper movements as pictured below, Morgan and Maguire will have to address an immediate problem. They can either retain their position and let Firmino drop deeper but he'll then have time and space to make a pass, or they can stick tight to him but consequently leave a gap behind them in their defensive line.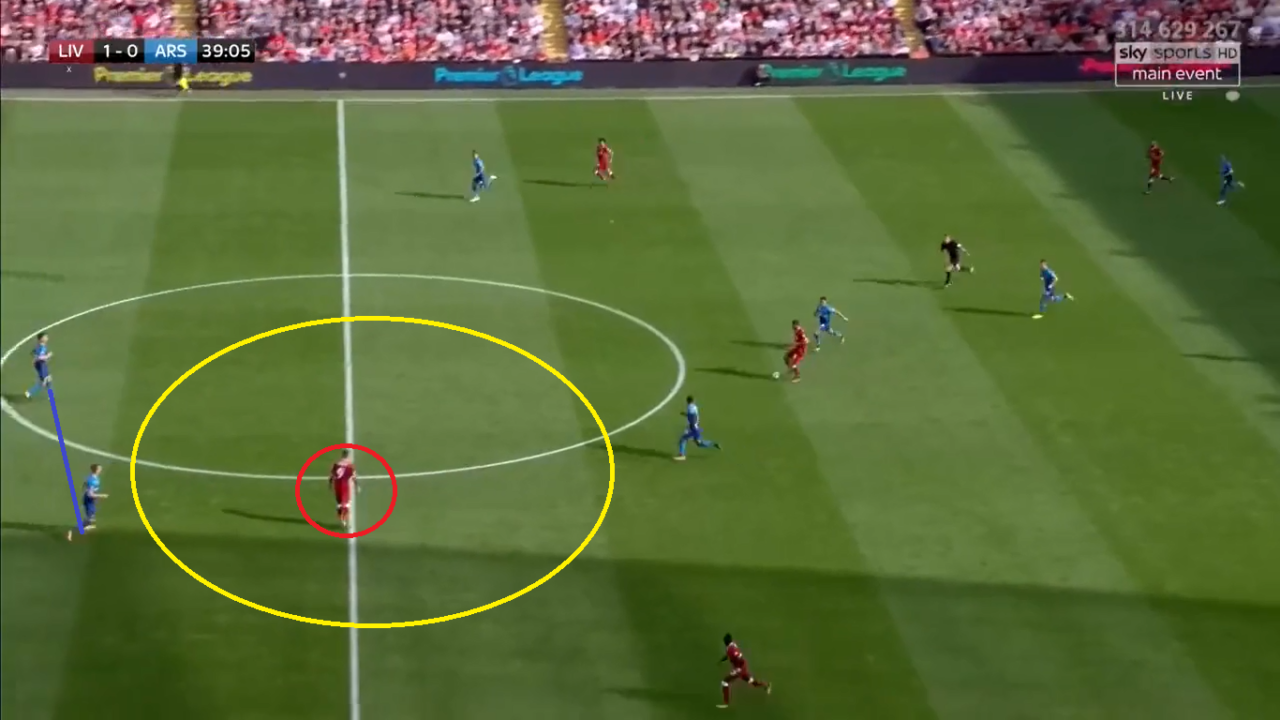 Morgan and Maguire are both fairly aggressive defenders, so if they choose to constantly follow Firmino deep and stay tight to him, I'd expect Salah or one of Klopp's midfield runners to be darting into the gap they've left as a result.
If Firmino can manipulate the positioning of Leicester's centre-backs with his intelligent movement, Liverpool are certain to cause problems and have a number of chances on goal.
Matip vs Vardy/Iheanacho
This is arguably the most obvious battle ahead of the match, with Leicester perhaps being the best side in the league at direct counter-attacking and exploiting a high defensive line. Liverpool push forward with numbers which regularly leaves them vulnerable defensively to a fast transitioning attack, which is ideal for Leicester. So, whether it's Vardy, Iheanacho or both playing on the weekend, they're going to be excited at the prospect of playing against Liverpool's defence.
Thus, Joel Matip is likely to have an eventful match, as his right-back and centre-back seem to be regularly changing. Matip will play alongside Lovren or Klavan, both of whom seem capable of making unforced mistakes that consequently put Liverpool on the back foot. Against Leicester, these mistakes cannot be afforded and maximum concentration will be needed throughout the match, as one long ball from anywhere on the pitch has the ability to create a clear-cut chance against this Liverpool side, and Leicester will no doubt test that. An example of this is demonstrated in the screenshot below, which was taken seconds before Vardy scored against Liverpool a few meetings ago. Although Matip isn't playing here, this is exactly the type of situation that Vardy will want to find himself in, so Klopp has to ensure that doesn't happen.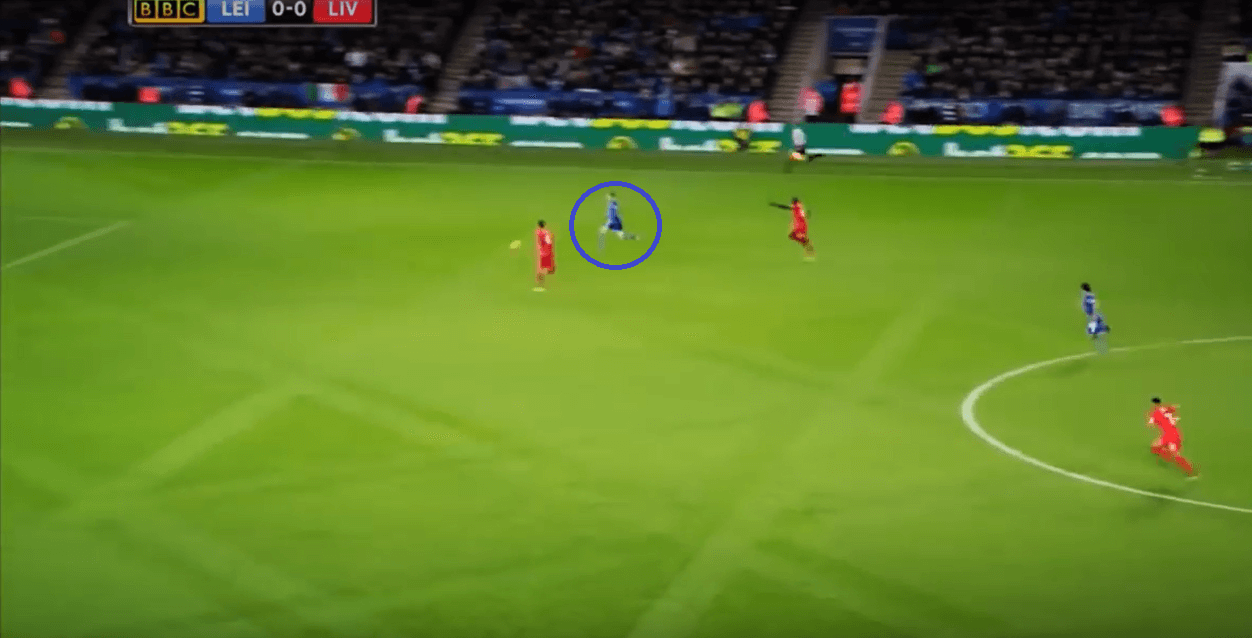 With Lovren or Klavan likely to struggle based on recent form, Matip will have to do a lot of the defensive sweeping up and assume responsibility, and his performance will certainly have to be better than at Anfield against Burnley. Hypothetically, Liverpool's high line combined with Matip's lack of pace should be a bloodbath when playing against a fast and aggressive striker such Jamie Vardy, but hopefully Liverpool's concentration and adaptation will prevail.
Salah vs Chilwell
This is an interesting one for Liverpool fans, especially since the club targeted Leicester's Chilwell in the transfer market a few years ago. So far this season, Salah has been Liverpool's main goal threat, as defences have struggled to cope with his poaching nature and direct movement into goal-scoring positions. With Christian Fuchs being out, Chilwell has fared quite well for Leicester so far, but the 20 year-old will have to be at his very best to deal with Liverpool's attacking wide poacher.
Salah will look to drift throughout the 90 minutes, often into the channel between Chilwell and his nearest centre-back, Harry Maguire. For Chilwell to be able to manage Salah's movement, he'll have to remain concentrated for the entirety of the game. Any lapse in concentration from Chilwell may result in a goal-scoring chance for Salah which he's likely to score, as we saw against Burnley at Anfield.
Also, in relation to Firmino's key battle, Salah will have to remain alert and be on his toes to take advantage of any space that Firmino is able to create for him to attack. Leicester are no doubt going to play with a deep defensive block against Liverpool, so the space that Salah loves to feed on is likely to be scarce.