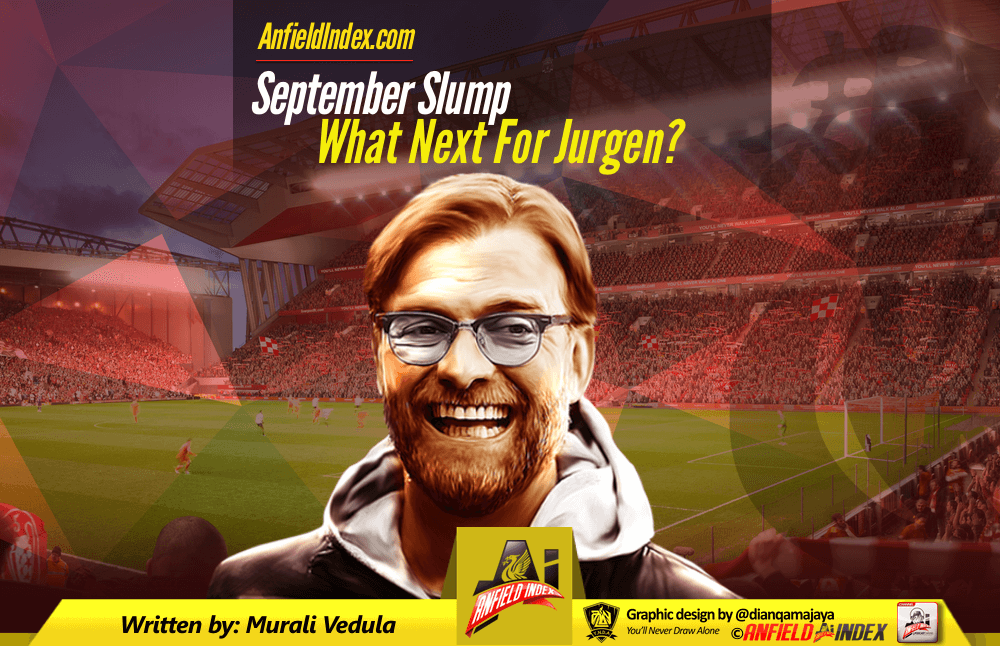 September Slump: What Next For Jurgen?
In the aftermath of Liverpool's shocking 2-0 exit from the Carabao Cup at the hands of Leicester, Jurgen Klopp admitted he was sick of the goals Liverpool were conceding. In September alone, Liverpool have conceded 10 goals in a span of 4 matches.  Fans and pundits have criticised Jurgen for not strengthening his defence over the summer and a lack of plan B when van Dijk wasn't available. Jurgen responded by saying he had looked at alternatives over a million times and would have gone for a defender if he felt there was a defender who would actually upgrade and improve the squad. So, where does this latest 2-0 reversal leave Liverpool?
Lets hover on the context for a little while longer. Liverpool have scored 3 goals in the last 4 matches and conceded 10. They have had 2 players dismissed during this period. They averaged more than 60% possession in 3 of those. All these facts point out to a side who fail to score despite dominating the ball for long periods and concede sloppy goals. This here represents a dangerous situation. So what should we as Liverpool fans should look forward to?
1.) Jurgen's attacking quartet:
Liverpool have amazing quality and depth in attack. There is no questioning that. But Jurgen has't been able to field his best XI yet. Coutinho's transfer saga was followed by Mane's dismissal. So, when Liverpool visit Moscow on Matchday 2 of the UEFA Champions League, he could field Coutinho, Salah, Firmino and Mane together for the first time, assuming no injuries befall them. Now, that attack is capable of terrorising some of the world's best defences. I think our problems of not being able to score against teams that defend deep, would be solved if Klopp can field his attacking quartet.
It's against the bigger sides, that Klopp has to make a decision. Fielding his attacking quartet may leave the midfield and defence unable to cope when the opponent's attack. But until the next international break, the only big team that Liverpool would be facing is Man United and we all know how defensive Mourinho's teams are when they face the "big" opponents.
2.) Midfield fumblings:
While all the criticism has been heavily centred around Liverpool's defence, what has gone relatively unnoticed is the performance of club captain Henderson and Emre Can. The entire team was completely off-colour at the mauling at Etihad. So, let's keep that aside for now and look at the performances in the other matches. Henderson's defensive side of the game looked shaky against Sevilla, while his passing range was also off colour at Leicester. Emre Can got the defensive side of his game as the No.6 right against Burnley but his passing was flat and lateral without any attacking intent whatsoever.
Wijnaldum for once looked lively in an away match. His first half performance against Leicester was pretty encouraging but he still needs to offer more in the final third. Liverpool are missing Adam Lallana and it's clearly showing. The transition from defence to attack has just not happened. Liverpool have dominated possession and indulge in good attacking play, but the number of gilt edge chances created have been low, which clearly emphasises the naivety Liverpool are showing in the final third.
The only bright spot has been Coutinho's return. He has looked lively enough and has slotted straight in, but he does need a goal. His composure has been lacking as he has been snatching at the ball sometimes, shooting from bad angles when he could have played a dangerous pass.
The verdict is clear: Wijnaldum, Coutinho and Henderson should be starting as Liverpool's 3 man midfield in Liverpool's remaining matches.
3.) Finding the "right" back:
For once the left-back is a position where Liverpool are not lacking in. This is one long term problem Jurgen seems to have fixed. Alberto Moreno has looked a man reborn, while Andy Robertson has looked very good, despite being Jurgen's second choice. Robertson has looked the more solid one defensively while Moreno's attacking inputs are very valuable. His role in Liverpool's equalizer against Sevilla demonstrated why Klopp has stuck to his guns and not sold Moreno. Robertson has been unlucky, as Liverpool have fluffed their lines repeatedly when he has whipped in some dangerous crosses from the left. While the debate for who should be starting still goes on, Liverpool look well stocked in this position.
While many had criticised Clyne last season, its become pretty clear why he was the first choice right-back and still is. In this era of wing-backs, where the attacking inputs of wing-backs are more crucial than ever, people seem to be forgetting that a full-back is a defender first. Even though Clyne's attacking outputs last season were pathetic, he was a solid defender. Trent Alexander-Arnold has experienced a slight downhill since he scored that delicious free kick against Hoffenheim. While he is an exciting talent, he shouldn't be Liverpool's first choice right-back. He needs to work a lot more on the defensive aspect of the game, while his attacking output is not consistent enough. Joe Gomez hasn't looked too good either since Liverpool's 4-0 victory against Arsenal. However, he is a no-nonsense defender. He seems the least likely to make a defensive error after Matip. He is not spectacular but he sticks to the basics. He can come up short against wingers who are adept at dribbling, but for now Liverpool have no other option. He does need to improve his attacking inputs and must improve his crossing range.
Also, one shouldn't forget Jon Flanagan in this context. He does deserves a mention. He does deserve more minutes on the pitch, but it looks unlikely given Liverpool have exited from the Carabao Cup. A loan move in January seems to be the only option for him.
4.) The centre-backs:
Despite whatever Jurgen may say and believe, only a fool would argue on this matter. Liverpool look shaky in the centre of the park. Liverpool don't have a single good centre-back in this moment who can partner Matip. Lovren, despite his improvements since Jurgen's arrival, is still inconsistent. His injury issues coupled with his inconsistency has costed the club dearly. Liverpool haven't found a replacement for Sakho since last summer and that is really biting us in the back. Raganr Klavan's shocking deterioration has put us under a full blown crisis here. Joe Gomez should be Liverpool's third choice centre-back before Klavan, and if he can keep up his consistent yet unspectacular performances, he should be promoted to second choice centre-back.
And of course, we do need to buy a centre-back in January. Jurgen could only be out of his mind if he doesn't go in for a centre-back in the winter transfer widow.
5.) In between the sticks:
Mignolet has performed pretty well whenever called upon, and despite all the criticism from fans and pundits alike, he has proven enough to command a position in the starting XI. Klopp has heavily rotated his keepers, giving Karius a run in the team and it's a logical decision. Mignolet is 30 years old and Karius would be looking to take up the gloves from him in the long term. He has found it difficult to adapt to a new league, but we shouldn't write him off so soon. It took 2 full seasons for De Gea to start performing and today he is one of the world's best. So patience, as long as it doesn't cost good results is the key here. Danny Ward looks a decent third choice option. He was okay-ish against Leicester though he could have done more for Okazaki's opener.
It is true that Klopp's words and charisma has bought him the adulation of the fans. He has been given more leeway than Rodgers ever got. But that can't last forever. The results need to show and his team needs to start talking on the football field, not in press conferences.