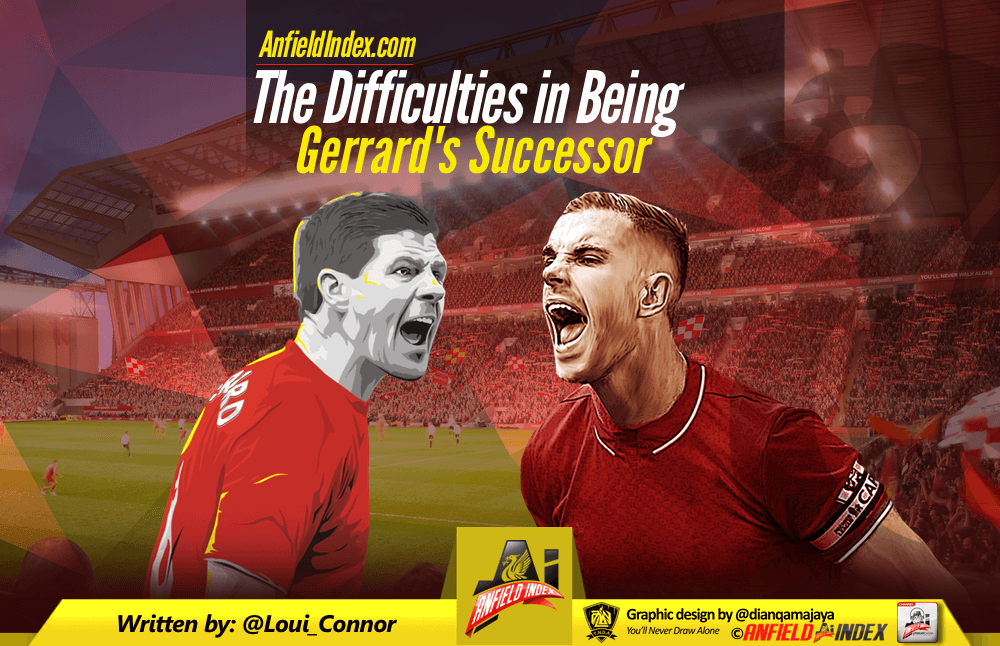 The Difficulties in Being Gerrard's Successor
It hasn't been the greatest two weeks in the history of the club to say the least, no wins in four and an early exit in the Carabao Cup has fans clamouring to find reasons for our run of poor form. The defence has taken the brunt of it, individual and tactical mistakes leading to 10 goals conceded in 4 games and fingers being pointed to individual players as each game goes by; Lovren at Sevilla, Klavan at Burnley and most recently our captain Jordan Henderson against Leicester in the cup.
When Gerrard retired and the armband was passed over to Jordan Henderson it always felt like he was going to be fighting an uphill battle. To be the successor to one of the greatest players in the club's history is always going to bring you criticism when people make the comparisons because Gerrard was such a great leader; the issue is however that even the great Stevie G would have a difficult time leading this squad as it is.
Gerrard's time as Liverpool captain was supported by a squad of leaders each in their own way, you had an incredibly vocal deputy in Jamie Carragher, a dominating goalkeeper in Pepe Reina and experienced players like Sami Hyypia all pulling their weight to support the team. Later on in his career Suarez led the way in a captain type role with his performances, even taking the armband for Liverpool once or twice.

You look around this Liverpool team now, who would you call a leader? I've seen a lot of people say that Henderson doesn't deserve to be a captain and that someone else should take the armband but who would it go to? You look around the squad and the only sign of leadership we've seen from anyone else was Matip giving Klavan an earful after conceding against Burnley at the weekend. Emre Can is off flirting with Juventus about a move in the summer, the less said about giving Coutinho the armband the better and James Milner doesn't play enough first team football to take the armband full time.
Henderson is the second longest serving player at the club behind Jon Flanagan and that says everything about how inexperienced and young our squad is. Our most experienced player is James Milner and whilst he's won a couple of cups and league trophies he still has roughly the same amount of pedigree as Robert Huth. The role that Jordan Henderson plays is a tough one, in a game where we blow a team away he won't get as much praise as the front three and similarly if we ever pull off a great defensive performance the plaudits will most likely go to the goalkeeper and back 4. However, when things don't go to plan like in the cup nobody has any qualms about pointing the finger at our captain; it isn't his fault we've only scored 3 goals from 75 shots in our past three games whilst also conceding 5 goals in 12 shots.
There was a video of the Okazaki goal in the Leicester game going around twitter with people lamenting Henderson for "skipping" instead of blocking the shot and this just sums up the current agenda against him. Henderson follows a cleared ball that's put right back in over his head and Gomez plays about 3 Leicester players onside; yet somehow it's Henderson's fault for not tracking a player who's coming back from an offside position. He might not be the type of leader that people want, "A Gerrard" or "A Carragher" say but it doesn't mean that he isn't a leader, one thing you can guarantee about Jordan Henderson is that once he steps onto that pitch he gives 110% every time. It might not always work out and not everything he tries comes off but Klopp wants his team to press and once the game starts Henderson ensures the manager's instructions are carried out and that the team keeps a high tempo. He isn't the most vocal but Gerrard always had Carragher behind him doing the talking; you might disagree with his methods of leadership but he fits the mould and is the most capable captain that Liverpool have got in their whole squad.