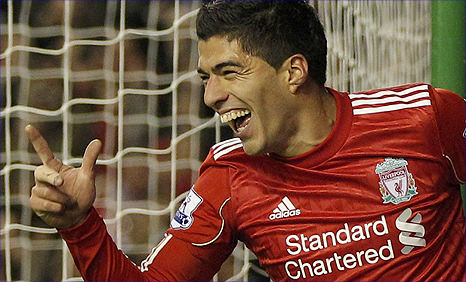 Player Profile: Luis Suarez
Luis Alberto Suárez Díaz, you may know him as just Luis Suarez or El Pistolero (for the way he celebrates his goals). It seems that as Liverpool fans we just can't get enough of our £22.8 million playmaker.
The Uruguayan-born striker started life in Salto with six siblings and his single mother. Luis made started his footballing career at Nacional in Montevideo in 2003 where he played until 2006 after making it into the senior side in 2005. During his time at Nacional, Luis made 35 appearances and scored 12 goals for the senior side.
In 2006 at the age of 19, Luis moved to the Netherlands to join Eredivisie side Groningen for €800 000(£699 879). However he didn't stay there very long, making only 37 appearances and scoring 15 goals. It was his impressive performances that caught the eye of Ajax Amsterdam and after only one season with Groningen he was sold to Ajax for €7.5 million (£6 561 374).
Luis went on to enjoy three-and-a-half seasons at the Amsterdam giants. He finished his first season at Ajax with 20 goals in 40 appearances. His second season was plagued with negativity about the number of yellow cards he received but he went on to score 22 goals in 31 league games, finishing second on the leading-scorer table just behind Mounir El Hamdaoui from AZ.
During his final full season in Amsterdam, Luis got his goal tally started against RKC Waalwijk in the second league game of the season where he scored a hat-trick. His second goal was a stunner from 25-yards out and he secured a 4-1 victory for his team. His incredible run continued on the 20th of August where he netted four goals against Slovan Bratislava in the UEFA Europa league. Exactly a month later Luis scored another four goals in the 5-0 win over VVV in the Eredivisie. This took his tally to 10 goals in seven league games and he didn't look like slowing down for another while still. On 23 December 2009 in the Dutch Cup Luis scored an incredible 6 goals to help Ajax to a 14-1 thrashing of amateur team WHC.
If you thought his goal scoring ended there then you should think again. On the 11th of April 2010 he scored a first-half hat-trick against VVV as his team won by seven goals to nil. This bought his tally for the 2009/10 season to 35 league goals and 49 in all competitions. This ensured he won the honour of being the Eredivisie's top goal scorer for the first time.
At the start of the 2010/11 season Luis scored his 100th goal for Ajax against PAOK in a Champions League qualifying match. He scored his first hat-trick of the season against De Graafschap in a 5-0 away victory. It would prove to be his last hat-trick for Ajax as he was suspended from the Eredivisie for seven league matches after he bit Otman Bakkal in a league match between Ajax and PSV. Luis was signed to Liverpool before he could make his league return for Ajax and he scored his last goal for Ajax in a friendly against Hamburger SV.
Luis Suarez signed for Liverool FC on the 29th of January 2011after a transfer saga that lasted almost the whole of January. Luis' signing was a little bit overshadowed by Torres making his "long desired" move to Chelsea and Liverpool making Britain's record signing of Andy Carrol. Nonetheless Luis made his Liverpool debut on the 2nd of February as a 63rd minute substitute against Stoke City. It didn't take long for Suarez to show his wide range of skills and trickery on the field. In the 79th minute Luis latched onto a magnificent through ball, rounded the keeper and despite Wilkinson's best effort he scored his first goal in a Liverpool shirt. What made this even more impressive was that Luis hadn't trained with the squad before that match because of his work permit.
Luis continued to stun the Kop and the rest of the league, especially their defences, for the rest of the season. Luis went on to score four league goals and getting three assists for Liverpool. Let's have a look at his stats from his first six-months for Liverpool.
So the above stats may look a bit mediocre to some of the stats that have been seen in the Centre-Mid or Winger comparison articles, but let me remind you that Luis only played in the Premier League for 6 months and then you'll see that he did exceptionally well for a foreign player coming into the league for the first time.
As you can see Luis had three assists and created 25 chances in his 13 games, of which 12 were starts, with Liverpool so far. In addition to that he also managed to score four league goals, which is a lot in comparison with Chelsea's Fernando Torres who only managed one.
What also stands out in Luis' stats is the amount of successful dribbles he completed, 42, which is double that of Rafael van der Vaart and Stewart Downing. He also managed a 69% pass completion percentage, completing 353 out of 510 attempted passes. On the crossing side of things the stat may be a bit negative with only 23% of his crosses on target but he at least attempted a lot of crosses to make full use of Andy Carroll's heading ability.
Now onto the stat where most forwards earn their money: shots and shots on target. Now we already know that Luis scored four goals for Liverpool, all of them through amazing skill and ability, but how did he fair with his shots on goal. Well, Luis attempted a total of 47 shots on goal, quite a lot for the number of games he played, and got 23 of those shots on target. This meant that he achieved a shooting accuracy rating of 49% with little more than half his shots going astray. It's clear that Luis still hasn't quite struck his rich goalscoring vein he had at Ajax, but I think that in the coming season he will set the Premier League alight.
Now let's have a look at Luis' passes in our 5-0 victory over Birmingham.
Now in this match only 8 of Luis' 50 passes were off target and one of them was an assist for Maxi. That gave him an impressive pass completion percentage of 84%. You can also see that although he mainly operated on the right, he was an ever-present figure all-over the pitch. This is also testament to Luis' hunger to get the ball back when in the opposition possession.
On the next chalkboard we'll look at his passes against Manchester City at home.
Here you can see that Luis operated in a much wider area of the pitch in this match and it is clear that Manchester City were a bit tougher opponents than Birmingham, but Luis still got 46 passes in with 10 of them being off target. He also tracked back quite a bit to help out the defence once in a while and this also speaks heaps about his work ethic on the pitch.
In the last one we'll look at Luis' passes against Fulham at Craven Cottage where he worked extremely hard and got a goal as reward to top off a 5-2 win for Liverpool.
Although 15 of Luis' passes went astray, you can see that he operated across the whole pitch and completed 27 of his 42 attempted passes. It's also clear that Suarez much prefers quick short passes but he isn't scared of giving the long ball and he completed quite a number of longer passes throughout the 90 minutes. From this chalkboard one would almost assume that Suarez prefers to operate on the right but from the Manchester City chalkboard you can quite clearly see that this is not the case. It is most likely because Kenny employed him as width on the right hand side.
From all of these stats it should be abundantly clear that Luis Suarez is a player with heaps of class and ability about him. It should also be clear that in Luis we got a real bargain at his price and that he will pay the owners, the manager and the fans back for the trust and belief in him for many, many years to come.
As Liverpool fans we have a lot to look forward to this coming season and Luis will certainly be fired up to win more silverware after winning the Copa America with Uruguay, where he also picked up the player of the tournament award.
Luis Suarez is definitely more of a player than any of the big money signing this summer for a fraction of the price and we just can't get enough.