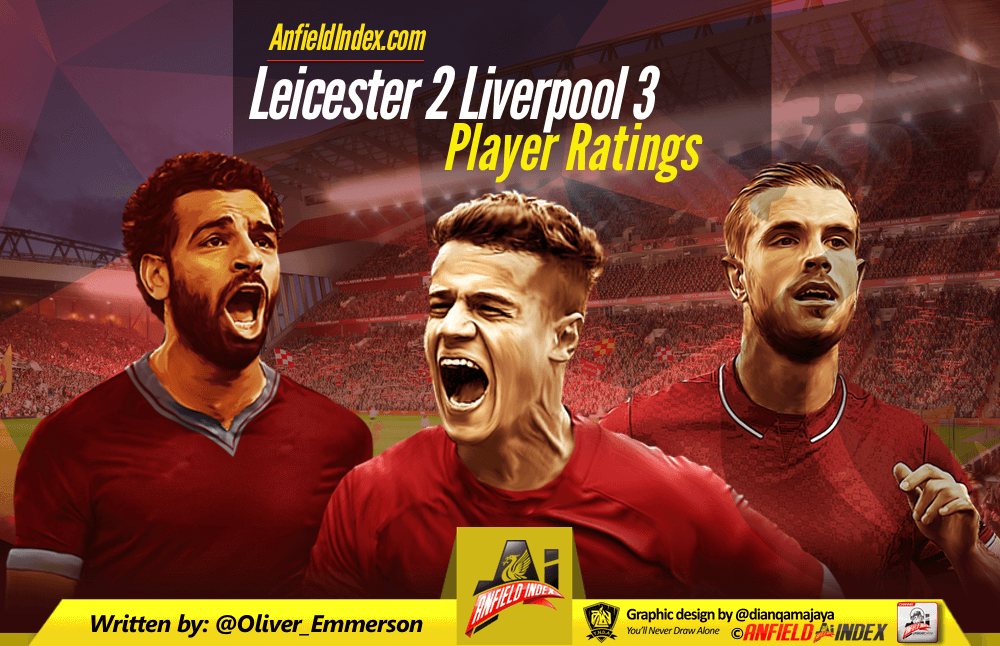 Leicester 2 Liverpool 3 - Player Ratings
A win! A win!
We'll take that, won't we? A first three points for the Reds in what seems like forever, as we dispatched Jamie Vardy and his band of merry men.
3-2!

Simon Mignolet (6): An interesting performance for Migs. Some good saves, but he'll be annoyed that he pushes the ball to Mahrez from an early Vardy chance and to Vardy for his tap-in. A great penalty save, but he'll be annoyed that he did a Lovren vs Sevilla and kicked air before the player. Unlucky for their first, but he'll be annoyed he can't shake off Okazaki. But, the pen save.
Joe Gomez (5): Often when you hear the phrase 'he grew into the game' it references a player getting better, but it wasn't the case for Gomez. Tidy enough despite not being heavily involved in the first-half, Gomez was given something of a roasting by Albrighton in the second-half. He's suspended for Tuesday, interesting to see if he gets his place back for Newcastle.
Joel Matip (6): Some good tackles and headers but he gives the referee a decision to make in the run-up to Leicester's first regardless of whether it's a foul. Booked and looked like he could have gone off at any moment, a rare time where he was outplayed by his defensive partner but not a horror performance. Always tough to play against those forwards, too.
Dejan Lovren (6): Just better than Matip, but that didn't count for that much. A strange start to the game as he inexplicably kicked the ball to Leicester a few times, but grew into the game positively. Coped fairly well with Leicester's press and didn't make any silly mistakes, got in the referee's ear brilliantly too, always good to see.
Alberto Moreno (7): Liverpool's best defender, again! No silly mistakes, some good tackles, good going forward as he linked with his best mate Coutinho. Viva the Moreno revolution!
Jordan Henderson (7): A good performance from the skipper, capped mostly with a very smart finish for what proved to be a crucial third. Pushed on more than we've seen with Can dropping back and looked all the better for it.
Emre Can (6): Straight off the bat, it wasn't a handball just after the Vardy penalty. Gray is three yards away from him and Can's arm is by his side. Other than that, solid enough from Emre. Decent defensive contributions and some drives forward that helped us get up the pitch, he was unlucky not to get an assist as Salah completely Kolo Toure'd the shot that had hit the post.
Georginio Wijnaldum (4): Not sure why I've got his name written down here as he didn't play. Anyone else see him? No. Moving on.
Mohamed Salah (7): He's a bit good at footie, isn't he? Cranes his neck muscles like an owl to nod in the opener, watch out Harry Kane for the Golden Boot. Great work rate, smart feet and another goal. Bargain.
Philippe Coutinho (8): The quality this lad has is sometimes wrongly channelled into shots from 40 yards, but when he uses his brain he's phenomenal. It's a tricky away trip to Leicester and suddenly he turns it on for five minutes and it's 2-0. Great assist, even better free-kick. Solid apart from that but that short spell won Liverpool the game.
Roberto Firmino: (5) Meh. Meh? Worked hard, not much on the ball. Similar to Wijnaldum except I actually saw him play.
Daniel Sturridge (7): Superb cameo, the composure that Liverpool needed. Dragged Morgan and Maguire all over the place, put his foot on the ball and slowed it down at crucial times. Absolutely superb decision-making for the third goal, a great change made by Klopp.
James Milner (N/A): Not much to say other than he was fine. Can needed to come off so no complaints from me.
Alex Oxlade-Chamberlain (10): Giving him a 10 because he's finally won a game, bless. Go ed', Ox.