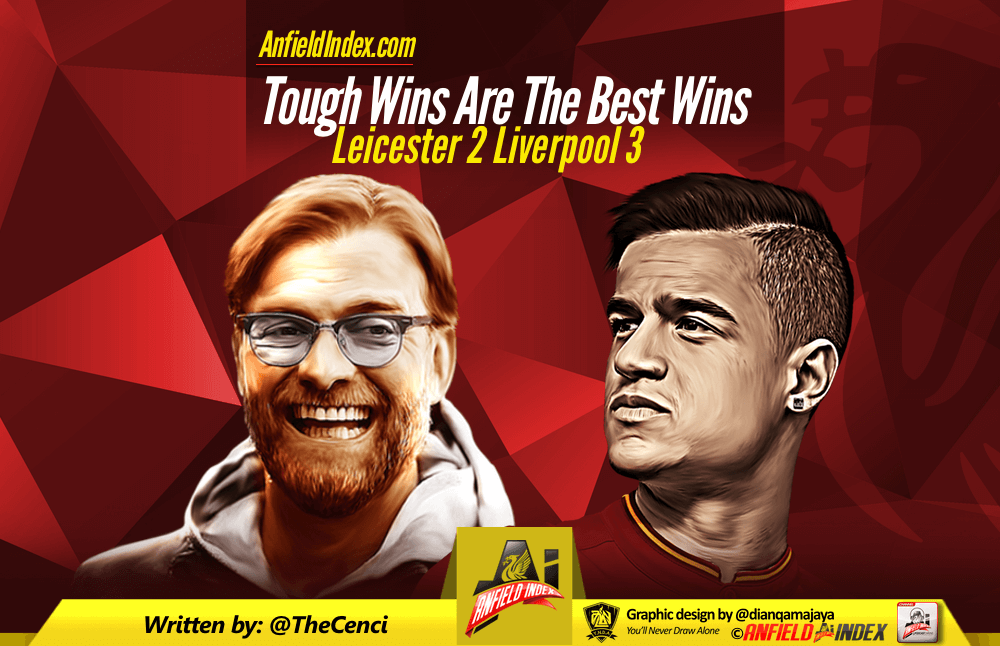 Leicester 2 Liverpool 3 - Tough Wins Are The Best Wins
A win! A Liverpool win! Three goals beats two goals and the travelling Reds went home happy. The weekend is saved.
It wasn't pleasant. Jurgen's lads coasted to a two goal cushion and were slowly beginning to realise that Leicester were not quite the reincarnation of the Dirty Dozen they'd previously thought them to be, but come a myopic official and the lads found themselves being dragged down to their level and had to scrap it out. Not a game for the faint hearted or purists. This was more 'shirts-off-in-a-pub-car-park' affair than anything resembling the beautiful game
Leicester are a weird side. Capable of being pummelled when things are against them yet somehow resilient when their blood's up. You'd be forgiven for dismissing them as merely a hard-working aggressive team who only have chutzpah on their side, but there is the odd gem under the muck of their play. Jamie Vardy, whether you like him or not, is a nightmare to play against and our lads just don't fancy coming up against him. Just behind him stands Shinji Okazaki – the East Midlands' Dirk Kuyt. I was elated when he went off. Then there's Demarai Gray, who set up their second goal. What a player he is. I only hope he does go all Jermaine Pennant on them.

And yet it would be no surprise if they lost the next five games. It must be maddening to support them.
But back to us. Ah, the Reds. More issues than Vogue, as much confidence as Mavis Riley (ask your Nan) and yet when we were asked to dig in they did just that.
And that, for me, is far more enjoyable than romps against Arsenal and Hoffenheim. It's just not as much fun when the opposition caves in and lets you play. Where's the fun in City's three games and aggregate score of 16-0? Oh sure you can relax and smile at the realisation that you won't spend the rest of the night sighing but, as Joey 'the Lips' Fagan says in the The Commitments 'This way it's beautiful.'
A lead, a foul on the keeper, a third goal, a penalty save and then the Alamo. Give me that every day of the week.
I should explain that I have a mild masochistic streak.
Brendan liked to use the word 'character.' It's often a stick with which to beat him, mostly because he used it when we'd been beaten and wanted to give his charges a desultory fillip of some sort, but that yesterday was the real thing. Joe Gomez could barely walk off the pitch such was his exhaustion. Lovren and Matip conceded a goal they could do nothing about and the keeper may ponder how he can be just so poor and miraculous in the same ten minutes and they'll all learn from that. It's not all Sadio, Roberto and Mo carving people open. Sometimes you're the noble pugilist, others you're rolling round in the mud in a headlock. Character.
There's precedence here too. In the 2005 Champions League run, Liverpool had to protect a 2-1 against the Italian Champions Juventus without Steven Gerrard. That game made last night's affair   look like one of those pre-season matches where the keeper plays in midfield for a laugh. I watched that game in the pub and when I got home I found splinters in my fingertips. They'd been dug in the table for so long that the wood had cracked and I took minute scrapings of it home as a keepsake. Such was the tension that I didn't even notice till the next day.
And they're the best wins. The ones you have to earn. The ones you can keep locked away in your mind like a sanctuary to flee to when you most need it.
Sure there were errors. The ten minutes before half time saw the midfield lads roll the ball to their counterparts for no reason and the defence still panics at the slightest thing, but today they deserve a nod. Making mistakes is fine as long as you study them and, more importantly, don't repeat them.
City was a catastrophe, Sevilla a study in panic but Leicester was about winning, losing and then fighting again. It felt like two wins. We should get more than three points for that.
Liverpool can be a great side when things are going their way. They can also be bloody awful when they're not. Jurgen can be a frustrating man at times, but he can also out-think his opponent and bringing on Sturridge for Firmino was his masterstroke. No offence to Firmino who is a wonderful player, but Jurgen saw that the game needed a wiser, more experienced head. Sturridge kept the ball, brought people in around him and gave the lie to that 'he's too selfish' nonsense. All strikers, after all, have ego, but yesterday he was everyone's mate.
I'll finish this with a nod to Coutinho. I don't like what he did in the summer and I doubt he'll end the season with us but yesterday was why we kept him. The goal was wonderful, of course, but his knack of keeping three men off him and finding a pass which no one saw was equally magnificent to behold. Gini Wijnaldum, who finds himself in similar situations from time to time, can learn much from him.
And what about the celebration? Not too dissimilar to Gerrard after his goal in Istanbul, I'm not sure if he was shouting at the crowd or geeing them up. Was it a bollocking or an 'I'm back' shout? I couldn't tell.
A good win, then. A strong win. An earned win. I love those. They're my favourite.
But a nice bog-standard 2-0 win at Newcastle please, Liverpool. Some of us have blood pressure to consider.