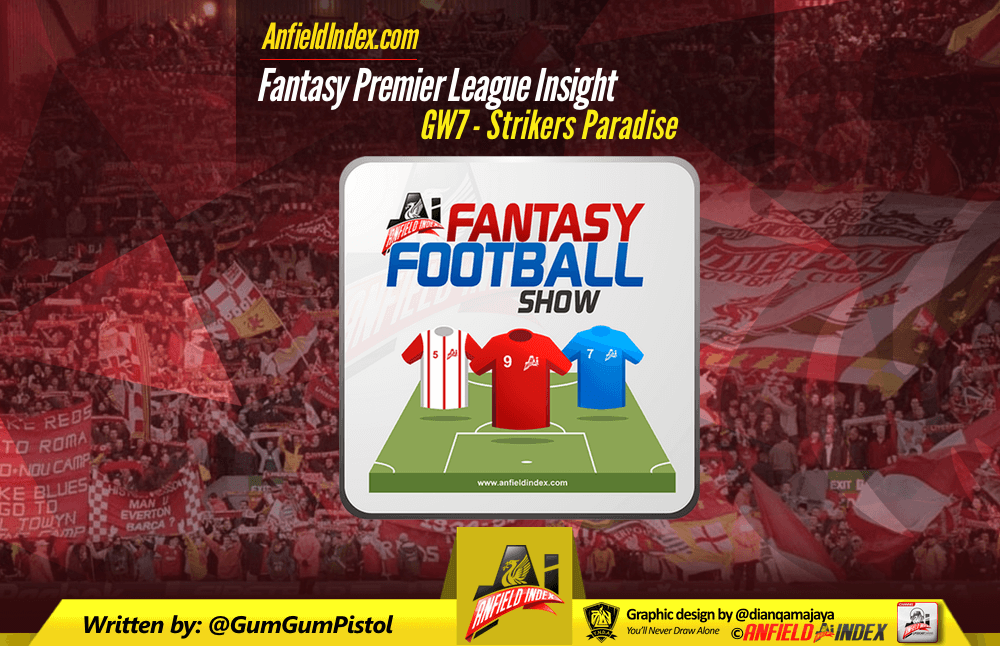 Fantasy Premier League Insight: GW7 - Strikers Paradise
When was the last time we had 5 dominating strikers in #FPL

 (Kane, Aguero, Lukaku, Lacazette, Morata)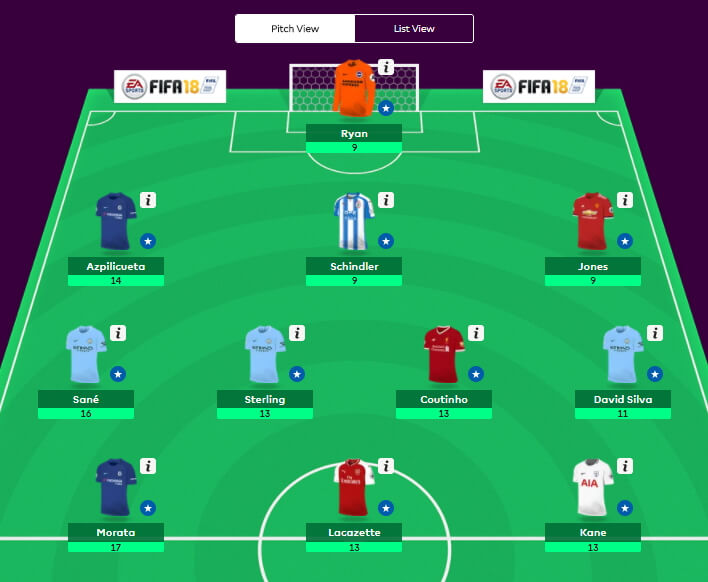 While the holy trinity of Kane, Aguero and Lukaku were absolute MUST haves going into GW6, were you really surprised when #FPL threw another curve ball with Morata and Lacazette stepping up with 17 and 13 points respectively? I honestly can't think of another season where we've had this many strikers performing well at the same time; it definitely has the feel of a financial bubble (#FPL striker bubble).

Every game pretty much went as expected with Harry Kane popping up with 2 goals in the early kick off; this set the tone for what was to come, over to you Kun Aguero. Aguero disappointed with only 1 goal and 1 assist in City's 5-0 drubbing of Palace…let that sink in, "disappointed" …with 11 points FFS. While City put Palace to the sword as expected, Aguero wasn't involved as much in the goals as #FPL managers were hoping for. Meanwhile, Alvaro Morata decided to channel he's inner Ronaldo (Luís Nazário de Lima) and proceeded to dismantle a usually resolute Stoke defense. The Spaniard struck 3 times as Chelsea romped to a 0-4 victory. Last but certainly not least was the Monday night kick off ; Alex Lacazette must have seen the carnage Strikers were producing over the weekend and thought "hold my beer!" The Arsenal striker netting a brace, contributing with 13 points.
So there you have it folks, 5 potentially potent strikers in the league…it quite honestly is a toss up as to who to select.
Next 3 games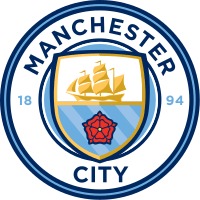 | | | | |
| --- | --- | --- | --- |
| | GW7 | GW8 | GW9 |
| MCI | CHE (a) | STO (h) | BUR (h) |
Man City are going from strength to strength with multiple #FPL relevant assets to  select from. Their next fixture will be a test though with champions Chelsea their opponents. David Silva continued he's renaissance with another 11 point haul (2 assists and a clean sheet) with "fringe" players Leroy Sane and Raheem Sterling stepping up with goals and assists. While the Chelsea game will be a test and a difficult encounter; the games which follow in GW 8 and 9 look mouth watering and getting #FPL assets from City will be critical. Pep's team selection could throw a spanner in the works as he continues to frustrate #FPL managers with Gabriel Jesus not playing a single minute. Another top striker who also performs well…when selected.
Players to consider: Aguero, David Silva; Walker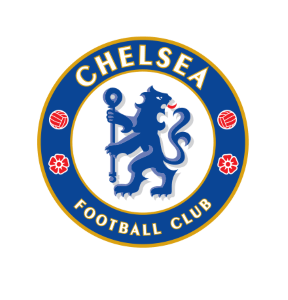 | | | | |
| --- | --- | --- | --- |
| | GW7 | GW8 | GW9 |
| CHE | MCI (h) | PAL (a) | WAT (h) |
The Champions look back to their best again brushing aside teams with ease. No matter what curve ball Chelsea get thrown they still manage to bounce back unphased; Cahill and Luiz red cards, Hazard not having featured fully this season yet, Diego Costa refusing to play. With all these factors Chelsea have not been bothered and went about getting the job done. In Morata they have one of Europe's most prolific strikers who would no doubt cause problems for the City defense. The games that follow look straight forward as well; Palace look completely lost and while Watford have been good away, you'd feel Chelsea will be too much for them. Caesar "Dave" Azpilicueta has been racking up the points in recent weeks, 14 points (2 assists and a clean sheet) in GW6 and has to be a consideration. Azpi has overtaken he's team mate Alonso (another MUST have player) and looks to be the more favorable option in the Chelsea defense; he's also played every minute.
Players to consider: Morata, Azpilicueta, Pedro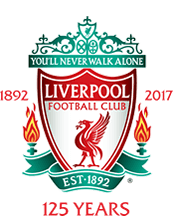 | | | | |
| --- | --- | --- | --- |
| | GW7 | GW8 | GW9 |
| LFC | NEW (a) | MUN (h) | TOT (a) |
Now while Liverpool have a very tough set of fixtures, allow me to explain myself. Liverpool have been very good against the "top" teams and have showed up and produced brilliant performances versus their rivals; having dropped points early on in the season, Liverpool will be keen to claw some back against direct rivals. A good result versus Leicester City with Coutinho having a blinder (1 goal + 1 assist) and Sadio Mane returning after he's 3 match ban, you'd have to appreciate Liverpool's attacking prowess. Mo Salah should also not be overlooked with 4 goals and 2 assist in the league so far; he always looks a threat whenever he's on the pitch. Midfield #FPL options are Liverpool's forte and with so many good striker options you'd need to tweak your team to get a top quality midfielder in; possibly at the cost of a striker.
Players to consider: Salah, Coutinho, Mane
TINKER STINKER TIME
Last week's Stinker Tinkers paid off with Monreal picking up 7 points (1 clean sheet + 1 Bonus Point), solid performance again by Nacho…again, 90 mins played. The Swansea punt, Naughton not so much as they went down to Watford. They do have some decent fixtures coming up, so hold on.
For this week; as mentioned above strikers are so OP (overpowered) at the moment that changing between them is basically a coin toss. We have to consider differentials as you look to secure valuable #FPL points.
Caesar "Dave" Azpilicueta is currently only owned by 12.1% of teams and has played every minute for Chelsea. He has been consistent in recent weeks assisting 4 times in the last 4 Premier League games. He faces Man City this week but it's the long term you need to consider; while he's colleague Alonso has been quiet, consider Dave if you're looking at Chelsea's defense.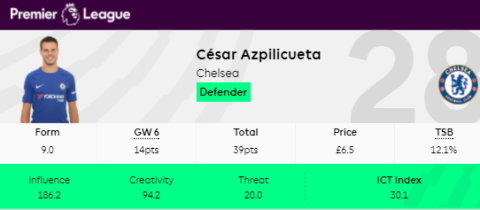 Philippe Coutinho put in a stellar performance VS Leicester with a goal and assist. The little magician adds that x-factor in he's deeper role and with the likes of Mane, Salah and Firmino ahead of him; Phil could be involved in a lot of Liverpool's action. 13 points in the last game and only owned by 5.1% of teams, Coutinho could be that differential.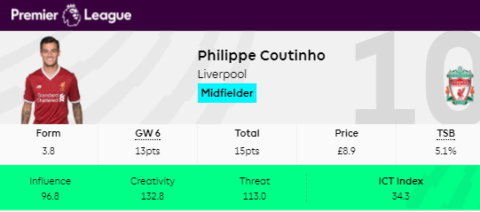 Phil Jones is another player who has managed to play every minute for Manchester United this season. Currently ranked the 4th highest scoring defender in the #FPL at only 10.4% owned, you're looking at a solid fantasy league asset. Most of he's points have come from clean sheets, but United have a home fixture versus Palace so another clean sheet could be on the horizon.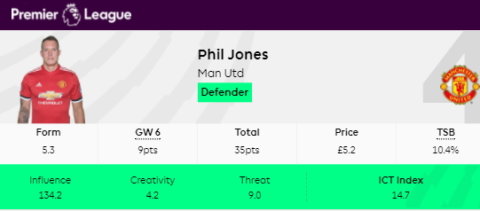 Keep in mind there are Champions league and Europa league games this week, so wait until they have concluded before making your changes. Good Luck and check out our Fantasy football show podcast below!