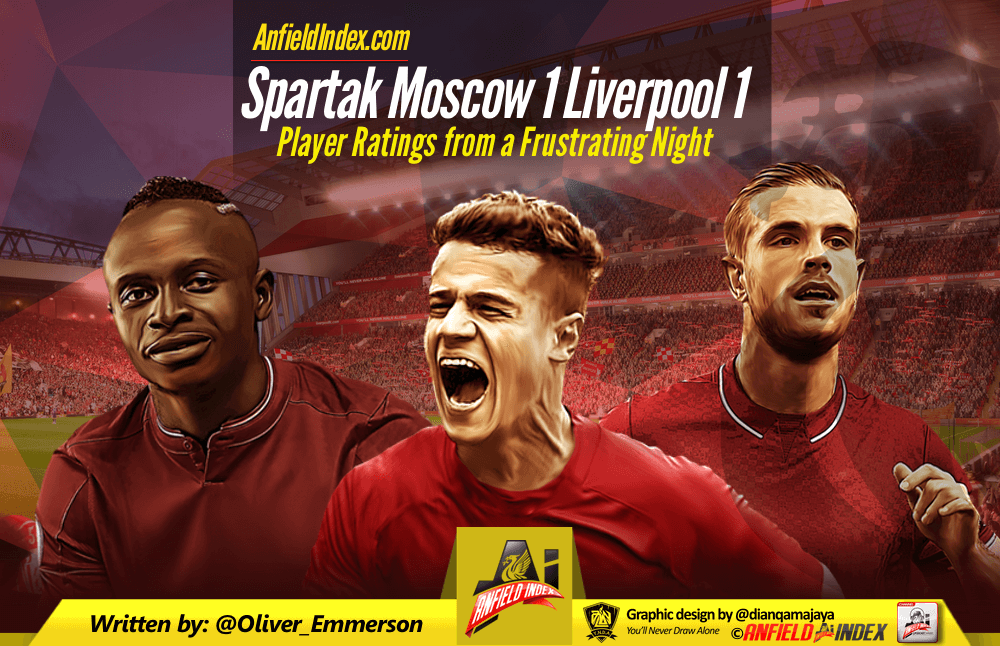 Liverpool Player Ratings from a Frustrating Night in Moscow

From Russia with a point, return Jürgen's Reds. Not great for Liverpool, but routine wins against Maribor and we'll be laughing with 8 from 4.
Speaking of 8s and 4s, how did the players get on?
Starting Eleven
Loris Karius (5): Got sympathy for him with the first goal because it's powerful etc. But, he doesn't dive properly, so. Made a couple of half-decent other saves but he didn't do anything to win back his league place.
Trent Alexander-Arnold (6): Nice going forward, seems to get on with Salah well. Didn't have much defending to do but showed quality there with some interceptions. Should maybe give Henderson a better pass on the break towards the end of the first half, but makes up for it with a lovely ball into Salah near the death.
Dejan Lovren (7): One first-half tackle that I'm judging his performance on cos it was dead good. Solid aside, one of his better games so far this season.
Joel Matip (6): Got some stick for slagging his performance vs Leicester and I thought he was better tonight. But in all honesty, he had little to do. A standard six.
Alberto Moreno (6): Bright going forward and no mistakes at the back, another routine performance. It'll go unnoticed by most but he actually moved quite intelligently to aid Mane and Coutinho space-wise when going forward.
Jordan Henderson (8): Better again. Keep it up please, Hendo. Unlucky not to assist at the end of the first 45 as he teed up Salah, then again in the second-half as he played in Sturridge. Sharper in the tackle and quicker in the pass, Hendo can keep it up.
Emre Can (5): Wheeeeere's your head at, where's your head at (Emre)? A reckless first half hour where he could have been sent off easily. Calmed down after that when he realised a red card wasn't on Klopp's wish-list, but nobody was complaining when he was taken off.
Philippe Coutinho (7): Rather meh at times but then he'll play a blinder of a pass or score a goal, which is exactly what he did. Settling back in well.
Sadio Mane (6): Slightly underwhelming but combines well with Coutinho for the goal, looks like the suspension has seen him lose some sharpness, hence the substitution.
Mohamed Salah (5): Was going to give him a seven and praise his performance before I sat back and realised he's missed a couple of sitters that might end up being crucial. Soz, Mo.
Roberto Firmino (6): Everyone was moaning at him on Twitter but I thought he carried the ball fairly well, maybe should score a shot nobody expects him to end up being able to take. Looked better after going out wide, now that's a rare one.
Subs
Daniel Sturridge (6): Gaining sharpness, linking better with the fast lads around him, looking good. Lacks composure with a couple of chances since he's frustrating since he's, you know, Daniel Sturridge.
Gini Wijnaldum (2): Was going to give him N/A but then he lumps a ball forward as we're in the dying seconds, leaving Coutinho and the 'keeper in a 1 vs 1 aerially. Sigh.
Referee (-1): Eight minutes of stoppage time plucked from somewhere, so play the eight minutes you Bond henchman lookalike. Spartak stop for two minutes after the board goes up, but the referee stops just 30 seconds after the 98th-minute mark.