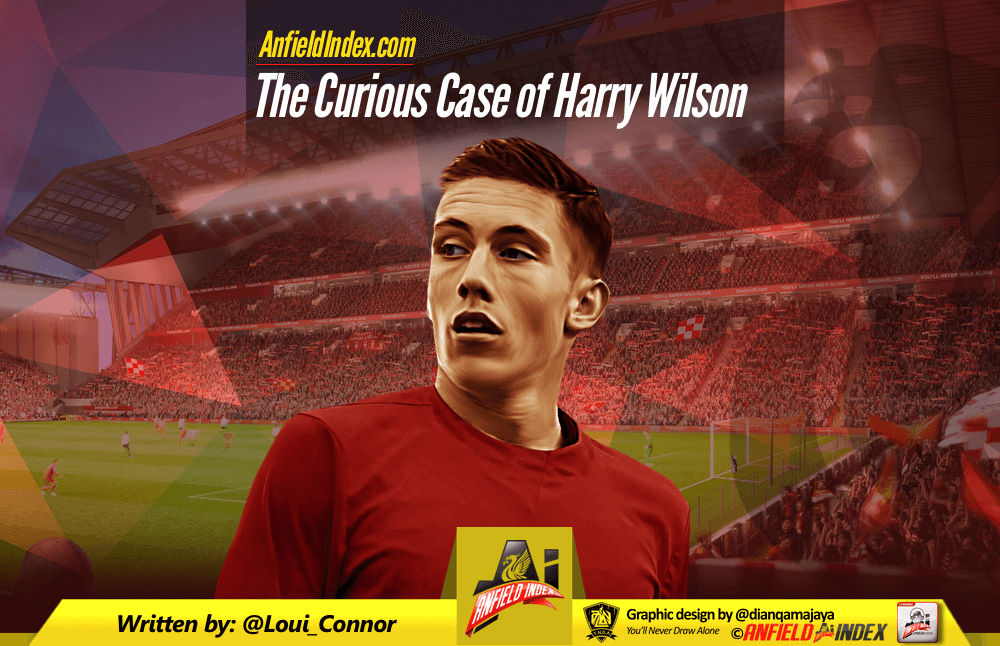 The Curious Case of Harry Wilson
At Liverpool, there is a constant production line at the academy which brings young players into the lime light and gets fans excited about the club bringing through the next Premier League talent. Sometimes these players reach their potential and make an impact in the first team and beyond and others fall down the divisions until the find their level. Currently Liverpool have a couple of exciting players that have come through our youth system, players like Ben Woodburn, Ovie Ejaria and Trent Alexander-Arnold have seen their impressive performances in the development league rewarded with first team appearances and now you would expect all three to feature in earlier cup rounds or starting in Premier League games if there was an injury. One player who has an outstanding record for the U23's is the Welshman Harry Wilson, the amount of games played and time spent in the team is the reason he has the armband and his performances match the expectations of someone wearing the armband for LFC – even if it is in the youth league.
Despite his showings in the U23's Harry Wilson has had a tough time breaking through to Jurgen Klopp's team, so much so that he has the same amount of appearances for his national team as he does for his club. We all know Jurgen Klopp loves to give youth players a chance to make the step up but despite the stream of youth players making their debuts Harry Wilson was missed out somewhere along the line, when Mane left for the African Cup of Nations last season Harry Wilson wasn't even considered as a possible replacement for him despite his outstanding goals record from the wing and instead we used first team players out of their natural position and lost a ton of ground in the title race we somehow found ourselves in. Wilson was given the opportunity to impress when he went out on loan to Crewe back in 2015, 18 at the time he failed to make an impact at the club only featuring seven times before being recalled on December 1st of the same year. Maybe this is something that is going against him, whilst Woodburn and TAA haven't gone on loan they impressed when given the chance and Sheyi Ojo is currently out at Fulham trying to gain experience.
Four days ago, Harry Wilson netted a first half hat-trick on his 43rd appearance for the youth team as they beat Spurs 4-2. In those appearances, he has scored 33 goals and provided 17 assists meaning he has contributed to a goal every 77 minutes of football that he plays. Whilst it may only be the development league that is the sort of conversion rate that a striker would be incredibly proud of so to do that from the wing makes the feat even more impressive; Wilson has also managed to score five goals in his last eight shots – something that the current Liverpool team are unable to do, only scoring six goals from 121 shots recently. Due to being the captain for over a year now, Wilson plays with a maturity that isn't heavily present in an U23's game and this is something that will serve him well if he is ever given the chance to properly feature for the first thing.

The issue that presents itself currently for Wilson is the emergence of Ben Woodburn combined with the purchase of Alex Oxlade-Chamberlain; Woodburn finds himself with more pedigree than Wilson with appearances for the first team and more appearances for the Welsh national team. He also is 2 and a half years younger than Wilson so Klopp may feel that he can work more with Woodburn and contribute more to his development and make him a Premier League footballer; they also play in the same position so when it is time to play the youth Klopp will be more inclined to go with Woodburn. As if it wasn't hard enough to break into the first team Klopp also brought in Oxlade-Chamberlain in the summer, whilst he can also play in the middle Oxlade-Chamberlain has spent most of his career on the wing so if now Mane or Salah are unavailable Klopp would have to look past Coutinho, Oxlade-Chamberlain, Sturridge, Solanke and Woodburn in order to pick Wilson.
Whilst the last one didn't work out, Wilson might need to go on loan if he is to have a future at Liverpool, there is only so much a player can develop in the youth teams and Wilson has certainly hit the ceiling there. A loan move would give the player the opportunity to showcase his clear ability and maybe return to the club with the door open to the first team. Liverpool currently have two wingers out on loan in Ojo and Kent so Wilson would really have to stand out to earn his way into Klopp's good books. Whether it is in January or at the end of the season Wilson needs to move clubs for his own sake; by the summer transfer window next year he will be 21 and whilst that is still young for a player he is approaching the age where people don't look at you as a youth prospect anymore. For now he will continue his fine performances as captain of the U23's but the next stage of his development needs to happen for him to realise his potential – if that is at Liverpool or at another, club only time will tell if Harry Wilson is going to be the player he is capable of being but as it stands it isn't going to happen by staying in the youth team.