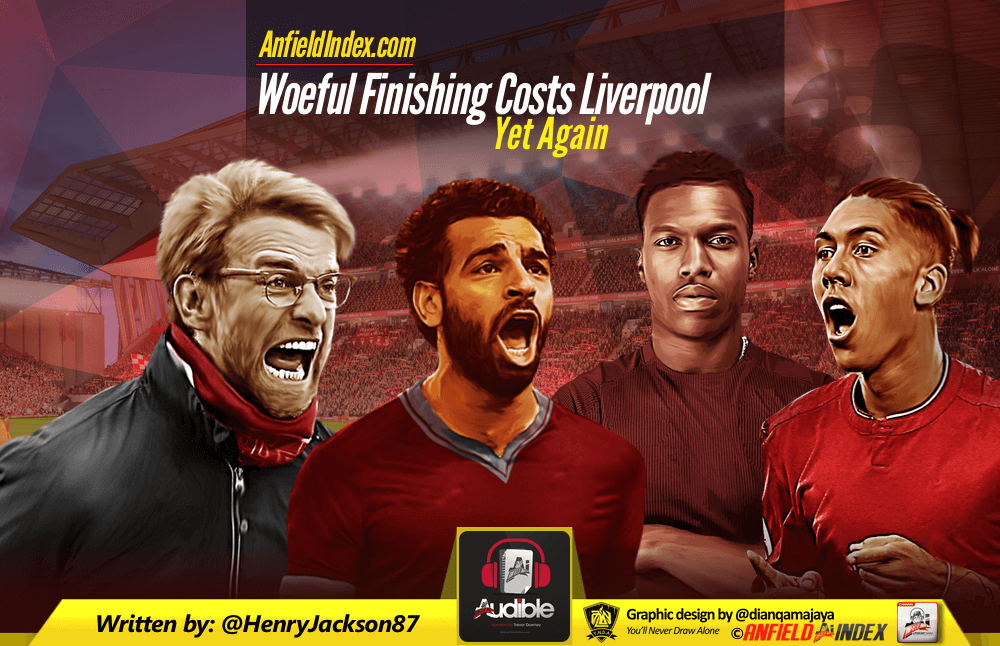 Woeful Finishing Costs Liverpool Yet Again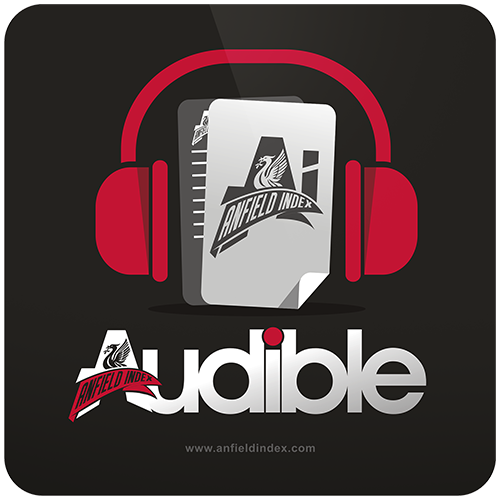 Listen to this article via @AIAudible !
There was a moment in the final stages of Liverpool's 1-1 draw at Spartak Moscow when you could virtually feel Reds supporters all over the world lose their heads in unison.
Roberto Firmino, off the pace all night, was picked out by a lovely Alberto Moreno pass, and needed to just play a simply pass across the box for Mo Salah or Daniel Sturridge to tap in.
As was in-keeping with the night as a whole, however, the Brazilian's lazy pass was narrowly behind Salah, and he couldn't convert what would have been a dramatic stoppage time winner.

It seems almost unfathomable that Liverpool didn't pick up all three points against an unbelievably limited Spartak side, but the same old problems haunted the Reds.
In recent weeks, we have seen the defence taking a battering by the masses, and deservedly so, while Jurgen Klopp hasn't exactly been Mr Popular.
This disappointing draw rests solely on the shoulders of the attack, though, with endless poor finishing leaving Liverpool still waiting for a first Champions League group stage win in eight attempts.
In fairness to much-maligned figures such as Moreno and Dejan Lovren, they played well, and Klopp got a dominant, classy performance out of his side. This had very little to do with tactics or individual errors.
Admittedly, Loris Karius and Emre Can were both hopeless for Fernando's opener – do we just accept that Karius isn't very good now? – but even with that goal, Liverpool should have cruised to victory.
This lack of ruthlessness in the final third is now becoming a real issue, with opponents needing one chance to score and Liverpool seemingly requiring at least 10.
Staggeringly, the Reds have found the net just six times from their last 121 shots – a truly harrowing statistic. On the flip side, they have conceded 13 times from the last 49 shots faced. That sums it up.
Unfortunately, there is not one individual letting the side down with his finishing, with several players culpable.
Firmino is likely to be the one who becomes a scapegoat, due to many calling for Klopp to sign an out-and-out goalscorer in the summer. The 25-year-old has been below-par since the international break, and Tuesday's showing was one of his worst in a Liverpool shirt.
He is such a fantastic footballer, but there can be no denying that he is not even close to the likes of Sergio Aguero, Harry Kane, Romelu Lukaku and Alvaro Morata when it comes to burying chances.
Firmino had three glorious chances against Spartak, including a close-range header and a shot that had seen him afforded plenty of time on the ball, but he fluffed his lines in infuriating fashion.
Salah was another who lacked a killer instinct, and while his Liverpool career has got off to a flying start, an erratic end product has been on show throughout his time at Anfield to date.
He also missed a great chance with a header, and his general use of the ball in key areas was too unpredictable.
The Egyptian is fantastic at getting himself in the right positions, but sloppy crosses and tame finishes are part of his game.
He will improve – Luis Suarez was similarly erratic when he first joined Liverpool – but it is times like these when you appreciate just how good Lionel Messi and Cristiano Ronaldo are. If Salah had their end product, he would have scored 15 already this season, rather than six.
Sturridge was brought on as a second-half substitute, but Liverpool's most natural finisher endured a cameo to forget.
He missed at least three guilt-edged opportunities, depending on just how critical you are, including one when he had time to take the ball down and tee-up a teammate.
Firmino, Salah and Sturridge are the three who must shoulder most of the blame on Tuesday – Philippe Coutinho scored and Sadio Mane didn't do a lot wrong – but this is a widespread issue that must go away.
Liverpool appear to be mentally weak when it comes to making their dominance count in matches, and it is hurting the progression of the team so much.
Klopp's men outplay the majority of sides they face, but they just cannot seem to dispatch of them in the manner most of their rivals do.
Watford, Sevilla, Burnley, Leicester and now Spartak have all been comprehensively taught a footballing lesson this season, but Liverpool have drawn four of those games and been eliminated from the League Cup in the other.
Bad defending has clearly played its part, but it really is simple: if Liverpool had scored as many as they should have, mistakes at the back would have been relatively meaningless.
Points are being dropped at an alarming rate because of this ongoing issue, and it must stop before it derails the Reds' season.
This team is so close to being something special, which makes it all the tougher to take when the same old deficiencies keep rearing their ugly head.