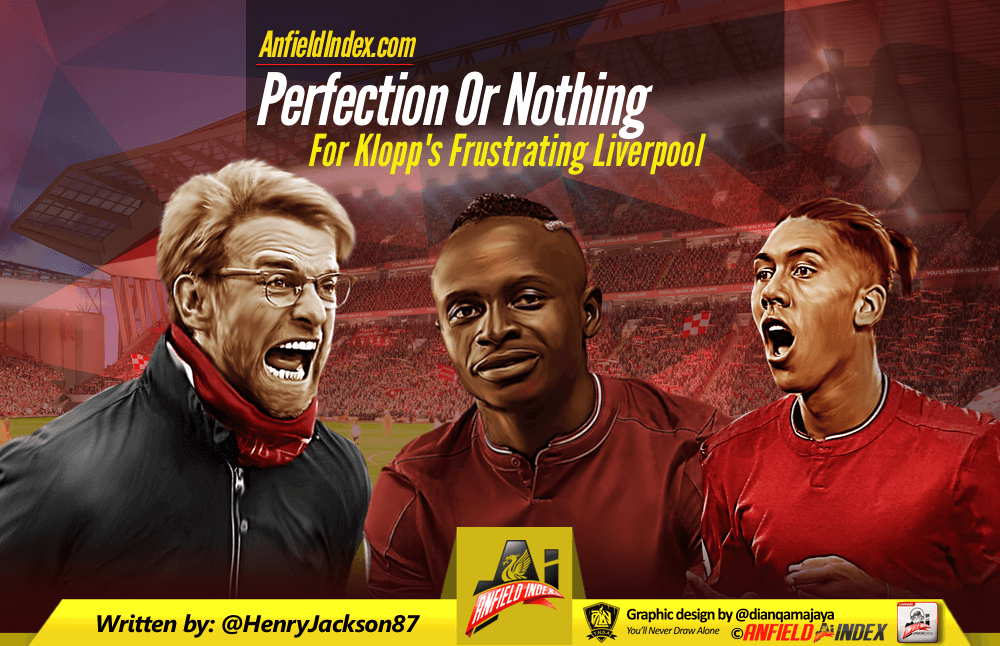 Perfection Or Nothing For Klopp's Frustrating Liverpool
This is a bold, hyperbolic statement, but one I believe is becoming truer by the week: No team has ever had to work harder to win games than this Liverpool side.
Tuesday's 1-1 draw away to Spartak Moscow was the perfect example of this, with the Reds once again outplaying an opponent but walking away without three points. They huffed and puffed all evening, playing inventive football and creating endless chances, but a combination of wretched finishing and another sloppy goal conceded cost Jurgen Klopp's side.
Few Liverpool teams have been more fun to watch than this current outfit, at least in an attacking sense, but they only seem to win when everything clicks. When it does, it is spectacular, but how often is that happening?

Klopp's style of play is one that should be applauded for its fearlessness and willingness to attack, but it is the footballing equivalent of walking on a tightrope. Mistakes are fatal. The German's system is a complex one that requires every single player to do their job to perfection – if they don't, disappointment invariably ensues and criticism is endless.
One stray pass leaves several players out of position; one man not pressing means the entire approach falls apart; one player not marking zonally in the correct manner proves costly.
At the moment, the Reds are not nailing all facets of their game, and it is exactly why we are experiencing such frustrating results. A goalkeeping gaffe, defensive lapse or erratic final ball are all too regular occurrences. In the 11 matches Liverpool have played so far this season, on only one occasion has everything fallen into place, and it proved how special this side can be when that happens.
That came at home to Arsenal, when a largely solid defensive display was added to by a dominant performance from the midfield and an attacking exhibition from Sadio Mane, Mo Salah and Roberto Firmino.
Apart from that outing, every single one of Liverpool's other matches has seen deficiencies come to the fore, with individuals not doing their job and the team failing to replicate what their manager has demanded of them.
The defending against Watford on the opening Premier League weekend was horrendous, and that was followed up by a 2-1 win in Hoffenheim that saw a penalty conceded and a soft late goal giving the Bundesliga side hope.
The 1-0 victory over Crystal Palace was the kind of gritty display Liverpool are usually incapable of, in fairness, but the 4-2 win at home to Hoffenheim saw blistering attacking play but more iffiness at the back.
Humiliation at Man City was clouded by Mane's unfortunate sending off, but not for one second did you think the Reds could get anything from the game with their back against the wall. The defending was never close to being good enough.
Successive draws with Sevilla and Burnley at Anfield highlighted a lack of ruthlessness in either penalty area, and both games against Leicester were far from perfect, even though one resulted in a nail-biting win.
Then there was the Spartak farce. How Liverpool didn't beat such a limited side, having made so many chances, was fairly unacceptable, and supporters were understandably left disillusioned by what they had witnessed.
Every time Liverpool win a game these days, it is because they fully deserve it and have had to work for their success.
They cannot seem to win playing badly – the hallmark of a successful team – but they will gift points to opponents who do just that. Nothing comes easy, as it seems to for other teams.
There is an element of nice guys always finishing last about the Reds, with aesthetically-pleasing football often not getting the deserved reward. They are not getting a lot of luck at present either, which only adds to the feeling of being hard done by.
As a random example, a CSKA Moscow defender literally air-kicked a clearance against Man United on Wednesday, and Romelu Lukaku was gifted one of the easiest goals of his career. This sort of thing just isn't happening to Liverpool.
If you look at the Merseysiders' five rivals at the top of the Premier League, they are all able to accumulate points and win in different ways. They are clearly all good sides in their own right, but they often look no better than the Reds. The key difference is that they are not making mistakes and are putting the ball in the net when they have to. They all have strikers who are bailing them out when their performances aren't necessarily any better than Liverpool's, and they are not allowing opponents such disgustingly soft goals.
This has been a bad week for Firmino, and the Reds' lack of a goalscoring talisman in general, with rival strikers proving influential and the Brazilian missing some huge chances.
Lukaku, Harry Kane, Sergio Aguero,, Alvaro Morata and Alexandre Lacazette have found the net 15 times between them in the last week, which says all you need to know about the impact they are having.
Firmino is superb, and is perfect for Klopp, but you can't help but tear you hair out when he is failing to be the hero that rival strikers are.
Whether it's United, City, Chelsea, Tottenham or Arsenal, it doesn't matter if certain individuals are experiencing an off day because there is often someone to save the day. With Liverpool, however, every single player has to at least be adequate if they want to win.
Although there is plenty of doom and gloom surrounding the Reds' current issues, they are so, so close to being a special team. The problems in defence are an issue that might not go away any time soon, sadly, but in the attacking third, they are waiting to explode. The slick build-up play is there for all to see, and if the likes of Firmino and Salah can go up a gear in front of goal, some teams are going to be destroyed in the coming weeks.
You take your hat off to Klopp for having the guts to adopt the style of play that he does, but his players are failing to make it work to the best of its ability currently.
That is the reason their title challenge is already looking slim, and why they have work to do in the Champions League, following back-to-back draws,
Hopefully, the creases will be ironed out and we will see Liverpool hit a stunning run of form soon, but that will only happen if everyone starts doing their job.