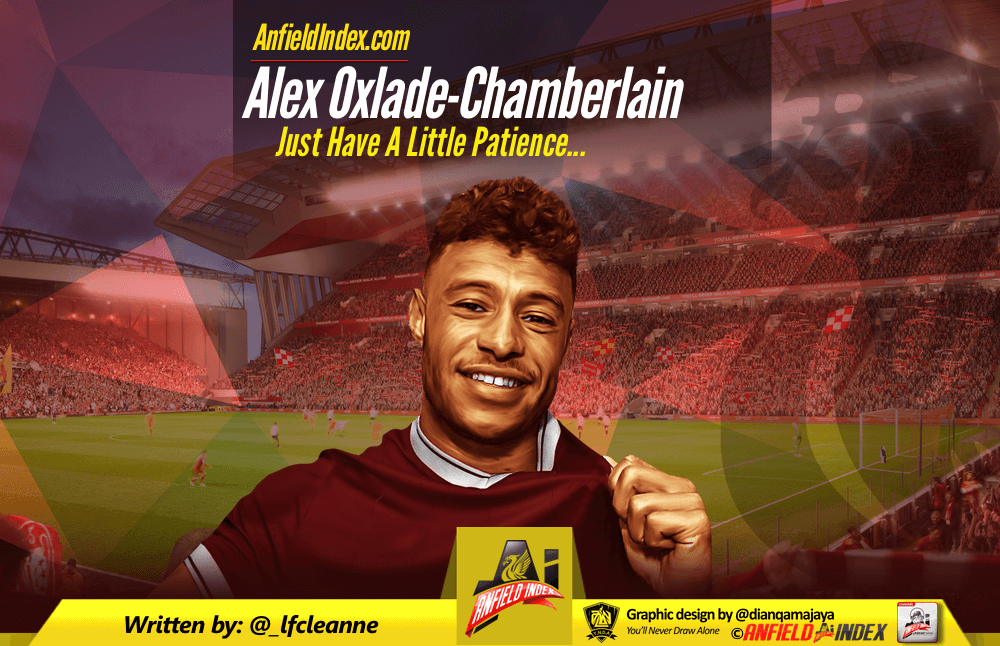 Alex Oxlade-Chamberlain: Just Have A Little Patience...
It's been a far from ideal start to life at Liverpool for new boy Alex Oxlade-Chamberlain, after the midfielder signed from Arsenal on deadline day.
Joining off the back a thoroughly promising 4-0 win against his former-club, The Reds were largely expected to kick on with another highly versatile player in the ranks to add depth and experience amid a rigorous new campaign.
Yet, with Liverpool booted out the Carabao Cup after a 2-0 defeat against Leicester before suffering another obstacle in the road on Tuesday night against Spartak Moscow, things haven't quite gone to plan.

During that time, the 24-year-old has largely featured in a series of short cameos from the bench, making his first start for the club against Leicester.
That night panned out very differently to how Chamberlain would've wanted, with the Englishman delivering a distinctly average performance against The Foxes.  Sluggish on the ball, Chamberlain lost possession more times than most, with his end product also lacking in quality.
Yet, with just one start to his name since making a £35-40million move to Anfield, patience is desperately needed by those labelling him a waste of money so early into his Reds career.
What many fans seem to have forgotten is this is a player who's only been at the club a matter of weeks. Making a high profile move from Arsenal, Chamberlain has come into a new environment with little time to adapt to Klopp's style of play.
He's got to learn a new approach and way of thinking under Klopp, with the German's gegenpressing style putting huge physical demands on the players. At Arsenal, an inconsistent patch of appearances saw the midfielder's confidence shot – that too will take time to rebuild before we see Klopp get the best out of him.
Often vilified for his sub-par performances, Chamberlain is a poignant example of a confidence player. Much in the same way that Daniel Sturridge did following his move from Chelsea, he needs that arm of assurance around him to really shine.
That's clearly not helped by social media platforms such as Twitter where fans often express their very raw emotions in the aftermath of frustrating results. Branded a 'waste of money' and 'unworthy of the shirt', such remarks will only see Chamberlain's confidence remain shattered. Of course, such reactionary comments are part of being a footballer in this day and age, but giving him the backing of the Anfield faithful will be crucial in getting his Liverpool career off the ground.
There's plenty of evidence to that'll be the case, too. Take Adam Lallana, for example – before Klopp arrived he was unpredictable and erratic. Showing glimpses of class on the ball to turn beyond defenders and roam in between the lines, there was plenty of promise about the England international, but failure to deliver on a consistently high level always left fans wanting more.
Then came Klopp.
He's turned Lallana into a hugely influential player within the Liverpool squad and a perfect earmark of what's required in the current system. His positional play is better; his work-rate remains unrivalled and his end product has turned stern critics into admirers. A player not too dissimilar from Chamberlain himself, Lallana provides the perfect example of why Chamberlain can find his feet at Liverpool and fulfil his potential.
It remains very, very early days in Chamberlain's Liverpool career and with Klopp's track record in getting the best out of previously underperforming players, I wouldn't be at all surprised to see Ox be a success on Merseyside.
As Take That once sang, just have a little patience…