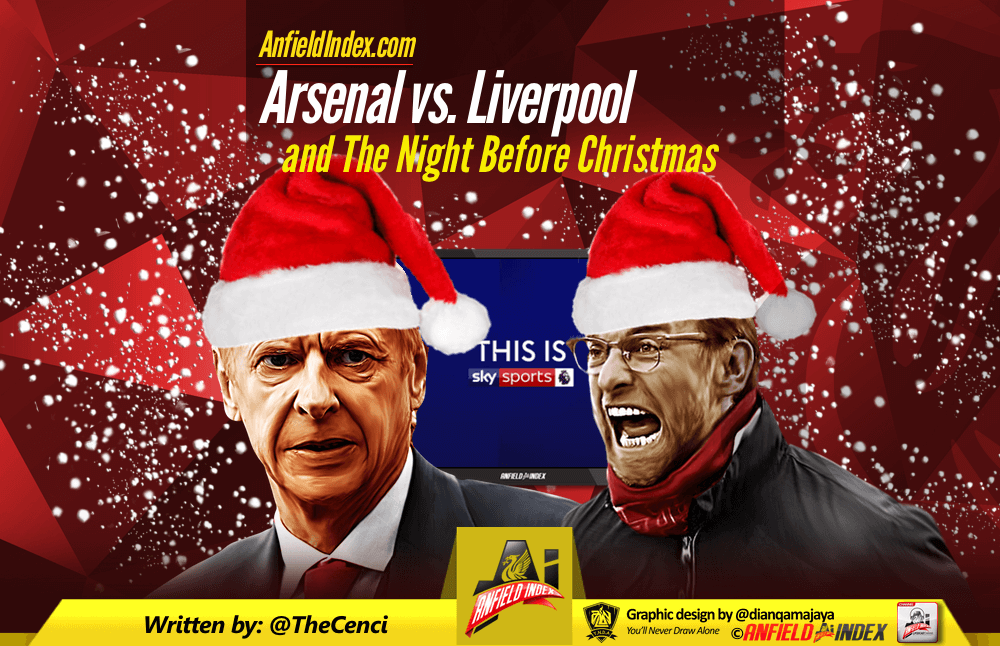 Arsenal vs. Liverpool and The Night Before Christmas
I can still remember one of my first Christmas Eves.
I must have been about four years old at the time and it's one of those memories that stays with you despite its lack of drama. I was standing on my doorstep in Norris Green, Liverpool and looking at the night sky, hoping to see a glimpse of Santa being led across the sky by Rudolph and his mates or espy the Star of Bethlehem rising over Cantril Farm. As it happens, the results were disappointing, but my mind was alive. The next day meant gifts and food and all the sweets I could eat before slumping to a spent husk thanks to an inevitable hyperglycaemia.
As I grew older the day took on more of significance. My sister Karen's birthday (yes, Karl and Karen. Nice one, parents) is on 24th December so it became customary for all of our mates to go out all day to the Pilgrim pub in Liverpool City Centre to combine the celebrations of her big day with that of Christmas. I suppose diluting her birthday was a bit unfair though I always prefer to think of that as the main day of the festive period with Christmas Day just being an ideal opportunity to sleep off the damage of the night before.

We're much older now but we still make Christmas Eve worthwhile. Christmas Day is still nice and Boxing Day is, and always will be, about football. At that point, you can put the pressure of the last couple of weeks behind you and slowly detox before the seemingly necessary evil of New Year's Eve approaches (I'm not a fan of that either). Boxing Day is like the pudding at the end of Christmas. Something to look forward to even after the main event.
That's my Christmas. Yours is, of course, different. Maybe you've got young children and hug yourself in delight at seeing their faces on Christmas morning. Maybe you enjoy listening to their fitful, excited sleep through the night. Christmas Eve is, after all, the longest of all nights for kids.
When I was very small, I can't ever remember my Dad turning to my Mum and saying 'You know what, Mrs Coppack (I'm protecting identities. We didn't live in a Dickens novel)? As magical as this night is I just wish Arsenal v Liverpool was live on the telly tonight.'
Okay, this is unlikely for many reasons. Firstly, my Dad was a Blue though one who didn't hate the Reds and televised matches weren't much of a thing back in 1972, but you see my point. Football has a day off on Christmas Eve. That's what Boxing Day is for.
When I was older I was going to as many games as my meagre finances would allow. This included pretty much every Liverpool home game and a few aways if they were local enough. A few times my mates and I would cross the river to watch Tranmere play on Friday nights too so two games per weekend wasn't unusual. By then I was living and breathing football. My waking thought was always 'Are we playing today?' Still is, you know.
At no point during that period of fanaticism did I wake up on Christmas Eve and screw my face up at the received intelligence that Liverpool weren't playing that night.
Sky want to change that.
Now, we take a lot as fans. I'm reminded of that Martin Niemoller poem from the war – the one which has the line "First they came for the socialists, and I did not speak out because I was not a socialist" and does the same for Trade Unionists and Jews etc. before ending with "Then they came for me—and there was no one left to speak for me."
Not that I'm comparing my struggle with those who suffered in those years but I can't help but feel that some of those lines can be changed.
First they put a McDonald's logo on the Kop and though I frowned, I did nothing
Then came Super Soccer Sunday and Monday Night Football and loads of us could no longer go to watch the Reds, but I did nothing.
Then came a noon kick-off at St James' Park three days after Christmas, which meant getting up at 4am in London even though everyone else played at 3pm, but I did it all the same.
Then there was Friday night Cup games in Exeter with no train home, but the television audience tuned in. And Cup Finals moved to late kick offs which meant unless you had a lift or could fork out for a hotel you were walking home. I took it and stood by, tutting at the injustice of it all. But I did nothing.
Now, it's Christmas Eve they want. And they can fuck off.
Now, if you're not a match-goer I know what you're thinking. It's not the end of the world to miss the game. You don't have to go. Stop bloody moaning.
And you're right. I won't go, but it's another step in the wrong direction. We're used to fans being treated this way. The people at home get a nice exciting festive game even though many of them will be shouting 'Be quiet up there' up the stairs as thousands of toddlers creep out of bed to see if it's daylight yet. Meanwhile the fans that attend the game get face frowns from partners and loved ones when they pull on their coats and smile weakly at the ones they've left behind. Their voices aren't heard. They're just expecting us to take it because that's what we always do.
Can we just have Christmas Eve off?   At least give us that.
And, if you're anything like me, you can have your weekend ruined if Liverpool lose. Imagine taking that into Christmas Day with your family around you.
The manager has spoken out about this too.
"I really cannot imagine that anyone wants to watch football on that night. I really think it is no problem for people to be very concentrated on important nights on something other than football."
And he's right.
At time of writing, Spirit of Shankly are looking into and have released the following statement.
"It is our understanding that Arsenal have been asked if they can staff such a fixture and the Metropolitan Police have been approached for their view. Changing the date to Christmas Eve would have untold impact on staff and supporters, particularly away fans. Depending on kick-off time, and depleted public transport links, the majority of travelling Liverpool supporters would not get home until the early hours of Christmas morning. 

SOS are contacting relevant personnel to put forward our case that it is completely unacceptable to expect fans to travel for a match at this time. The suggestion of such a change again shows zero regard for supporters – much like the corresponding fixture where Euston station was closed over Bank Holiday weekend. 

Be assured, SOS will do all we can to reach a positive outcome, in which both Arsenal and Liverpool, the police, TV companies and Premier League will decide against such a move."
As things stand, the game is due to be played the day before and Sky are only considering it. Let's hope that, just for once, common sense prevails.