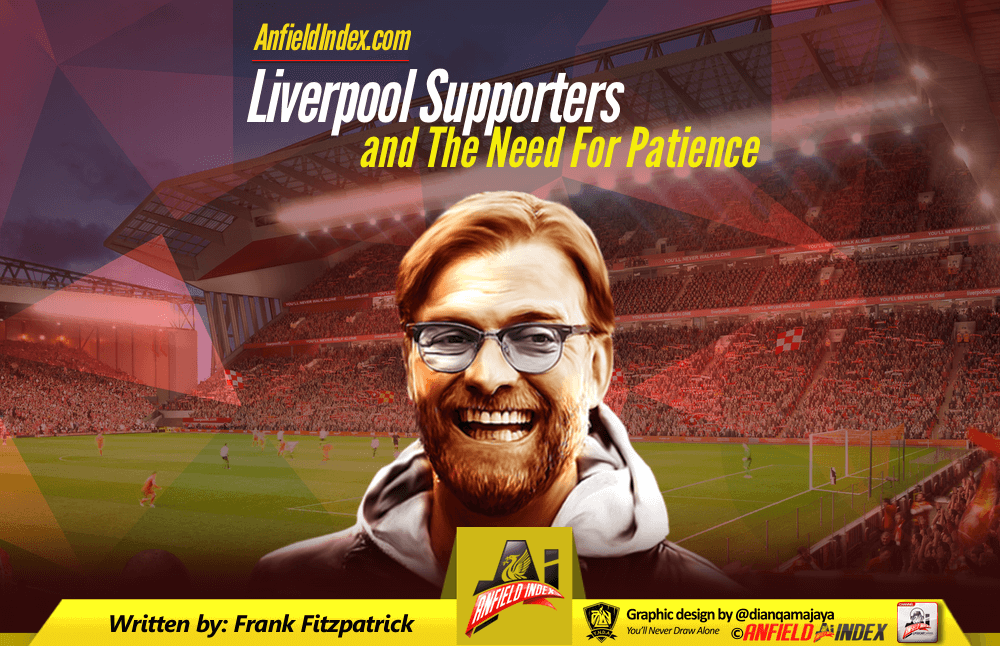 Liverpool Supporters and The Need For Patience
Patience.
It feels strange writing this. Strange because, for some reason, in today's society we demand instant gratification, instant success, instant results, instant positivity. Instant, instant, instant. It feels strange because, for some reason, a small minority of "fans" are questioning Klopp's capabilities to perform at a high enough level, and in some cases, his position as our manager. Klopp. Jurgen Klopp. Let that sink in a moment.
Patience.

A word defined as 'the capacity to accept or tolerate delay'. When that word is used in reference to football it requires my full capacity to accept or tolerate it. I'm sick of hearing it. Patience. The new manager needs time. Patience. We're a team in transition. Patience. The new players need time to settle into the team. Patience. Klopp likes to build teams. Patience. The word is bandied about more than any other (besides from the hyperbole of 'legend' perhaps), so what exactly does it mean? It used to mean giving the team and manager time, time for the manager to change, evolve if needs be, and players to adapt if necessary. Now it means tolerating only a handful of poor results before the gilded guillotine hangs over the manager's head. See Frank de Boer for instance.
I have patience in abundance. As a Liverpool fan we've all needed more than a little bit of the salty stuff, in fact we've needed nigh on a quarter of a century of the bloody thing. Time after time we've been drawn into a false sense of hope. Houllier, Rafa, Kenny and Rodgers (**** off Hodge). In the past two decades half a dozen managers have came and gone, leaving behind a drop of individual legacy to our overflowing trophy cabinet. Most of them brought cup wins and occasionally we've finished as runner-up in the league. And yet we're still waiting to achieve the holy grail.
Patience.
Klopp arrived after a short-time of turmoil. We are back in business. We're going to win the league. Except we didn't and we still haven't. It doesn't work like that, not with us, not with Liverpool. Why not? Conte walked into Chelsea and won the league. He did yeah, at the time the league was wide open after Leicester's heroics (I wait with bated breath for Jamie Vardy's film). Teams like City and United needed to rebuild and Chelsea had a team which had consistently competed for league titles since the naughties, they were primed and ready. We haven't. We aren't. Not yet.
Patience.
We are currently in a bad run of form. Two draws, two defeats and one win in the past five. Yet everyone is talking about us again. Seen Liverpool's game? They scored twelve but conceded thirteen, pure madness them lot – a slight exaggeration I'll grant you, but it isn't an exaggeration to state every game we currently play has enough drama to draw in neutral spectators across the world. If we aren't winning games we are drawing or losing them in a magnificent fashion. Bore draws? Our defence scoffs, no thank you. It feels frustrating at the moment because we are on the cusp of something here. Either we're becoming a good side or we're becoming a top one, I'm still not sure which yet, nor, I feel, does Klopp. But we are becoming something more than the top eight side we sadly became. I no longer foresee us being the sleeping giant who sheepishly trails behind the top four, feeding off scraps. We are once again a genuine top four competing side, potentially more.
Patience.
As fans it seems like we are constantly battling between requiring patience and demanding instant results but what happened to the middle ground? What happened to bad form being part and parcel with the highs and lows of football? At what point did managers become considered infallible? At what point did mistakes become inexcusable? Klopp has made mistakes yes, he'll also probably continue to make plenty more too, yet I can't see who else is a better fit for us in every aspect. So why have a small handful started to turn against him? Besides, has our recent history taught us nothing? The grass isn't always greener after all *cough* Hodgson *cough*.
Patience.
Bayern have just parted ways with the great Carlos Ancelotti and the German club's overlords will be drawing up a list of potential candidates. Make no mistake about it, Klopp will be on that list, he may not be topping it, for all I know (which is absolutely nothing) he may be plopped precariously right down at the bottom, but he would be in serious contention should he so choose to be, such is the calibre of our manager, such is his reputation in the world of football.
Patience.
Sometimes patience is required, football is a game full of ups and downs after all. At this moment in time we're feeling some of the downs, but fear not, the ups are never far away. So why don't we all do ourselves a favour, why don't we bite our tongues, clench our fists, pinch the bridge of our noses, whatever, just try and enjoy the ride rather than craving the final destination. Or at least simply try and survive it. In the meantime, let's all get behind our manager and support this team of ours, because, who knows, great things may be on the horizon.
Up the Reds.