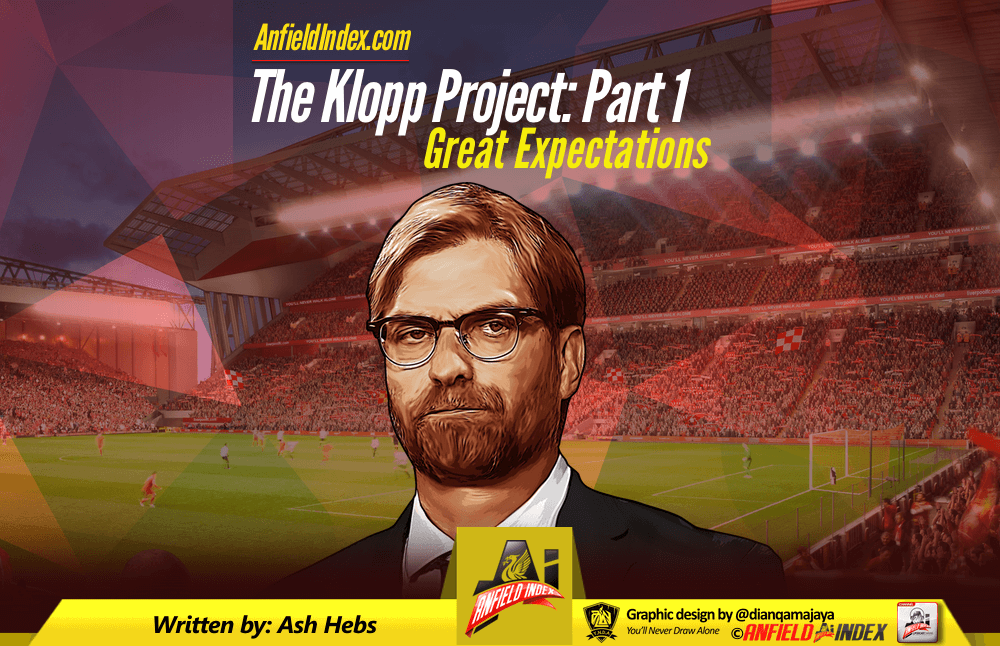 The Klopp Project (Part 1): Great Expectations
So. Liverpool Football Club. This great club of ours. Steeped in history and tradition, but in many ways still a sleeping giant on the biggest stage. A club that hasn't won the top domestic prize for 27 years, a club whose fans have developed a perhaps unhealthy obsession with winning league title number 19 and the club's first league title in the Premier League era.
The question everyone wants to know is how long do we have to wait? Of course the answer to this question is that nobody knows. What is important however is do we have the right man in charge to lead us to the title? In my humble opinion we do. Jurgen Klopp is the right man to do this. But the job is far from an easy one, as I will attempt to show here as part of a 3 piece series.
Perhaps the single most important thing that we can acknowledge as fans is, like in all walks of life, money talks. Not only that but we are part of a potentially growing group of clubs who can feasibly challenge for the league title in any given season.

This isn't Klopp's title winning era Bundesliga, with one realistic rival. This is a league where you have to best the Manchester clubs, Chelsea, Arsenal and Spurs to land the elusive prize. You have to be better than all five of those rivals to win the title. Every single season. Five clubs with the money, managers and set-up to be part of the conversation more seasons than most.
What's more, we have responsible owners in FSG who have to avoid breaching financial fair play rules and therefore have to maximise the profit the club makes. Only then can they go on significant transfer splurges. However, to make the challenge even harder, it is not just about how much money we spend on transfer fees but also how much we are willing to spend on wages. Buy a marquee player and you have to risk busting the club's wage policy and therefore wave goodbye to being a profitable organisation. It's a vicious circle as the more you pay in wages, the less money you have for transfer fees and other costs. And so on.
The fact is that, as Rafa Benitez has acknowledged before, the clubs with the most money tend to win in football. Therefore the best a manager of a rival can realistically achieve is to bridge the gap in other ways. You need to be almost perfect to win the title and beat the wealthy Manchester's and Chelsea's of this world. We simply cannot compete on financials alone as they can blow us out of the water. They can pay the highest fees and highest wages and, in addition, the nouveau riche clubs like PSG and Leipzig can cripple the European transfer market as well.
PSG did it this summer with the crazy Neymar deal and Leipzig were able to turn down ridiculous money for Keita as they weren't desperate for cash (being funded by Red Bull). So perversely, even having money isn't always enough. If you're not regularly winning things and aren't competing at the business end of the Champions League you're not attractive enough for top players and, even if you are, a club doesn't need to sell Coutinho to you! It really is a catch 22.
Now these ideas aren't new and other writers have documented these facts before now. But it's important that before LFC fans set expectations for the club we love, we understand the context in which it operates.
Perhaps the worst thing that could have happened for our club is Leicester City winning the league. Why? Because, whilst it shows that the impossible can be done, you need freak circumstances to do so and you need minimal pressure. It creates a stick to beat Liverpool with every season the title passes us by. But Leicester simply don't carry the pressure and weight of history that comes with being Liverpool Football Club. Liverpool fans expect, maybe even demand, the title. Leicester just went with the ride and credit to them, they managed to hold their nerve and deliver. But the way teams set up against them is totally different to the way they set up against LFC. That makes all the difference.
So how does the LFC manager actually win the league title?
Well, we need a proven, world class manager that has sufficient tactical intelligence to get us competing as a team rather than a group of prima donnas. Klopp is a world class manager who is proven at the top level, so we have one of the best at the helm. That ticks off one of the requirements on the list of desirable traits we would want from an manager. Klopp can use tactics, motivation, training and modern methods to bridge the gap to our rivals.
But we must remember he won't be able to compete for the very best players all the time and spend crazy money. Because it will destroy the club. In fact there won't be a club left. However, the fact we've landed Keita for next season should be applauded. That is one of of the finest coups LFC have landed in the Premier League era. It smacks of a man with a plan, of the club's ambition and of our owners' willingness to put their money where their mouth is and land top quality prospects that can elevate the club to a whole new level.
Perhaps more importantly than being world class, the LFC manager must have proven he can build from the bottom and oversee a real project. Not a money driven whim where he spends huge money and leaves a club full of ageing, burnt-out players for the next poor manager to deal with and no money left to spend. Yes I'm referring to you Mr Mourinho and the mess you left Rafa with at Inter.
More recently Carlo Ancelotti, another bona fide alternative to Klopp has shown that he isn't always tactically astute enough or in it for the long haul. He doesn't build teams, he simply works with what he has and wins stuff, but spends plenty of money along the way. He doesn't have a set philosophy or approach that he then adapts to the group he manages. This was perhaps his undoing at Chelsea, PSG and Bayern. He doesn't promote youth, he works from an already strong player and financial base.
What is important now is that Klopp can build a squad that can grow together and stay together for as long as possible. He has to show steady but solid progress to convince the best players that this project is one staying for. This will enable him to improve the squad in increments and slowly build a genuine force at both domestic and European level. Something sustainable and lasting rather than a flash in the pan or one season wonder which was season 2013-14.
Klopp is not there yet. This is a real project and that's why the fans need to show patience even if we're allowed to vent at individual results and performances. That's just human nature, but it needs a sense of perspective. If anything, I hope this piece shows the challenge lying ahead of Jurgen Klopp and why the Twitter calls for his head are nothing but madness. Let's give the guy time, he wants the club to succeed as much as we do.
In part 2 I hope to discuss how Klopp's tactics and signings play a key part in our quest for the title and why this summer was a promising but ultimately disappointing window.