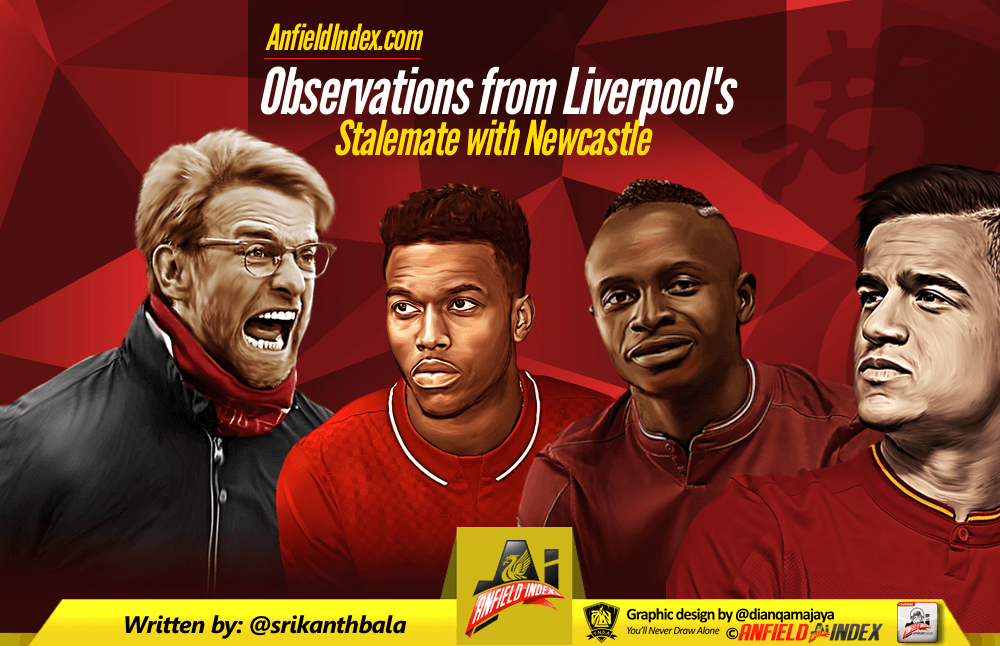 Observations from Newcastle vs Liverpool Stalemate
Liverpool continued to struggle against well setup teams as they dropped yet another two points on the road against Rafa's Reds Magpies. Liverpool struggled to create anything against a solid, drilled defence and drifted away from the top four.
Here are the key takeaways from today.
End of the road for Sturridge?
Bobby Firmino had struggled in the past couple of games, and hence it was not surprising that he got a breather with Sturridge re-instated into the starting lineup. Sturridge flattered to deceive though, missing a couple of big chances including a really easy one-on-one. He drifted away from the game as time wore on and was eventually taken off for Solanke who looked far more mobile and keen in his brief cameo and deserves more chances now.
Coutinho is magic, defence is tragic (again)
Three goals in three games now, and 9 goals and 3 assists in his last 12 PL games show how big an influence the magician has been. Liverpool have become far more threatening on set-pieces thanks to him, and he was the only bright spark in Liverpool's attack today…
…Which cannot be said of the defence. Newcastle were playing one up top and Joselu had no rights to get on the ball for their goal, but the defenders' squared up positioning was not new and would not be the last such incident. With this CB pairing, every win needs to be hard earned.
Time to focus on the attack
With the deserved spotlight on the defence, the attack has now stayed in the shadows but it needs to be talked about now. Liverpool have got gilt-edged chances in every one of the last 3 games and they have not been capitalised upon. Great teams possess many qualities, top-most amongst them being ruthlessness. Liverpool are too trigger-happy, too wayward now to deserve being in the top four.
143 attempts, 36 shots on target and 8 goals in last 7 games. Not good enough.
Rafa out-tactics Mane and Salah
Matt Ritchie and Jonjo Shelvey, in their post-match conference, talked about how hard they had been drilled with a game plan for the whole of this week. That plan surely included a plan to combat the pace of Salah and Mane on the wings. Mane was completely neutralised, while Salah missed his customary couple of chances before waning into the sunset. Jurgen Klopp tried to tweak things around by switching flanks or by moving Mane to the #10 position, but to no avail.
Has the horse bolted?
Klopp has tried everything to fix the defence with respect to switching defenders around very often. While many have questioned the wisdom of this chop and change, one thing we cannot blame Klopp is his earnestness to try. This now looks to be something which is not fixable with the current squad. This also means there are more hair-pulling moments left with this defence. Whether this costs a top 4 position is to be seen; if it does, the blame fairly lies at the door of the manager.