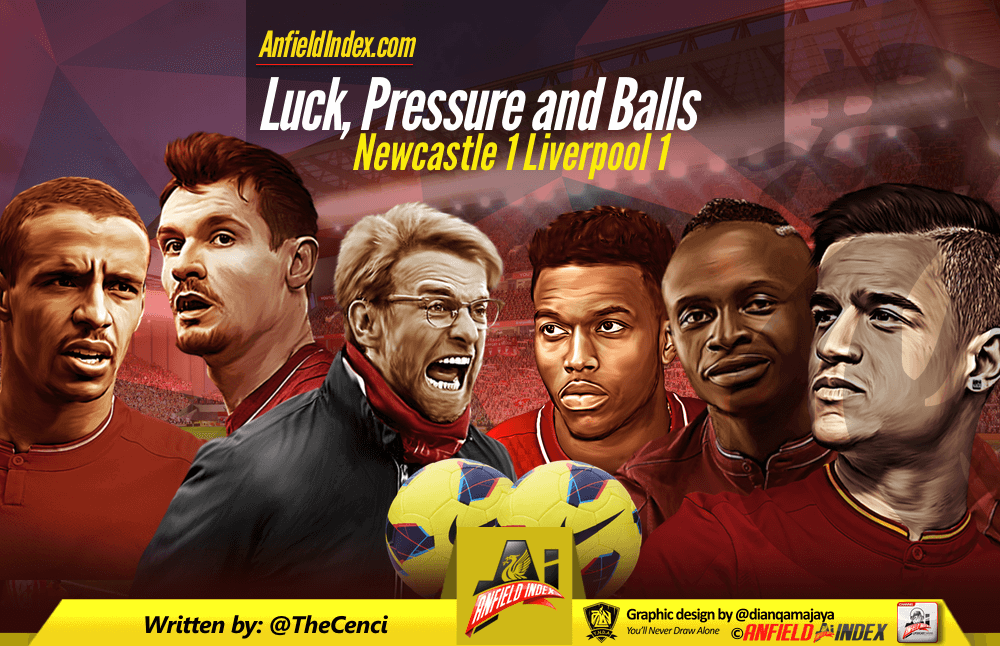 Luck, Pressure and Balls: Newcastle 1 Liverpool 1
On a podcast last week I speculated about the forthcoming Newcastle game and said that I had absolutely no idea what to expect. We could lose, we could beat the Geordies to such an extent that they'd need counselling to deal with it or we could draw a humdrum borefest which would cure the more entrenched case of insomnia.
It turns out that it was all three.
We lost inasmuch as it feels like a defeat, we won because we pegged them back into their own half and they only really escaped once – and that was enough – and we drew because, well, we drew.

I've no idea why I was wondering which performance we'd get because it was just 'the usual one.' The same film screened in Technicolour with all your favourites on display. The obligatory moment of genius from Philippe Coutinho in the first act, then the usual head-fuck at the back – this time when one ball through the middle of our centre-backs is enough to undo that genius and then the third act which drags a bit and fizzles out to a humdrum and all too predictable denouement.
That wasn't a football match. That was a repeated movie, cut and pasted from other features.
Come the end of the match Jurgen looked haunted, unable to provide any rationale as to how we drew that game.
I've been accused of giving the manager a hard time, but I felt for him today. How can you look at that side and see one win in seven?
Today's claim is that the lads were unlucky. Well, yes, things didn't go our way for the goal. It may have been his error, but Matip did well to get back and sort it out. Sadly he merely kicked it onto Joselu's shin. Sometimes they hit the post and bounce back to the keeper, other times they go wide. If that had been us it would have hit both posts and the bar before coming back and hitting our lad on the hand which would lead to him receiving a second yellow.
Luck is a thing in football. It's what makes it great. See the 2001 FA Cup Final for proof.
But is it still luck when it keeps happening? Is it unlucky when Liverpool can have three players standing over the ball three yards out and still not score? Is it bad luck when the opposition score from their only shot in the game – and we still had to do that for them?
Liverpool had 68% of the possession at St James'. They had 17 shots with just two of them on target. Unlucky?
I suspect there's a bigger issue to all this.
Pressure.
I've read several reports tonight and many of them point out the lack of leadership on the pitch while others have correctly added that the back four don't seem to talk to each other. Possibly valid points, but for me it's all about heads going and an inability to cope.
Picture the scenario. You're playing for Liverpool. You want to win everything. You've got a huge support behind you and your manager keeps hugging you. That's all great. But what do you do when it starts to go wrong? You've been scoring for fun in recent weeks but now, for some reason, the ball keeps bouncing off your shin and no one is seeing your runs. Furthermore, you're hardly ever in the lead and the crowd aren't happy.
What do you do?
Actually, that's a silly question as you've no idea what to do unless you're in the middle of the pitch, but I know what Liverpool do. They become either over-elaborate or resort to banging in shots from anywhere in the hope that they can cut through all the shit with the wave of a boot. Heads go.
Liverpool – this Liverpool -don't handle pressure or bad luck well. It's all too easy to point at the City second half when we melted all over the pitch as that might be an extreme case (though not for me). Look at Burnley, Spartak and today. We shrink into ourselves and hope that the blame is passed on elsewhere.
Not only do Liverpool lack urgency, but also common sense. Passing to the lad who can't possibly do anything about the situation because he hasn't moved for it, slinging in balls to an overcrowded box when most of the team are outside it etc.
But what Liverpool miss most of all is anger. Not once was there a player who was pissed off enough to go round the team and decide that they were sick of this nonsense and that from now on we're going to run through walls and scare the shit out of this gang of gobshites who had the temerity to score a lucky goal. Where was that today?   The 'no fucking way are you getting a point out of us today' lads?
That's not just about the captain. That's about all of them. The average age of our first team today was 26. They're not all kids.
Don't get me wrong. I love these boys, I really do, but not one of them makes me feel glad I haven't run into them in town when they're looking for a fight. I wouldn't look to any of them if I were being picked on in a pub. They'd be giving it the same doe-eyed faces they did when they left the pitch on Sunday.
And they're going to have to find that from somewhere before the United game. They can't feel sorry for themselves there or they'll be picked off and thrown around like a rag doll. Andreas Herrera would gladly sell his organs to win a 50/50 throw-in so our lads have to be the same. That could be the difference between being unlucky or repeating the same story time and again.
Anyway, enjoy the international break, Liverpool, and come back angry, not rueful. There's enough in this team to do the nice stuff. Let's start working on the dirty stuff.
We need it.