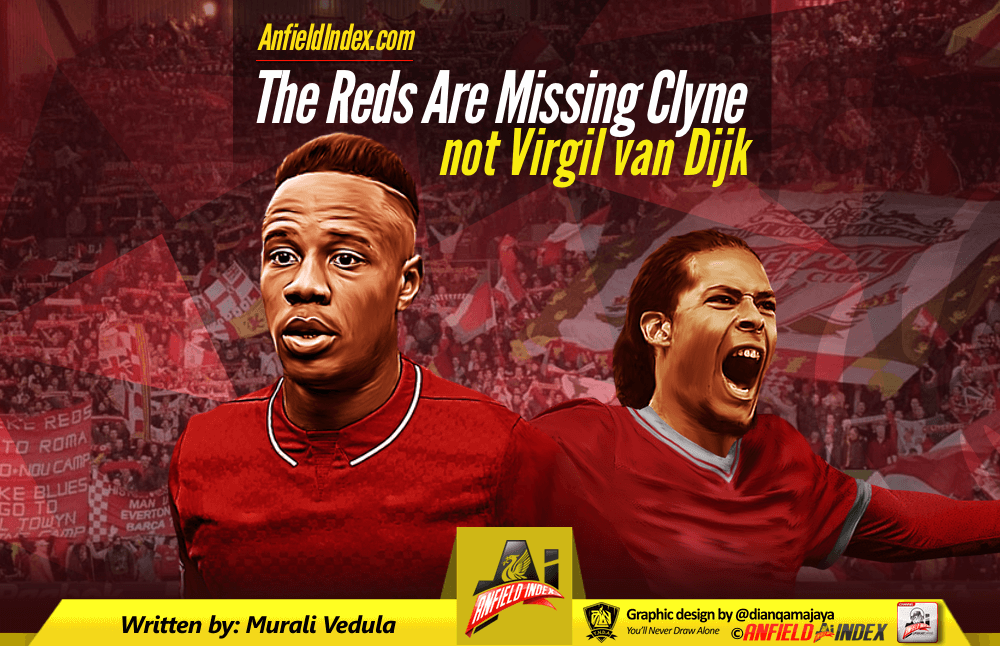 The Reds Are Missing Clyne, not Virgil van Dijk
I was watching the Liverpool match on television yesterday. Philippe Coutinho had just scored a screamer and I started jumping around. For the first time this month, we had taken the lead in a match. Unfortunately, I had to run some urgent chores for 20 minutes. When I returned, I had this eerie feeling that they would have equalised. And as predicted, the scoreline at halftime read 1-1. Watching the replay made me sick, the same type of soft sloppy goals we have been conceding all season now.
However, as the match progressed, I realised, its not Van Dijk we need the most. While the failings at centre-back have taken up all the headlines, we were badly missing one of our own. It was our very own No.2, Nathaniel Clyne. It may come as a surprise initially, but the bottom line is none of Joe Gomez, Trent Alexander-Arnold or Jon Flanagan come close to offering what Nathaniel Clyne does. A solid no nonsense defender who loves to bombard the right wing. It might seem hypocritical when I use the word "bombard" to mention Clyne's attacking runs considering I have admitted to Clyne's lack of contribution in the final third in a previous article. But here goes.
Klopp's system places huge responsibility on the full backs. All of Salah, Mane and Coutinho love to cut in and occupy more central areas. Opposition defenders tend to get dragged by their movement creating space for the full backs to exploit. This plan can come to fruition only when the full backs are able to provide good service from these dangerous areas they find themselves in. Robertson is the best full back we have in this regard. His trademark crosses have added a new dimension to Liverpool's attack that was erstwhile missing from previous sides. However, the role of the fullback is not just restricted to whipping in some dangerous crosses. Klopp's system demands that they be involved in every part of the build up play as well. Continuously hugging the touchline, the full backs provide a constant attacking source when Coutinho , Firmino or Mane take up the ball deep and try to dribble through the middle of the park. The full back is that player who is always there to continue the attack just when the opposition midfielders think they have taken the ball off or stopped the run. And this whole process runs in a loop, till the ball is in a dangerous area.

This has been very evident since Coutinho has been reintegrated into the side successfully. Taking up a deep position, most attacks start from a cross-field long ball or a run which ends with the ball being given to the full-back who then takes the steam off Coutinho so he can continue the build up.
This is exactly where our current crop of young right-backs are failing, Joe Gomez lost the ball on multiple occasions in yesterday's match, often disrupting Liverpool's momentum and taking the sting out of the attack. His communication with Salah was really poor. His crosses appalling. People may point out to the fact that it was his cross that led to Liverpool's opener during Liverpool's rout of Arsenal at Anfield. Well, even in that match, it was his defensive solidity that took the headlines.
Unsurprisingly, this is where Liverpool's opponents seem to have some of the best in the business. Kieran Trippier, Antonio Valencia and Kyle Walker have been brilliant so far this term. Victor Moses has also had a decent start to the campaign.
Trent Alexander Arnold has shown flashes of his talent, contributing well to the build up. But his inconsistency means he can't be fully trusted to be Liverpool's first choice right-back just yet. His defending also leaves a lot to be desired.
Now, enter Nathaniel Clyne. Although unspectacular, he is very good at performing the job he has been given. His contributions to the attacking build up play are much better than what Joe Gomez currently offers, while his defensive contributions are undeniably better than TAA & co.
Clyne has not even been named in the UCL squad for group stages. This means his injury is a long term one. Liverpool are missing him badly. A lot of blame has been put on the centre-backs for their individual errors. While Lovren, Matip and Klavan can do a lot better than now, one needs to accept the fact that Liverpool's system ends up putting the defenders in positions where opponents can end up scoring goals. Klopp has put together a team that fundamentally attacks and is designed to outscore the opponent. Hence, we need every player who can help us score goals. This is exactly why we need our No.2 back asap.