 Tactically Breaking Down Liverpool's Draw At Newcastle
Regular readers, you may have noticed that I did not write any tactical pieces for either of Liverpool's games against Leicester City, or the Spartak fixture. Sorry about that, I had some technical issues – nonetheless, I'm back now, and hope to continue with these pieces throughout the season.
Like in Liverpool's previous games, against Spartak, Sevilla and Burnley, Liverpool can simply be characterised by poor finishing, and being undone by their own individual errors.
Indeed, it's more of the same for Liverpool, who somehow managing to snatch a draw from the jaws of victory, nonetheless, we're back to break down the game and the goals for you.

Before we start though, if you're interested in tactics, and what went wrong against Newcastle, I would highly recommend you listen to Paul Dalglish and Dan Rhodes on the AnfieldIndex Pro tactical podcast, which analyses the game and goals at great depth. I believe it may well pair nicely with the frames I've used within my piece to detail the game. You can listen below:
Stats
Shots (on target)
NCFC: 8 (5)
LFC: 17 (2)
Coutinho 5, Sturridge 4
Expected Goals (xG)
NUFC: 0.37 (tegen), 0.33 (BBC), 0.6 (Caley)
0.43 average
LFC: 1.79 (tegen), 1.55 (BBC), 1.6 (Caley)
1.65 average
Passmaps & xGplot for Newcastle against Liverpool. #passmap #xGplot #autotweet pic.twitter.com/CCwaDJvbnL

— 11tegen11 (@11tegen11) October 1, 2017
Possession
NCFC: 32.2
LFC: 67.8
CBs dominated possession – Lovren 10.1pc, Matip 9.4pc
Notably, in the games in which Liverpool have played better offensively, Liverpool's full-backs enjoy a greater share of the possession than the centre-backs. Furthermore, often when the centre-backs dominate possession, Liverpool appear stagnant, a tad impotent, and less aggressive.
LFC have played 38 PL aways under Klopp:
Under 60% possession: 19 games, 38 points.
60% or more: 19 games (including yesterday), 25 points.

— Andrew Beasley (@BassTunedToRed) October 2, 2017
Attacking Patterns (LFC)
39pc/30pc/31pc (left/middle/right)
Shot zones (LFC)
0pc/59pc/41pc (six-yard box/18-yard box/outside box)
Liverpool are still shooting (as they have been since the Burnley match), as a percentage of total shots, from too far out. Greater patience needs to be taken with the ball, which is a curious thing to say when Liverpool dominate with the ball, and action zones show possession is quite often in the opposition third. However, it's moreso about intelligence with the ball; for example, Mané and Salah staying wide, instead of coming in, and the full-backs making both inside and outside passing combination runs with the wingers, creating overloads, and gaps, instead of focussing on a narrow region (centre of midfield and the edge of the box) when trying to break down the opposition.
Touches
NCFC: 470
LFC: 812
Passes (success)
NCFC: 295 (66pc)
LFC: 613 (84pc)
Key Passes
NCFC: 4
LFC: 12
Dribbles (success rate)
NCFC: 5 (60pc)
LFC 10 (100pc)
Mané 3, Gomez 2, Sturridge/Wijnaldum/Coutinho 1
The Goals
0-1, Liverpool, Coutinho, 29′
Surprisingly, Liverpool's goal was both started and finished by Coutinho, despite him actually picking the ball up behind the half-way line.
Coutinho dropped in, deeper than Henderson, and fired a ball to Moreno, on the left wing.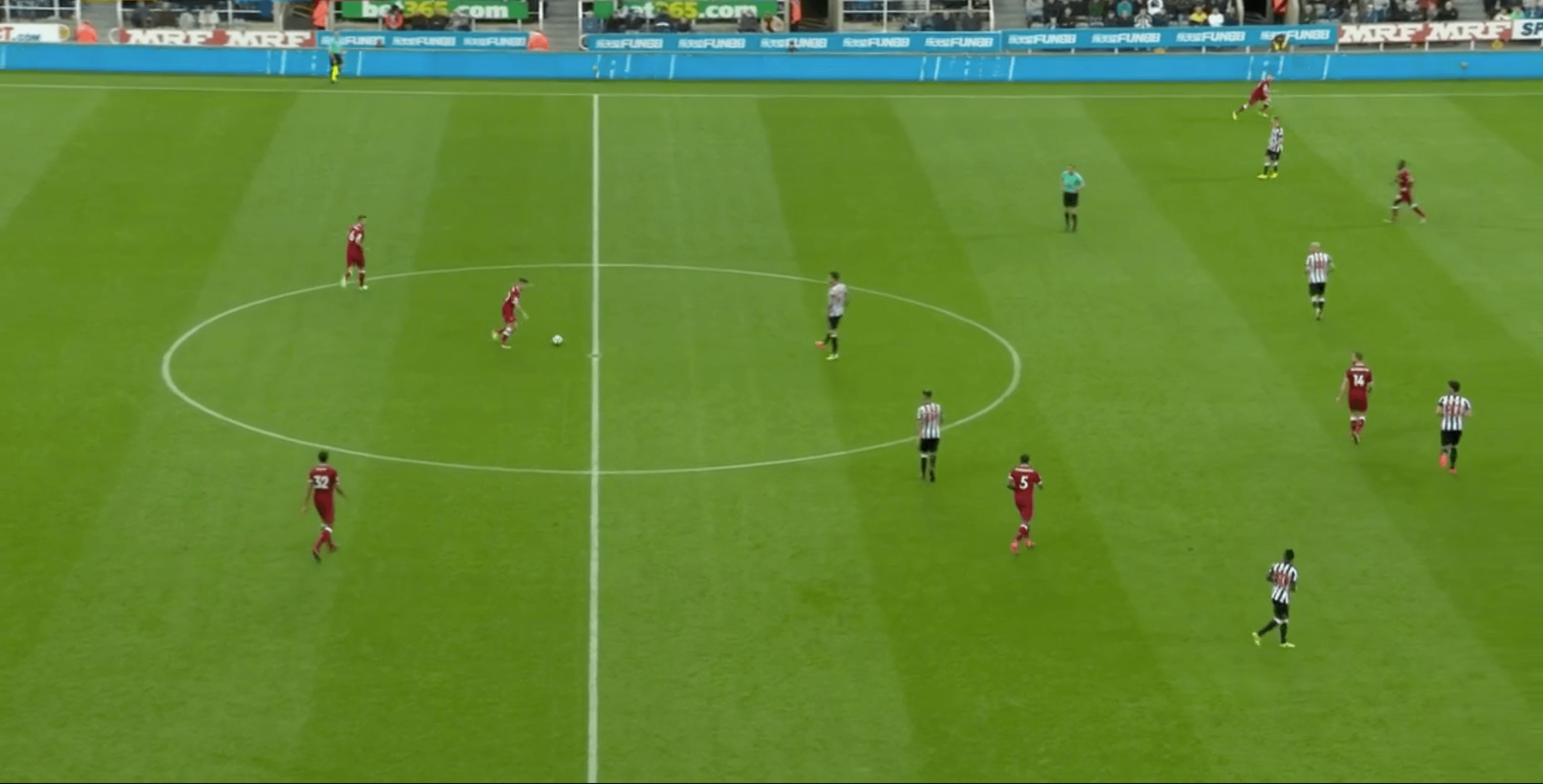 Liverpool were struggling to break Newcastle down – excluding counter-attacks – because the midfield was congested, due to Newcastle's setup.
Both the midfield and defensive lines were extremely compact, and frustrated Liverpool's attempts to attack through the middle – Benitez noticed Liverpool's wingers prefer, and are likely instructed, to come inside, rather than staying out wide.
Coutinho's pass, however, utilised the space out wide, which Newcastle were not covering.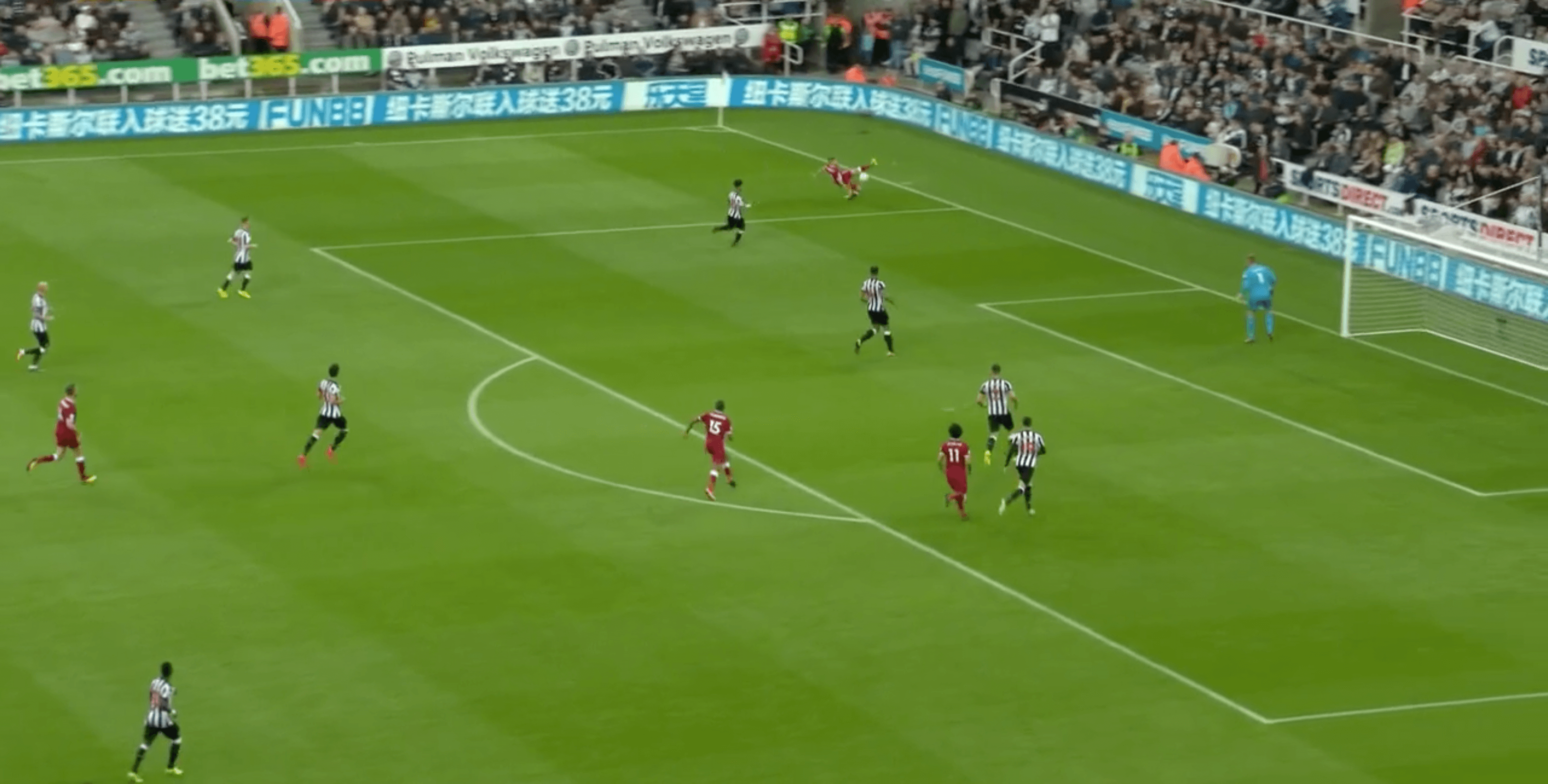 Moreno's presence, outside of Yedlin, and his attempted cross spread out the Newcastle defence for one of the few times in which Liverpool were holding possession for an extended period.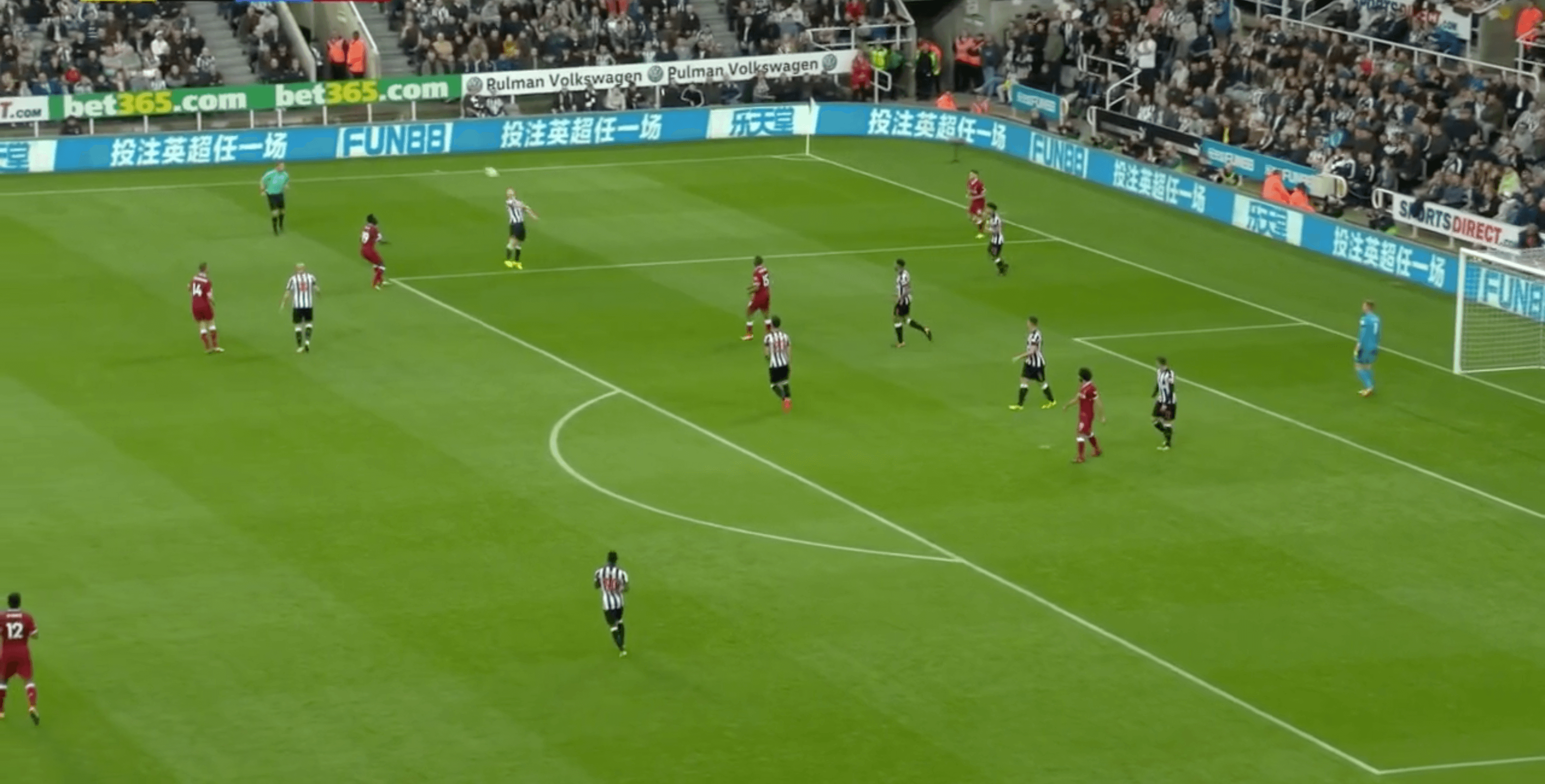 The attempted clearance finds its way to Coutinho, who is unmarked for two reasons – one being because he has come from such a deep position, the other being because Moreno has Yedlin's attention, Salah and Henderson were afforded a greater deal of space than usual, and were as such deemed the most important players to mark, especially because of their proximity to the goal.
The Liverpool front three play an important part in this too – because there are three forwards, and two in the box: Salah and Sturridge, the Newcastle players are reluctant to push out further, despite there being enough players back – wary of the threat of Salah and Sturridge.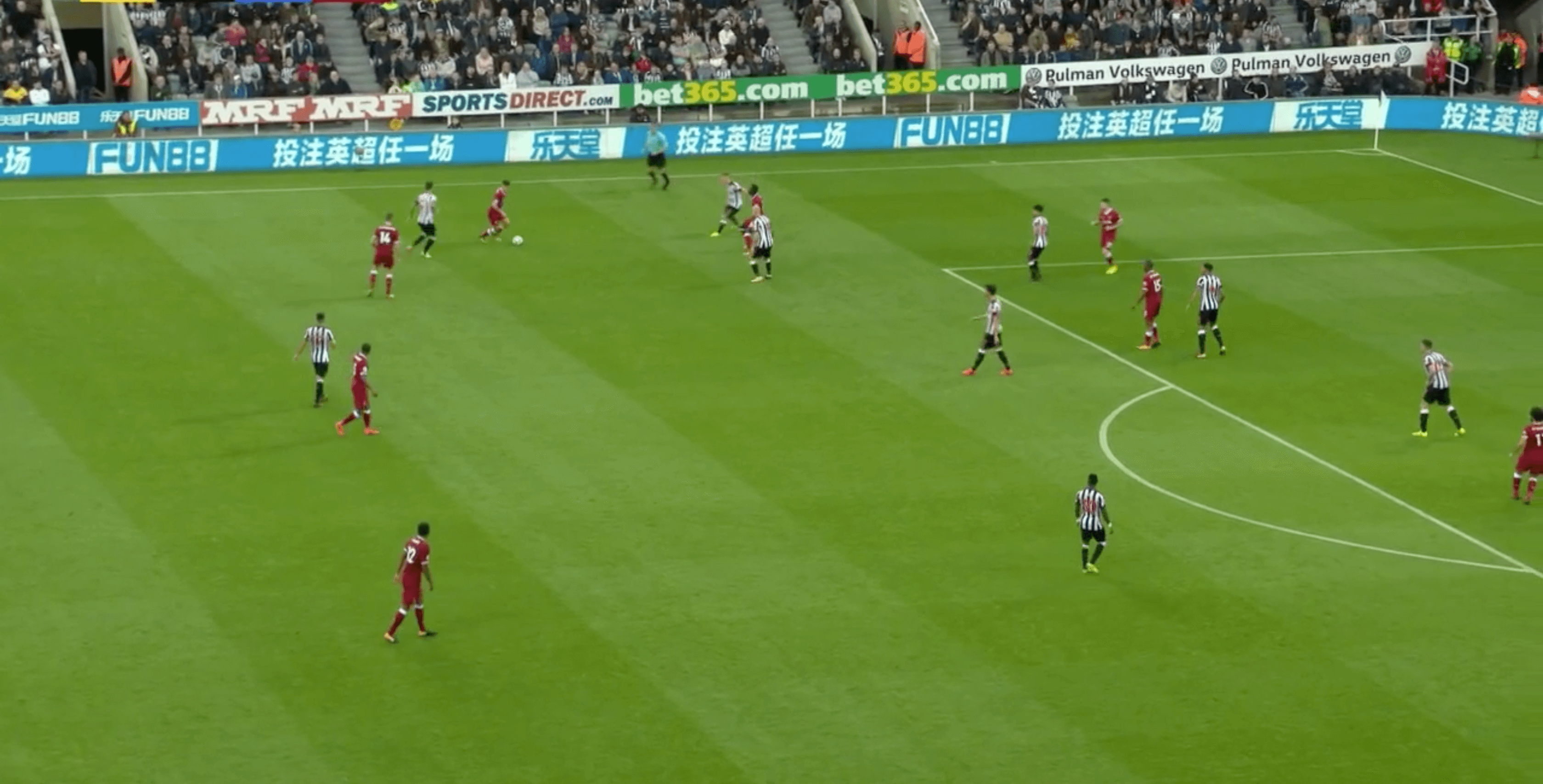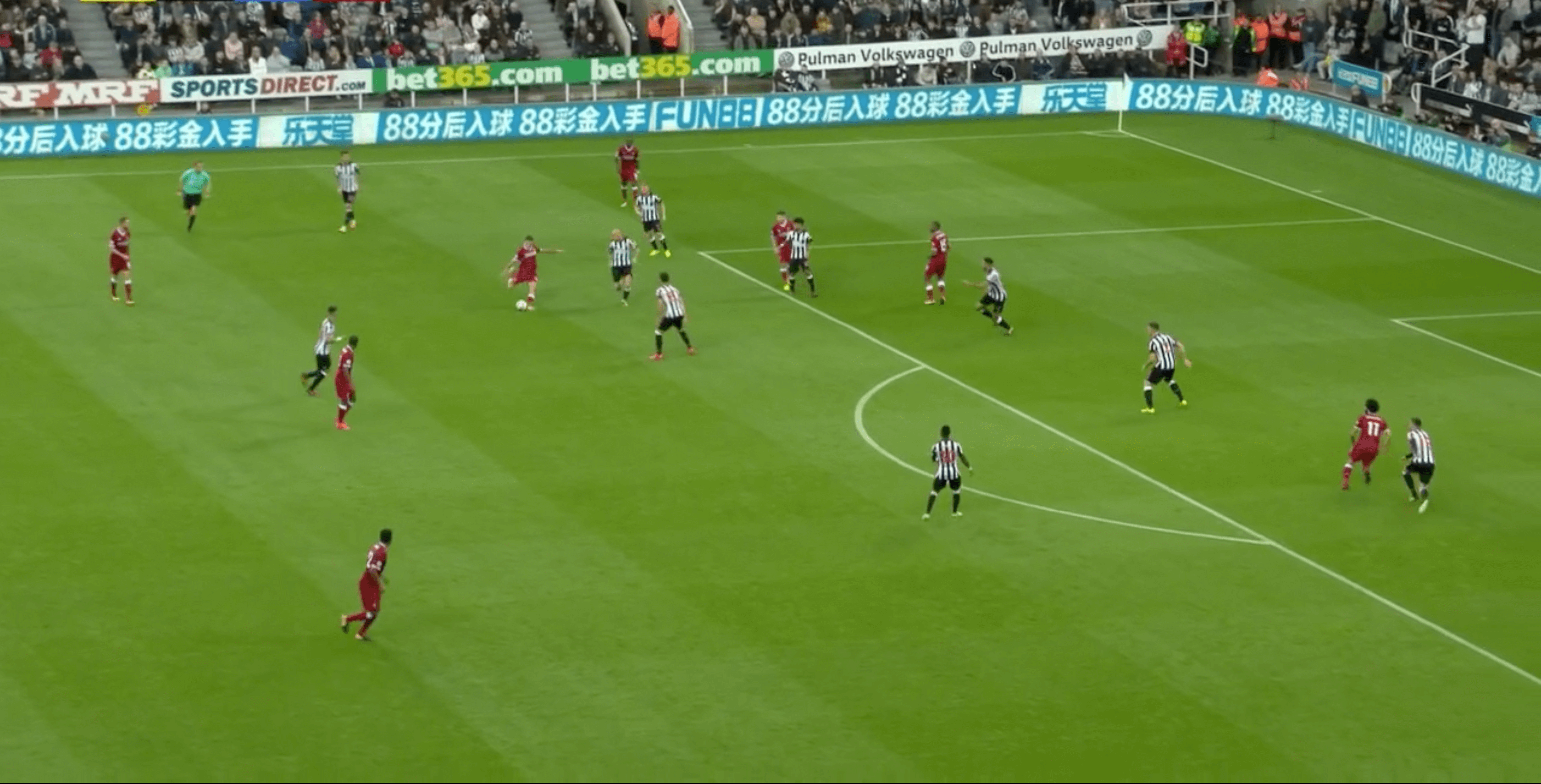 There really is not much to say about the goal beyond that though, the finish is superb, having beaten the goalkeeper at his near post, with such a tough angle – which Shelvey appears to cover, yet Coutinho scores nonetheless.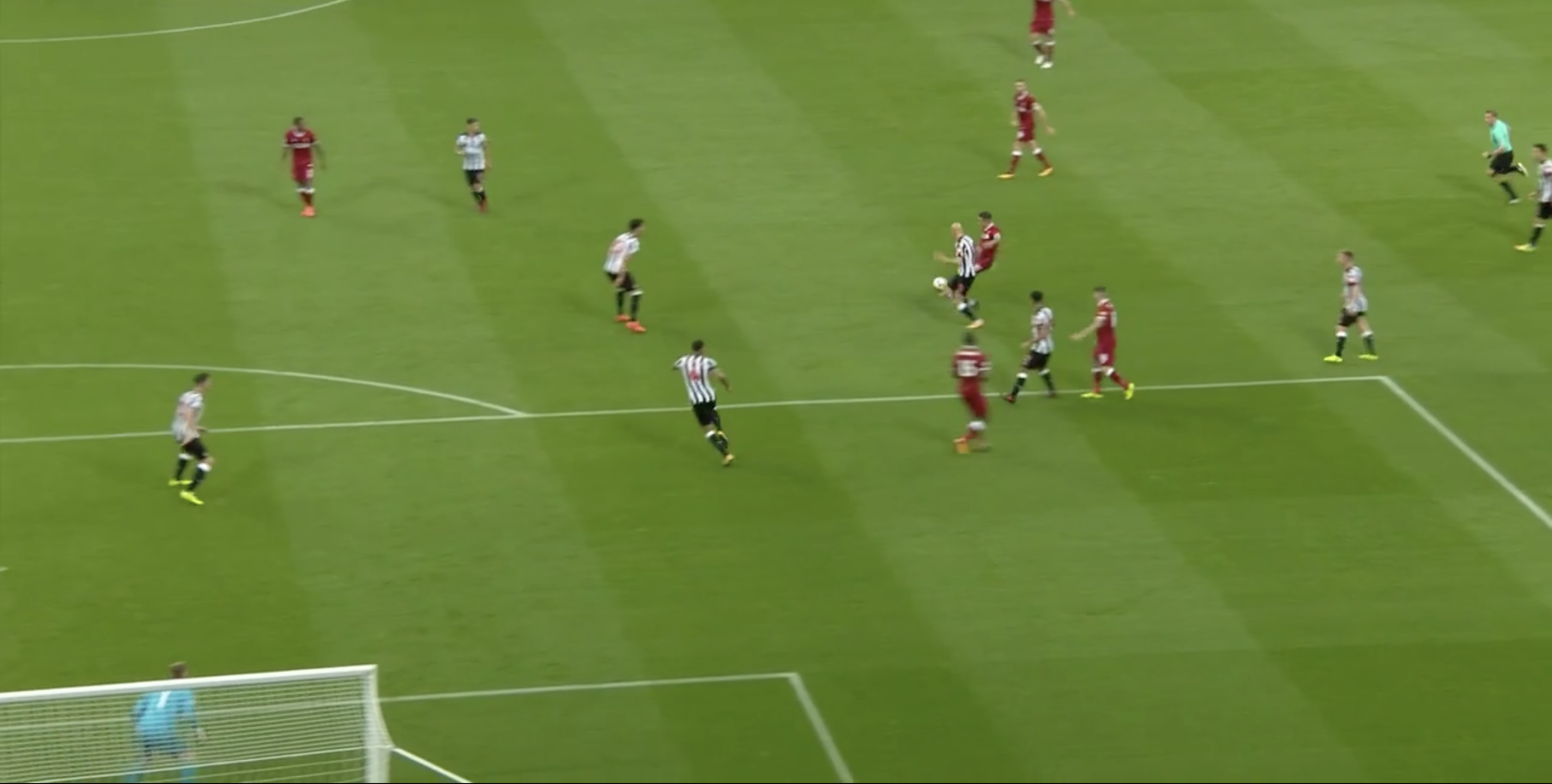 1-1, Newcastle, Joselu, 36′
There are a number of issues with Liverpool when it comes to this goal – the reaction of the midfield, defence and goalkeeper in three different situations.
We'll start with the midfield.
Daniel Sturridge loses the ball after a challenge by the Newcastle defender. Notably, Sturridge does not have enough support around him, with seven Newcastle players closer to him than any single Liverpool player.
However, losing the ball in an advanced position is usually seen as a counter-pressing opportunity, and Henderson sees it as one too.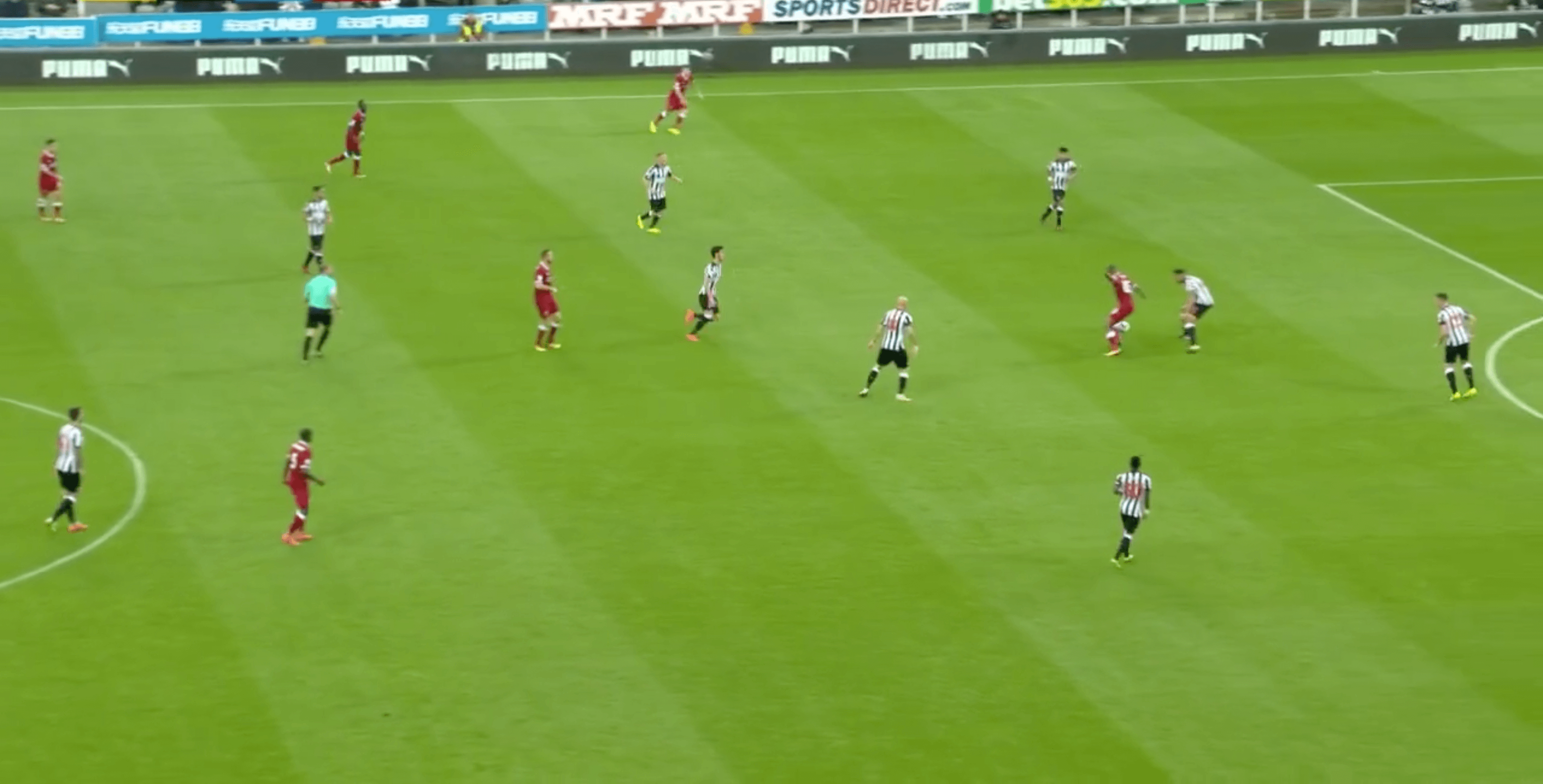 Wijnaldum though has a choice to make at the point at which Henderson steps up to press.
Should he press with Henderson, or drop to support the defence if Henderson does not win the press and cover a possible pass?
Wijnaldum is caught between both, and does neither.
In all fairness, Wijnaldum should probably drop, because he's too far away from the ball to make an effective press, and to affect play.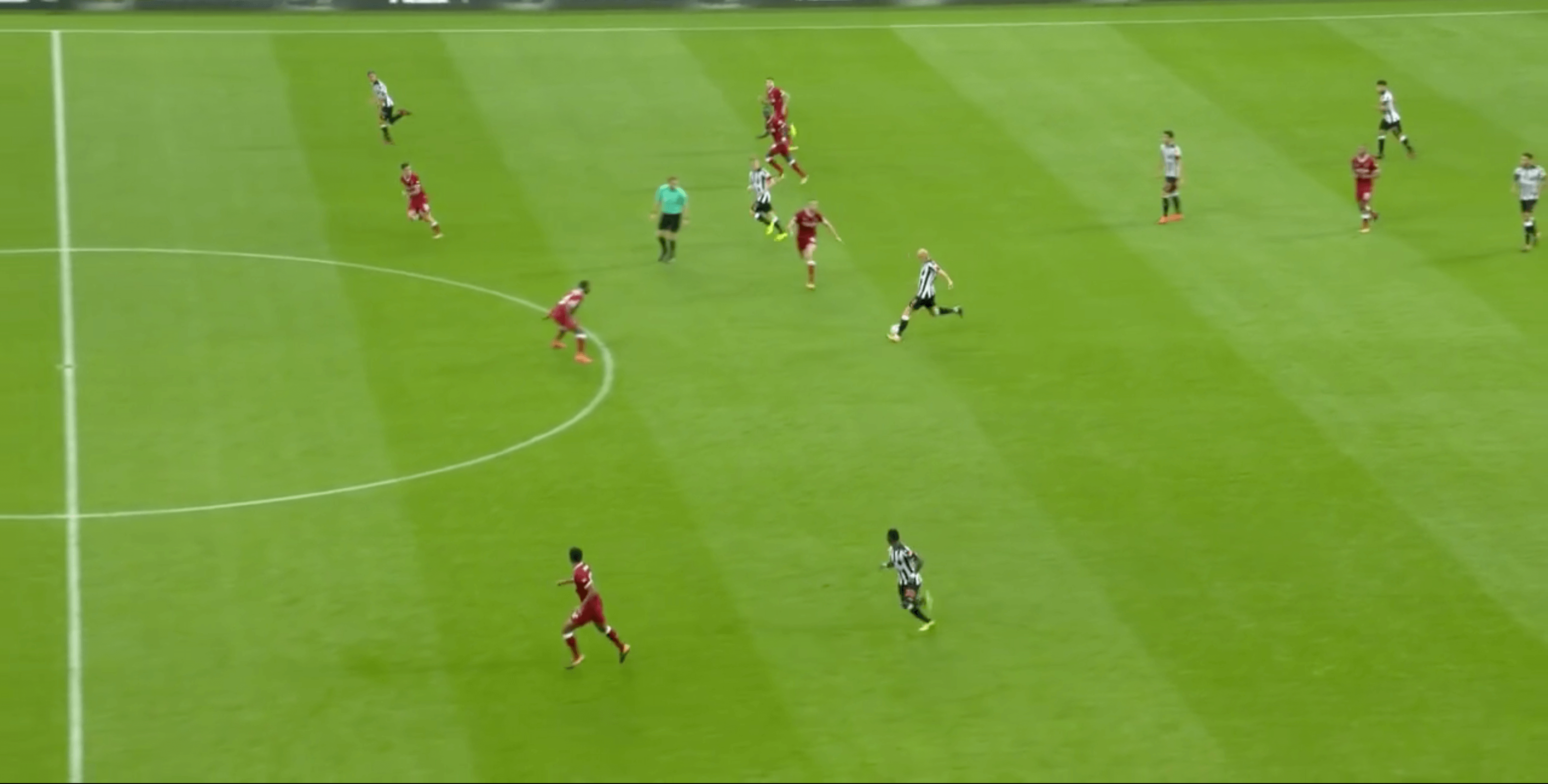 From here, Shelvey plays a pass down the middle of the field, to Joselu, who is probably just offside.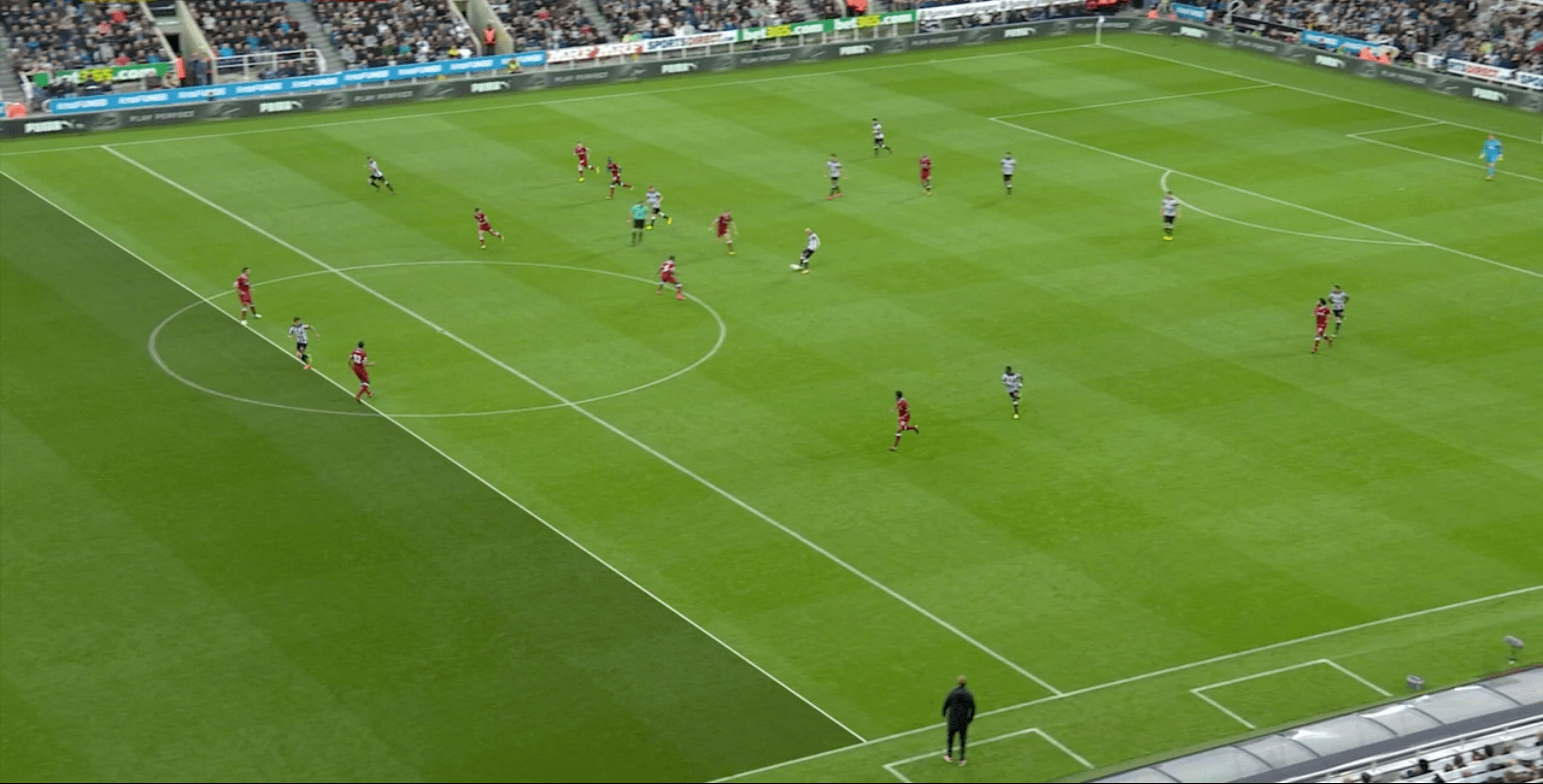 Lovren received considerable criticism for not winning the ball, as you'll see in the frame below, but when we consider Moreno's position in the frame above, which is on par with Mané, it's clear that Lovren has to prepare himself for a pass into the left channel.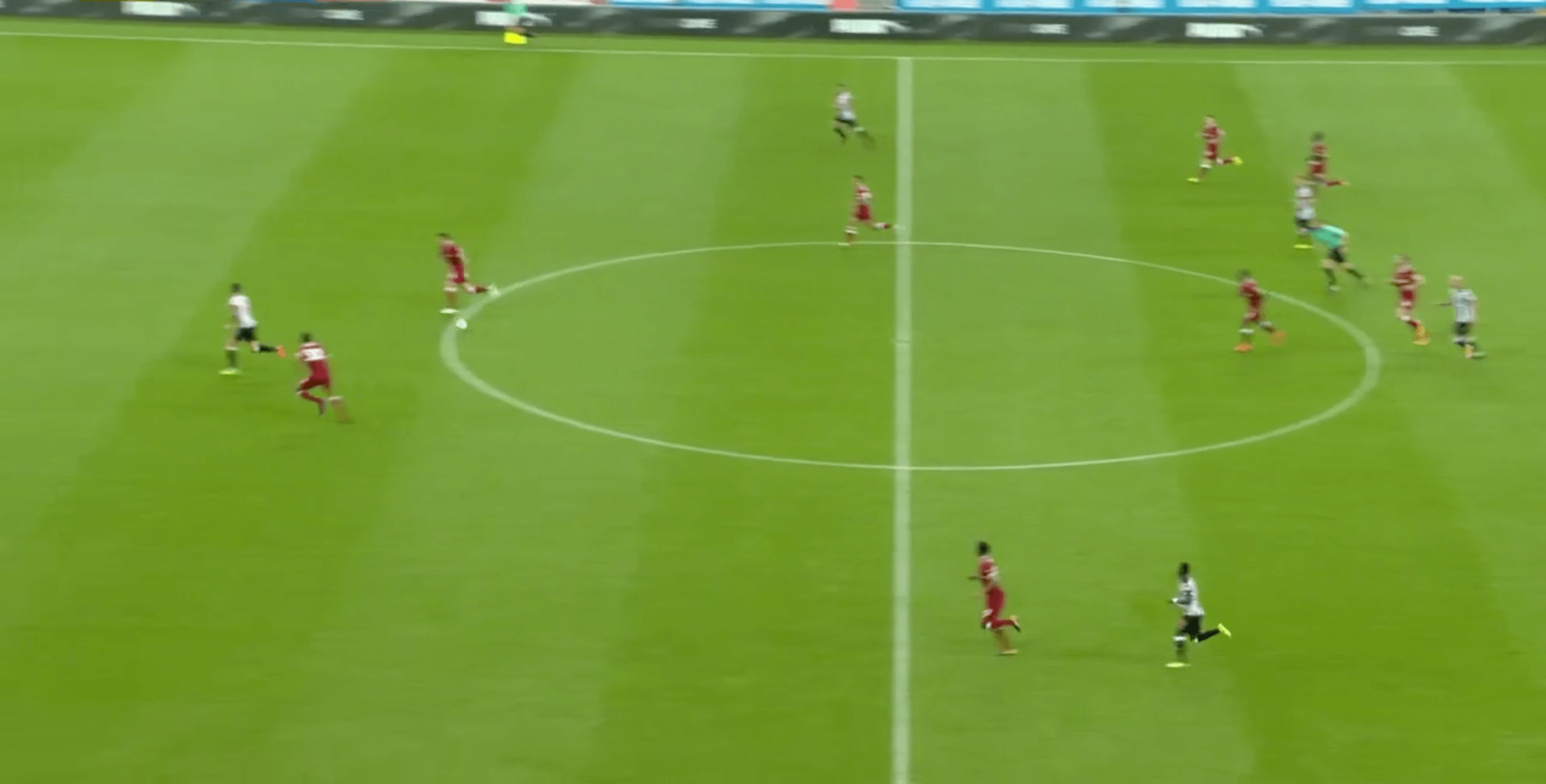 Matip should have made his decision earlier whether to drop or to get tight to Joselu too. Like Wijnaldum he does not quite do either, and instead of attempting to get across Joselu and intercept the ball (or foul/hold him up), playing him offside or dropping, Matip does not do any of them.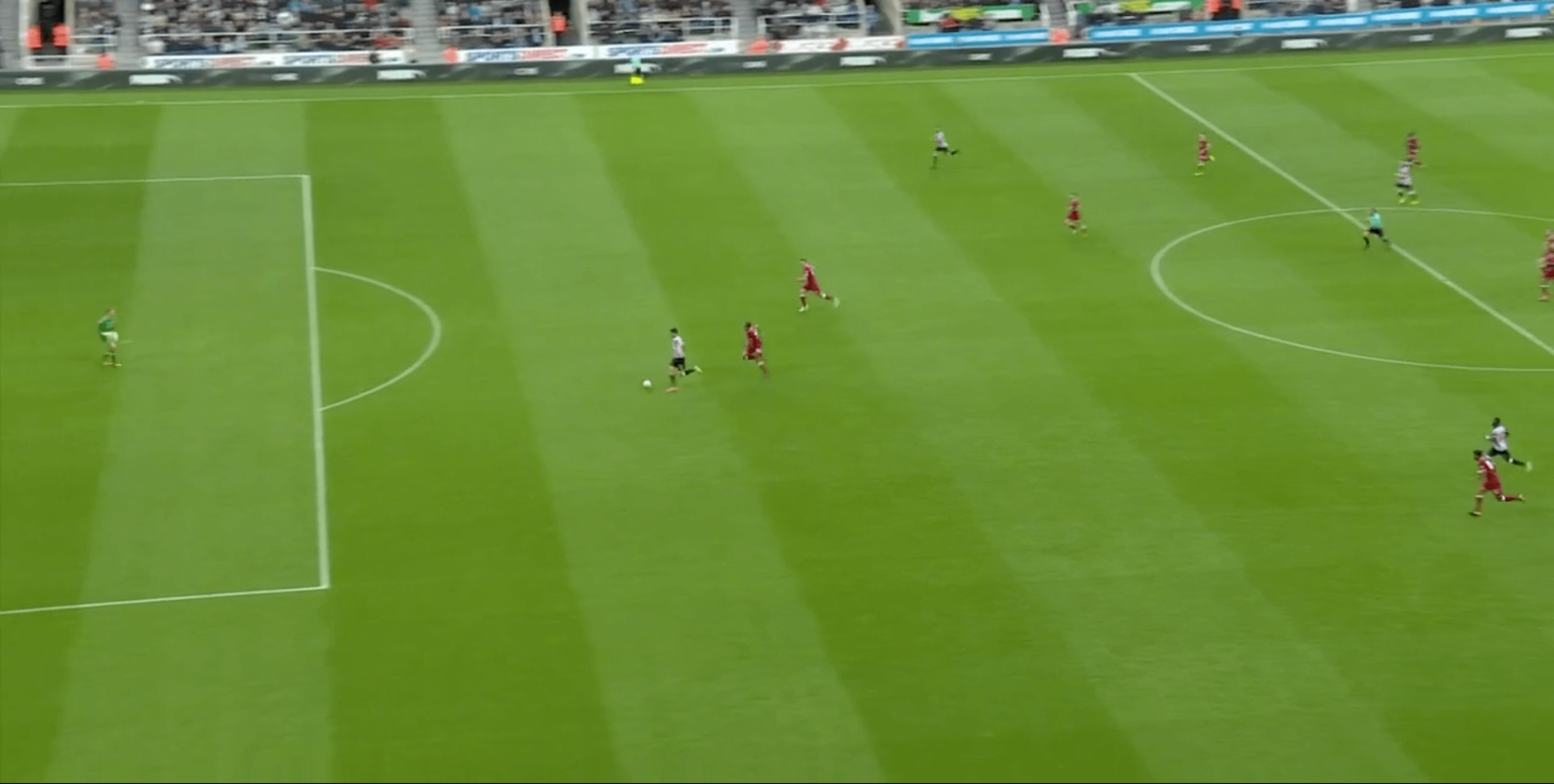 Above, we can also see Simon Mignolet backtracking to get back into his goal, however, he backtracks too late. At the point at which he is backtracking, he should actually be starting to move forward.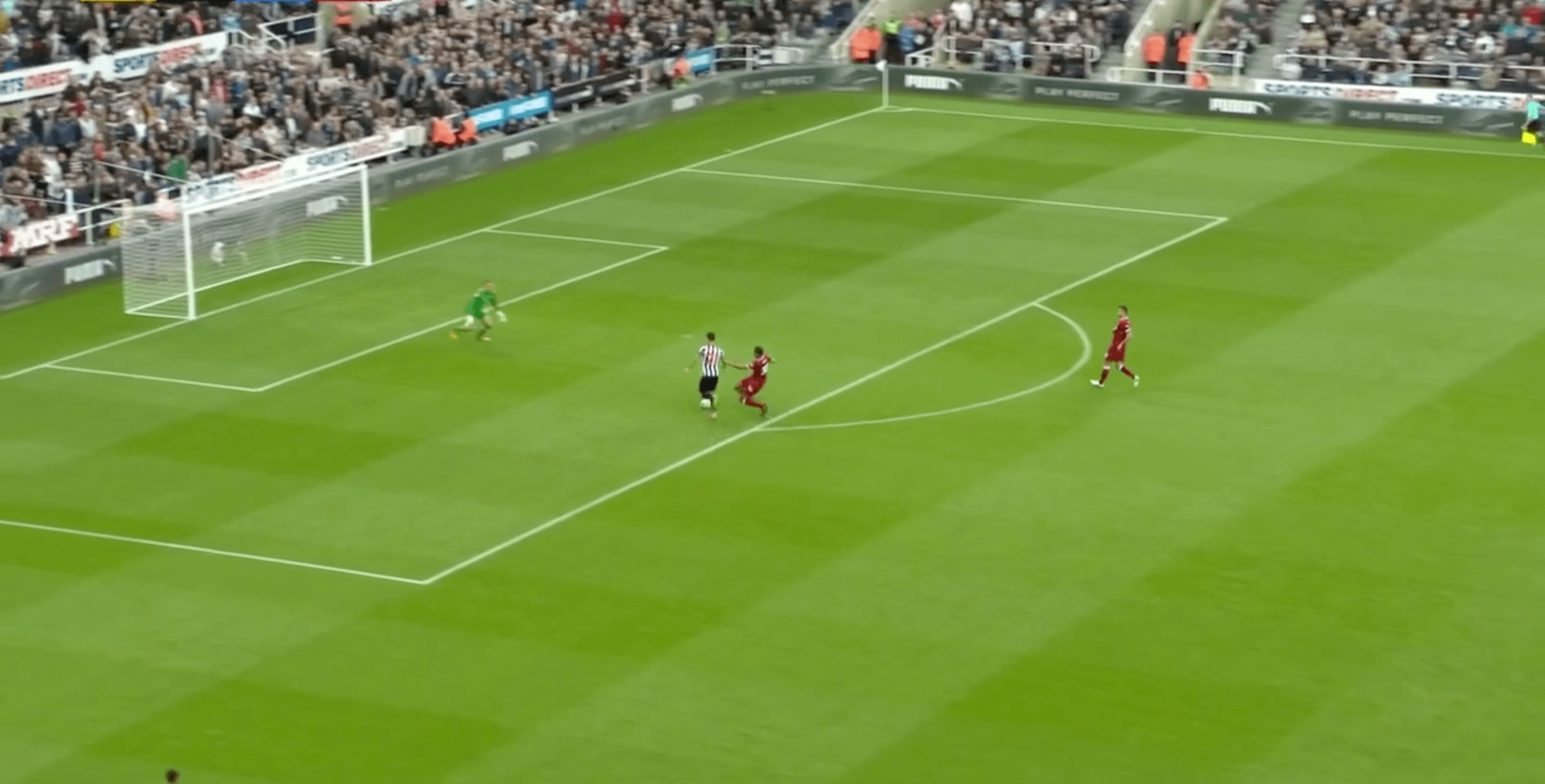 By the time Mignolet is starting to close the ball down, he's barely outside the six-yard box, and Joselu is inside the box.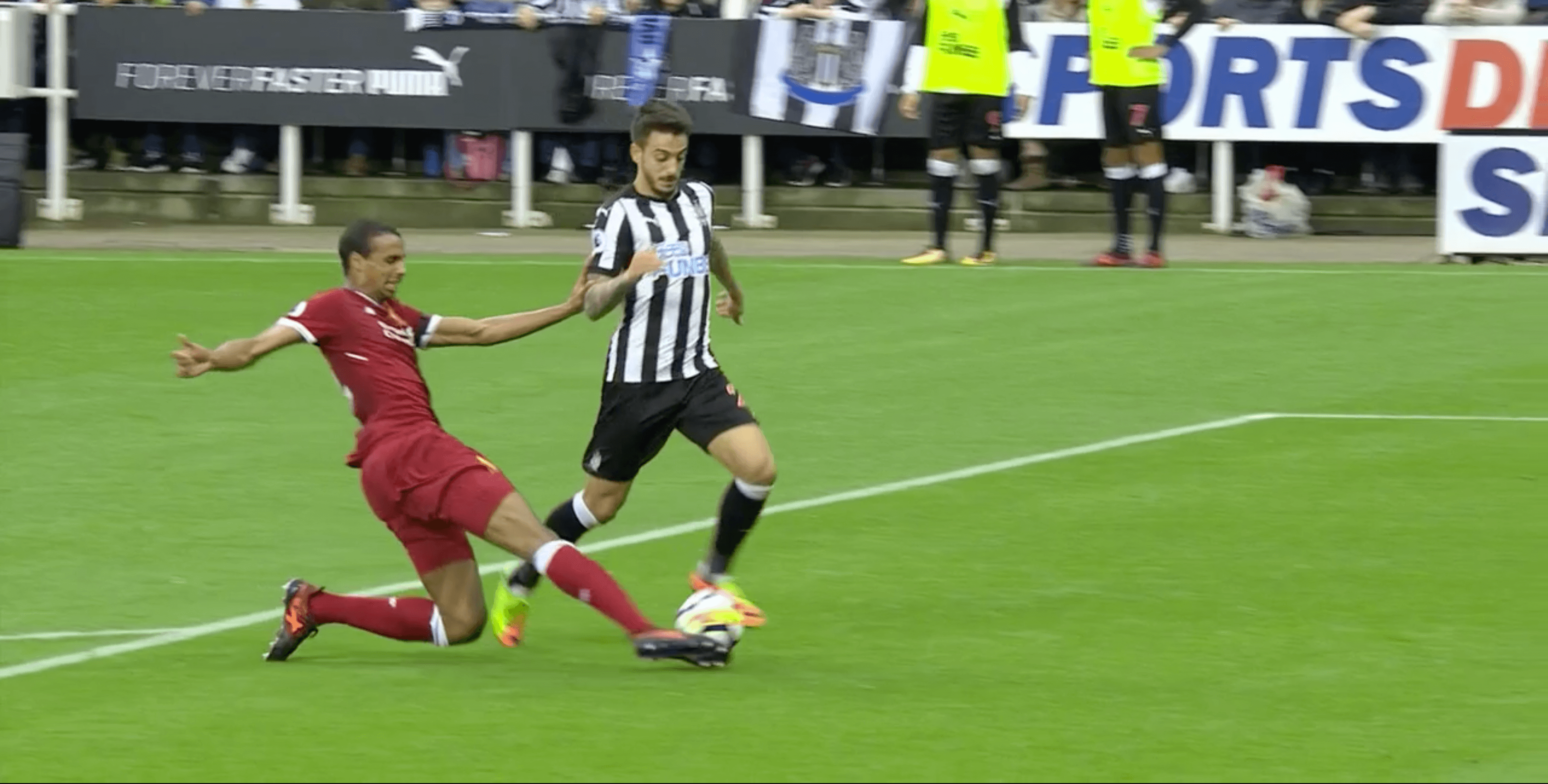 Matip is then unfortunate, having just got back into a position to win the ball, it ricochets off Joselu, and into the corner of the goal, of all places.
It's unfortunate, but right now, it seems Liverpool are not getting things their way, but they certainly are not helping themselves by any means. We need only look at the number of wasted chances, not just against Newcastle but in previous games too. For instance, against Spartak, Liverpool's xG was between 2.2 and 2.25, yet Liverpool spurned chance after chance, as they did against Sevilla too.
In one passage of play, Wijnaldum struck the post, and Lovren had a chance to hammer home the rebound from just outside the six-yard box, then in another passage, Sturridge was through, yet struck the goalkeeper, and Salah fired the rebound over the crossbar.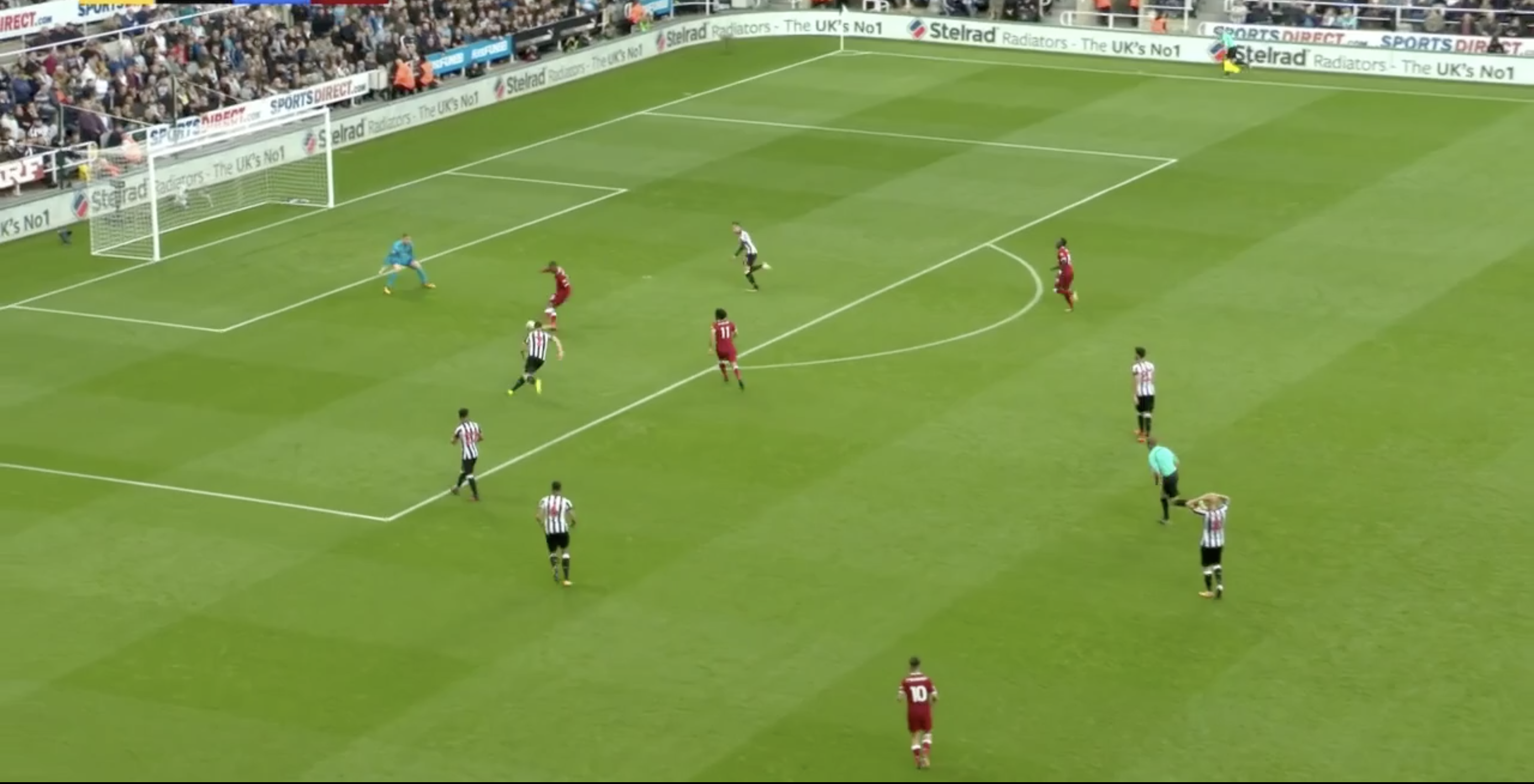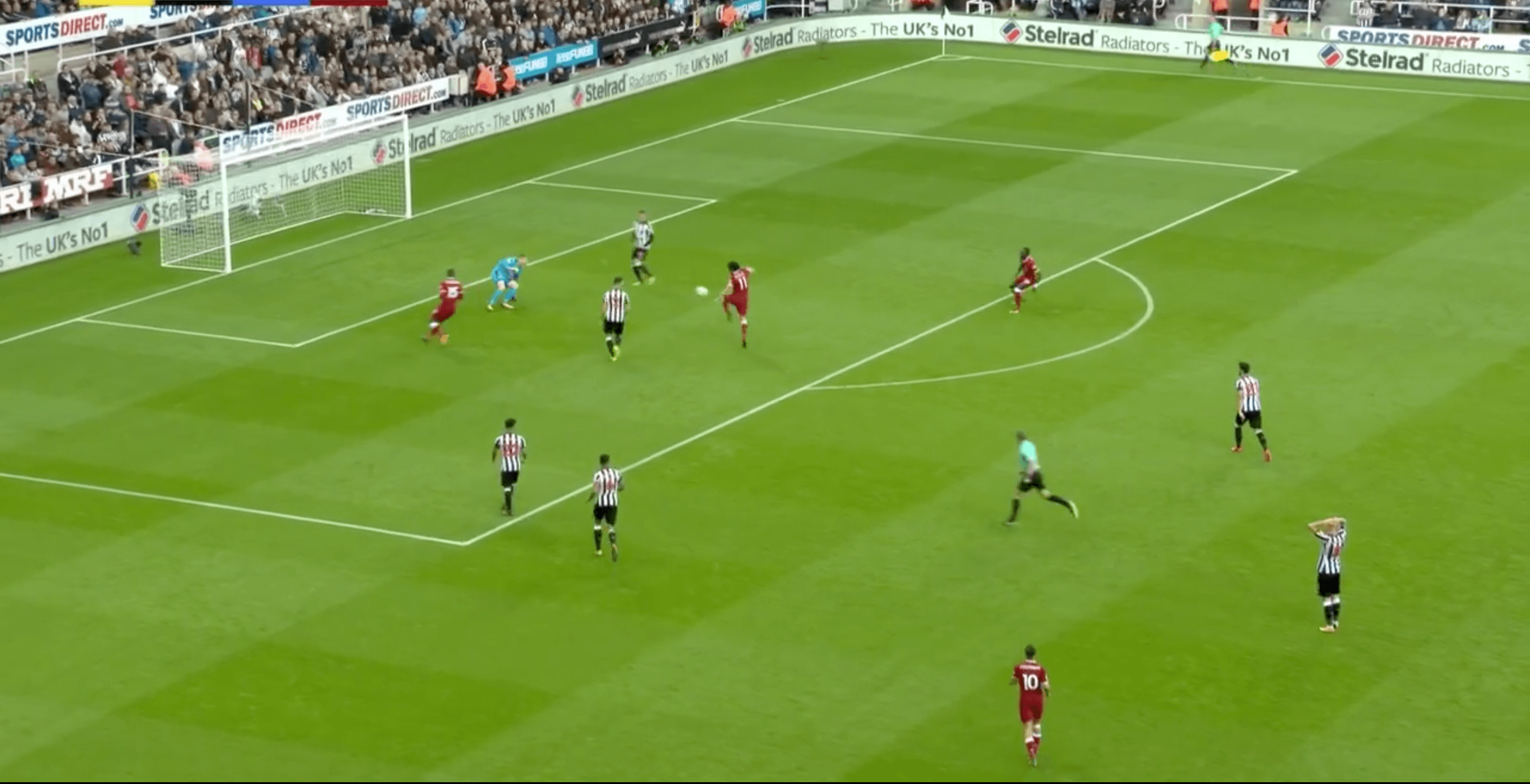 For a side that scores so many goals, it's remarkable how many chances they've missed of late – however, the fact that the team is still making these chances despite relatively poor performances is reason to not lose your head. There's simply no way Liverpool can keep missing these chances over the season (unless the club is cursed).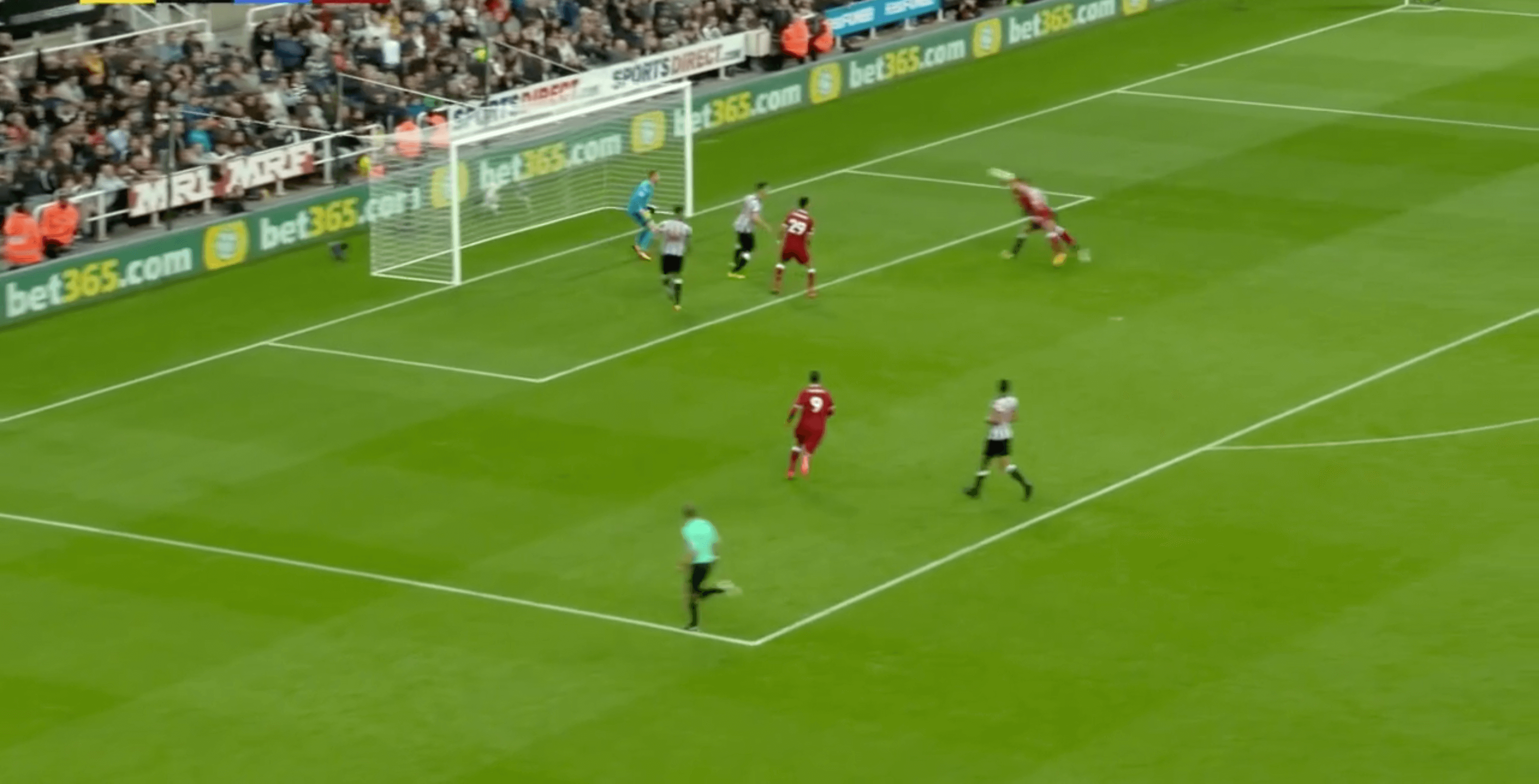 4 big chances to 0 should be enough to win any game
In time order ours were: Lovren, Sturridge, Salah, Ox

— Dan Kennett (@DanKennett) October 1, 2017
Watching Liverpool at the moment is frustrating, however, the results are simply unsustainable from an odds perspective. There is little to no chance, should Liverpool put in the same performances over the course of the season, that results would not improve. Once we factor in better performances too, as we should expect, Liverpool should soon be on its merry way towards the business end of the table – of which it still really is not too far away from at the moment.
A little luck would goes a long way in football, let alone the Premier League – but should Liverpool be at their very best for their next match, and cut out the silly individual errors, they've certainly got a better chance than many pundits would suggest against United.
#LFC have 2 points more than the 7 corresponding fixtures last season #FootballBelieveItOrNot

— Dan Kennett (@DanKennett) October 1, 2017
*WhoScored 'Player Positions' graphic sourced from their Match Centre