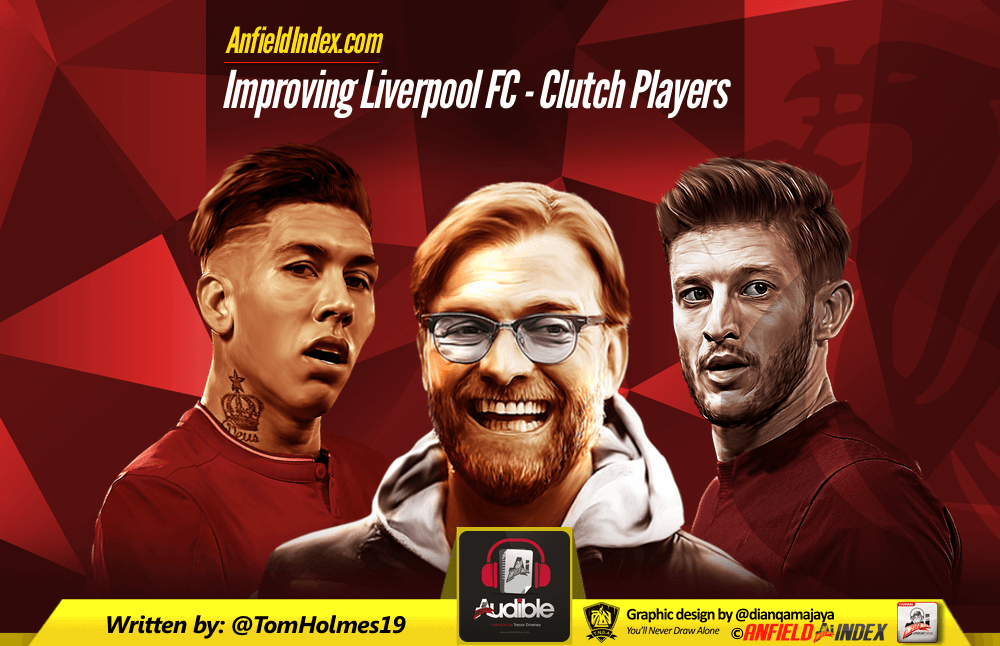 Improving Liverpool FC - Clutch Players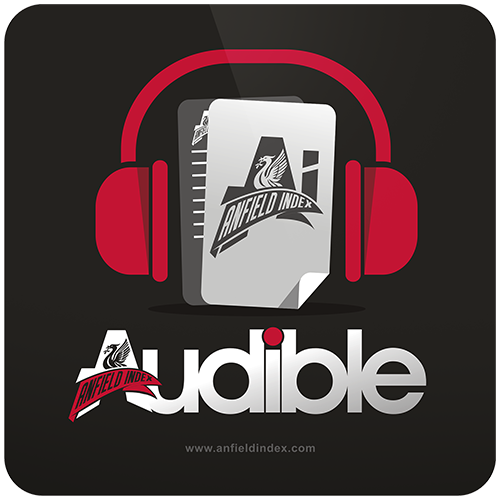 Listen to this article via @AIAudible !
What is the best way to improve Liverpool Football Club? Despite a positive start to the season, culminating in a 4-0 win over Arsenal, the Reds problems are more apparent than ever and after a dismal September, a straightforward victory seems nigh on impossible to accomplish. Some of Liverpool's pervading issues are obvious: we need both competent centre-backs and a coherent defensive structure; we need to reorganise and solidify our midfield; we aren't pressing very well; the squad isn't deep enough. These are all key areas to address.
But those are areas for other people to address. I want to address an issue that I've highlighted before, but has become ever clearer in the last few weeks: a lack of clutch players and an over-reliance on the system.
When I refer to the system I don't necessarily mean a certain formation or a specific tactic, although Klopp's standard 4-3-3 is very much at the forefront of the system and player positions within that formation are fundamentally part of the issue. Rather, I mean the gegenpressing, fast transition, fluid attacking style that at its best has seen Liverpool tear apart some of the best teams in the Premier League.

The issue with the over-reliance on this system isn't necessarily a tactical issue either. Yes Klopp's default ideology and set-up aren't flawless and clearly those flaws have been exposed, but that doesn't mean that he's wrong to not deviate from it often and Klopp is absolutely not wrong not to change his ideology. Moreover, we've seen that Klopp has been tactically flexible and that it has worked on specific occasions, so it's not that Klopp himself or Liverpool tactically are too inflexible.
Rather the issue is one of personnel, an issue that seems to keep recurring, which is incredibly frustrating given the wealth of talent at their disposal. The issue with Liverpool is two-pronged.
Firstly, the issue is that certain players are (rightly) lauded as being incredibly important to the system and the way it operates. Roberto Firmino is one, Adam Lallana is another. But if the system isn't working, or these players are being utilised out of position, then the decline is alarming, both to the individuals and the system. If the team aren't playing well, they don't tend to play well, and vice versa.
Secondly, there are players in this team that have turned in great performances in big games, with the rest of the team performing exceptionally around them, and have failed to translate those same performances to games where things aren't working and the team need someone to lift them. There are other examples, but the most prominent one is Gini Wijnaldum, a player who always turns in a good performance when those around him do (with games against the big teams prominent examples) but almost never steps up to win a game Liverpool are struggling in.
Wijnaldum, Firmino and Lallana are exceptional players on their game and are all vital to Klopp's plans, but too often they go missing when the team does. It's quite rare (to varying degrees) that they can rise above a systematic failure, and worse their inconsistencies can drag the team down with them, as they are (again to varying degrees) vital to the philosophy that Klopp is trying to instil.
The issue then, is both a lack of clutch players, and having too many. Firmino and Lallana are clutch players in the sense that when they're ticking and playing well, generally people around them are too. But they are not clutch players in the sense that they can regularly win a game from nothing. Klopp and Liverpool are simultaneously too reliant on individuals and yet cannot rely on individuals.
Of course, there have been two notable exceptions to this rule in Klopp's reign so far. If I asked you which two Liverpool players you would rely on to produce a moment of magic, to score a goal from very little when the team needed it, chances are most Liverpool fans would say the same two names. Phillipe Coutinho and Sadio Mané.
At least, that's my thinking. Based on last season in particular, but clearly this season too, Mané and Coutinho are the two players to conjure a moment of magic to get Liverpool a goal. Coutinho has only played a handful of games since returning to the side and he already is looking the most likely to do something; Mané hasn't looked the same since returning from suspension but his goals in games against Watford, Palace and to an extent Arsenal were all vital ones.
This is an issue that I've been lamenting for a while, and one that I was overjoyed to see Jürgen Klopp address in the summer by buying Mo Salah, who appears to fit exactly the type of player I think Liverpool needed. Salah's goal-scoring record has been pretty solid over the last few years and looks set to continue here at Anfield based on his early performances, but he's also another player who has scored important goals and not always when the team are playing well. Nevertheless, it's too early to start talking about him in the same breath as Coutinho or Mané, although I'm quietly confident he could soon be.
Whilst I do disagree with the notion that we desperately need a 20/25 goal a season striker to boost our ranks, since Firmino's role in the side makes one totally irrelevant when Liverpool are playing well, I would like to have an Andy Carroll type impact striker who can come off the bench for twenty minutes and wreak havoc with an opposition defence, or score clutch goals. Carroll's injury record and other factors make him a really poor fit for this Liverpool team, similar to the fate of Christian Benteke, but with Daniel Sturridge simply not the force he used to be, Divock Origi out on loan in need of a confidence boost and Dominic Solanke not there yet, Liverpool could use impact off the bench.
That's one of the reasons I personally think Klopp's use of substitutes isn't as poor as people seem to make out. More often than not, the options he has on his bench are decent options on paper, but ones that won't make a significant change to the side. The likes of Sturridge, Wijnaldum, Milner or even Oxlade-Chamberlain are all decent options to fit into the system but none of them are game-changers as such and none of them will improve the fluidity of the team. Bringing Sadio Mané or Mo Salah off the bench would genuinely be an option, except realistically they're both guaranteed starters anyway.
This is one thing that the other top sides have nailed down. Not necessarily bringing players of superior quality of their benches or starting games, but players who can do something. Man City are the obvious example, with six or seven genuine game-changers consistently available, but Chelsea also have multiple clutch players of the highest quality, Arsenal have the best in the business in Alexis Sanchez amongst others, Spurs have three of the highest quality clutch players in the league starting week in week out and even Man United can call upon Fellaini to make a difference, albeit in a different way.
When Liverpool can get their game going they can beat any of those teams, because when the team is functioning it's red hot and Klopp's end game is obvious. But when it isn't, when Liverpool need to rely on individuals rather than the system, as all great teams have to do, that's when they can, and often do, fall short.