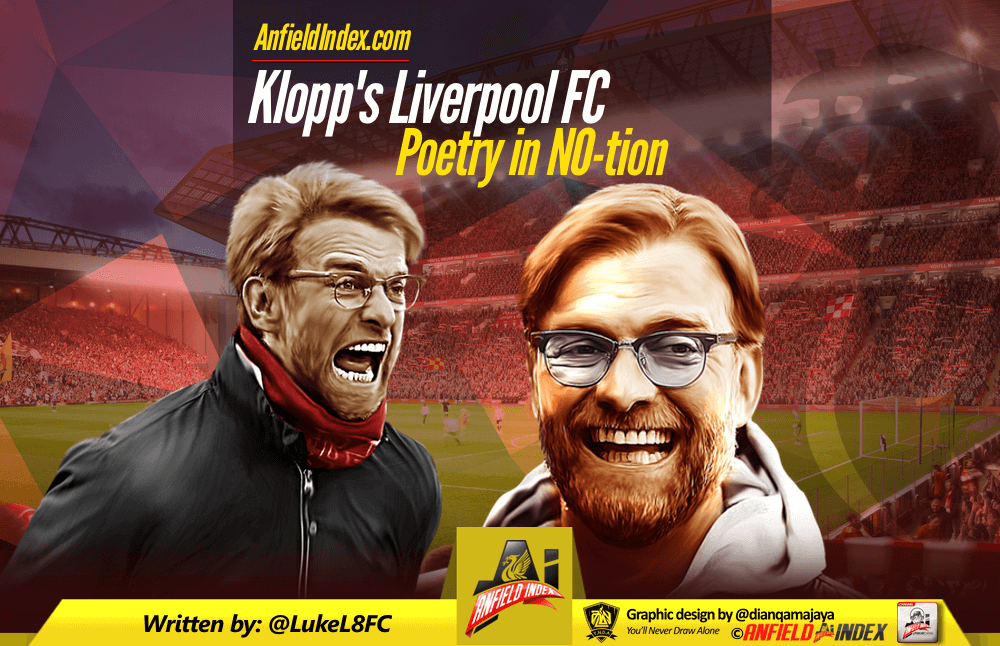 Klopp's Liverpool FC - Poetry in NO-tion
As the final whistle sounded away at Watford on the opening day of the season, Liverpool had come away with a point, having conceded three away goals.
"Oh well, we still have a couple of weeks left to sign a defender" we said.
"Van Dijk will be signed soon enough" we said.

How wrong we were.
Liverpool failed to place a singled bid for the Dutchman or any other defender. Instead, we signed Alex Oxlade-Chamberlain, who has made one start for the club.
Why couldn't we have signed another defender you may ask. Klopp's answered that already.
He said, "We watched all of them 500 million times. I had to make a decision and the decision was that our boys are not worse than them."
Fans have suggested we should have signed the likes of Khalidiou Koulibaly but if Klopp has his eye on one man then that is who he will get (whether it is in January or the summer). He said that there wouldn't be any 'plan B' signings and he stuck to his guns.
Our defensive woes continue to haunt us and hold us back. This has been complemented with a poor shot conversion record of over 100+ shots at goal resulting in 13 goals. Cries for a centre-forward continue with Daniel Sturridge looking completely off the pace, Bobby Firmino not looking like an out-and-out striker and Dom Solanke not getting much of a chance.
We have been held to a 1-1 draw against Sean Dyche's Burnley at Anfield. Two points dropped.
We have narrowly beat Leicester 3-2 thanks to Simon Mignolet for saving Jamie Vardy's penalty, which he conceded himself. Three points gained.
Then we were held to Newcastle United 1-1. Two points dropped.
It appears to be swings and roundabouts for Liverpool with results but the games all have played out very similar in recent weeks across all competitions. Two goals against Sevilla in the first half put us ahead at the break after their early goal, but the second half proved poor and we came away with only a draw. We dominated Leicester in the cup in the first half and came out deflated in the second half and suffered a 2-0 defeat. After taking the lead against Leicester in the league at half-time, sure enough, we made the game harder than it had to be and needed Jordan Henderson's goal to get the three points after a lamentable second half performance. Spartak Moscow was the same, dominating the first half and not looking as threatening after the break.
Can you see the pattern here?
The poor displays at the back have undoubtedly been through individual errors at times. But what hasn't helped is the constant rotation of the back four and the goalkeeper. Karius was played against Arsenal in the 4-0 victory, replacing Mignolet, who was put straight back in the team for the next game against City and he conceded five. Lovren and Gomez played against Arsenal and didn't concede and then replaced by Klavan and Alexander-Arnold to face City. Then against Sevilla, Klopp makes another two changes at the back and a different goalkeeper.
What kind of message is this giving to his players? Klopp wasn't rotating because of bad form as such but what appears to be him wanting to play good cop and give them all minutes on the pitch.
Trophies aren't won from a rotated defensive, the spine of the team. Good runs of form are built on the same goalie and more or less the same back four playing with each other every week.
With European football this season it is expected to rotate players when you are playing two or three times within seven days, but not to the extent of making two changes to the defence and swapping the man in between the sticks.
The idea of a 'cup keeper' isn't appealing to me. Did Liverpool have a 'cup keeper' which won them two European cups, two FA cups and four league cups throughout the 80s?
No.
Success is built on a team knowing how to play with each other and doing so regularly.
As the season goes on, the defence isn't being tinkered with as much as it was in the first month or so. Moreno looks as though he is the first choice left-back, Matip and Lovren the favoured centre-halves. The right-back position is a questionable one as Gomez and Trent Alexander-Arnold have been rotated there. Gomez has looked out of his depth there and doesn't offer much support going forward. He is much more comfortable playing centre-half, hence his man of the match performance for England U21s in September.
Last season we had a makeshift left-back in James Milner, who in all fairness was solid because Alberto Moreno didn't cut the mustard. Moreno now finds himself ahead of Milner, who now comes off the bench every now and again. It makes no logical sense to then add the fact we have signed a left-back this season who hasn't impressed Klopp enough to be ahead of Moreno.
Hopefully, Klopp can capture Van Dijk in January and start to bed him into the team because right now, these aren't looking up to much. The top four are taking their shape with Manchester United, City, Chelsea and Tottenham all looking sharp. We are only one point behind fourth spot at this moment in time so not everything is as bad as it seems.
Sooner or later, a team is going to be on the receiving end of a battering.
Bring on yer Manchester United.