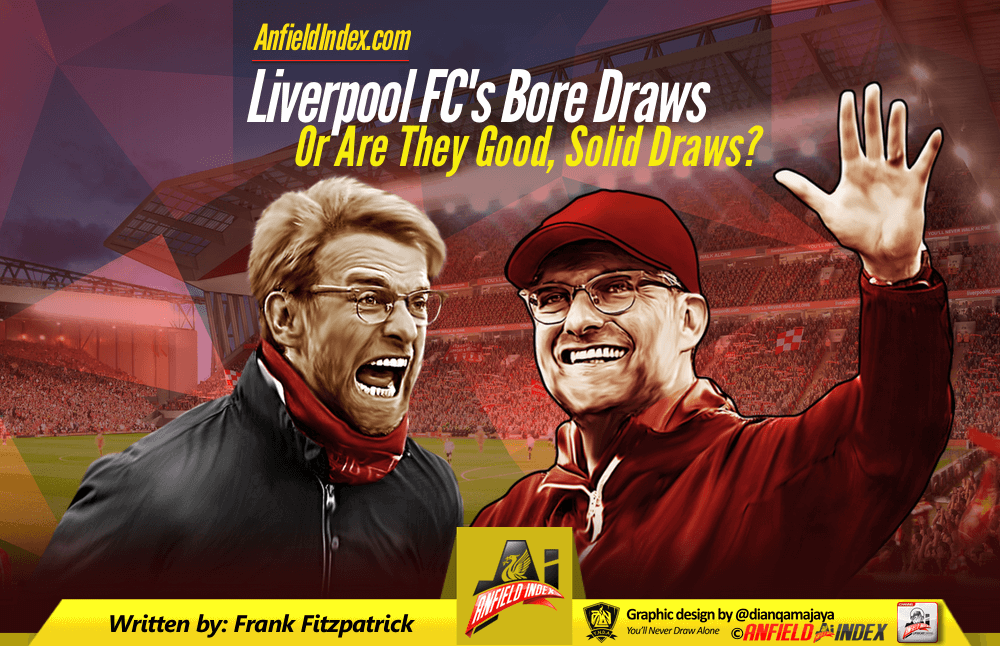 Liverpool FC's Bore Draws Or Are They Good, Solid Draws?
This may be deemed a controversial comment. This may be considered the ramblings of a dim-witted man. You may disagree with the following statement wholeheartedly. Yet it's been weighing down on my chest for a week or two now. So here goes.
Is there such a thing as a good draw?
Now that I've got your attention I would like to express how, no matter what the circumstance, I want Liverpool to win, against every opposition at any given time. Except winning every Premier League game is highly improbable, not impossible, I'll grant you, but about as likely as me donning a pair of Speedo's and beating Tom Daley and his peers in diving at the Olympic games. Therefore we are forced to accept we will at some point – especially at this moment in time – draw games.

So then, draws. Bore draws in the Premier League (forget about Champions League for this article). Annoying draws. Frustrating draws. Kick the door draws. Swing and miss the wall draws. Let me ask you something, when do we ever consider a draw good? When do we ever celebrate an excellent draw? When do we ever commend the team for winning a tough-fought point? Take a moment and think about it. Do any games spring to mind? No, me neither. Why is that? Why do we expect Liverpool to win every game? Or if we do draw, why does it hurt just as much as a loss? Why do we never think about playing for a glorious draw?
Is it down to expectation? The expectation of us winning the league, of us challenging for the league, or us challenging for top four? The thing with us football fans expectations is, they are so rarely achievable. Only one team can win the league, only four can make the champions league spots, therefore the pressure to win is massive and failure to win is considered just that, failure. But why is winning judged in absolutes when there is a middle-ground? There isn't just winning or losing, there is also the gift of drawing.
At Anfield I want Liverpool to go unbeaten. We expect our team to perform better in front of our own fans and, although at some point we will play big sides, we still expect us to edge those games to a victory. Playing away, however, is a different matter. Draws. They come in different shapes and different sizes. 0-0, 1-1, 2-2 etc. etc., sometimes they are eventless, others are eventful but they almost always feel like two points lost rather than one point gained. Yet some managers love them. Rafa, who ironically, would have been ecstatic with this past weekends result, is one of them. Mourinho, too, loves a good draw. The logic behind it is, if you can't beat the opposition, make sure you don't lose to the b******'s either. And it makes sense. Sometimes no matter how hard the team tries, you can't win the game. We could have thirty shots, half of them on target, and still not break the opposition down. It happens, it's frustrating, but we live to fight another day. The most important thing is, don't lose.
On paper, us fans are lamenting the "poor" start we've made in the Premier League. We've won three, drawn three and lost one. Seven games and we have twelve points to show for it. Our three draws have came against Watford, Burnley and Newcastle. Watford away, Burnley at home and Newcastle away. So here's a question. If someone was to ask you to draw up a list of teams you expected us to drop points against this season, would those three teams be on that list? I'd argue playing Burnley home or away is a tough game, especially if you're a club hailing from Liverpool. With Rafa as their manager, Newcastle are all industry, all organisation, and as you'd expect, well drilled. They too, are going to be a tough team to beat this season. Watford was our first game of the season. The opening game a fixture which in recent memory, has had plenty of goals and giant-slaying. So yes, I'd say at least two of those three would be on my list of potential banana skins. No games are easy anymore, not with the kind of money floating around the league. So if we can't win every game, it's important not to lose them either.
Now, don't get me wrong, at no point during those games was I sat, arms aloft, cheering as the clock ticked away each of the ninety minutes. They all felt like points dropped rather than one gained. Yet upon reflection and perhaps in hindsight, will we come to consider those decent results at the end of the season? Bore draws, frustrating draws, or good, solid draws? Points gained when we were not at our best. Points gained when arguably in seasons gone by we may have lost. Points gained, not lost. Points gained. Points. Every point will count at the end of the season.
Perhaps. Or perhaps I'm too positive for my own good. Only time will tell. All I know is, we won't win every game this season, and in which case I'd much rather we draw than lose those we don't win, yet I still can't help but think, could I ever celebrate a draw as if it's a win?
Up the reds.