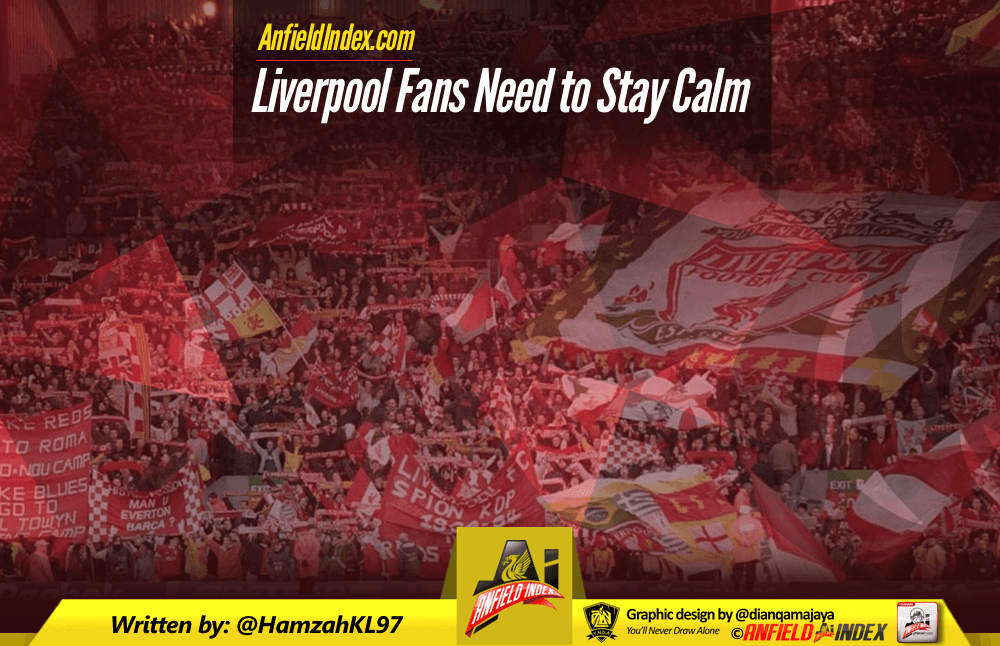 Liverpool Fans Need to Stay Calm
It's been a tough few weeks of late, with Liverpool dropping points against Newcastle, Burnley, Spartak Moscow and Sevilla whilst also getting knocked out of the League Cup by Leicester. Some fans have even started to turn on the manager. It's strange, Liverpool are only seven games into the league season and people are already writing off their chances of Champions League qualification, the season entirely, and subsequently there's talk of a club in crisis.
Yet the table does not quite reflect the notion of a club in crisis. Liverpool are a single point behind reigning champions, Chelsea, but so too Arsenal. Whilst Liverpool are only a miserly two points behind one of the expected title challengers, Spurs.
Like Spurs, Liverpool have only lost one game. And whilst being seven points behind both Manchester clubs certainly is not comforting, we must remember titles are nowhere near being decided already. We need only look at the table on the 31st December 2016, just after Liverpool emerged victorious against Manchester City: twenty-nine games into the season and Liverpool were in second place, six points behind Chelsea and four behind Manchester City. As it so happened, Spurs – in 5th, seven points behind Liverpool, and thirteen behind Chelsea – were to be the closest challengers of the season. Hence, reading into the table already, and extrapolating an expected league position on such a small sample size is both unscientific and premature.

What then should we read into? Because while Liverpool may not be a club in crisis, there clearly is something that is not right – a 3-3 draw against Watford and dropped points against Burnley and Newcastle certainly indicate so.
When we look at these games though, there is a common factor that initially appears evident: the defence, and Liverpool's rate of conceding goals.
So that must mean Liverpool's defence is poor and causing the team to drop points.
Not quite.
Liverpool, in most of the games in which they've dropped points, have conceded few shots. Watford and Manchester City are the obvious exceptions – however, the Watford loss came about from an offside goal, whilst we can likely chalk off the 5-0 battering by City as an anomaly, and a stand-alone in terms of its statistical value.
Below are the numbers of shots and the xG of those shots each side had in their respective games.
I'll explain why I've highlighted these specific statistics though.
It used to be commonly accepted, that on most occasions the number of shots taken by a team in a game can provide a rough barometer of performance. i.e. if a team takes twenty shots, and the other takes two, you would usually expect that the team which took twenty was the better side. There are obviously hundreds of examples in which this may not hold true, but at least when you see a large number of shots taken, you would expect the team with a large number of shots is creating chances, and in all likeliness, the team that creates the most chances is likely to win a given game.
The same can be said for xG too, which is calculated from the probability of a single given shot being a goal – with a higher probability (closer to one) awarded for shots that you would expect to be scored e.g. a tap-in, inside the six-yard box would have an xG upwards of 0.9, and tending to 1.0, whilst a halfway-line shot would have an xG closer to 0.01.
xG though is less likely to be inflated by sheer volume. For instance, if a goalkeeper was peppered from 40-yards all game, the xG of the shooting team would still be low, whilst the number of shots would be high – distorting the truthfulness in the assumption that a team with a large number of shots, relative to the opponent was the better team.
But, generally, when we see a high xG, we can assume a team not only made chances, but made chances in good areas too, and this is where Liverpool come in:
[Score]
[Shots]
[xG]
Watford 3-3 Liverpool
9 – 14
1.9 – 1.7 (+1 pen)
Liverpool 1-1 Burnley
35 – 5
2.14 – 0.37
Newcastle 1-1 Liverpool
8 – 17
0.43 – 1.65
Liverpool 2-2 Sevilla
27 – 7
1.5 (+1 pen) – 1.4
Spartak 1-1 Liverpool
2 – 12
0.1 -2.2
In the games above (excluding the silly start to the season at Watford) Liverpool have created enough chances to win games – considering xG is usually an underestimate compared to the final score, because improbable, or less likely goals are scored from time to time. And when we look at individual games, the Spartak and Sevilla games stick out especially so, considering Spartak had a single shot on target – from a freekick, of Liverpool's own making – and Sevilla only had two shots on target too – of which they scored both. In those games Liverpool really should have done better with their chances, and, furthermore, in a number of games, this season have had a number of key decisions go against them.
When we factor in the usual number of incorrect decisions, we can usually accept some dropped points – but to draw against Burnley, with a 2.14 xG, and then again against Newcastle suggests there's something deeper. I would agree with this conclusion too, but my view differs greatly from that of most other fans.
A number lay the blame with Jürgen Klopp, tactically, whilst others blame Liverpool's defenders – primarily Lovren, who admittedly, was directly culpable for one of Sevilla's goals.
Yet what characterises Liverpool's performances above all else, even poor finishing, is individual – and unexpected – errors.
In every single game noted above, Liverpool made more than enough chances to win the match, and on another day, perhaps the finishing may have been better, and the team may have put three past Burnley, four past Spartak and so on. But, often within a season, forwards have a rough patch when it comes to scoring – there's a reason why the Golden Boot record stands at 31 goals for an individual across the season, and not more – and during those periods, a team should grind out a result, providing it does not do anything too silly.
However, in these games, errors from Liverpool's midfielders and defenders give opposition teams lifelines. Poor positioning by Matip against Newcastle, a stray and blind backpass by Emre Can against Spartak, followed by some questionable goalkeeping by Karius, then there's a lack of communication between the centre-halves against Burnley. It's basic stuff, and almost comical how Liverpool keep shooting themselves in the foot. Usually, though, the forwards bail out the players that make these errors, but with the team short on confidence it's clear that those players that are not pulling their weight at the moment are becoming a drag.
Yet it's the creation of chances, when the team is low on confidence and is not playing well, that gives me an indication that Liverpool are not really in crisis, and that Jürgen Klopp is getting his tactics right.
Individual errors coupled with poor finishing are costing Liverpool – something a manager cannot account for. The team in itself is creating a large number of chances, and conceding few – but the ones that it does concede are self-inflicted, and as a result, chances in which there is a higher probability of being put away. Right now, Liverpool's opponents' conversion rate stands around 28pc, whilst Liverpool's is 5pc. These numbers are unsustainable, for both Liverpool and its opponents
Even though LFC are not playing well, they are creating chances, they are deserving to win games and probably should have on most occasions. And it's for this reason, that even when we are not putting in fantastic performances, we're doing enough to win games – just not with a bit of tough luck r.e. decisions etc. against us – that I strongly believe the club, and team is not in crisis.
A little bit of sharpness from Daniel Sturridge, or Salah, Mané being half a second quicker against Ederson, or an offside being called correctly and Liverpool could be equal with Spurs on points or above them, and the entire table could be different. Right now, Liverpool are in the position that they're in on the smallest of margins, and it's important to recognise that. Even in football, sometimes a team can be unlucky. If the team was not creating chances, the alarm bells would be ringing inside my head, yet when we can see Liverpool are trying the right things, it's just not coming off at this current point, it's important to persevere, because when it does click, Liverpool will be flying – and who knows what the honours board and tables may say come the end of the season. What I do know though, is that if Liverpool persist with what they are currently doing, they will be in contention for some honours at the very least.