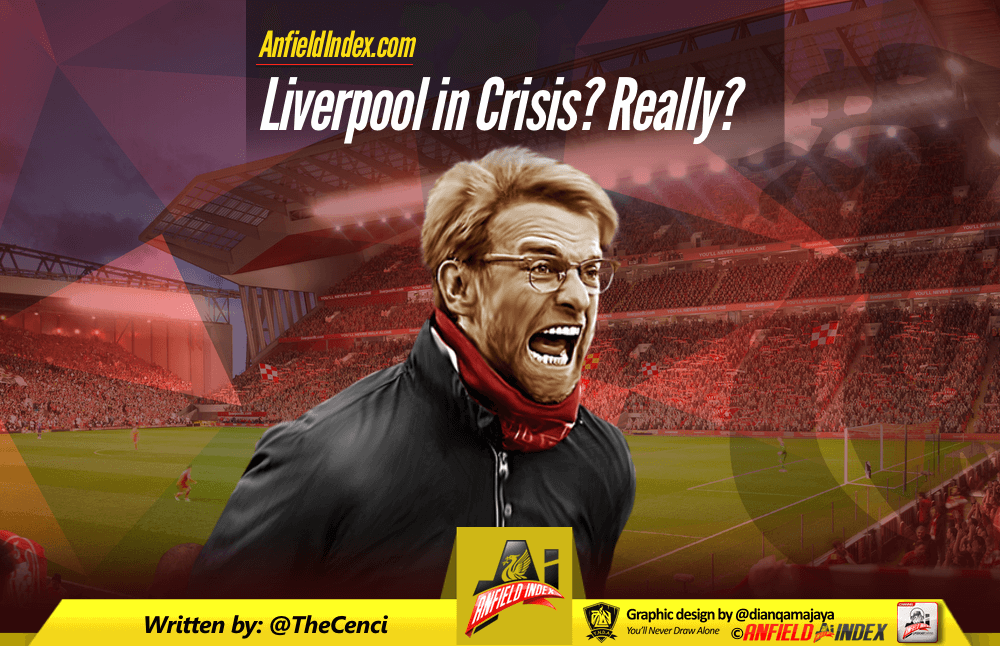 Liverpool in Crisis? Really?
One thing that identifies Liverpool supporters and possibly sets us apart from others is the sheer range of emotions when it comes to following the club. For example, you'll often hear talk of us 'being by far the greatest team the world has ever seen' even when we languish in 7th place with a solitary victory in seven games. On the other hand, there are people who are talking like this is the worst Liverpool side/manager/owners the club have had in our 125 year history.
As usual, the truth lies somewhere in the middle ground.
I'm often mocked on Anfield Index Podcasts about being a 'veteran writer' while on others it's for having a ridiculous memory. I can hardly deny this. I'm coming up to my 49th birthday and am doing all I can not to think about next year's cruel anniversary. I'm also one of those people who remembers major events by aligning them to Liverpool games. 9/11? We played Boavista in the Champions League. The death of Diana? Newcastle at home. It was postponed.

Luckily for my girlfriend I'm hardly likely to forget our anniversary. I'm a true romantic at heart. We'd beaten West Ham at Anfield the day before we met. Michael Owen with both goals.
And with those two things comes both sides of the spectrum of fandom. I'm a bit of a moaner – can't deny that – and don't always understand at how optimistic people can be about this incarnation of the Reds, while at same time I frown at the term 'crisis'. This isn't a crisis. It isn't even close. This is a picnic compared to that.
I'd like to give the lie to that term here.
Liverpool aren't playing well, doing well, or anything like where we'd like them to be. We all know that. We're failing all over the pitch and the manager, for the first time possibly, is the recipient of frowns from some quarters. I'll be honest here. I'm one of those glaring down from the stands.
But, let's look at the facts. We are just outside the top four, in with a good chance of qualifying from our Champions League group and can finally get Mane, Firmino, Salah AND Coutinho on the same pitch. That's not a crisis. That's just the ups and downs of supporting this particularly mad club.
Has there been a sorrier time than this. Oh, Lord, yes.
This.
Liverpool 1 Blackpool 2. Sunday 3
rd

 October 2010. 3pm kick off.

Reina – Johnson, Kyrgiakos, Skrtel, Carragher (at full back) – Kuyt, Meireles, Poulsen, Cole – Gerrard, Torres.

I know what you're thinking. Torres and Gerrard, yeah? Can't be bad. Well, El Nino went off after ten minutes with an injury and was replaced with David Ngog. Later, the criminally one-paced Christian Poulsen was substituted for the equally inept Milan Jovanovic as Liverpool stuttered to an embarrassing defeat in which we were 0-2 down at half time.

It wasn't just the score either. It was the whole performance. A team brimming with internationals was taken apart by Charlie Adam. They were first to every ball. We were first to every sulk as the game got further and further away from us. Soto made it 1-2 and you'd ordinarily expect a rally of some sort.

Nope.

We rolled over again. No risk, no reward. Just sad glances to the referee and his watch, hoping for salvation.

Liverpool ended the day in 18th place with just six points from seven games. It was to be the worst start to a season since 1953-1954 – the last time Liverpool were relegated.

Actually, that wasn't our lowest ebb. That came two weeks later thanks to an international break when the Reds went to Goodison and lost 2-0. We sank to 19th in the League, level with West Ham. The only reason we were not bottom of the league was due to goal difference. The manager told the press that it was the best we'd played all season and that 'winning here would have been a utopia.' It was Everton's first derby win at Goodison in six years and we haven't lost there since. Utopia indeed! It was an absolute aberration.

New fans may shrug their shoulders at this and say 'So what? We were in a slump. That happens.' Indeed it does, but at this time there was a very real chance that Liverpool wouldn't exist much longer.

By October 2010 the club's debts had matured and RBS had placed the club's account in the toxic-assets division and a fire sale of Liverpool's assets, starting with Torres, seemed likely. Hicks and Gillet were barely speaking at that point and numerous bids to buy the club were either rejected or withdrawn due to the slow moving negotiations. It was around this time that F.S.G expressed an interest in purchasing the club.

So the club was a wreck on the pitch and away from it, it was nothing like a collective. There were factions sprouting all over the place as Hicks and Gillet fought to remove Martin Broughton and Christian Purslow when they realised their position was under threat, as was their attempt to seek an unrealistically inflated sum for the club.

If RBS had refused the club any more money, unpaid wages seemed a realistic possibility. Before too long this may have led to more sales to pay off the debts and an already bottom three Liverpool would be left fighting relegation with a team of kids and Paul Konchesky.

That was a grim time. This isn't anything like that in comparison.

Look, I don't like what's going on with the club at the moment either. We can't put our chances away but are adept at offering them up to others, but this isn't anything like a catastrophe. Let's not pretend otherwise.