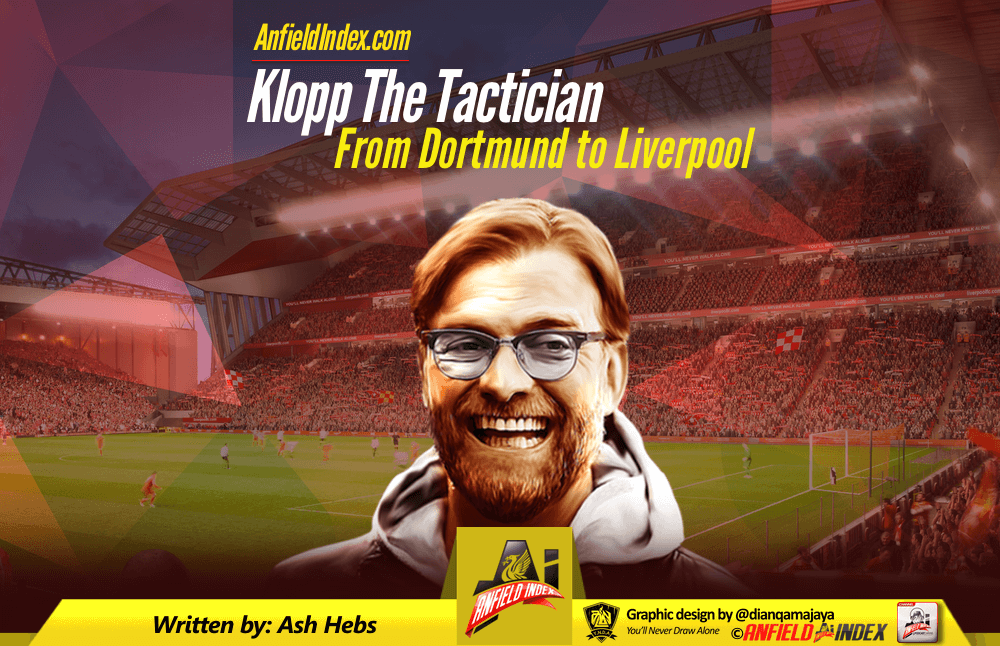 Klopp the Tactician: From Dortmund to Liverpool
Following on from my three-part series "The Klopp Project" which took a longer-term view on things (select the links for part 1, part 2 and part 3), I thought I would assess where Jurgen Klopp is in the present moment. Klopp the innovative tactician in Germany has been well documented. But what about Klopp the tactician at Liverpool? In assessing his time at LFC, we have to throw the conventional rules out the window.
Klopp's system does not rely on a traditional defensive midfielder in the mould of Kante or Mascherano. It doesn't necessarily rely on a playmaker although, given that we need to open up parked buses on an almost weekly basis, circumstances dictate that we need at least one, as we see with Pep's approach at City (with the 2 Silvas and De Bruyne). The system is the playmaker through squeezing teams back into their defensive third, compressing the pitch, making it small for us and prohibitively large for the opposition. Obviously, the system thrives when there is more space for us but that's not the way things work in practice against weaker footballing teams.
I think due to its nature, Klopp's system means that because he sees the gegenpress as primarily a defensive tool which then opens up offensive possibilities. Perhaps he doesn't coach attacking and defensive play separately per se, rather they are seen as a combined, whole ethos. As Klopp refines tactics and buys new players we should see his unique approach (at least in the English game) blend into an effective hybrid that works for us more often than not. What we can't be sure of is how high it will take the team, but it should prove relatively successful so that we are regular top 4 finishers, as a minimum.

As an example, our defence has been plagued by individual errors. This makes our overall defensive play seem worse than it is. In fact, the system is actually good when looking at the underlying performance and the way we restrict teams to few shots on goal. Given we play open, expansive football, for Klopp's system to be successful we need to minimise the times our defence is exposed due to errors. A reduced rate of exposure should minimise the goals against column and enable us to see a truer measure of our defensive organisation. There is not necessarily a need for a defensive midfielder, particularly if the defending is done properly further upfield. The way the teams react to second balls can also mitigate for the lack of a specialist, as Klopp himself commented on last season. I think a lot of it comes down to individual decision making. Perhaps we just need better decision makers than simply better footballers.
The German gegenpressing model, whilst new to these shores, could either be looked at as an old skool approach that has already been negated or as an advantage not yet seen before in England, that challenges existing preconceptions about how football should be played. Time will tell of course but until Klopp has had time to deliver his project in full then we have to believe he is aiming for the latter.
Tactics works in cycles and the current defensive nature of the last 2 title winners will be replaced by something more expansive in time. It's fair to say Klopp's football meets the definition of the latter and maybe it's why teams set up so deep against our style. If they don't, they will be ripped to shreds. Chelsea and United for example, are less "in your face" and perhaps lull the opposition into a false sense of security, before picking them off with the world class talent they can afford on a regular basis. Man City have the finances and manager to attempt to recreate Guardiola's Barcelona template, but how successful this will remain to be seen.
Klopp understands football and I believe he can fuse his gegenpress with a more considered possession-based approach, in the same way, Tuchel did at Dortmund when Klopp departed. Tuchel, of course, learned from Guardiola and ironically, in City, Klopp has the perfect rival and role model to observe for ways in which he can refine his attacking approach.
The other point that is important to note is that, contrary to what certain fans seem to think, Klopp is not stupid. Listen to his press conferences and the little he does give away shows that he knows where the problems lie. He has shown his flexibility in moving to a 433 formation which offers the most passing angles and triangles for overcoming the parked bus. He has recognised the need to play Coutinho in a deeper role to assist the midfield with his playmaking ability. That being said, ideally, Coutinho needs to be moulded into a true playmaker, as he is naturally a more attacking, direct kind of player; a dribbler and a shooter, rather than a passer that dribbles and shoots on occasion.
With Barcelona calling it's debatable whether it's worth Klopp's while investing too much in Coutinho's development. It may be a case of making the most of what he has but with a longer-term view of finding a natural playmaker on the continent. In my view, Naby Keita is not that man, he's an upgrade on Wijnaldum.
Klopp has also shown he can switch to a pragmatic diamond to get results, as we saw in the latter stages of last season to eke out the results needed to make top 4. Furthermore, he added counter-attacking pace to the front line this season, in making Salah a club record signing. He targeted all the "right" positions for an upgrade this summer although he wasn't successful in covering all positions, that was mainly the fault of Michael Edwards, in my outsider view. There is also criticism over a lack of a clinical striker but this is a better approach than being too reliant on a single marquee player who, if injured, leaves the team short.
At the moment I rate Klopp as a B grade tactician like Conte, Ancelotti, Pochettino, compared to the A grade managers such as Benitez, Guardiola and Mourinho. But the old guard are being caught up. This is, of course, my opinion and I recognise that others will perhaps disagree with me. Klopp brings other things to the table in terms of his coaching, his relationship with his players and so forth. He is a proven winner and competitor at the top level of the game so I stand by my assertions that when he was acquired he was world class. But as we get more information we can refine our opinions on his ability.
Klopp took us to 76 points and top 4 last season something we have not achieved often enough since Rafa's departure. He took us to 2 cup finals the season before, beating the likes of United and Dortmund on the way. I am not sure how much more we could have expected other than to win the finals. Nevertheless, until he can overcome the parked bus on a regular basis question marks will remain over his and his assistants' overall tactical ability, particularly in regard to in-game changes and pat+terns of play. His recent record in cup finals points to a lack of flexibility which needs addressing and there are ways to achieve this and, as I've shown above, that's not to say he's not trying because he is.
The main criticism of Klopp (other than the defensive mistakes, which are as much down to poor decision-making, as systemic), has been the predictable approach to the parked bus. League titles are won by destroying the smaller teams and trying to pick up as many points against your rivals. This LFC does the opposite but you'd prefer things to be this way than be like Arsenal, who always come up short against the best. You don't dismantle top teams on a regular basis over the years and not be a quality coach. Crack the parked bus more often than not and this team becomes a contender. Easier said than done, but underlying performance, for the most part, has been very good under Klopp. Even the best tacticians do not oversee perfect matches from their teams. The key to success is finding a way to win no matter what. Klopp's team generally creates enough chances every game to be in with a shot of winning the match.
I wouldn't be panicking if I was Klopp, as things should improve going forward so long as the team keeps doing the right things and learns from mistakes. My main worry is not that Klopp gets the sack but that he walks away from the job. His track record shows that he sticks around for the long haul, but there is far less patience and more expectation in England, compared to Germany. My hope is that the impatience doesn't lead to the toxic situation where his position becomes untenable and he walks. It would be a crying shame for a progressive coach to not see out an exciting project. Where would FSG go then? If no world class managers are available, do we go for a new up and coming guy? Beware of Brendan Rodgers MK II! Of course, if Klopp doesn't show the required flexibility to keep us improving and competing at the top level, then there is also a tipping point. My current frustration is that it appears that tipping point is being reached far too prematurely.
To conclude, Klopp has shown he is an adaptable tactician. We've seen the best and worst of his time at Germany in England, but he recognises the need to tweak his methods and approach. He's a good tactician but the journey to be recognised as a top-level tactician is still a work in progress. It may be he never gets there or doesn't care, but he can also compensate in other areas as long as the tactics are good enough most of the time. Indeed, the latter is probably the aspiration of the majority of managers worldwide. If he gets there we will all be happy.