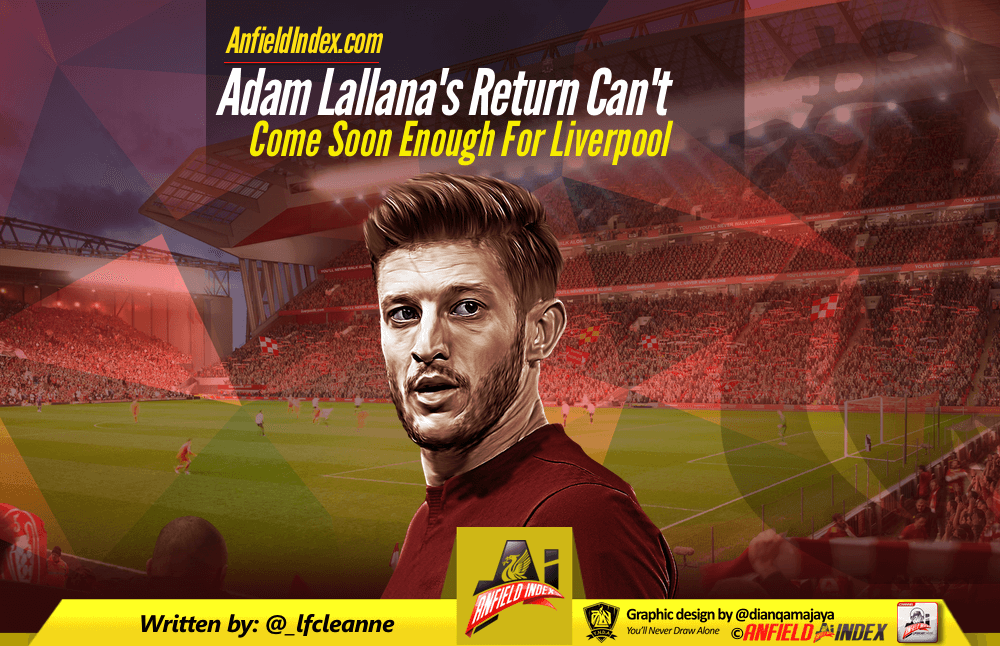 Adam Lallana's Return Can't Come Soon Enough For Liverpool

Liverpool fans' perception of Adam Lallana is a funny old thing. When he plays, he's largely underappreciated and criticised for the smallest of mistakes. Yet, when he's out of action and on the injury table, there seems to be a new-found affection for the Englishman.
Such is the case now, where, for all Liverpool's quality in the attacking department, Lallana's absence has left a gaping hole in Jurgen Klopp's side. The 29-year-old is so often the catalyst in the middle of the park, showing intelligence both on and off the ball to provide the key link between midfield and attack.
Of course, not everything solely hinges on Lallana. Philippe Coutinho's quality has come to fruition upon his return to the starting eleven, with the Brazilian producing a series of stunning free-kicks to show just why Barcelona made such a fuss in the summer. Then you've got Mane and Salah – the dynamic duo.
Blessed with flair and pace, they make for a real handful for opposing defences while perfectly epitomising the high energy, high-pressure style that Klopp instils in his players.   The trio, accompanied by Roberto Firmino, have produced some real moments of magic in Lallana's absence, most notably in Liverpool's 4-0 dispatching of Arsenal.
However, The Reds have managed just one win in seven games in all competitions since. Suffering a 5-0 defeat against Manchester City along with frustrating draws to Burnley and Newcastle, Klopp's side are enduring an exasperating spell.
That's where Lallana could come in.
The former-Southampton midfielder sustained a thigh injury in the Audi Cup and has yet to feature in 2017/18, but with a return now on the horizon, Liverpool will receive a huge boost. It's clear as day that Liverpool aren't the same side when Lallana isn't on the pitch; he starts the press, setting the tempo for the rest of the team and forcing the opposition into mistakes.
"You ask yourself why it's not working, why we're not putting those chances away? One factor could be Adam Lallana – he was a big player in terms of starting the press and the pressing certainly hasn't been at the same level as last season." – Neil Mellor
Unlike Emre Can, Jordan Henderson or Georginio Wijnaldum, Lallana gives Liverpool an extra dimension in midfield. His ability to interchange with his teammates and get things going in the attacking third with such class and ingenuity see the Englishman as a key cog within Klopp's team.
The same can be said for his national side, too, with Gareth Southgate identifying Lallana as England's brightest spark. Technically superb, the former-Saints captain is a real miss for his club and country when absent, with both teams looking alarmingly predictable in attack. Lallana's quick turn of feet and love for a Cruyff turn brings an unpredictability to the table, changing the direction of the attack in an instant to stretch the opposition.
Add to that his dogged determination to win the ball back and it's clear why Liverpool have missed him. With an unrivalled work-rate, Lallana represents a useful tool at both ends of the field; harrying the opposition high up the pitch while adding further cover in the defensive third when required.
Stuck in a frustrating patch of form, Adam Lallana's return can't come soon enough for The Reds. He's clearly a big favourite of the manager's and having stepped it up a level since Klopp arrived on Merseyside, it now finally feels as though people are beginning to appreciate just how big a role Lallana has within the side.
Come back soon, Adz.