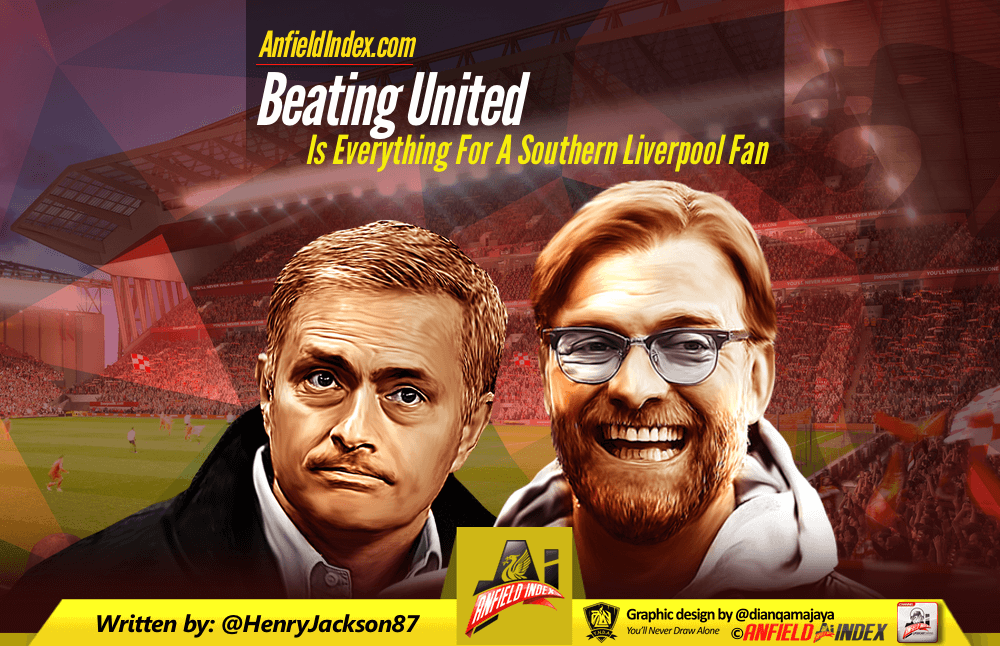 Beating United Is Everything For A Southern Liverpool Fan
I'll warn you, this is a bit of a sob story and I am absolutely looking for sympathy. As a "southern softie", what more do you expect?
When it comes to being a Liverpool supporter from the south of England, I can assure you that the hour or so after losing to Man United is one of the most hideous as a Red.
I'm sure it's pretty grim for you too, wherever you are in the world, but I'm feeling self-important, and am therefore convinced it's worst for me.

I am inundated with messages from the endless United fans I know – many of them are wonderful people aside from their footballing decision, I must add – and I fully consider ditching football forever during that period.
I'm 30. This is something that has been happening for approximately 23 years, and it sums why playing United is the game I dread more than any other.
Nothing even comes close, in fact, and it is the only match that I genuinely think about endlessly in the week leading up to it. I dream of Liverpool winning, and the enormous shot of adrenaline it would give me.
"Why is Everton not as big?", "Aren't you in contact with more Chelsea and Arsenal fans, being a southerner?", "How can it mean that much where you're from?".
I can hear all those questions being asked, just as they have been throughout my life, but there is a very simple reason why playing United is 'the one'.
Approximately 70 percent of my mates opted for them back in the early 1990s simply because they were the best team, so the loathing started at a very young age.
As the years have passed and other people have come into my life, nothing has changed. I have met United fan after United fan after United fan, just adding to the list of people I have to be fearful of when Liverpool play them.
This is completely different to supporters who are born and raised in the city itself, or at least in and around it, and I fully understand why the Merseyside derby tops the bill for the majority of them.
They are in contact with Toffees every day of their lives, and losing the derby is something that they will never hear the end of at work, home or elsewhere for at least the following week.
For us southerners, just replace Everton with United. Their fans are everywhere, apart from between 2013 and 2016, when they strangely went quiet for a while.
Nobody in this neck of the woods supports Everton, barring the odd rare individual – one once lost his rag with me after I mocked Duncan Ferguson's disallowed goal against Villarreal 2005 – so you can lose against them and be safe.
It's still a horrible feeling, but losing to United feels far worse, because of the mockery that will be aimed in mine and no doubt other southern Reds' direction.
I can't enjoy matches against United in the slightest, and if Liverpool win, I am only happy once the final whistle has been blown. Even if they are 4-0 up with five minutes left, I'll be terrified at what might happen.
Going off on a slight tangent, I used to work at a golf club, where many of its members were United fans, predictably.
To sum up how little I enjoy the fixture, I actually told one of them that I would almost be relieved if Liverpool lost to Chelsea in the 2008 Champions League semi-final so I didn't have to sit through the final against United.
I am aware how utterly ridiculous this sounds, and it makes me ashamed that I couldn't just look forward to the Reds potentially being in another European Cup final. United do that to me.
That club has heaped some miserable memories on me down the years – memories that will forever stick in the mind.
The heartbreaking FA Cup defeat in 1999 reduced me to tears on my 12th birthday; Diego Forlan's laughable double in 2002 happened while I was in a car full of United fans; John O'Shea's winner five years later caused me to utter THAT word in front of my mum for the first, and last, time.
They are the only club that I feel genuine hatred for, and so much of it is to do with my area of upbringing, rather than the club itself.
Just like a local Liverpool supporter will never be able to fully explain the dislike they have for Everton to an out-of-towner, the same applies for me with United.
There's definitely an element of jealousy there from my end, after seeing friends enjoy 20 years of league titles, world-class players and a never-ending amount of money, while I've had to sit through Neil Ruddock, Roy Hodgson and the same, predictable home draws being played on a loop since 1990.
Don't get me wrong, many sets of supporters would have given their right arm to have followed Liverpool in that time – not everyone gets to see their side win the Champions League – but to see your bigger rivals be better than you for so long ensures plenty of ill-feeling towards them.
United visit Anfield on Saturday lunchtime, and it's fair to say I am already mentally preparing myself for what might happen.
Given the way Jose Mourinho likes to make our lives miserable, and the ruthlessness he has got his side playing with, there is almost an inevitability about how the match will pan out, if you're as pessimistic as me.
All I can keep thinking is, "Liverpool will dominate without creating much, United will sting us on the break and Lukaku will score the only goal". I can see it now.
Form goes out the window in this fixture, though, and it is simply a case of sitting back and hoping Liverpool turn up on the day, perform better than their opponents and are on the luckier side of the decisions.
I will be working on the game, which will actually help with the nerves, but as I live blog my way through proceedings and start considering my end-of-match player ratings, one eye will be on my phone, should the unthinkable be about to happen.
On the flip side, a Liverpool win is likely to keep me out in town for at least 48 hours, once I've gloated to the many United fans who have helped me detest their team since as far back as I can remember.