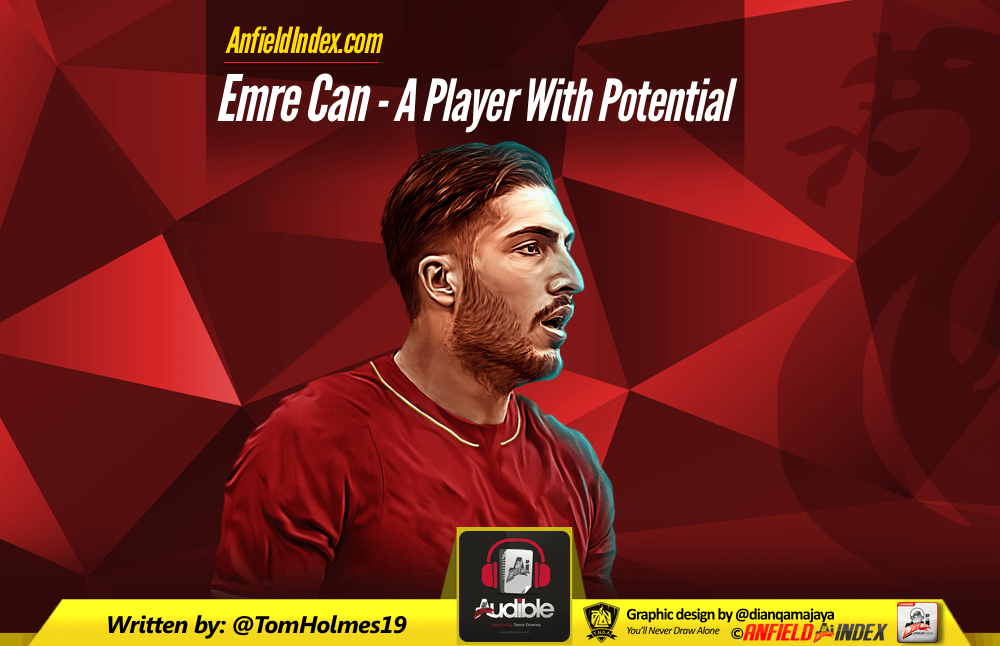 Emre Can - A Player With Potential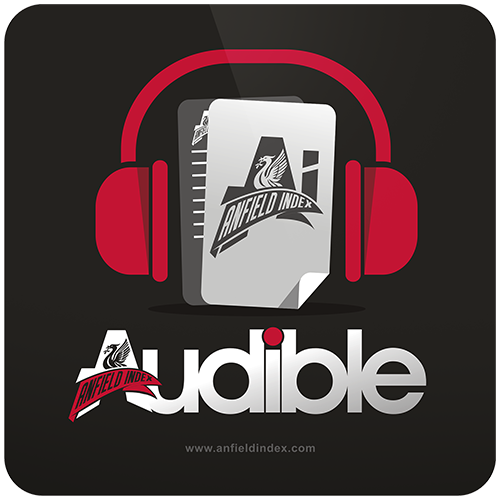 Listen to this article via @AIAudible !
Potential is a funny word. It's a word that can often be used as a backhanded compliment or an excuse for poor performance – well he's got potential. It can be a word that ignites the feeling of general excitement – he's got potential. It can be a word to slot in when you're genuinely not sure on your judgement of someone – he's got potential.
Now potential seems to be tied to a large extent with age, which is what I'm going to base this article around. That's not to say that younger is necessarily better, but if you're younger and untested, then you have more chance to unlock your potential than someone who has already seen plenty of game time and is say 28. We generally don't say that Daniel Sturridge has potential.
When you look at the Liverpool squad in terms of who has potential, there are some obvious names. Ben Woodburn, Joe Gomez and Trent Alexander-Arnold are probably three names near the top of the list. Marko Grujić is another, as is Dominic Solanke.

Then we look at the older players, those who haven't hit their peak yet, but have the potential to improve massively over the next few years at LFC. Alex Oxlade-Chamberlain and Andy Robertson are both new to LFC, but have touted as players whose "potential" can be "unlocked by Klopp". In terms of goalkeepers, Loris Karius and Danny Ward are both 24, but both are considered very much in terms of their potential.
But one player who perhaps isn't talked about as much in terms of potential, is Emre Can. Now there are obvious reasons for this: Can has played nearly 100 games for LFC, has started multiple games for his country and is generally regarded to be a regular starter in the side. Unlike the likes of Oxlade-Chamberlain or Robertson, he has worked under Jürgen Klopp for a couple of years and thus doesn't have the excuse that he's been poorly managed or under-utilised.
But do minutes under the belt at Liverpool, being a regular starter for the club and having worked closely with Jürgen Klopp undermine the fact that at just 23 years of age, Emre Can is still very much a young player and still has a lot of development to do? Absolutely not.
For a point of comparison, let's look at three of Liverpool's star players: Philippe Coutinho, Sadio Mané and Mo Salah. All three of these players are 25, just two years older than Can, but all three have experienced huge upsurges in form in the last few years. Salah scored 29 goals in the two Serie A seasons after he turned 23; Mané has found consistency and stepped his game up a level since joining Liverpool at the age of 24, although he's been scoring goals regularly since he joined the Premier League in 2014; and whilst Coutinho has always had huge talent, he has only converted that into end product in the last two seasons – since he turned 23.
The point is here that whilst Can has come on leaps and bounds already under Jürgen Klopp once given a consistent role starting in central midfield, the years between 22 and 25 are the years where players are generally considered to improve most, ready to hit their peak by the time that they are 25. For Emre to already be a consistent starter for LFC is a huge bonus, but it does not undermine the fact that he will continue to develop in the next few years.
None of this is to suggest that other players in our team don't have potential. Oxlade-Chamberlain does have raw attributes, Robertson has a wicked left-foot and Karius was one of the best young keepers in the Bundesliga when we bought him. It's merely to highlight that just because we haven't seen these players regularly, but have seen Emre, doesn't mean that he doesn't still have growth to do – he doesn't lose his potential.
Another potent example to use here when discussing the way the fanbase discusses potential is Divock Origi – currently on loan at Wolfsburg and only 22 years of age. Dominic Solanke scores a couple of goals in a youth tournament and pre-season friendlies and he's got mountains of potential, but Divvy who has over 20 goals in 2 seasons for LFC hasn't improved quickly enough.
What I'm trying to illustrate is twofold. The first point is that potential doesn't disappear after one or two seasons just because a young player doesn't explode onto the scene or instantly make the impact that someone like Mbappe has made. Even very good players, including LFC's best current crop took time to be developed and reach their full potential.
The second is that as a fanbase, the way we view potential is skewed to mean – I've not seen them enough in a Liverpool shirt. Oxlade-Chamberlain who has failed to excel at Arsenal over six years has bags of potential to be unlocked, but Emre Can who has worked his way into a position where he's one of Liverpool's best starting central midfielders, isn't considered as potential anymore, despite being the younger player and having less Premier League apps under his belt.
Overall, I think it's worth just considering how we view Emre Can and compare it to how we view other players around his age, with his potential and with his talent. Because make no mistake, Emre Can does have potential. He's strong, he's a good tackler, he can pass the ball well and he scores terrific goals. The biggest way for Emre Can to improve right now is to find a consistent level of high performance, which is generally something that happens in the careers of very good, if not necessarily Messi or Ronaldo level players between the ages of 23 and 25.
And with this article being written with the spectre of Juventus and Can's contract dispute rumbling on, it's well worth considering just how far Emre Can still can go, and how high his ceiling truly is. He is a player Liverpool cannot afford to lose. He, and say this without a hint of negativity – has a lot of potential.