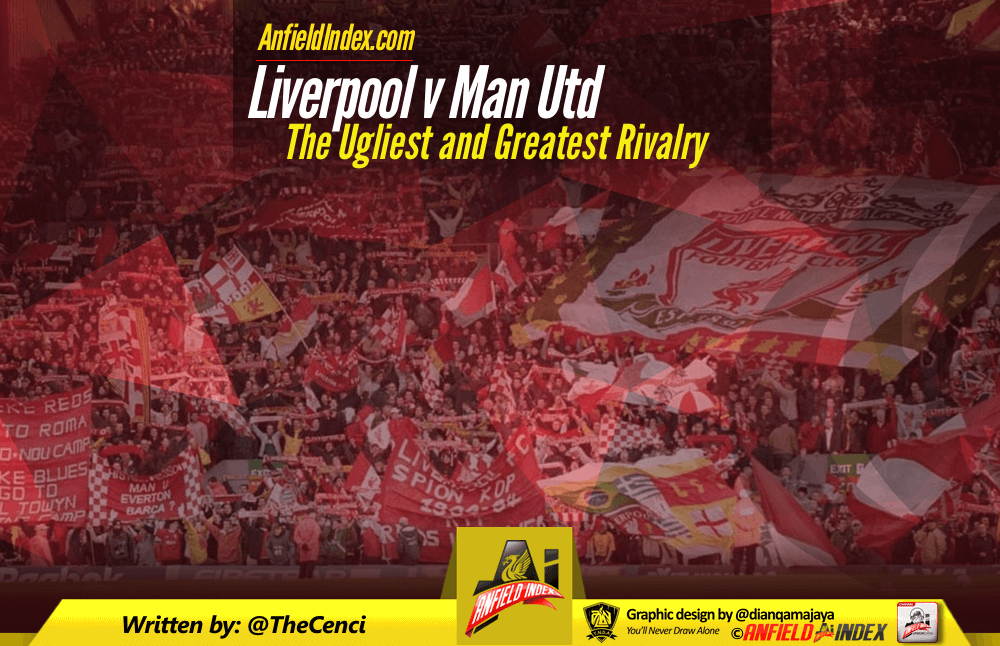 Liverpool v Man Utd: The Ugliest and Greatest Rivalry
For me this all started in May 1977.
I know this is going back a fair bit but bear with me.
It was a Saturday afternoon and the League Champions had to conquer the impertinence of Man Utd to secure a League and Cup double. This wouldn't prove to be a problem. United had finished sixth that season – a full 10 points behind the Reds (two points for a win in those days, of course) and had been at Anfield a few weeks earlier and lost to a solitary Kevin Keegan goal.

My Dad was a Blue though no hater of Liverpool and he advised my eight-year-old self not to be so cocky. 'They'll do all they can to stop you,' he said, but I wasn't having any of that. Liverpool were in the Cup Final for the first time in my memory, being too small to recall the Newcastle game in 1974. I'd also seen United lose to Southampton a year earlier so they weren't great shakes. I snorted derisively at the old man and went back to my dinosaur sticker collection.
Come that day, I called for my mate Tommy around the corner and watched the game in our house. The full build up lasted for three hours during which we got through our own body weight in crisps and lemonade.
Come 5pm we'd left the house and strode silently back to Tommy's house. He had swings in his back garden. It was as much comfort as we could muster.
Bastards.
It was my first real taste of defeat as a Red and though the sulking was replaced by joy a few days later in Rome, an enmity was growing in my young heart. Everton were our main rivals, of course, but I had a Blue Dad, granddad, uncles and cousins and they were great. Manchester, however, was a foreign country. So close (thirty miles) but so far (strange accents, cobbled streets). Following that day my eyes narrowed at the mere mention of their name.
It would be a full decade before I saw them in the flesh, this time under the guidance of Ron Atkinson – a Scouser himself. They seemed different from other visitors at Anfield. Taller somehow and less panicked than the others who came, saw and gave up the points. They seemed to almost enjoy the vitriol which poured from the stands.
And they were beating us. Regularly. Despite a relegation suffered in the 70s and us being the greatest side in the world and dominating the League year after year, they would still snot us when it really mattered. This was most apparent in the two FA Cup semi-finals of 1979. It's hard to believe that there were only two seasons between my initial run-in with them and the games at Goodison and Maine Road. The younger more carefree me had looked forward to playing them, the ten-year-old was more apprehensive. There was more to lose then. I still didn't know any United fans then but they clearly took joy in getting in the way of our dreams. They won the replay 1-0 and my hatred deepened like whisky sinking into an oak barrel.
The peak of the Liverpool-United rivalry undoubtedly came in the 1985 Cup semi-finals. Again, it took a replay at the same grounds and again they went through, but things had taken a more violent turn. I didn't go to either game on the grounds that I had school exams to fail and was expected to revise, but I was far from disappointed when I was given a parental three-line whip. The animosity had spilled over from the stands and erupted on the streets outside. People talk about today's fixture being overly aggressive but nothing came close to those encounters.
The truth is we just hated each other. Football had little to do with it. This was just city shouting at and then fighting with, city.
When United dominated the League from 1993 onwards matters came worse, though not in a physical sense. The competition between the fans became more cartoon than anything. Suddenly, United fans were sprouting up all over the place. At work, I would receive the odd comment from them replied by reminding them that I'd been to their own ground more than they had and, subsequently, they lacked the authenticity of being a proper rival to me and my views. The only Utd fan with whom I had lengthy discussions was the one who went to their games and knew who Dave Sexton was – precisely the fans I'd hated in the 80s. He's still a mate today and I like him because I take him seriously. I can't be doing with the rest of them.
And this leads to a cruel irony. It's this.
There are things I really like about Manchester.
Many of my favourite bands hail from there, I like their dry, caustic wit and the word 'mither'. I'm all for words which are used exclusively in one particular district. I just despise that club, that's all. I'm still one of those people who frown at people who wear that shirt outdoors. I'm a calm, rational man, but that raises my hackles. I can't see that ever changing.
But there's one thing that annoys me more.
It's people dreading our game with them. I don't care if we're a non-league side and they're in some elite Super League or other. I'd still expect the players, manager, background staff, stewards and fans, be it in the ground or watching around the world, to expend every available calorie into beating them regardless of our quality. Equally, I don't care if it's the 4th Preliminary Round of the North West Pub League played on a Tuesday afternoon to four old lads and a whippet (bit of stereotyping there), I'd want a win. No, it's more than that. I'd want them battered.
Everton is the bigger game for me though that changes from time to time, United is the one which sends the soul through the wringer, but you can't show weakness there. You can't be lily-livered and worry about the lack of Sadio and a form book. They didn't when we were easily the better side and they still bloodied our noses on a regular basis.
It's going to be a war of attrition on Saturday and I'm made up Rooney's not there. It was horrible to have a lad who grew up in the same streets as me on their side.
Good luck everyone. No runners. No faint hearts.
I still owe them for '77. I always will.