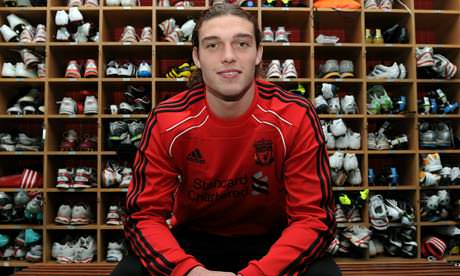 Andy Carroll - Big pressure, Big fee, Big man.

When Carroll was signed earlier this year, it is fair to say it was a "big" signing, for many reasons.
Firstly, Carroll himself. 6ft 3, and 80kg. You only have to look at him to see his one big lad.
Then there was his transfer fee. A record fee for us at £35million. Eclipsing the transfer of Suarez, which was confirmed not long before.
And finally, who he was replacing. A "world class" striker, who despite his indifferent final 6 months at Anfield, there was no doubt we was losing a player who was special for us on the pitch, and had a great goal scoring record. That of course was Torres.
It is fair to say though, that there was an element of risk with the Carroll signing. Firstly in the short term, he was injured. And he didn't make his first Liverpool appearance until a month later. A substitute appearance against Manchester United.
Then there was the off the field dramas. Arrests, charges, and alleged training ground bust-ups. Even the England manager Capello has told him to curb his drinking, and concentrate on his football.
With all this came yet more "big". Big expectation, and big pressure.
We are yet to see the very best of Carroll yet however. And all the pressures have seemed to become even bigger. But lets not forget, we have only seen Carroll turn out for 5 league games so far. And already, many seem to have made their mind up about him.
So with all this big expectation, and big pressure, what can we come to expect from him in this coming season?
Well firstly, we have signed a range of new players, who will certainly help us get the best out of Carroll. The width provided by Enrique and Downing down the left, and Adam's set piece ability, will allow us to exploit one of Carroll's best attributes, his heading.
During the first half of the season, Carroll was of course at Newcastle. He was proving to be unplayable, and no more so than against ourselves in December last year. And it is fair to say, the way Newcastle played and set up, allowed them to get the best out of their big number 9. He scored 11 goals in 19 games, as well as provided 3 assists. He was integral to the way they played.
Of his 11 goals, 5 were headers. Without comparing every single striker, I bet there are very few (if any) who achieved double figures (over the whole of last season) who scored such a large percentage of goals with their head. And not only his goals, but 40% of his attempts on goal, were with his head too.
He isn't bad at converting them either. 20% of his headed attempts at goal, found the back of the net. Pretty impressive really, and shows that if you can give Carroll the service, he can find the back of the net. (For the record, his overall goal/shot conversion was 18%, so it isn't all just about his head). Another interesting statistic, is that he averaged a headed attempt on goal for Newcastle last season, every 68 minutes.
If you take these figures over a full season, and assuming that he would play every minute of every game (3,420), then that equals 50 headed attempts. Converting 20%, means 10 headed goals in a season alone.
This all clearly shows that Carroll has a great strength, and that is his aerial ability. Off the top of my head, I can't think of many players who could achieve double figures in headers alone over a season. This means Carroll can be a real weapon in our armory, like very few others.
But a player can't set himself up for a headed goal. It requires very good service, and excellent delivery. Something at Newcastle he had in abundance. Barton, Nolan, and Enrique all provided service for Carroll's goals.
In his 5 appearances for us however, Carroll looked frustrated. The delivery wasn't there consistently enough, and we didn't have any width to provide quality either. While he did manage to have a headed attempt on goal every 48 minutes, more frequent than at Newcastle, he only scored 1 of them. A 10% conversion. This is only a small catchment of data though remember.
So, if Carroll is having more frequent headed attempts on goal, surely this is a better thing, right? Well, not quiet no. The stats tell you a basic fact, but it can't define the quality of a delivery. Just pumping balls into the box, then you have a reasonable chance Carroll can win them, and get a header on goal against most defences. Provide quality delivery, and he can escape his marker easier, and improve his chances of scoring.
This is something we really lacked in his 5 appearances. From memory, I do remember many a headed effort from Andy, many of which he fought to win, but failed to threaten to opposition too much, despite winning the header. But how many quality crosses into the box can you remember? I can remember one, and that was his bullet header against Manchester City.
Which brings me nicely onto the new signings again. Charlie Adam, as Ferguson famously claimed, has corners alone worth £10million. Stuart Downing, who last season provided a cross into the box every 10 minutes, seems a perfect fit for a player like Carroll. And even Enrique, a former team mate at Newcastle, averaged a cross every 24 minutes.
As I stated at the start, there is many big things about Carroll. But the most important thing, is he really could become a big asset to ourselves at Liverpool. He isn't all just about his heading ability, he has much more in his locker than that, but lets not deter away from what is a clear strength.
Against teams where we will struggle to break them down, who will sit back, Carroll will be a extremely useful. He can cause damage, with our wide players stretching the play, and providing quality delivery. This gives us a dimension to our play we have not had in years.
It is fair to say that in his limited appearances for us to date, we have only seen flashes of what Carroll can give us. But a full pre-season under his belt, with 3 goals in 6 games, and the new additions to our team, I am very confident he will become a big player for Liverpool.