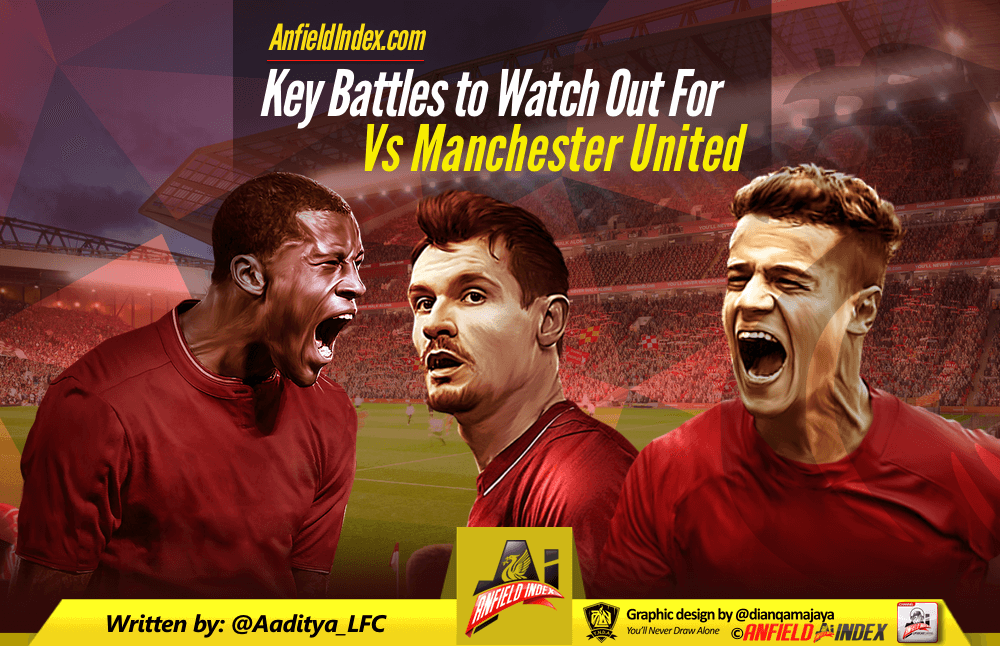 Liverpool v Manchester United Preview - Key Battles
The international break is over, and Liverpool have bad form and the loss of Sadio Mane to overcome. Just another international break that has brought strife to the Reds, then. And if that wasn't enough, the Reds welcome a red-hot Manchester United to Anfield on Saturday, as Jurgen Klopp finally looks to find a formula that could break a wretched run of results in September.
United have won all of their games this season, bar one, a 2-2 draw against Stoke City. Their new signings have bedded in beautifully, as Romelu Lukaku has banged the goals in and Nemanja Matic has settled in wonderfully.
For Liverpool, Mane's absence could not have come at a worse time, as facing this United side will not be an easy task at all, let alone without one of the talismen of the side.
Paul Pogba is a long-term absentee for the Red Devils who also have an injury worry of their own, as Marouane Fellaini has been ruled out after sustaining an injury on Belgium duty.
Here are some key individual battles that could decide the outcome of the game.
GINI WIJNALDUM v NEMANJA MATIC
It might sound weird to include Wijnaldum as one of Liverpool's key players in this game, but he is important to this side. It has been no secret that when Wijnaldum plays well, he gets this team ticking. And when he goes missing, as is the norm on away days, Liverpool find it difficult.
Wijnaldum's strength and ability to hold possession in midfield is key if Liverpool want to control proceedings. He is adept at receiving the ball on the half-turn and driving forward, providing the required thrust from midfield.
We know Wijnaldum can do that, but can he produce it on the day? That is the big question. With Wijnaldum, the biggest concern is that there is no middle ground. He either plays brilliantly or is absent, virtually leaving the side with only ten men on the pitch.
That is the concern, isn't it? Which Wijnaldum will turn up? The one that left Aaron Ramsey on his backside multiple times, or the away-from-Anfield Wijnaldum?
For Klopp's sake, it has got to be the former, because the man that will go face-to-face Wijnaldum is probably the best defensive midfielder in the league, on current form. Matic is strong, he reads the play well, is fearless in the tackle and isn't too bad at picking out a pass either.
So if Wijnaldum goes missing, Jordan Henderson and Emre Can in a two-on-two duel against Matic and Ander Herrera will not quite fancy it.
PHILIPPE COUTINHO v JUAN MATA
The creative lynchpins of the sides, the two little men have a massive responsibility on their shoulders. Liverpool's little Brazilian magician has an even bigger onus on him because of the absence of Mane, and another solid performance here will definitely win over any last naysayers who still doubt him, after the drama of the summer.
Coutinho could well be moved from the middle of the park to the left-wing role that he has occupied for large parts of Klopp's Anfield tenure. But, we all know that wherever he is on the pitch, Coutinho has got an eye for a goal and an eye to pick out a killer pass.
With the pace of Mohamed Salah providing an outlet at all times for Liverpool, it will be imperative that the Reds find him accurately and at the right moments. Whoever plays at left-back for United, Salah will have the advantage of pace over his full-back, so the ball to him will be crucial.
And if you need one man to pick out those killer passes consistently, you need look no further than Coutinho. He has scored a couple of crackers already this season – against Leicester City and Newcastle in our last two Premier League games and has scored in the Reds' last three matches, after also netting the equaliser in Moscow.
The presence of Henrikh Mkhitaryan, Marcus Rashford and Anthony Martial make Mata's job a little easier than Coutinho's, as he can afford to share the creative burden with those around him. With Lukaku lurking to finish the chances he gets, the United front players can revel in the luxury that the majority of the chances they create will be finished.
That is not a luxury Coutinho has had too much of, recently, with Liverpool's hopeless profligacy in front of goal. But that has to turn around at some point, and what better occasion for it to turn than on Saturday night.
DEJAN LOVREN v ROMELU LUKAKU
Logic dictates that Romelu Lukaku will bully Dejan Lovren. If you go by the history books, and Lukaku's overall performances against the big sides in the Premier League during his time at Everton, he will get bullied by Lovren.
But even the most optimistic Liverpool fan would have to agree that the latter is unrealistic, utopian and bordering on delusional.
Lovren has admitted that he's playing through the pain barrier, with some pharmaceutical help. And Lukaku will be there to cause him more pain, literally and figuratively.
The Belgian is a brute of a man, with an aerial prowess matched by very few strikers in the league. What Lukaku brings to this United side is massive. In addition to the power of Zlatan Ibrahimovic that they had last year, Lukaku brings willing running.
He is always willing to go down the sides of the defence and drag the centre-backs out of position. It is that mobility which has allowed the three players behind him to move about interchangeably and cause havoc for the opposition.
Lovren hasn't exactly covered himself in glory this season, and this test is something that he definitely won't look forward to.
But as a Liverpool player, if you are not willing to fight and look forward to a challenge when the opponent is Manchester United, you really do not deserve to be wearing that red shirt.
And that is what Klopp is going to want from his players on Saturday – pride, passion, desire, fight. If the players show that, Anfield will respond.