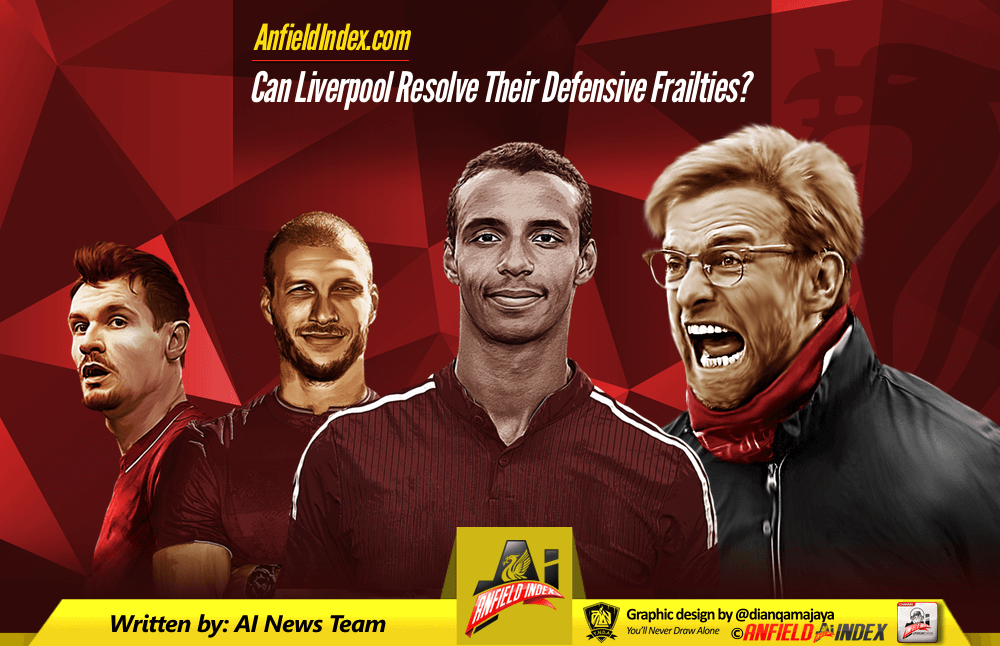 Can Liverpool Resolve Their Defensive Frailties?
An issue that is apparent to every Liverpool fan, pundit and neutral is that they're remarkably frail at the back. They ship goals and not just the odd couple either. In fact, this has been a concern for a while for most people, but Jurgen Klopp and the club are yet to properly address the defensive vulnerabilities that are seemingly so evident to everyone else. After conceding 42 over the course of last season and 12 so far this campaign, with only Palace and West Ham in the whole league shipping more, will the penny finally drop?
The summer was full of promise as far as solving their centre-half issues went as Liverpool looked on course to lure yet another Southampton player, this time Virgil van Dijk, to Anfield. Everyone associated with the club was betting that he would have added that much-needed quality at the back that they're so severely lacking. Take nothing away from the likes of Dejan Lovren, Joel Matip and Ragnar Klavan; but no combination including two of the aforementioned names would ever perform shutouts on a regular basis. Add to that the concerns over both Simon Mignolet and Loris Karius and you can suddenly see why an organiser and leader like van Dijk was, and still is required.
One thing you can't complain at as a Liverpool fan or a neutral is the attacking threat that they pose, especially the speed of it. The likes of new signing Mohamed Salah, Roberto Firmino and Sadio Mané have been hugely impressive so far, especially in a forward three and defences just can't cope with not just the pace but their movement and clever thinking. It really is a joy to watch and you could say they're one of the best sides to see live if you want to excitement, end to end football and goals.

You would have probably expected Liverpool to be fairing a bit better so far this campaign but they currently sit in 7th. They've won 3, drawn 3 and lost one, scoring 13 and conceding 12. In 2 of the 3 games that they've drawn, they were in the lead and their failure to protect their advantage has, therefore, cost them 4 points. So instead of being 7th, they'd now be sat in 3rd. Come the end of the season that could be all the difference between qualifying and not qualifying for the Champions League.
A Unibet spokesman recently commented that with how things have gone for the past 18 months or so, one would expect Liverpool's defensive frailties to continue. It can be argued that they actually sold their best defender in Mamadou Sakho to Crystal Palace this summer. You could also argue that all of their eggs were in the one basket as they were all betting on the eventual arrival of van Dijk but after failing with that move, they seemingly refused to look elsewhere. The only way to shore up the leaky Anfield defence is to sign a proper centre-half and you'd imagine that will happen in the winter window. If it doesn't you would begin to worry.