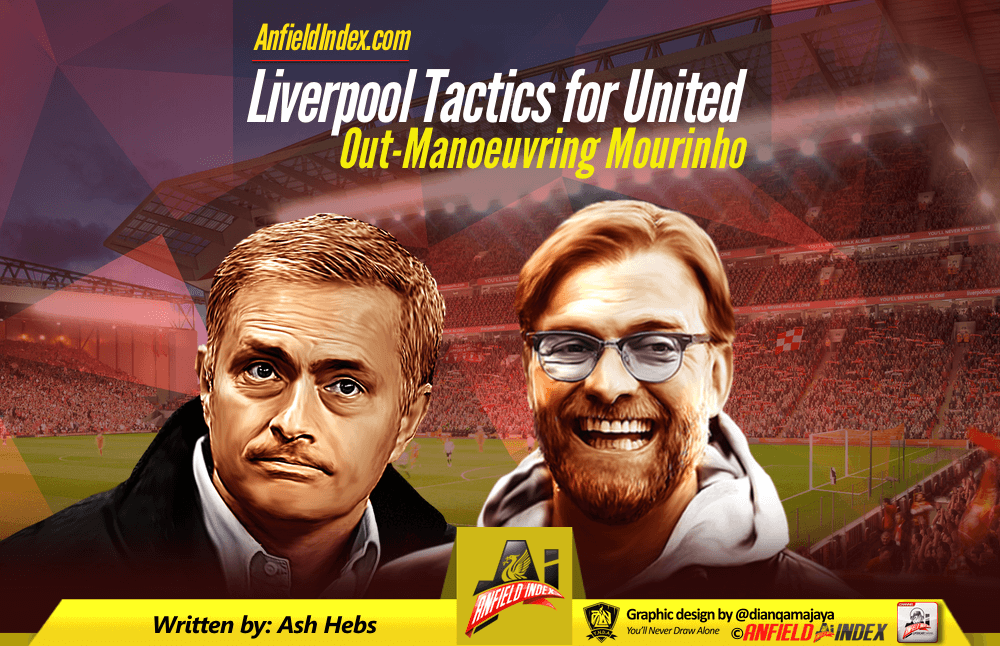 Liverpool Tactics for United: Out-Manoeuvring Mourinho

With the nervous energy ticking over as we approach Saturday's game, what follows are some musings on the United game. We drew with United twice last season and struggled to create chances against them, such is Mourinho's mastery at controlling and limiting space against top quality opposition. We continue to struggle against the parked bus, and the fact that United are stronger than us following the transfer window means, in our current form, getting anything out of Saturday's game will be a decent outcome.
I think if Klopp wants a win then he will need to try something different to what we're used to. If he goes with his usual approach then I feel United will have the upper hand as they will prepare for the predictable game plan we've become used to in the 433 and will have all the answers they need. I think we should stick with this formation but play in a different way to upset United and force them to physically defend. I suspect if Mourinho expects us to go 433, then he would deem a 4231 perfect to counter us in midfield. So, I wouldn't be surprised to see him line up in a lopsided 442/4231.
A diamond would certainly suit our squad and the players available but it would be a bit of a left-field call from Klopp to start with such a formation as it would leave too many spaces in midfield when United counter and wouldn't give us the width needed for our two strikers, when space is at a premium. A back 3 is also possible but, given it's not a well-tested approach, I think this is also risky against the attacking quality of United.
Mourinho hates being hammered so the first goal for us will help, without United throwing too much caution to the wind early on in the game. It allows us to build on the lead if we can get it but we'll need to manage the nerves. The fact that United won't open up too much means we have less of a chance to get nervy of dropping the lead. If United take the lead, then it could be a long afternoon.
I think they are good enough to play on the front foot against us with the quality they have in attack and I think we would struggle to contain them with only Henderson protecting the back 4 in an open game. So I feel we need to avoid conceding at all costs and take things from there. Mourinho will pride himself on keeping a clean sheet and seeing pressure grow on a rival manager, so the onus will once again be on us to make the play. United will be more than happy to give us the ball and see us pass it around in vain as they set up (off the ball) in a 4-6-0 or 4-5-1 (or 3-6-1 if they play a back 3), moving laterally across the pitch to block space and passing angles. I think Klopp needs to keep instructions as simple as possible and go for a pragmatic game plan.
The game against Chelsea at Anfield last season is a good blueprint for the approach we need to take. I think the only way we will be able to force United out of their safe set-up is to turn the game into a war. Go direct and make United defend (even if they are better in the air) then press like crazy for the second balls when appropriate, to catch them out of shape. It's the tactic that served us well and nearly won us the game against a deep, resolute Chelsea last winter.
In order to make this work, I would use Can as the advanced midfielder when we attack, in a default, solid 4321 shape. Flood the midfield, keep things compact in a narrow formation that gains width when United sit back. It helps us pick our moments better. I would target our left flank as a means to pin back Antonio Valencia and when the left-back (I expect it to be Moreno) pushes upfield, Can should break from the middle of a flat 3 and link up with Coutinho and Moreno to create crossing moves as high up the pitch as possible.
I think missing Mane in this game is both a blessing and a curse. His indefatigable style would cause United a real headache. Conversely, his absence means it might make them come out their shell with a bit more confidence. It also gives our front 3 a better balance with Salah as the finisher, Coutinho as the creator and Firmino as the man to drag defenders out of position by dropping deep to allow runners in behind. I think Coutinho would get totally smothered in a deeper role, whereas in this system he will be a real asset between the lines helping to drag Matic and Herrera out of position (alongside Salah who would play tucked in behind Firmino, with the licence to roam out wide when he gets support from midfield).
I think the 4321 will help us get back to basics and get our identity as a team back a little. After all, this is the formation Klopp used when he first arrived as manager. It will give us solidity in midfield, will prevent us getting overly exposed on the counter and, when we "stretch" the shape in attack, it allows players to quickly get back into defensive position when the ball is lost. I would start with Firmino and if the score is goalless at half-time I would bring on Solanke and play more of a long ball game to bypass United's midfield and have the likes of Can and Gini making late runs from the middle to get into the box when we win the second ball.
Can's physicality, in particular, proved a real asset against stubborn defences last season and he could be a key man in this game, where he has the opportunity to showcase his pressing ability as well as his goal-scoring prowess in a more disciplined team approach.