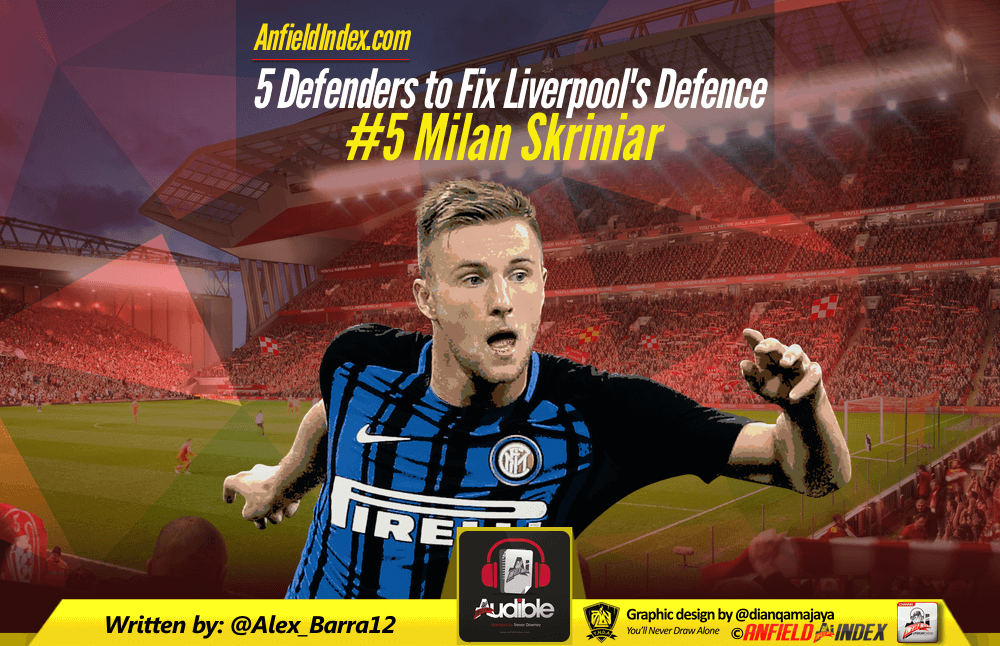 5 Defenders to Fix Liverpool's Defence - #5 Milan Skriniar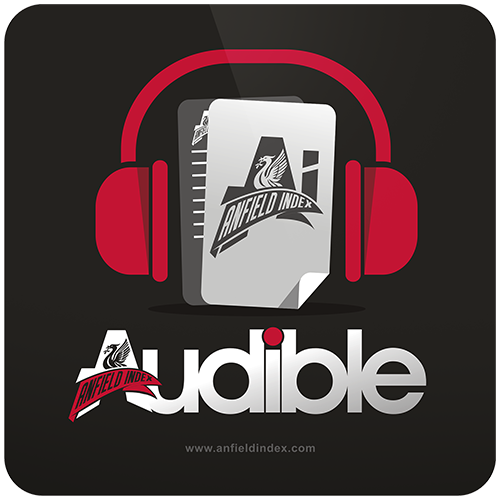 Listen to this article via @AIAudible !
Everyone knows the rhetoric. Jürgen Klopp may be resolute in his public support for his four centre-halves, but the summer pursuit of Virgil van Dijk speaks volumes about the need for a commanding, composed centre-half to fix Liverpool's shaky defensive problems. Come January, those problems will likely be addressed with the pursuit of a centre-half – given how often Liverpool's manager is having to face scrutiny in the press regarding his side's frail rear guard. Or perhaps he'll wait until the summer to pursue a younger, top target he can mould into an elite centre back?
So, who should Klopp look at to aid his woes and finally put that pesky criticism of his side's Achilles heel to rest? Klopp said of his attempts to sign a defender in August "Look out there and show me five that would make us stronger. Five. Then you would win a prize." Well, Jürgen, without trying to show off, here's this writer's opinion of five defenders who would be an immense improvement on the mistake-ridden grouping currently at the heart of Liverpool's defence.
Without further ado, here is the first of five defenders who could help solve the defensive fragility – Inter's Milan Skriniar.

Style
The key issue with Liverpool's current centre have conglomerate is the tendency to make a mistake and allow one high-quality shot on goal – which inevitably finds its way into the back of the net – thus putting significant pressure on the attack to bail their defenders out. It's become the "class Liverpool story" – two shots allowed, one goal conceded, thirty-three shots for, one goal scored."
Milan Skriniar – who arrived at his namesake Inter Milan for €35 million in the Summer – has made quite the impression for the Nerazzuri. He's looked robust and comfortable at the heart of an Inter defence which came under similar scrutiny last season – with Jeison Murillo, Gary Medel and Geoffrey Kondogbia all guilty of incredibly shaky performances. Inter under Stefan Pioli were culpable of gifting away leads and not being able to find their way through staunch defences, despite the goalscoring prowess of Mauro Icardi. It was an all too familiar sickness.
The cure? The acquisition of the big Slovakian from Sampdoria – where a disastrous start under Vincenzo Montella was rectified by faith from new coach Marco Giampaolo, who saw the 22-year-old Slovakian for what he is – a natural born leader with an uncanny skill in possession and the dominant physical presence of a Viking.
Strengths
Indeed, the man affectionally called a "Viking" by Nerazzuri supporters has settled in extremely well during Inter's tremendous start to the Serie A, owing to the superb season he had during 2016/17 at Giampaolo's Sampdoria.
Standing at 6 ft 1 despite a sleek looking frame, the Slovakian has been compared to Martin Skrtel.
Please, for the love of all that's holy, continue reading. The comparisons come from nationality and appearance alone – not in the disastrous mistakes or the over-zealous, aggressive challenges as he charges back towards goal.
Skriniar is composed, and happy to have the ball at his feet with his gaze shifted further forward. He needs to work on his long balls – but that's belied by a superb pass success rate of 92% this season and 91 % last – more than Dejan Lovren's 84% last season or Joel Matip's 87% last, showing a composure in possession. It could herald a criticism that he only likes to play it safe – yet he had mirroring success rates with both the defensive Sampdoria and the offensive Inter.
Defensively is where it counts, however, and he's shown an aptitude to defend on a high line, aiming to stop counter-attacks before they ensue, given how much control Inter usually has on games under Luciano Spaletti, he's been particularly impressive at adapting from a relatively comfortable position in a low block at Sampdoria. There's also his work-rate – a modest and dedicated professional, the Slovakian will do his utmost to garner success for the team, and put his body on the line when required.
The biggest positive is his style – gritty, uncompromising, and resolute under Spaletti – with a stark defiance to conceding poor goals. His Inter side loves their 1-0 wins, winning ugly, and building from a solid defence. It was stark contrast to Pioli's Inter side last season, and a similar contrast to Klopp's leaky side this season. Skriniar's defensive nous will go some lengths to address that.
Weaknesses
Despite making more blocks (0.9) per game this season than any of Liverpool's centre-halves over the last two seasons, Skriniar's aggression off the ball can lead to problems. He'd be best in a centre-half pairing where he had some cover behind him, for when he eagerly steps out to engage with a counter-attack before it can grow in intensity.
When he first signed to Sampdoria under current AC Milan manager Vincenzo Montella, Skriniar was an unmitigated disaster. His first two games showed the flaws in his concentration, and he seemed over-awed by the occasion when his side were thumped by Juventus 5-0. Thanks to the tutelage of Marco Giampaolo, those torrid times have largely been behind the Slovakian, but the occasional lapse in concentration or costly mistake does pop up from time to time.
Put plainly, he doesn't possess the assuredness that Virgil van Dijk does – he doesn't come with the guarantee that all those concentration problems have been permanently fixed.
There's also the issue of his recent move to Inter from Sampdoria – one that has brought out the best in both player and club, as Spaletti's side look favourites for third spot and a Champions League place. If Liverpool is to have any hope of luring him away, Champions League would be a must. Skriniar would certainly be a summer replacement, as opposed to a January addition.
Would he impress the way Liverpool needs him to impress from the outset? Probably not. At a mere 22 years of age, however, there is plenty of time for him to grow into that elite defender, with the potential to dominate for years to come.