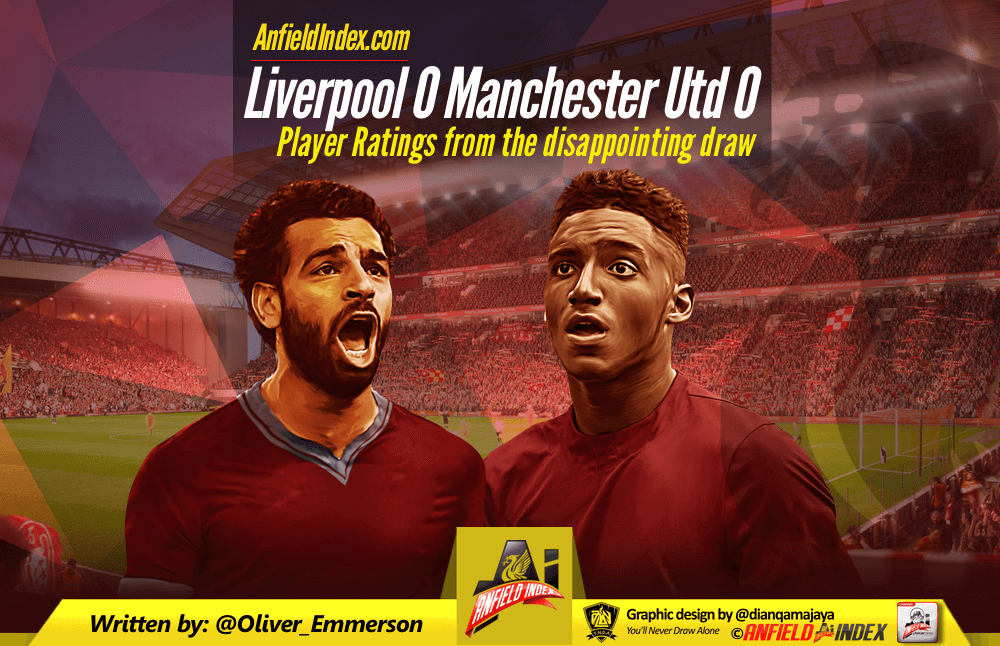 Player Ratings from Liverpool's disappointing draw against United
Onto the next one and all that, but after a much better attacking performance at home to Man Utd compared to last season, it's annoying that the Reds couldn't land all three points.
A chance here, a chance there but always just a little lacking. Anyway, how did everyone get on individually?
Simon Mignolet (6/10): As commanding as a sheep at times, with too much hesitancy on more than one occasion as Matip looked to leave the ball for him. However, he stands up well for Lukaku's only chance of the game and keeps a clean sheet so it's a solid six.

Joe Gomez (8): Having to stand up to Anthony Martial for an hour is tough enough, but going against Marcus Rashford immediately after is even worse. A couple of shaky moments against Martial early on but recovered thereafter to produce a top display.
Dejan Lovren (7): Poor for that Lukaku one-on-one in the first half but he was superb aside. Commanding, a big presence, giving United's Belgian striker no time to move or think. One of the Croat's best Liverpool performances
Joel Matip (6): Similar to Lovren but not so highly rated as he didn't have much to do, United targeting his centre-back partner a little more. Some good runs through the midfield with the ball as per but end product lacked a little, which is perhaps fair enough for a defender.
Alberto Moreno (6): Another good performance from Moreno who coped against United's plethora of long ball's well and even managed to bypass the defensive combination of Valencia and Young to contribute going forward with some nice crosses.
Jordan Henderson (6): Decent enough from the skipper but nothing to set the world alight, a little slow in his passing until the second half but was always quick in the challenge, doing well to avoid a situation where Lukaku could knock something down to an advancing midfielder.
Emre Can (7): Of Liverpool's midfield three, Can looked like the one most likely to break down the United wall, using his driving pace and imposing physique to carry the ball past waves of United players. Something he needs to try and do a little more often against the lower teams, as it really does help the Reds get up the pitch.
Georginio Wijnaldum (6): Better from Gini who started the game very strongly before fading out a little, but again proved that it's against the stronger sides where he comes to life. Perhaps should have been sacrificed to go more attacking later on.
Philippe Coutinho (6): It's a story of sixes for the Reds but in fairness, that really is the essence of a 0-0 draw. Coutinho looked good, a little caught between midfield and attack. Played some good passes, especially a little dink over to Firmino in the second-half, and managed to resist shooting from range every time he got the ball.
Mohamed Salah (7): The boy is fire. Pardon me – The King of Egypt is fire. Not quite enough to force an opening and he arguably should score after De Gea saves from Matip, but intelligent and skilful runs that simply oozed class, especially in the first 45 minutes. Disappointing to see him taken off but there will be reasons.
Roberto Firmino (6): Not a vintage Firmino performance as we often see against a low block, but they say that defence starts with him and the feeling I got watching the game was that Liverpool were a little more threatening going forward than last season as they were quickly getting the ball back, Firmino not giving De Gea or the United defender's any time to slow the game down by knocking it around at the back.
Subs:
Daniel Sturridge: N/A (Did he touch the ball?)
Alex Oxlade-Chamberlain: N/A (Nice little run when he came on)
Dominic Solanke: N/A (Should have been on earlier)