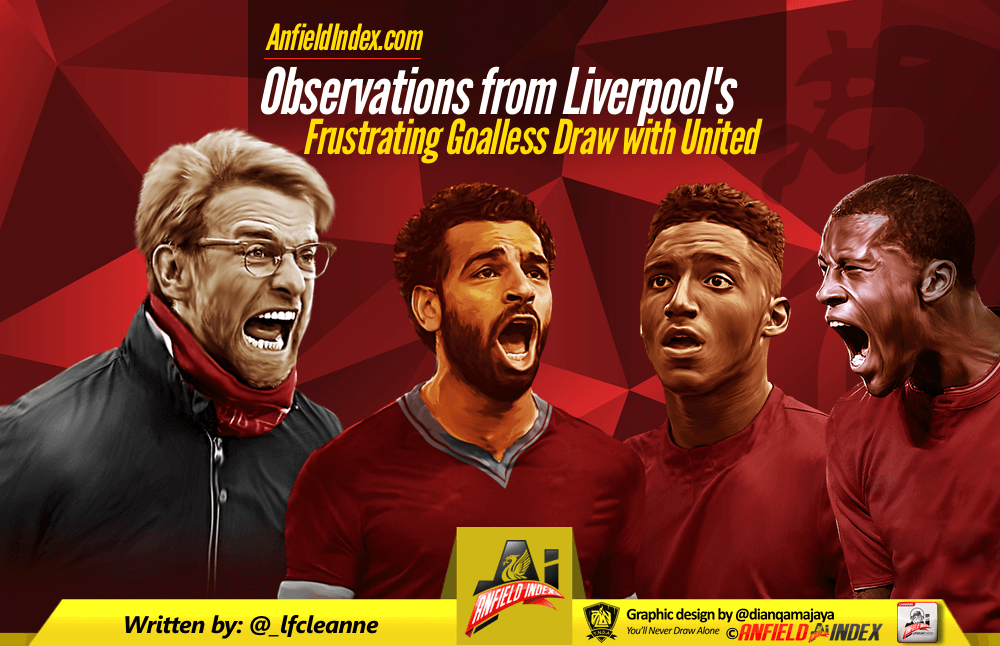 Observations as Liverpool Frustrated by Goalless Draw with United
Back to Premier League action after another dull international break, Liverpool dominated an in-form Manchester United side but couldn't find a way to steal all the spoils in a goalless draw.
The Reds got off to a lively start, dominating the ball and pressing the opposition high up the pitch. However, the game saw another succession of missed chances for Klopp's side who were left frustrated by a Jose Mourinho shaped bus.
Here are the observations from the game.

Joe Gomez impresses at the back
Gomez was a surprise inclusion to the starting lineup for Liverpool, getting the nod ahead of Trent Alexander-Arnold to play at right-back – a decision that paid off for Jurgen.
The Englishman has been deprived of consistent game time since returning from his ACL injury but delivered a full-proof performance against world-class opposition at the weekend, restricting Anthony Martial and Marcus Rashford's involvement in the tie.
Furthermore, he showed willingness to get forward at the other end of the pitch and add some width to the play. Delivering accurate passes to his teammates, Gomez almost turned provider when his dangerous cross found Emre Can in the box. However, the German was unable to make the chance count.
Still, for a player who's had such little game time in recent seasons, it was a performance full of promise from Gomez. A deserved man of the match for The Reds.
Wijnaldum steps up on big occasion
Gini's received his fair share of criticism this season for failing to turn up to matches and establishing any kind of impact in the middle of the park. Yet, Wijnaldum stepped up against United on Saturday, showing initiative and willingness to drive into the final third.
The Dutchman showed strong energy to maraud around the midfield, snapping into tackles and dribbling forward with menace – traits we fail to see away from home. Up against a very physical United team, it was a very good day at the office for Gini.
We just need to see it on a far more consistent basis.
Mohamed Salah sparks again
Salah was electric yet again for The Reds, bombing past defenders with relative ease and creating a number of chances for his teammates. The Egyptian winger continues to look a bargain following his summer switch from AS Roma, fitting seamlessly into Jurgen Klopp's high energy, fluid style.
Of course, Sadio Mane will be a huge miss for Liverpool, but Salah provides someone to fill the void in his absence. On Saturday, he was the man to make things happen. If Liverpool were going to get a goal it was going to come from him, with his trickery causing a constant headache for defenders.
If only he'd left the ball for Coutinho on the edge of the area following David De Gea's save…
Liverpool require a ruthless finisher
Roberto Firmino adds a heck of a lot to this Liverpool side. Defensively, his relentless pressing sets the tempo for his teammates while forcing the opposition into mistakes high up the pitch. Going forward, his creativity sees him rack up a lot of assists.
However, when it comes to ruthlessness in front of goal, the Brazilian just doesn't match the likes of Romelu Lukaku, Sergio Aguero and Harry Kane. That's where Liverpool desperately require an out-and-out No.9.
The Reds haven't scored a goal after the 77th minute all season, registering just one second-half goal in eight games. If they want to be challenging for a top-four spot in an increasingly competitive league while establishing a good run in Europe, a top-class striker wouldn't go amiss.
Substitutions too late again from Jurgen
Arguably the biggest criticism of Jurgen Klopp since he took over as manager is his stubbornness in making substitutions. Waiting until the 78th minute to bring on Daniel Sturridge and Alex Oxlade-Chamberlain, Liverpool's momentum had already begun to flatten. Not to mention the fact that 12 minutes of game time hardly allows a player to make a telling impact from the sidelines.
As for taking off Coutinho and Salah, eyebrows were naturally raised. Having been Liverpool's two most dangerous players on the day, the decision cut off the supply lines to the strikers and made it harder to penetrate a resolute defence. Of course, the players had undergone a lot of travelling after being on international duty, but if you're to have any hope of finding a winner you need your best players on the pitch.