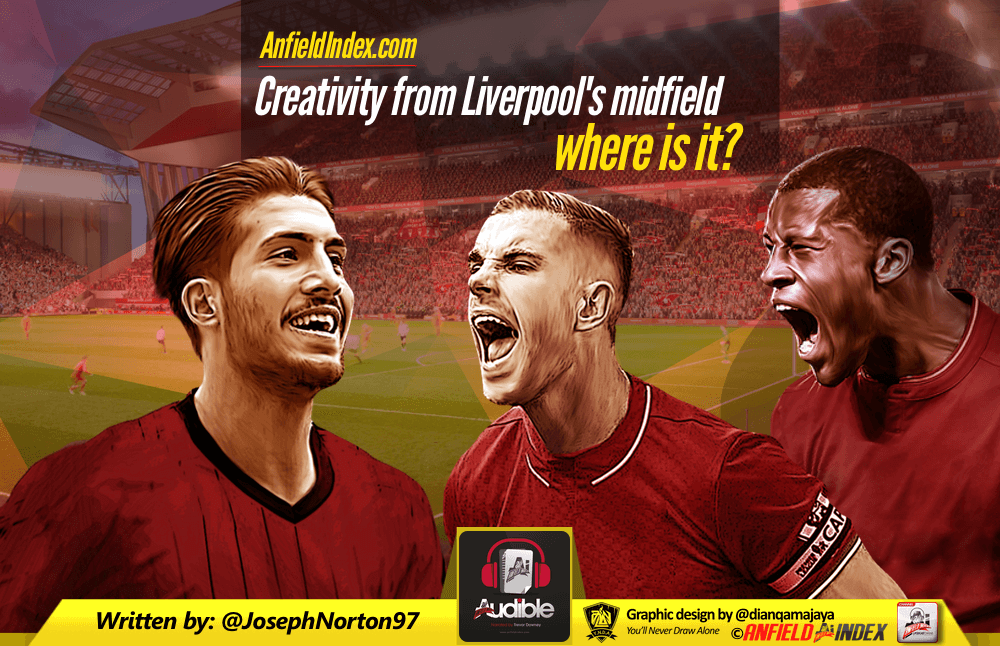 Creativity from Liverpool's midfield....where is it?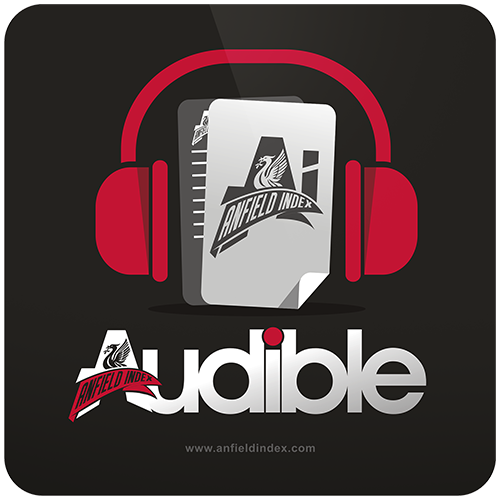 Listen to this article via @AIAudible !
After dominating yet another game of football in the league but not doing enough to win it, questions need to be asked as to where our creativity is coming from. Yes, we're creating chances & should be more clinical in front of goal but are we anywhere near our fluid and devastating best…not a chance! This time last season we had scored 18 goals and looked like a real force, this year we've scored four goals fewer and still look a little off the pace. We're not a million miles away from being back to our best but if Klopp continues to persist with a midfield three of Henderson, Can & Wijnaldum we can all forget about finishing in the top four. The boss can be forgiven for playing that midfield three on Saturday against United as it was a game we simply couldn't afford to lose but if this team is to carry on its evolution, more creativity is needed from deep.
At the start of last season, it was Adam Lallana who provided that spark and added quality in deeper areas resulting in us playing some of the best football I've ever seen us play. His ability in tight spaces and intricate play around the area created chances for the front three of Firmino, Coutinho & Mane, the type of chances we're simply not making this season. Had Lallana not picked up his injury or the Coutinho saga not happened, I am in no doubt we would've seen the Reds hitting the heights of last season and probably surpassing that already, however, it's time for Klopp to start trusting both Coutinho & Oxlade-Chamberlain to provide that creativity from midfield. It could be said that Klopp is worried about the balance of our side now that Mane & Salah are playing on the wings but both attacking players work hard to contribute to the defensive unit while Phil and Ox both understand the added defensive responsibilities of playing in midfield.
Now Mane is injured it is likely Coutinho will be deployed as part of the front three which would mean our creativity will have to come from Oxlade-Chamberlain who is more than capable of stepping into this role. Although supporters may have been underwhelmed by his first couple of appearances, Ox has all the attributes to be a quality player for Liverpool. He is no doubt learning session by session what is expected of him in Klopp's system which may highlight just why he's struggled since joining the Reds.

If we take a look at the way Man City are playing with both De Bruyne & Silva operating as part of a midfield three we'll be able to see that having two creative midfielders in deeper central areas is extremely beneficial. It comes as no surprise to me that they have scored over double the amount we have as well as conceding eight less which highlights that a balance can be struck. When we look at the stats it becomes quite apparent why this is the case and how effective playing creative players in midfield can be. Kevin De Bruyne averages 2.82 key passes per 90 compared to Silva's 2.34 which is considerably higher than Emre Can with just 0.87 & Wijnaldum at 0.47. This is not necessarily a massive criticism of our midfielders, they've simply not got the attacking attributes the City pair have and while I think they should both do more in an attacking sense, I think it's up to Klopp to change the personnel and add some much-needed creativity to our midfield. De Bruyne has created 3.49 chances per 90 this season with Silva averaging slightly less with 3.12, however, this is considerably higher than Can at 1.22 and Wijnaldum with a pretty dire 0.47. While it's the Reds pair who have attempted more dribbles per game, Wijnaldum topping the category with 1.9 & Can closely behind with 1.2 compared to Silva and De Bruyne who both average 1.1 dribbles per game, it may just be this statistic that highlights what Liverpool's midfield is missing. Although the Reds do need urgency from this area of the pitch which dribbling will give, it's the incisiveness and telepathy which has been missing from Liverpool's attacks. The quick, incisive one, two's around the edge of the box and in the half spaces is what tends to unlock packed defences rather than a midfielder dribbling from deep even though it does have its uses when the time is right. The Reds do however have three players in their team who can provide this creativity.
When operating in a more central position last season we saw how effective Adam Lallana can be, his technical ability in tight spaces, quick footwork and brilliant combination play was something opposition sides just couldn't deal with. There's not a lot that needs to be said about Phil Coutinho, he's just a magical footballer who lights up the football pitch so the more often you get him on the ball in central positions the more chances he will create and goals he will score, it's that simple. Although he is a slightly different player to Adam Lallana, Oxlade-Chamberlain can also be very good in tight spaces because of his superb technical ability, he is also very good in one v one situations. It has to be said that his passing and end product can at times be very wasteful and extremely frustrating but under the guidance of Klopp I have no doubt he can become a very good creative midfielder.
When we look at the stats for these players it becomes pretty apparent what the boss must do to take us to the next level. Phil Coutinho beats both De Bruyne & Silva when it comes to key passes & chances created per 90 this season averaging 3.33 and 3.61 respectively which just highlights the importance of getting him in central areas when we have both Mane and Salah fit. Despite not having the sheer brilliance of our little magician, both Lallana & Ox demonstrate their qualities in these categories. Lallana averaged 1.35 key passes per 90 last season & created 1.62 chances while Oxlade-Chamberlain averaged 1.37 & 1.77 in the respective categories. As I've mentioned neither Ox or Lallana can be mentioned in the same class of De Bruyne, Silva and Coutinho they are simply special players but as the Reds look to add some much-needed creativity to midfield, both these players should be relied on by Klopp to ensure we get back to playing somewhere near our fluid, dynamic and scintillating best.