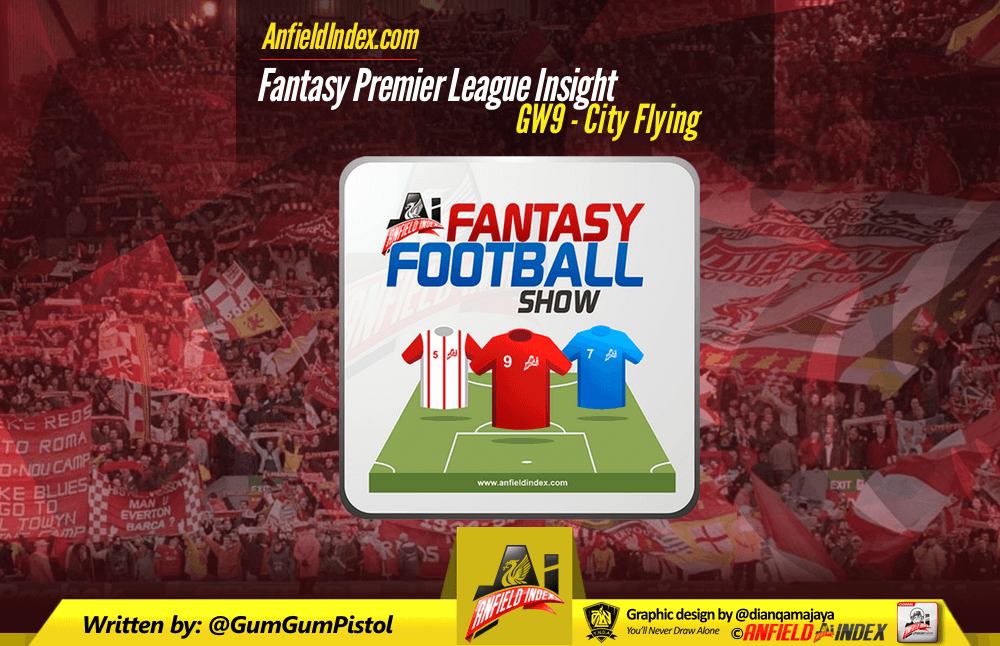 Fantasy Premier League Insight: GW9 - City Flying
With GW8 behind us, let's reflect on what transpired and MY WORD! what a game week. All the focus was on Anfield as two Juggernauts did battle; the match itself was a let down as it finished honours even. The games to follow produced some of the more unexpected results
Man City once again showed us why they are pretty much nailed on for the title, smacking seven goals past Stoke City. Even with Aguero out, City assets just keep delivering with Jesus (13), Sterling(10) and Sane(15) hitting double figures.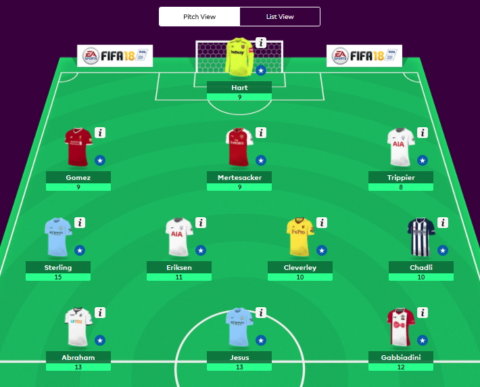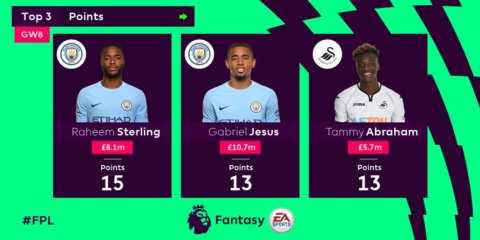 #FPL proved once again that she can be a cruel beast at the best of times. GW8 saw Arsenal go down 2-1 to Watford, while to everyone's surprise bottom of the table, without a goal this season Crystal Palace managed to beat defending champions Chelsea (tell me again this isn't the best league in the world). Managers were urged to take a punt on proven #FPL assets (Hazard + Alexis Sanchez) to come good…but it wasn't to be. So let's look ahead at GW9
Next 3 games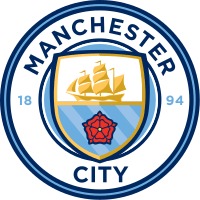 | | | | |
| --- | --- | --- | --- |
| | GW9 | GW10 | GW11 |
| MCI | BUR (h) | WBA (a) | ARS (h) |
Man City look unbeatable at the moment; they got through arguably their toughest test versus Chelsea (a) with a win and have looked unstoppable at times. The key appears to be that multiple players are performing on a level above what they usually do. If we highlight just 6 of their top performers; what is immediately evident is that goals come from basically all of City's attacking assets (Fernandinho and Delph have also scored – defensive assets). The problem now is getting 3 of them in your team. Prices could be an issue as they are very highly priced; perhaps sacrificing a BIG striker is the way forward.
Another home fixture is up next against Burnley; followed by WBA and Arsenal (home). You have to back City to perform well in these games. Beware as Pep will try to troll you with he's team selection and Aguero is rumored to be floating around their training facility.
| | | | |
| --- | --- | --- | --- |
| Player | Goals | Assists | FPL price |
| Ageuro | 6 | 3 | £11,5 |
| De Bruyne | 1 | 5 | £10,0 |
| D. Silva | 1 | 6 | £8,5 |
| Sterling | 6 | 2 | £8,1 |
| Jesus | 6 | 1 | £10,7 |
| Sane | 4 | 3 | £8,4 |
Players to consider: Sterling; David Silva; Jesus
recent #FPL points for Sterling:
GW5: 9
GW6: 13
GW7: 3
GW8: 15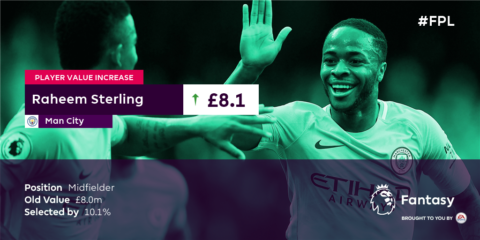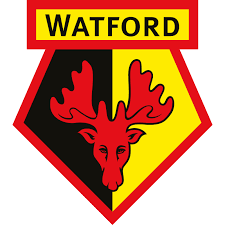 | | | | |
| --- | --- | --- | --- |
| | GW9 | GW10 | GW11 |
| WAT | CHE (a) | STO (h) | EVE (a) |
Watford currently find themselves in 4th after some impressive fixtures this season. In GW8 they managed to beat Arsenal at home and now face champions Chelsea away in GW9. The Hornets have proven that they cannot be underestimated this season and for that reason I've highlighted them as a team to look out for. It would be a brave man to write off Marco Silva's men against a shaken Chelsea team and you'd have to back them against Stoke and Everton currently (17th and 16th). Watford's captain Troy Deeney (£6.3) got off the mark at the weekend and with the focus switching to midfielders, getting in a cheap option striker so that the midfield can be bolstered might be a sound strategy.
Players to consider: Deeney; Richarlison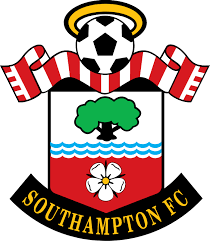 | | | | |
| --- | --- | --- | --- |
| | GW9 | GW10 | GW11 |
| SOTON | WBA (h) | BRI (a) | BUR (h) |
The Saints have not been the most consistent but they have a fairly decent run of fixtures with 2 home games in their next 3. A recurring theme this week has been the return of "form" of some of the more forgotten strikers and Manolo Gabbiadini silenced some of he's critics with a brace in GW8. At the reasonable price of (£6.6) he's well worth a punt while saving costs to be reinvested.
Players to consider: Manolo Gabbiadini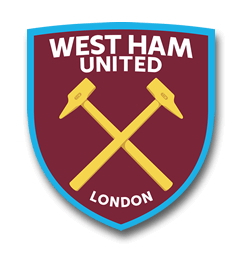 | | | | |
| --- | --- | --- | --- |
| | GW9 | GW10 | GW11 |
| WHU | BRI (h) | PAL (a) | LIV (h) |
West ham have got their season back on track moving up to 15th on the table. The Hammers look to have settled in to their new home with impressive performances at the London stadium of late. They have 2 home fixtures to come with a trip to Palace in between. Slaven Bilic will been keen to maintain the momentum and move up the table steadily. Joe Hart has 3 clean sheets in he's last 5 with an ASSIST (yes…you heard right) in GW8 securing a nifty 9 points. At only £4.4 he's not the worst option to have in your ranks.
Players to consider: Joe Hart
TINKER STINKER
So, personally i played my Wild Card this week and netted 31 points (average 41 points). I was fuming because my tinker stinker failed me miserably, i managed to drop Kevin De Bruyne for Eden Hazard and completely ignored Jesus knowing that Wildcard was active. See folks…fantasy league will shave years off your life; although it would've been an epic differential if it paid off.
This week's tips:
1) go and get 3 Man City players in your team, it's the only way to keep up with everyone currently doing well in #FPL.
2) Hazard and Sanchez (rested at the weekend), while excellent #FPL assets in previous years, I'd wait until they prove themselves before considering (they're both massive money)
So there you have it folks, try to refrain from rash decisions and keep a level head when looking at your team. You're ultimately trying to predict results and individuals who influence said results. Well my friends if we all had profound clairvoyance, #FPL would probably not exist, along with poverty…the Lottery would be pointless.
Midweek games this week so keep an eye out for injuries. Don't forget to check out our Fantasy football show podcast below! Good Luck