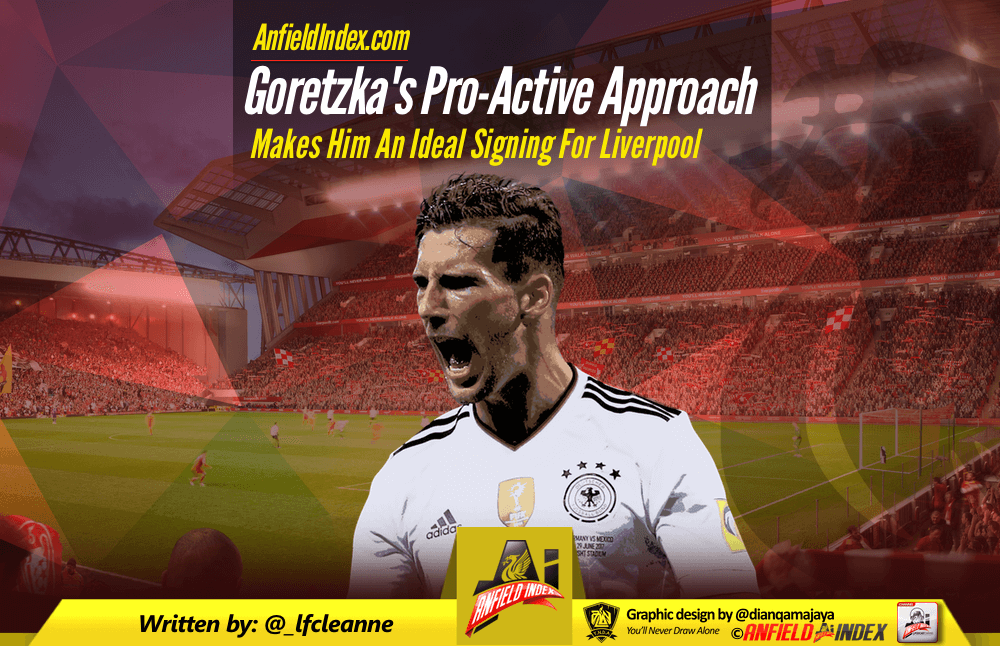 Goretzka's Pro-Active Approach Makes Him An Ideal Signing For Liverpool
There's been a lot of rumours floating about in recent weeks and few seem to be making as much noise as Leon Goretzka to Liverpool. With 12 months remaining on his contract, the Schalke midfielder is being scouted left, right and centre as attentions slowly begin to turn to the January window.
Despite securing the services of Naby Keita for the 2018 season, Jurgen Klopp's side could do with midfield reinforcements in January, with a lack of ingenuity and creativity apparent in the absence of Adam Lallana. With commitments in the Champions League and the FA Cup on the horizon, The Reds could use an extra body in the middle of the park to spruce things up.
But does Goretzka fit the bill?

Well, as a young, versatile German with plenty of potential I'd say he does. That's without factoring in his potential transfer fee which would no doubt be depleted given the short time left on his current deal.
Forward thinking in possession, Goretzka takes players out of the game with ease, drifting between the lines with a very pro-active style of play – something Liverpool are often accused of failing to do, instead of producing very turgid passages of play.
He's always looking to get his side on the front foot, creating an average of 1.13 chances per game last season. The 22-year-old also scored a total of eight goals in all competitions, registering three assists in the process.
As for his dribbling ability, Goretzka also excelled in comparison to Liverpool's current midfield options. The Schalke midfielder achieved an average of 1.03* successful take-ons per 90 minutes last year, with Wijnaldum coming the closest to matching that with an average of 0.78. Emre Can averaged 0.66 with Henderson only managing 0.21 per game.
Goretzka commits opponents and opens space for his teammates with his expansive style of play and has already netted three times for Schalke, confirming his contribution in the final third. In contrast, Emre Can and Georginio Wijnaldum struggle to provide the attacking impetus to Klopp's midfield, often opting for the easy pass rather than a more progressive, risky ball between the lines.
Some similarities can be made with Adam Lallana, with the German international driving into space ahead of him and picking a forward-thinking pass. At 6ft2 he's naturally not the quickest, but such clever movement and decision making on the ball makes him a powerful tool at the heart of the team.
Should a move surface, Goretzka would likely take up Georginio Wijnaldum or Emre Can's position in the midfield. That would allow him the freedom to drive forward with the ball and support the attack, while utilising his physicality in the defensive third to sniff out any danger.
Displaying strong qualities at both ends of the field, Goretzka represents a very real and quality option for Jurgen Klopp. Growing uncertainty over the future of Emre Can will only amplify Liverpool's need for midfield reinforcements and the 22-year-old's intelligent, pro-active style of play would be a more than welcome asset at Anfield.
 *Stats are for the Bundesliga and Premier League respectively, not all competitions.