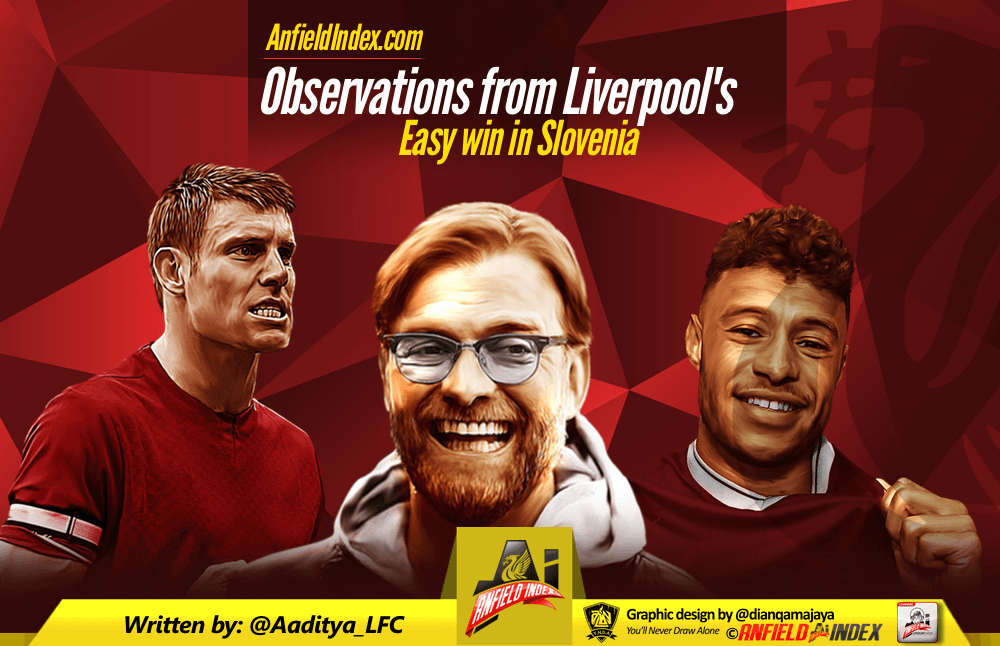 Observations from an easy Liverpool win in Slovenia
Ah, that was nice, wasn't it? When was the last time Liverpool played and nails weren't being bitten in the minutes leading up to full-time? It was just one of those nights in Slovenia as the Reds (Weird Oranges?) put seven past a sorry Maribor. The nails were being bitten for about four minutes.
Once Bobby Firmino put Liverpool up by a goal, there was really only one way the match was heading. One more goal from Firmino, a couple for Mo Salah and goals for Phil Coutinho, Alex Oxlade-Chamberlain and Trent Alexander-Arnold gave Liverpool the joint-biggest away victory ever in the Champions League.
Here are the major talking points from the game:

THIS WAS COMING
We couldn't create that many chances in every game and not absolutely smash someone on the way. Unfortunately for the Slovenian champions, it was them. From the first minute to the last, it was dominant from Liverpool, as they barely ever broke a sweat during the course of the 90 minutes. Loris Karius had one save of note to make, but the action at the other end, where Liverpool took the first three big chances they created was what settled the game then and there.
JAMES MILNER
most Distance run in europe tonight 11.3km

What is dead may never die, but rises again, harder and stronger. pic.twitter.com/k4XFmhZAgz

— SimonBrundish (@SimonBrundish) October 17, 2017
Sums it up, doesn't it? Say what you want about Milner, one can never deny that he is just the ultimate professional. Does a job at left-back for an entire season, and just like that, finds himself on the bench for the start of the next. But sulking is for lesser mortals, not for James Milner. You know that when he gets on the pitch, he'll do a job for you. He occupies space intelligently, never wastes a pass, is always available to receive the ball and his runs open up space for everyone else in the team. Man of the Match tonight.
POLE POSITION
Spartak Moscow beat Sevilla 5-1 in Moscow tonight, and that has thrown the group wide open. But Liverpool will now fancy their chances to top the group. The draw in Moscow doesn't look too shabby now, does it? If an encore of tonight ensues in a fortnight at Anfield, the record set 10 years ago against Besiktas might well be under threat. Liverpool's big advantage is the two games left to play at Anfield. European nights at Anfield are still special, and the Reds will be able to harness that atmosphere to take them home. Also, if there's anything we've shown over these three group games, it is that we're beaten than the other sides in the group at the footy. Maybe, that's what happens when you luck your way through to a Europa League group in the Champions League.
EARLY SUBSTITUTIONS
Yes, the game was settled at half-time and some might argue that Jurgen Klopp might have taken the likes of Firmino and Salah off at half-time. But here's some perspective – Klopp made his third sub tonight in the 77th minute. Against United on Saturday, he made his first sub in the 78th minute. Obviously, the lead played a massive part in it, but on a night when there wasn't much to say apart from "Liverpool are good, Maribor are poor", it is these kinds of things that one tends to look out for.
FIRST LIVERPOOL GOAL FOR CHAMBERLAIN
I refrain from calling him anything apart from Chamberlain or Oxlade-Chamberlain. But that is unimportant. The duck has been broken, and it's taken a month-and-a-half, loads of substitute appearance and a good amount of flak from Arsenal fans. It's fair to say there won't be flak tonight. But to be honest, he did look flustered when he came on. He was too anxious to make things happen, and most things he did looked hurried. But when the chance did present itself, it was a cool, composed finish from the no. 21, for whom this is hopefully the first of many. It was a terrific through-ball from Daniel Sturridge as well.